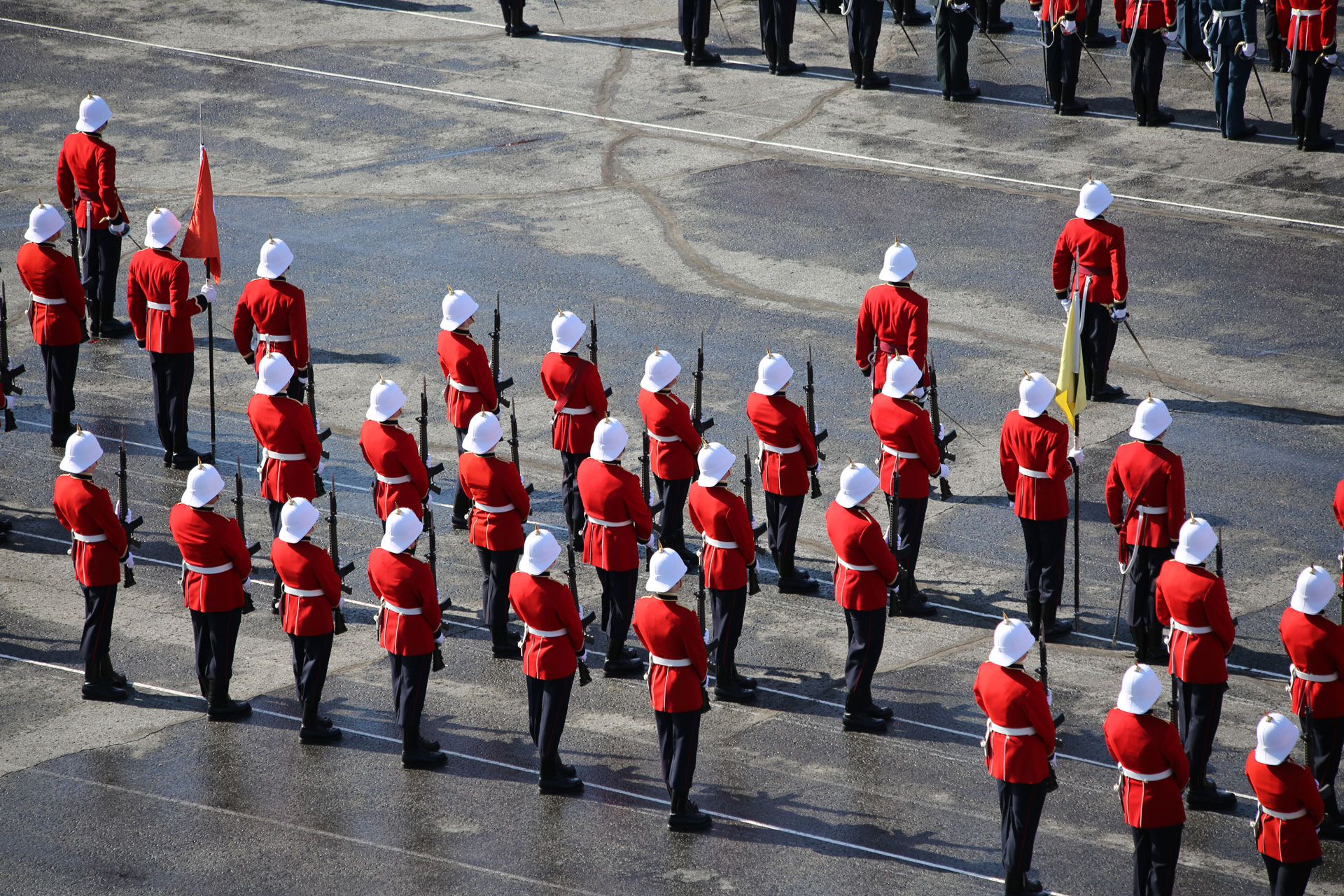 Did you know?

By E3161 Victoria Edwards (RMC 2003)
Superintendent 13 Aylesworth Bowen Perry (RMC 1888), a 15-year veteran of the North West Mounted Police (NWMP), was officer in charge of the contingent from the NWMP which was rear guard to the Canadian section at the Diamond Jubilee in London. It consisted of 30 men, carefully chosen, all of them close to six feet tall, wearing red serge uniforms and western-style Stetson hats. The Jubilee trip from the western Prairies to England was the first time that the Mounted Police had appeared in uniform outside of western Canada. On June 22, 1897, the British Empire celebrated 60 years of Queen Victoria's reign. The red-coated Mountie was regarded as more than a prairie policeman. A star attraction, he was now the toast of the Empire, having become the embodiment of strength and virtue, and a living symbol of Canada itself. As Commissioner, Perry organized a secret service for intelligence gathering, instituted annual training classes, increased pay rates, revised regulations related to marriage, formed two squadrons to fight in the First World War, and approved changes to the uniform, the adoption of the Stetson being one of the more notable aspects. Perry also helped to reorganize the Force after it absorbed the Dominion Police, extending police services throughout Canada.
http://www.collectionscanada.gc.ca/nwmp-pcno/025003-1100-e.html http://www.rcmp-grc.gc.ca/hist/comms-lst-eng.htm
x

Who am I? 

Researched by E3161 Victoria Edwards (RMC 2003)
I was born in 1860 and lived in Brockville Ontario.
I was a member of the first class of cadets who entered the College on 1 June 1876.
As a Sergeant, having completed my full period of instruction at the College, I was granted a 2nd Class Certificate of Graduation dated 30th June, 1880. The Dominion annual register and review' recorded that the aggregate number of marks I obtained was 24274 (honours).
I became a career soldier with the RCA.
As a Lieutenant in 'A' Battery Quebec, I was a veteran of the battles of Fish Creek (April 24, 1885) and Batoche (May 5-12, 1885). At the Battle of Fish Creek [Saskatchewan], the Dominion forces under General Middleton attempting to quell Louis Riel's North-West Rebellion Métis retreated. At the Battle of Batoche, [Saskatchewan] the Dominion forces defeated the Métis attempt to maintain Aboriginal independence in the disputed "Canadian" North West Territories.
I was elected president of the RMC Club in 1891.
During the Boer War in South Africa (1899-1902), Canadian mounted troops gathered information of intelligence value with the Lord Strathcona's Horse and British scout units. Canadian intelligence efforts in South Africa led to my appointment on 6 February 1901 as the first Intelligence Staff Officer of the Canadian Militia. I reported to the first Director General of Military Intell igence (DGMI) Brevet-Major William A.C. Denny, Royal Army Service Corps.
My staff work led shortly after, on 1 April 1903, to the formation of the Corps of Guides in the Canadian Army, "The Guides should be intelligent men and capable of active work with a knowledge of the topographical features of the country as well as the roads, the country between the roads, sidepaths, names of farmers, etc. in the area, and when possible, should be in possession of a horse." This organization was the forerunner of the Canadian Forces Intelligence Branch.
I married Maud Gertrude. Our son, Henry H. Gildersleeve, was general manager of the Northern Navigation Company.
I served as a Lieutenant-Colonel in the Militia headquarters staff, Ottawa. Our home in Ottawa was in the locality of Wilbrod, Stewart and Daly Avenue.
I died in 1911.
a) 3 Henry Ellison Wise
b) 7 Lukin Homphrey Irving
c) 8 Frederick Davis
d) 10 Victor Brereton Rivers
e) 12 Charles Oliver Fairbank
f) 16 George Edwin Perley
Answer: D) 10 Victor Brereton Rivers (RMC 1880)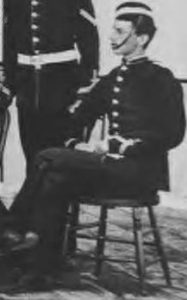 x

x

x

x

x

x

x

x

x

x

x