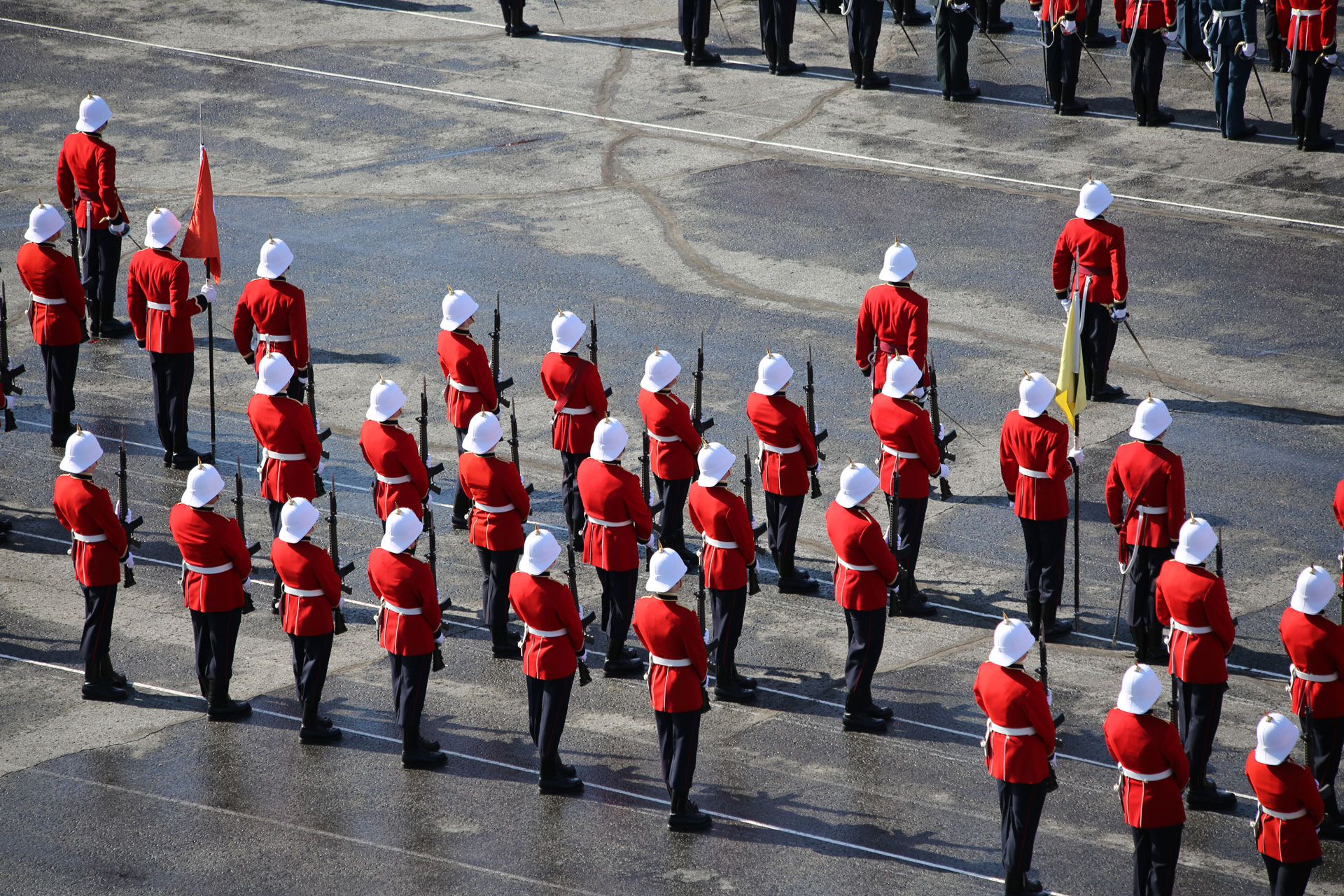 24498 A/SLt Noelani Shore (RMC 2009)
He had leadership potential written all over him right from the start.
When Commodore Bill Truelove, OMM, CD, current Commandant of the Royal Military College, was in his fourth year, he was chosen to be the Cadet Wing Commander for the first semester. Unlike today, when cadets apply for such positions, Cmdre Truelove was selected to lead the cadet wing in a time of significant change: the arrival of the first lady cadets into Royal Roads.
Cmdre Truelove did not join the CF and go to Royal Roads thinking he would one day be at the top. He began his career like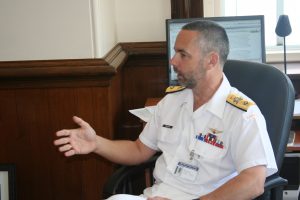 any other officer cadet going through the rigorous recruit training period – with doubt in his ability to continue. He called his father, who retired as a Lieutenant Commander after 36 years in the Navy, and he provided Cmdre Truelove with some good advice.
"One week into recruit term, I called my parents and said, 'I've had enough, I want to come home.' And my dad said, 'You haven't had enough, carry on.' And here I am 28 years later. So a little bit of tough love is important," he said.
Tough love may be an important part for the Commandant now, as the first year cadets navigate their way through recruit camp.
As Cmdre Truelove prepares to lead the College, he looks to his support team of Military and Civilian leadership to ensure he has full understanding of the situation.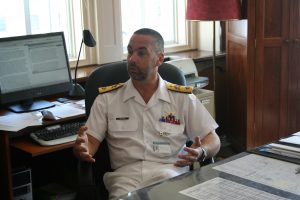 "I'm not about to come in here and go starboard 30. RMC has been here for 133 years. It is an incredible institution with the best of the best both in the military staff and the civilian staff and so my role is to come in here, and make sure that I fully understand the institution, because it is complex. And from there, in due course, if we need to make some course corrections, we will," he said.
As a former cadet of a military college, and the first Commandant to have graduated from Royal Roads, he has an understanding of the high expectations placed on officer cadets.
"Overall I think it is useful now, coming back many years later to RMC, that I am a product of the military college system. I held bar positions so I understand what it is to be a cadet – the demands and challenges, but the opportunities as well," he explained.
Achieving his fifthcommand position as Commandant of RMC, Cmdre Truelove had some practical advice for cadets looking to work their way up the ranks.
"My advice is seize opportunities when they come, work hard at them, get as much as you can from them. And always tuck those lessons learned away. And as you move along your career, all of those things will start to gel together to make you the person that you will become as a leader," he said.
Cmdre Truelove will work hard with his staff to ensure the cadets start off on the right foot. The increase in leadership opportunities ensure officer cadets can gain experience and let their leadership techniques evolve. Third and fourth year cadets have been in charge of the new first year cadets on recruit camp for the past two years.
The cadets were able "to bring in brand new members of the Canadian Forces team, and teach them from day one, the essential skill set that they need to be successful. I borrow words from the Chief of Defence Staff, and that is 'They showed what right looks like.' And they demonstrated through example what it is to be in the CF, what it is to be a cadet here at RMC," said Cmdre Truelove.
Despite the fact that he is only the fifth naval Commandant to grace the halls of RMC, he recognizes the advantages of having all elements learning and training under the same roof.
"I don't think it matters, the colour of the uniform of the Commandant of the day. We all share a common interest and that is ensuring that the lady and gentlemen cadets that come through here are set up for success in whatever career path that they choose," Cmdre Truelove explained.
Having cadets from all classifications forge relationships early on is beneficial later in their careers. The senior staff of the CF must interact with one another, and they must work together to make some tough decisions.
"When you walk in to very senior level meetings, and you look around the table, you see the Chief of Defence Staff (CDS) interacting with his senior leadership, many of whom were former classmates together at the military college. So automatically, from their four year experience together, in a joint atmosphere like the college, they've build trust and confidence in each other," said Cmdre Truelove.
In his experience as the Special Advisor to the CDS last year, Cmdre Truelove had the opportunity to travel globally, as well as visit members of the CF in all types of environments.
"One of the benefits of those travels, was that I had the opportunity to interact with the graduates of RMC in their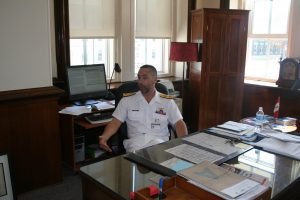 environments. And so, I was able to reaffirm my understanding of what it is that they will be required to do after graduation. I think I'm able to provide them with some insight of what they really need – to be ready to go off, and lead."
RMC is a stepping stone in the careers of all officer cadets who attend. The staff does their best to provide them with all the tools they will need outside of RMC, but it is the responsibility of the cadets to take in everything they can. Confidence and leadership styles will come with experience, and Cmdre Truelove is there to make sure that they meet the requirements to graduate in order to fulfill the high expectations placed on them.
On the first official day of First Year Orientation Period (FYOP), Cmdre Truelove looked out at the cadets on the parade square with pride.
"There is potentially a future CDS standing there, potentially a future Prime Minister or a senator or an international leader. They're all there. They're all getting their foundation here, at RMC. And that's pretty tremendous. So I'm just lucky to be a part of it," said Cmdre Truelove.