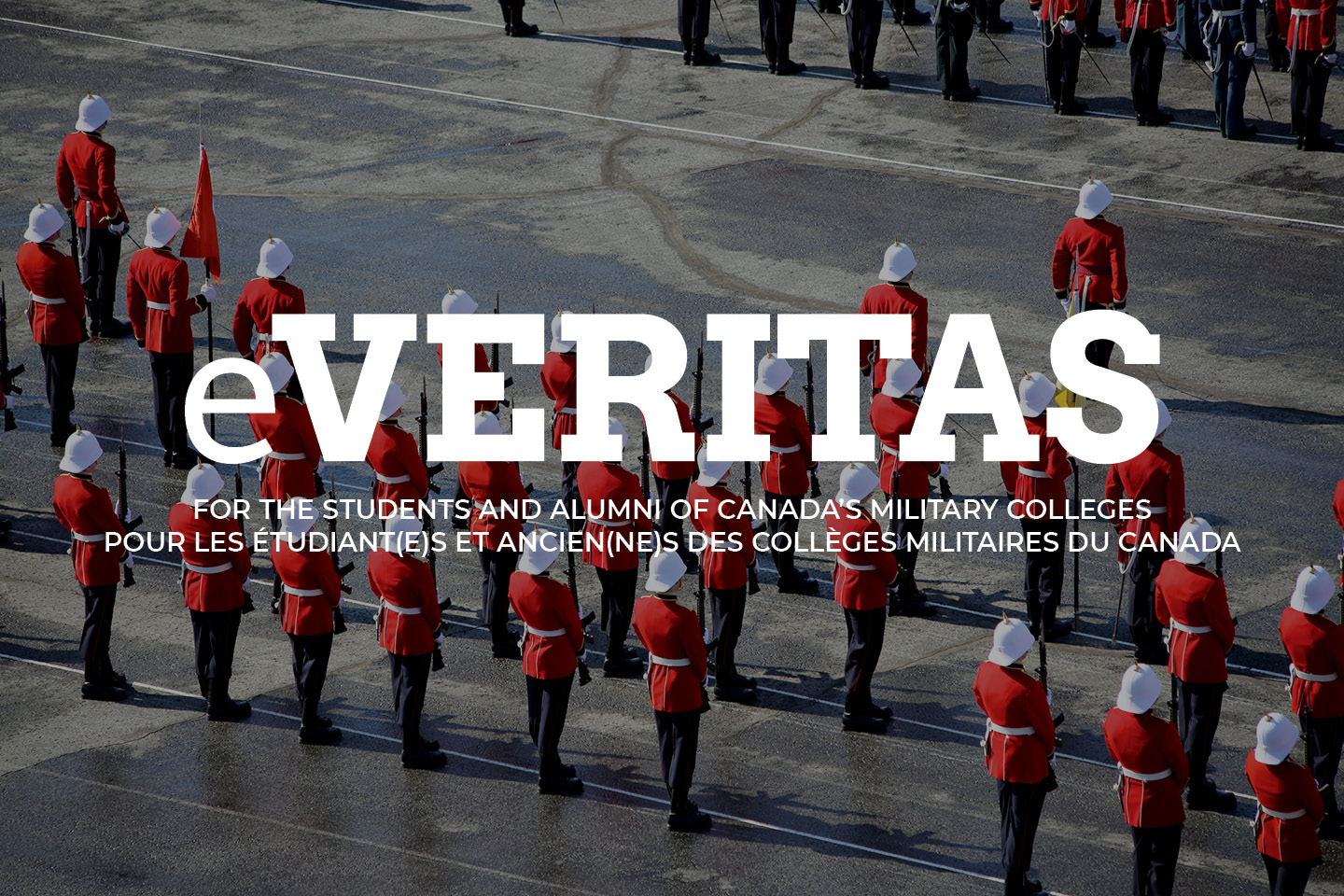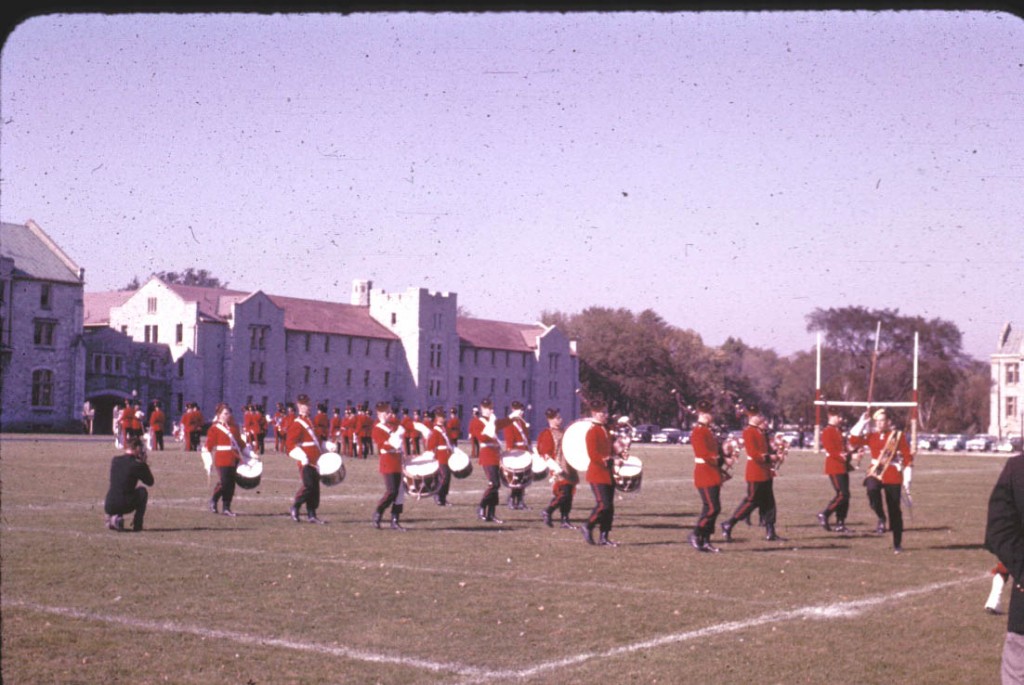 E3161 Victoria Edwards (RMC 2003) & 5215 LCol (Ret'd) Larry Springford (RMC 1961), a former Cadet Wing Drum Major, discuss the roots of the RMC Band. This interview is timely since 2013 is the 60th anniversary of the RMC Band.

e-veritas: What instrument(s) did you play?
Larry Springford: I had been a bass drummer in a Boy Scout Pipe Band before I went to the College. I started off on the bass drum in my second year (since there was a bass drummer –4168 LCol (Ret'd) Garth Methven (RMC 1959), 4th year as I recall – when I arrived in 1957). I learned the snare drum and transferred to it in my third year (or maybe later in my second year). In 4th year I moved into the position of Cadet Wing Drum Major (lead drummer) when the cadet who had the position ran afoul of authorities and was demoted.
e-veritas: What challenges did the early band face?
Larry Springford: We were light on pipers in my second year and in third year it got even worse. The new lead piper 5131 LCol (Ret'd) Jon Lynn Moffat (CMR RMC 1961), who arrived that year from CMR, undertook a recruiting and training programme that was very successful as can be seen in the band picture of 1961. The down side was that the new pipers could only play "Mary's Wedding" all year long – and I still hate the tune to this day!
e-veritas: What tunes did the band play?
Larry Springford: I have a DVD containing archival material dug out by a couple of my classmates. There is a 8 mm film of the Graduation of our class in 1961 and the Westpoint Weekend of 1959; Since both were silent I have added voiceover and music from the record of the Pipes and Drums and of the Glee Club that was made in 1961. The tunes on the RMC Band CD are:
1. "Barren Rocks of Aden", "Highland Laddie", "Nut Brown Maiden"
2. "Pipes and Drums of RMC" (written by the Canadian Guards Pipe Major who was posted to the College that year. Don't remember his name).
3. "Green Hills of Tyrol", "Meeting of the Waters"
4. "Skye Boat Song"
5. "Bonnie Dundee", "A Hundred Pipers"
6. "Cromerty Bay", "Crossing the Minch"
7. "Beat Retreat" (drums only), "Mary's Wedding"
I also recall "The Black Bear"
e-veritas: Any notable performances?
Larry Springford: One of the Notable Performances was at our Graduation Parade in 1961 since that was the first time the Pipe Band had played at a Grad Parade, albeit in a secondary role to the RC Sigs Band.
The one that comes to mind was the Hockey Game at Westpoint in 1959; but many of us also loved Sunday Church Parades because after we marched the Wing to the last church, we headed into one of the rooms below the church and waited till the services were over.
e-veritas: Did the band have special uniforms or regalia?
Larry Springford: Only the bass drummer with the leopard skin and the Band Major with his sash and mace were different from the normal scarlets. The lead drummer in 2nd and 3rd year was 4859 LCol (Ret'd) Ken Murata (RMC 1961) and he said he'd quit the band before he would wear a kilt (due to his bow legs).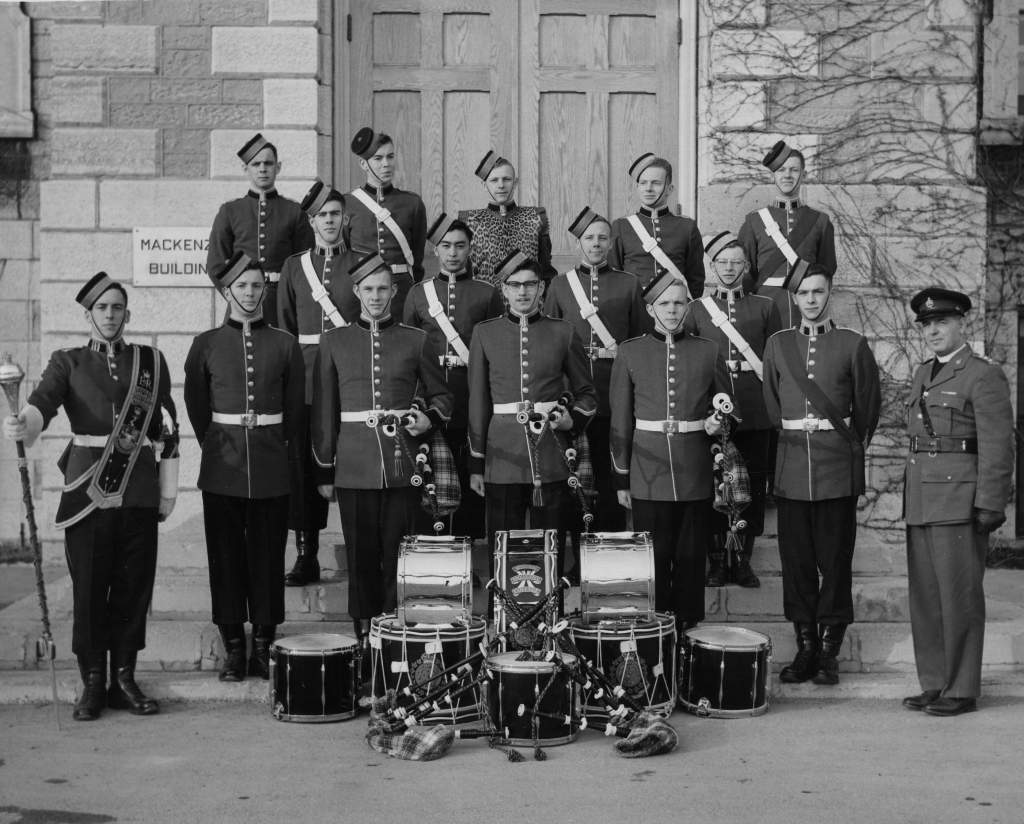 • 59.037 B&W picture of the RMC Pipe band from 1959:
Front Row: 4459 Ed Murray, 4940 Donald MacLeod, 4742 Robert Dibblee, 4848 Ken Graham, 4444 McIntosh, Capt Bickley
Middle Row: Neill, 4859 Ken Murata, 5215 Larry Springford, Nelson
Back Row: H4860 John de Chastelain, 5216 Dave Springate, 5220 Gerry Turcotte, 4844 Gord Fogg, 5192 Brian MacDonald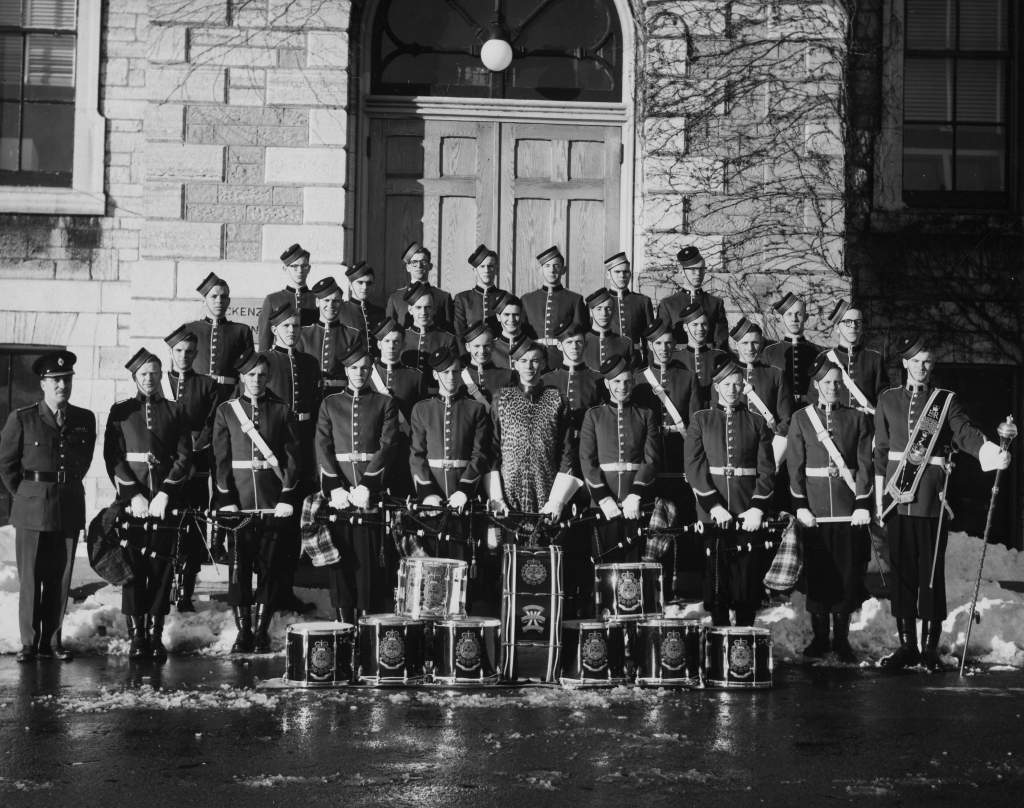 • 61.151 B&W picture of the RMC Pipe band from 1961:
Front Row: Maj L.G. Smith, 5131 Lynn Moffatt, Herbert, 4903 J.A. Ferguson, 5804 Esdaile, 5216 Dave Springate, 5024 Peter Austin, 5816 Frank Jewsbury, 5215 Larry Springford, 5185 Carl Kristjansen
Second Row: 5621 R.J. Wreford, 5803 George Earl, 5793 William Bawden, 4844 Gord Fogg, 5653 O.N.H. Evans, 5842 Nigel Vanloan, 5844 David Wall, 5536 John Bauer
Third Row: 5799 R.C. Coates, 4459 Ed Murray, 4804 Neil Johnston, 5524 James Steele, 5548 Philip Clarke, 5812 James Griffin, 5850 Peter Wilson
Fourth Row: 6243 Patrick Dunn, 6163 Raymond Bunner, 6211 Hamish Taylor, Cloutier, 6373 Ken Wright, 5737 D.G. Robinson, 5794 John Braby
• The colour picture is from September/October 1957 prior to a football game I think.
e-veritas: Where did the band practice and who taught the band to play?
Larry Springford: Don't recall where we practiced, probably one of the gyms or a room in Yeo Hall. Until we had the Pipe Major posted to the College in my 4th year (1960/61), 5131 LCol (Ret'd) Jon Lynn Moffat (CMR RMC 1961) trained the pipers and experienced cadet drummers trained new ones. The Band Supervising Officers shown in the pictures from '59 and '61 were Protestant Padres I believe.
e-veritas: Any other comments
Larry Springford: Hope this helps. I enjoyed my time in the Band at RMC and I'm delighted to see how it has grown. I still love Pipe Bands and I'm fortunate to live in a town, Kincardine, Ontario, where the town Pipe Band marches up and down the main street every Saturday night in the summer.
e-veritas: To celebrate the Band's 60th anniversary, a presentation of artwork to the Pipes and Drums will take place Saturday, September 28th, 2013 during the Old Brigade and RMC Club Dinners, and the badging of band kilt pins will occur the following day. The RMC Band would like to extend a special invitation to all ex-members of the Band over the last 60 years to take part in the weekend. For previous band interviews, see…
____________________________
Calling all Ex Cadet Band Members to join in the celebration of the 60th Anniversary of the College Pipes and Drums!
The RMCC Pipes and Drums are celebrating its 60th Anniversary this year and there are several initiatives under way to commemorate this milestone. Alumni have already stepped forward and have donated art work as well as funding for a kilt pin for all members of the RMCC Band who wear kilts.
The College has also graciously approved a request for Alumni members to participate in a Band Rehearsal on Saturday and to join the Band in leading the parade back to the Parade Square on completion of the Arch Ceremony on Sunday morning of Reunion Weekend.
For those Ex Cadets who would like to participate in the march from the Arch on Sunday, please contact MWO Ron Reedy, RMC Band Master at 613 541-6000 extension 6262 or by e-mail at Ronald.Reedy@rmc.ca.   Or leave a comment below.