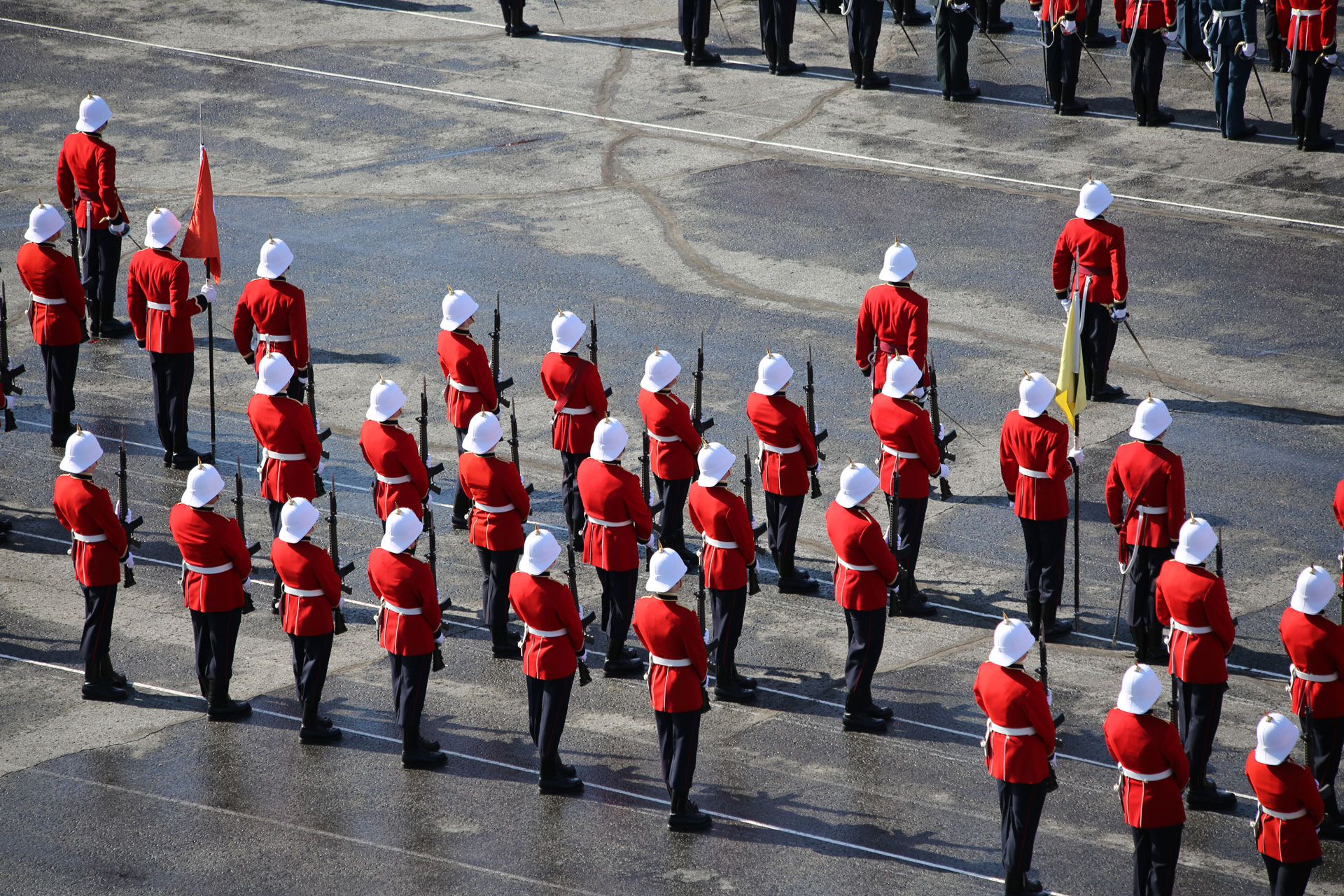 We have contacted numerous ex-cadets from the fifties through to the new millennium and plan to feature them in the coming months to give readers a chance to catch up with names and faces from each of the respective CMCs.
by M0917 Dean Fleet
– 6575 Lawrence Taylor (RMC 1965)
Lawrence was sworn into the RCN on the paradesquare of RMC on in June of 1965, and left four years later with a BEng in Engineering Physics.  The next two years saw him doing pre-Fleet cources at HMCS Stadacona,HMCS Donnacona, and HMCS Cornwallis before training for his bridge watchkeeping certificat at HMCS Columbia. He then obtained his Engineering Certificate of Competency Part 1 (Engineering Watchkeeping) at HMCS Gatineau before spending the next year at Royal Naval Engineering College, Madadon, for the marine Engineering Application Course. He also found the time in his busy training scedhule to marry Beverly Jean Irwin of Brooklyn, Queens co, Nova Scotia. He next went to the HMCS Bonaventure where he obtained part 2 of his Enginerring Certification and served as the first Forward Machinery Space Officer and then the last Flight Deck Engineering Officer of a Canadian Aircraft Carrier.
His daugther, 17929 Tanya Koester (RRMC 1991) (Nee Taylor) was bron in 1969 and his son, Charles, was born a year later.Following this birth, Lawrence was posted to HMCS Brad D'Or as the Engineering Officer. He then spent fourteen months over 1971-1972 at Royal Naval Engineering College, for a second time, this time doing his Advanced Marine Engineering Course before spending the next two-and-a-half years as an Engineering Officer aboard HMCS Fraser and HMCS Annapolis;  his second son, Andrew, was born during this time.
In October 1974 he was posted to the Engineering Department of HMC Dockyard Halifax. A year later he returned to Royal Engineering College for a two year stint instructing transmissions systems to both Application and Advanced Marine Engineering Courses. 1977 saw Lawrence posted to NDHQ in DMEE 2 (Concepts, Control, Co-ordination), as the head of the design concepts sub-section. His second and third daughters, Sheila and Christina, were born in 1978 and 1979,  just prior to his commencement of Staff College in Toronto. His last posting was as a an Engineering Officer aboard HMCS Iroquois before retiring in 1983. Until his second retirement, in 2006, Lawrence was a civilian engineer working in Fleet Support first in the Naval Engineering Unit, Atlantic, until it amalgamated with SRU to become FMF Cape Scott. His third son, David, was born in 1985, and ten years later,  Deverly Jean died suddenly. In total, Lawrence spent just over 45 years in civil service between the Forces and working for the Forces. In his own words:
"I had a very satisfying and rewarding career doing work that I enjoyed. I never made it to high rank (retired as a LCdr) or to management levels (was an Engineer 5 all 23 civilian years), but I was able to hone my engineering skills problem solving on very interesting machinery plants. RMC provided me with an excellent education and sound basis for a career in a discipline other than that of my degree. I always doubted that I would have graduated from a civilian university because the small RMC class sizes provided such a personal learning experience."
Lawrence can be contacted at taylorlt@eastlink.ca
_____________________________________________________________


– 10827 Gary S. Dickinson (CMR 1976)
Gary is currently working at Microsoft HQ in Redmond, Washington as the Senior Director, Services Sales Strategy. He joined Microsoft in 2004 after a very short 4 month retirement from a long career in the high tech systems world, and works extensively with teams around the world within Microsoft. Before Microsoft, he was the president of a San Diego based firm called InterKnowlogy and before that the executive vice president of Hull based Cactus Communications. Gary left the Navy in 1981 for private industry but still talks fondly of his time and friends at CMR and in the military. While he lives in Redmond with his wife Danielle, all three children and two granddaughters live on the East Coast so the eventual return to his retirement home in the Laurentians is pretty much guaranteed.
Gary can be contacted at garydickinson@verizon.net
_____________________________________________________________
– 19959 Jeff Hutchinson (RRMC RMC 1995)
I attended first Royal Roads beginning in 1991 and transferred to RMC after second year, graduating with am Honours BA in History (thank you Dr. Errington). Completed my MARS training and joined HMCS MONTREAL in Feb 1996. Received my BWK and passed my CofC II before going on to become both an Anti-Submarine Warfare Officer and Fleet Navigator in HMCS HALIFAX. In 2000 came to RMC as 3 Squadron Commander (my old Squadron). Remained until 2003 and then returned to the East coast to become Deck Officer in HMCS HALIFAX. Completed my ORO Course in 2006, switched coasts and became Weapons Officer and then Combat Officer on HMCS VANCOUVER. Was selected thereafter to join the dreaded Sea Training Pacific team as Operations Officer. In Nov/Dec 2007 had two very busy months where I was first promoted, then passed my Command Board and most importantly, got married to Miss Jin Shim. Got married again for good measure in Aug 2008. Recently moved to Ottawa to work for the VCDS. Waiting patiently for Staff and Command College and/or an XO tour.
Jeff can be contacted at Jeff.Hutchinson@forces.gc.ca
_____________________________________________________________