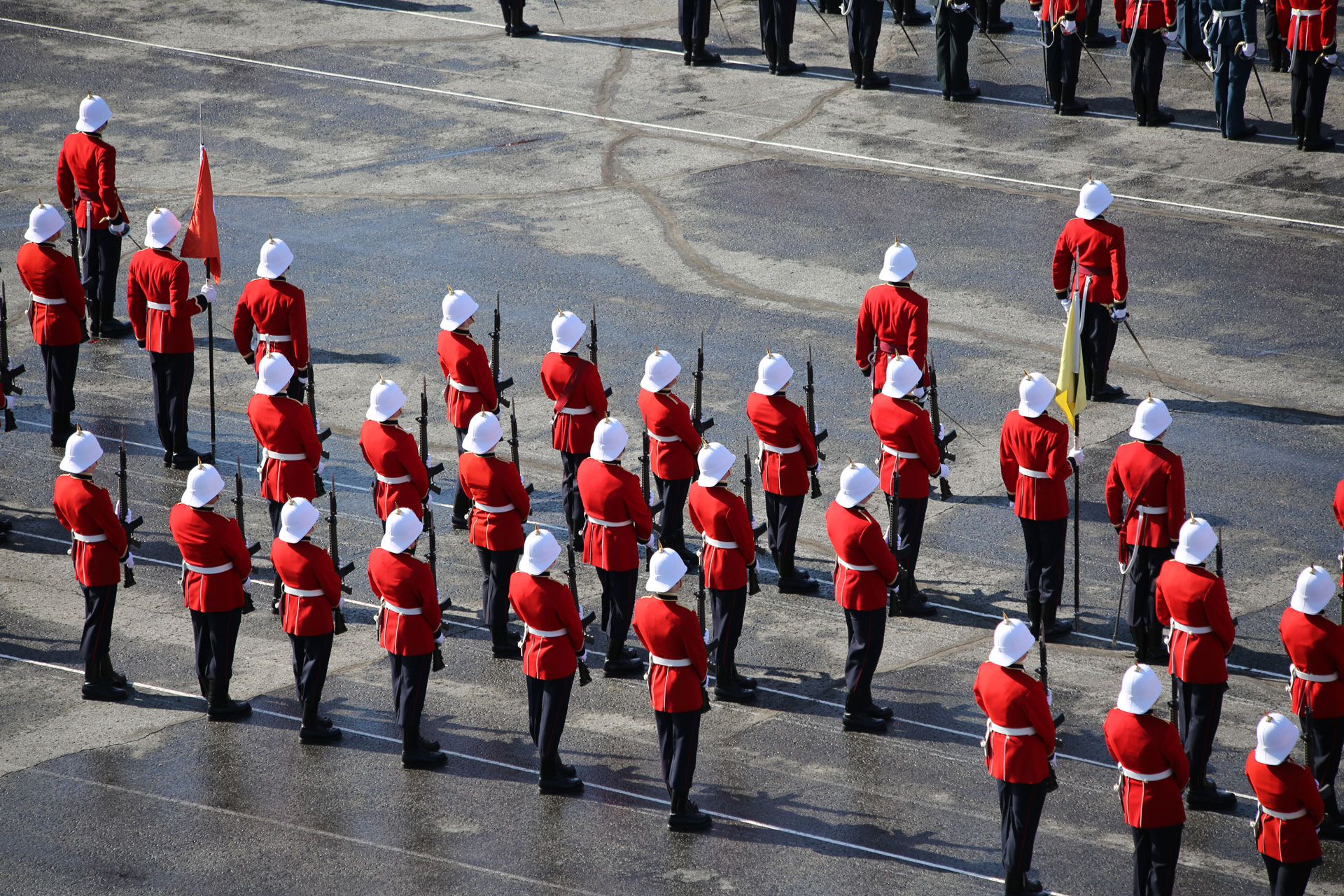 RMC Women's Rugby  Off to Great Start for the Season.
Photos By:  25275 OCdt Julia Anderson
(w) Rubgy – A pleasant start to the second season as a  club.  Earn a split in first two matches.
IV Catie Keyser, 24633
After only one practice as a group, the RMC women's rugby club played a friendly practice game against St. Lawrence College and won! Our women owned the pitch in a battle on our own turf. (Score not available at this time)
The team is comprised of around 25 or so women, most of whom are rookies to the sport, but nevertheless have quickly proven themselves on the pitch. At first glance one might note that the team is comprised of, well, relatively small players. Opposing teams may not see this as a threat, but as St. Lawrence has quickly found out, this simply is not the case. Our women are quick, and fit, and have no fear on the pitch. Their athleticism rivals no other team they have fought thus far. I kid you not when I say what the team may lack in size; they make up ten fold in their athletic prowess.
At the end of the first week of practices, the two captains, IV Nicole Bach and III Gillian Kelland, and the two coaches John Proctor and Kristin Topping decided to organize a game against the prestigious Carleton University this past Saturday. In the words of Nicole, "They are big in the pack, and fast in the back." This was no word of a lie. Carleton's women's rugby has a long successful history, and through the challenge of competing with them, the RMC's rugby club learned a lot of valuable game knowledge. When asked, the RMC women noted that they learned more from this game with this experienced team, then they had their first week of practices.  By the way Carleton won 39 – 0.
Though the RMC (w) team displayed a valiant effort, Carleton won the game. The RMC ladies fought hard, made many good tackles, and stayed determined even through to the end. The superstars from RMC's side were players IV Ashley Bayes who displayed the best form when tackling, IV Nicole Bach who fought hard as flanker, and II Alex Warren, who also displayed notable strength with her tackles and her quick feet.
Congrats team; now let's see just how much more you can surprise us on the pitch!
On a last note, the RMC (w) team is still recruiting! Whether you played in high school, or don't even know what a Try is, or want to learn how to be a credible Hooker, come on out Monday and Wednesday afternoons at 1645 on the Commandant's pitch!
_________________________________________________________________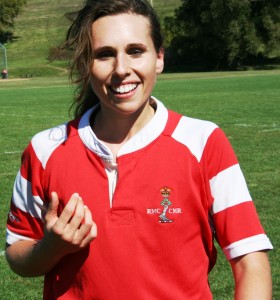 Double Duty Leader for FYOP and Women's Rugby
24579 Ocdt Nicole Bach is the FYOP CFL for 3 Sqn. She is an Honours English student and is training to become a MARS officer. She is also Captain of the RMC Women's Rugby Team, making her a very busy cadet.

eVeritas – What did you do this summer?

Nicole – I spent most of my summer doing NETPO (Naval Environmental training program for Officers) at NOTC Venture in Esquimalt, B.C. And I spent my leave in Vancouver and Hollywood, CA.

eVeritas – How has the first half of FYOP been?

Nicole – Busy! Between training, team-building exercises, school and briefings there is never a dull moment. Energy is high within the flight and among the staff, and the excitement and anxiousness the first years are feeling toward the obstacle course is palpable. This year 3 Squadron is going to take back the win (we won the obstacle course in my first year)!
eVeritas – What are you looking forward to doing as a barman this semester?
Nicole – As a barman this fall semester I hope to play a role in bringing the Royal Military College back to its original state of being a military institution. I fully support, and I am extremely excited for, our up-coming range days, morning wing fitness sessions, circles, etc…

eVeritas – What activities and sports are you involved with at the college?
Nicole – I am the president/captain of the Women's Rugby Club, an executive member of the Mentorship Program, I am one of the new "Abs class" IC's (taking over the ever-so-popular killer ab workout session Danger Dan headed last year), I am an SPT morning assistant, and I am a just recently retired member of the security team.

eVeritas – Do you have any other hobbies?
Nicole – I enjoy reading, playing sports and working out, and I just recently completed my open-water SCUBA diving qualification, while in Victoria, this summer.

eVeritas – What would you say your best experience has been at RMC?
Nicole – My best experience, hands down, would have to have been when the fire-alarm went off three times the night before the Cmdt's inspection in Fort Lasalle. Just kidding! My best experience here at RMC would probably be last fall when the RMC Women's Rugby Club played their first match ever, and won!
eVeritas – What are your plans for after graduation this year?
Nicole – At the moment I am looking into applying for my masters. I would also love to go to Vegas and do some travelling before I start my next two phases of MARS training.