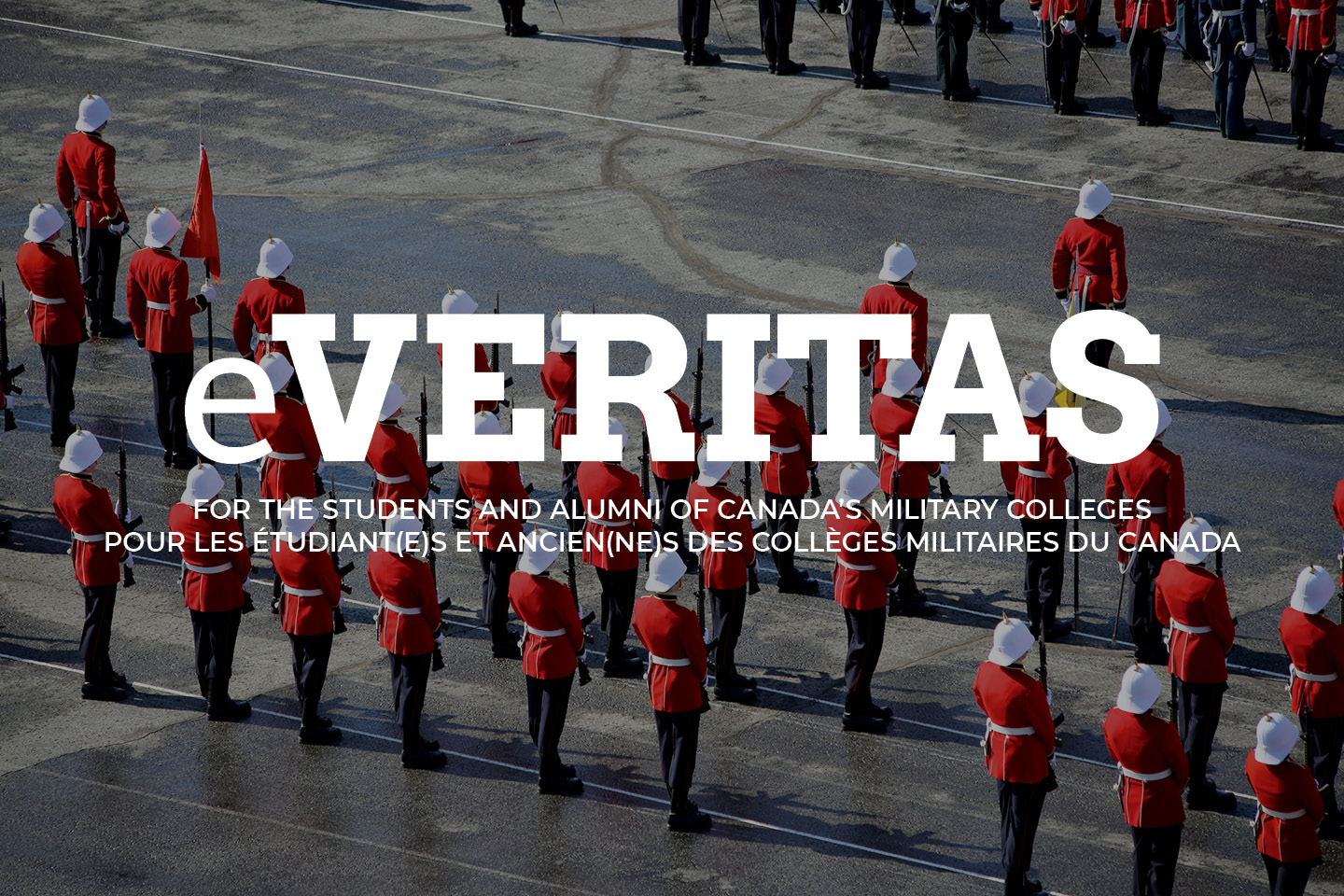 Notices 
– Any / all Reunion Classes are encouraged / invited to provide details concerning their particular weekend arrangements to be included in e-Veritas over the coming weeks. Send to:
william.oliver@rmc.ca
Avis – Nous invitons/encourageons toutes les Classes de Réunion à nous faire parvenir les détails des arrangements pour leur fin de semaine afin de les inclure dans e-Veritas au cours des prochaines semaines. Faites parvenir à :william.oliver@rmc.ca

The 2012 Homecoming at Royal Roads is scheduled for Friday Sept 14 to Sunday Sept 16, 2012. Classes from RRMC will be identified by their year of graduation/finishing RRMC (for example, the class entering in 1970 and graduating in 1972 will celebrate their 40th reunion). Source
Réunion 2012 à Royal Roads
La Réunion 2012 à Royal Roads est prévue pour la fin de semaine du 14 au 16 septembre 2012. Les Classes de RRMC seront identifiées par leur année de finissant au RRMC (par exemple, la classe entrante en 1970 et finissante en 1972 célébrera son 40ième anniversaire)
2012 RMC of Canada Reunion Weekend Tentative Schedule
Thursday 27 Sep – 1800 for 1900 – Legacy Dinner, Black Tie, $200 per person, Yeo Hall, Second Floor
Friday 28 Sep –1415 to 1700 – Obstacle Course, Campus;  1800 to 2200 – Class Reunions, Various Locations
Saturday 29 Sep – 0800 to 0945 – Club & Foundation AGMs, Currie Hall; 1000 to 1200 – Badging Parade, Parade Square;
1200 to 1330 – Lunch, Yeo Dining Hall & New Gym; 1330 to 1430 – Wall of Honour Ceremony, Wall of Honour
1400 to 1630 – Sports, TBA, Campus
1800 for 1900 – Old Brigade Dinner, Ambassador Conference Resort, Details to Follow;
1800 for 1900 – Dinner/Dance, Ambassador Conference Resort, Details to Follow
Sunday 30 Sept
0900 to 0930 – Interfaith Church Service, Currie Hall;  0930 – Pre-Parade Assembly, Front of Panet House;  1015 – Form Up for Parade, Parade Square
1030 – March to the Arch, Memorial Arch;  1200 to 1330 – Old Brigade Lunch, Prices TBA, Senior Staff Mess
Fin de Semaine des Retrouvailles 2012 au CMR du Canada Horaire Prévu
 Jeudi 27 septembre
 18h00 pour 19h00 – Banquet Héritage – tenue de soirée – 200$/personne Pavillon Yeo, 2e étage
Vendredi 28 septembre
14h15 à 17h00 – Couse à obstacle – campus, Campus
18h00 à 22h00 – Réunions de classes, divers emplacements
Samedi 29 septembre
08h00 à 09h45 – Les AGA du Club et de la Fondation, Pavillon Currie
10h00 à 12h00 – Parade de remise des insignes, Terrain de parade
12h00 à 13h30 – Repas du midi – Prix AEC, Réfectoire et nouveau gymnase
13h30 à 14h30 – Cérémonie, Mur d'honneur
14h00 à 16h30 – Sports – AEC, Campus
18h00 pour 19h00 – Souper de la Vieille Brigade – Centre de conférences Ambassador – AEC
18h00 pour 19h00 – Souper dansant – Centre de conférences Ambassador – Détails AEC
Dimanche 30 septembre
09h00 pour 09h30 – Service religieux oecuménique, Pavillon Currie
09h30 – Rassemblement pré-parade, Devant la Maison Panet
10h15 – Formation en parade, Terrain de parade
10h30 – Marche vers l'Arche, Arche du Mémorial
12h00 à 13h30 – Repas du midi de la Vieille Brigade – Prix AEC, Mess des cadres supérieurs
 ______________________________________________
Class of 1967 – contact Peter Day – day@bmts.com
CLASS OF 1972
Hi, guys.
Guess what, it's Reunion time again. It's forty years since we graduated and our next reunion is just around the corner.
In 2012, Ex-Cadet Weekend is the weekend of September 28-30. In addition to the usual Ex-Cadet weekend events, the following class events are planned: Friday, Sept 28 – Golf at the Garrison Club and 'Meet and Greet' at the Fort Frontenac Officers' Mess, and Sat, Sep 29 – Class Dinner/Dance at the Harbour Front Restaurant, Portsmouth Harbour. Estimated costs for these events are $40 for 18 holes of golf, $25/person for the 'Meet and Greet' and $65/person for the 'Dinner/Dance'.
Rick Marsden, Ken Lee, Steve Davis and Lawrence McDonough have been 'busy beavers'. They've been planning, making reservations, thinking about a Class gift, and arranging accommodations.
With respect to accommodations, 20 traditional rooms with 2 queen beds have been reserved at the Ambassador Inn (http://ambassador1-px.rtrk.com/home.html) , and 10 rooms at the Donald Gordon Conference Centre (http://business.queensu.ca/dgcc/index.php) under RMC Class of 72 Reunion. Other hotels (e.g., the Holiday Inn, the Raddison Harbourfront, Marriott Residence Inn, and the Sheraton Four Points) in the area offer reunion weekend specials but are typically more expensive than the places we've booked. The rates at the Ambassador $130.00/room/night plus tax if guests stay 3 nights starting Thursday, $145.00/room/night plus tax if guests stay 2 nights starting Friday and $155.00/room plus tax if guests stay Saturday only. The rates at the Donald Gordon Conference Centre are $125/night plus tax single occupancy and $155/night plus tax double occupancy. The block bookings expire 27 August. Book early!
Rick Marsden has agreed to manage the finances for the 'Meet and Greet' and the Class Dinner/Dance. To this end, he has opened an account at the Bank of Nova Scotia – "RMC Class of 72 Reunion Fund". Please make out cheques for the Meet and Greet ($25/person) and the Class Dinner ($65/person) to this account and forward them to:
Dr. R Marsden
1249 Humberside Dr.
Kingston, Ontario
K7P 2M9
Please send your cheques to Rick as soon as possible so the Ken Lee and he will have the cash they need to make the required down payments for the venues, food and DJ.
Following up on the good work that Jean-Guy Nadeau did in anticipation of the 2007 Reunion, we are making another 'special' effort to track down lost classmates. A complete list of the Class of 72 and the current mailing list is posted on the class website –  If you have any changes, please email them to ross.judd@carossa.com, call me at 1-613-584-4418.
As you can see, the Class website is out of date. I plan to update it over the next couple of months. Also, the Class has a Facebook presence, "RMC – Class of 72 – Info Exchange". 37 members of our Class are linked to it, and I post Class related information there. Several members of the Class also use LinkedIn. If you'd link to be added to the Facebook group or connected in LinkedIn, please let me know.
To mark the 40th Year after Graduation, it is customary for a class to present a substantial gift to RMC. Contributions are tax deductible! In anticipation of the 40th, please consider making a contribution to the Class fund. Donations can be made on-line through the RMC Foundation website – http://www.rmcclubfoundation.ca, or using the forms posted on the site. If you're interested in seeing what others have donated, check out the Lifetime Giving Circles linked to the Donor Recognitions Programs page – http://www.rmcclubfoundation.ca/OurDonors/DonorRecognitionPrograms/tabid/91/language/en-US/Default.aspx
If you have any preferences/special requests, please email them to me as soon as possible.
I look forward to hearing from you and catching up with you at the 40th.
TDV,
Ross Judd
CLASS OF 1992
20-Year Reunion Details
Saturday, 29 Sep 2012
6pm – 1 am
Radisson Hotel
1 Johnson Street, Kingston, ON K7L 5H7
Kingston, ON
Cost per person: $40 per adult, $10 per child, kids 4 and under free. Food included (buffet / appetizers). Cash bar.
Please bring either cash or cheque to pay at the door. Exact change would be greatly appreciated 🙂 No advance purchase required.
If you need to book a hotel room please call the Radisson directly (1-888-548-6726 ) under Group block name : 120928RMCC. You should identify yourself as being with the group block name listed above to ensure you receive the negotiated rate of $179.00 + HST, King or Queen room, parking is $15/day.
On Friday night we are looking at an informal meeting place at a local bar. Stay tuned for time and location 🙂
Contact info: rmcc.classof92@gmail.com
Trevor Kraus
Class of 1997 – Andrew Mccorquodale – Main contact –

rmccmr97reunion@gmail.com
Class of 2002 – Details etails on Facebook