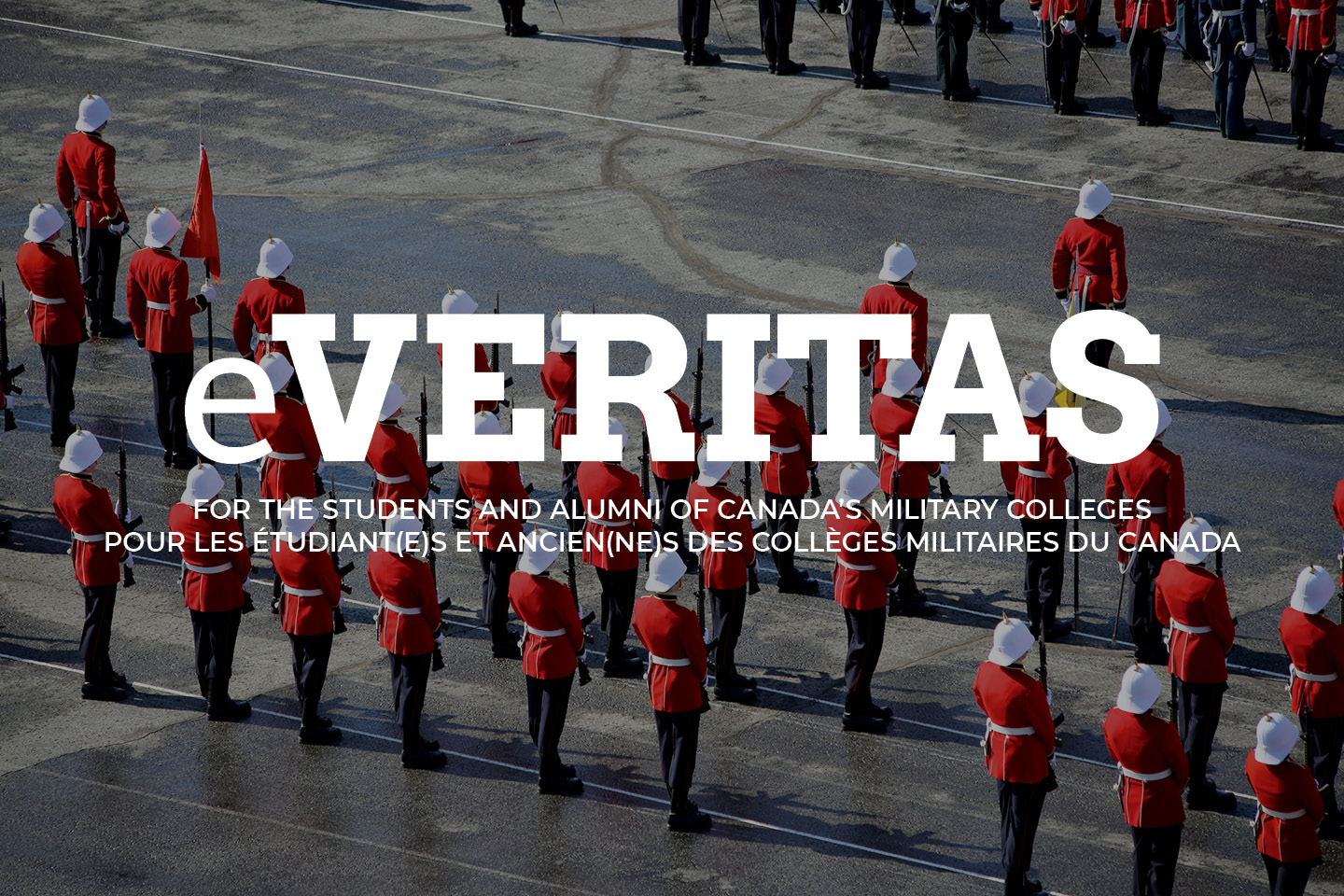 8066 Don Peterson & Steph Ochej cover 50 years
Steph Ochej is a freelance writer and is a regular contributor to e-Veritas
Don Peterson spent his entire childhood in Port Arthur, Ontario (now Thunder Bay) occupying himself with model trains and golfing ("Not well!" he insists). When he was 16 years old, a whole new world was opened up for him when he joined his local Student Militia programme. "I was looking for summer employment…and it lasted through the school year, so that was better than delivering papers!" he laughs. Through two enjoyable militia years with both the RCA and RCEME, he developed an interest in pursuing a military career and signed up to go to RMC.
Once at RMC, Peterson first wanted to become a chemical engineer, but things didn't go quite as he had planned. "After second year they asked me if I wanted to do second year again, and I said, 'Sure!' I think there were about 14 of us in my recruit class that did that." After that, he switched in to applied science and "finally figured out how to study," which made sure that third and fourth year went as planned.
MORE…
While at RMC, the young cadet was involved with the match rifle team — a hobby which he had picked up while

in the militia. "I had shot the old Lee-Enfield converted to 22-caliber in the indoor range in the militia. RMC had that as well as match rifle, which involved smaller targets, smaller bullseyes, and was a little more technical, so I decided to go for that," he explains. One of his favourite parts of being on the match rifle team was all the travelling they got to do for competitions— from Guelph University to West Point.
Peterson still reflects fondly on all of the wonderful, tight friendships he formed at RMC, many of which he has maintained to this day. Another fond memory is that of hanging around Steve Amey's Lakeview Manor, where the RMC students would mingle with the Queen's kids. In spring of 1970, he graduated and was posted to Petawawa in August of 1970.
While in Petawawa, he worked with the 2nd Regiment, Royal Canadian Horse Artillery as a gun position officer, forward observational officer and troop commander. For two years, he also served as the adjutant for the regiment, and did a short tour in a junior staff officer job at the Brigade Headquarters there. In Petawawa those first few years, Peterson received what he considers some of the best advice he's ever gotten from a "crotchety warrant officer" who told him "Sir, if I teach you nothing else, I'll teach you to pick the brains of your young soldiers, and to use your senior NCOs because they're the ones who will save your bacon." Sound advice, according to the ex-cadet with 37+ years in the military!
After six and a half years in Petawawa, the artillery officer was sent to England, for the first of two postings, for the British army technical staff course. Following that were stints in Gagetown, New Brunswick working in the Trials and Evaluations Section — first as a captain running trials and then as a major supervising the Section; then a year in Toronto for staff college. He was then sent back to Petawawa as the Battery Commander of D Battery, 2nd Regiment, Royal Ca-nadian Horse Artillery. Peterson considers that one of his best jobs, thoroughly enjoying the bat-tery's trips to places like Germany and Norway on exercises with NATO's ACE Mobile Force (Land).
In 1983, the well-travelled officer was sent to NDHQ in Ottawa in the artillery section of Director Land Requirements, procuring equipment. For Peterson, this was one of his most frustrating positions, struggling with the bureaucracy of project development and management. "There were things that we were working on that had been in the pipeline for 8 years, 10 years — a good idea but never enough money to do it. …I like to tell people that I spent 10 years at NDHQ between 1983 and 1986!"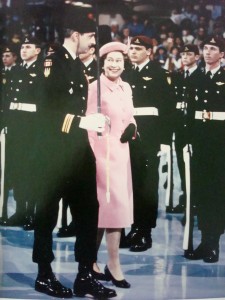 Thankfully for him, there was renewed excitement in the summer of 1986 when he was posted back to England, this time on exchange with Headquarters Director Royal Artillery in Woolwich. While there, Don and his wife Jeannette had the opportunity of a lifetime when they were not only invited to Her Majesty Queen Elizabeth's garden party at Buckingham Palace, but selected for presentation to the Queen herself. "It was really neat! She spent almost five minutes talking to us, but mostly to Jeannette. She was talking about being an army wife and how Jeannette was finding it," he explains. Peterson had previously met the Queen on a more formal basis, when he had the pleasure of commanding her arrival Guard of Honour in Ottawa in 1982.
In 1986, he and his family were posted to Germany where he became Second-in-Command of 1st Regiment, Royal Canadian Horse Artillery in Lahr. Peterson enjoyed this posting in particular because his whole family got to really embrace and enjoy the experience, with daughter Jennifer and son Colin attending school there and having the chance to learn to ski in Switzerland.
In 1990, he was posted to 1 CDN Division Headquarters in Kingston, thinking that he was back to Canadian life

for a while, but less than a year later he was promoted to lieutenant-colonel and sent to the Sinai to work at the headquarters of the Multinational Force and Observers. Of his time spent there, he explains: "The Sinai is such an area of contrasts: people contrasts, terrain contrasts, climate contrasts. Not only from what we're used to, but also your initial impressions and feelings and how these change, looking at people. You see a very poor area, but the people there are so grateful for life. You gain an appreciation of how difficult life can be as a matter of routine for some people."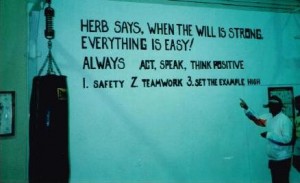 Caption: A well known staff member in the MFO (South Camp) – Herb Brav touched the lives of all who served with the MFO during most of the 1980s & 90s. He was certainly well known to LCol Peterson.
While he was there, he was lucky enough to travel on his own and with his family when they came to visit, climbing Mount Sinai, exploring Cairo and the Sinai, and visiting other places such as Jerusalem, Bethlehem, Nazareth, and the Sea of Galilee.
In May of 1992, he returned to Kingston, and two short months later was posted back to Gagetown as Commandant of the Tactics School for three years. In the summer of 1995, Peterson was posted to Halifax for what was his final posting in his military career, working as the G-1 at Land Force Atlantic Area (LFAA) HQ. After a year and a half, he became the head of reserve development and business planning. In 1998, he became Chief of Staff of 36 Canadian Brigade Group HQ, a wonderful position he held until his retirement from the Canadian Forces in 2002.
After he retired, he and Jeannette decided to stay in Halifax so Colin could finish up high school and to be close to Jennifer while she attended St. Mary's University. While testing out the waters of retirement, he turned a longtime hobby into a part-time job and started working at a custom golf shop in Dartmouth, learning how to repair and build golf clubs.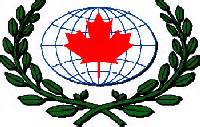 Then, in 2005, he began part-time employment as external staff with the Pearson Peacekeeping Centre, for what was a very fulfilling experience. "Over 7 years, I did 7-8 high-level exercises in peace support operations, basically teaching the staff and command approaches to problems that arise in peace support operations." Doing this job, he worked with top quality ex-military and civilians with vast experience in government, non-government and international organizations such as the UN, the World Food Program, CARE, and Doctors Without Borders, to name a few. Most of the exercises were conducted in Europe, but based on scenarios developed by the PPC training team. "It worked well, and placed the training audience in very realistic situations," he explains. "The feedback from these exercises was very, very positive. You'd like to think that they'd save lives, too."
In 2012, Peterson retired for good. Nowadays, he and Jeannette live in Dieppe, New Brunswick. He spends his days golfing and biking when they're not battling monstrous snowstorms like from this past winter. He also enjoys taking his dog Gracie for walks, and being a member of a local model railroad club — a hobby which he has picked back up after drifting away from it as a teenager.
After reflecting on his long career in the military, it's clear that Peterson has come a long way — from growing up around Thunder Bay to living all over and seeing the world. And the whole family has learned the value of getting out and exploring what's around you, with both of his children truly having appreciated the wonderful experiences they were afforded by living the military life. When asked what's one of the most important things he learned from his RMC days, he keeps it simple with the old college motto: Truth, Duty, Valour. And this September when his class joins the ranks of the Old Brigade, I'm sure Don Peterson can proudly say that he has done his best to live by that.