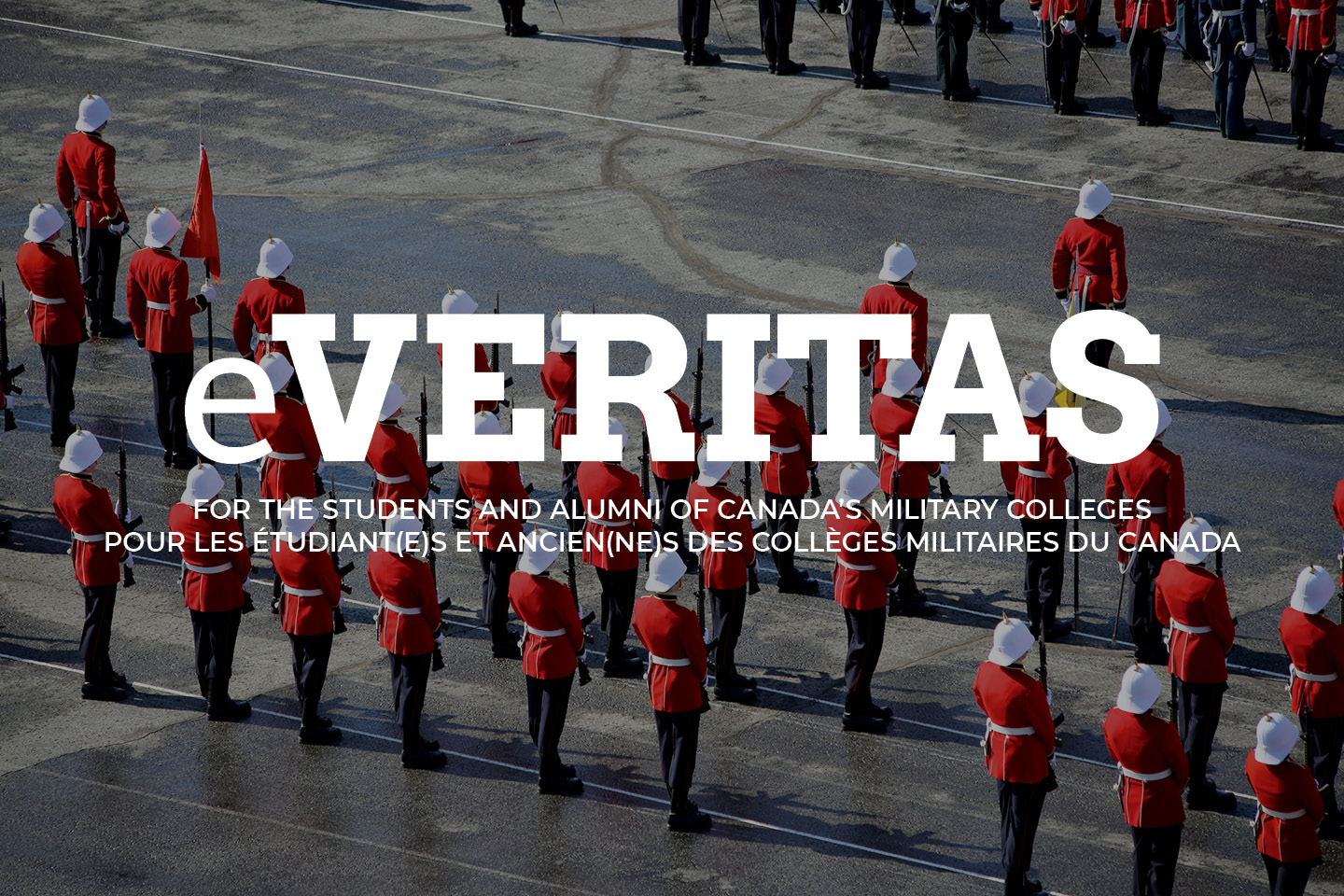 20 April 52
Today is Sunday and a marvellous day for nearly anything but studying. Played more horseshoes today. Right now there are people fishing enthusiastically behind the Frigate; a motorboat just pulled up with a beautiful doll looking for Bidwell; here I am trying to study math.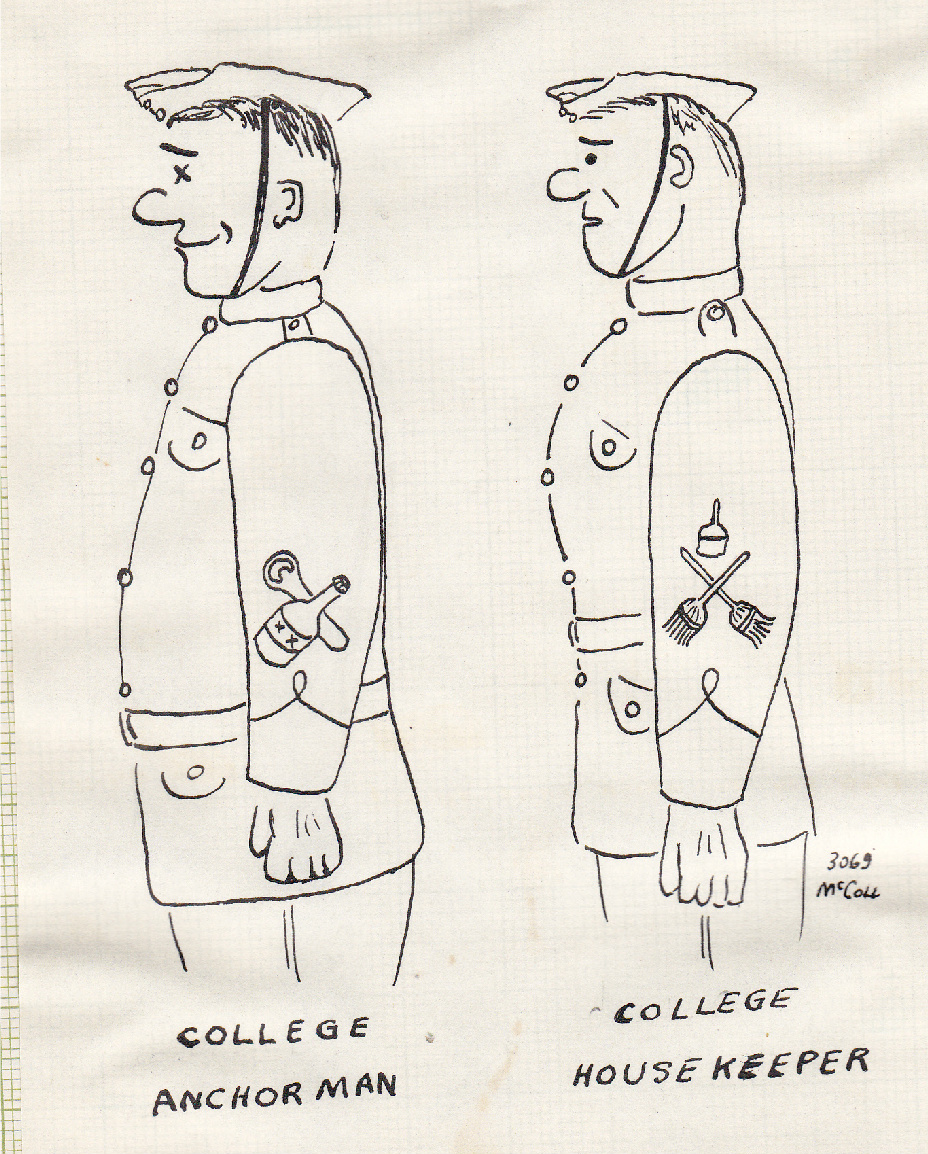 21 April 52
Math this morning was a bit of a bear. Most of us couldn't ever start the question worth 20 marks – it was an assignment which I didn't get straight. Mac MacCrimmon and Don Pearson pulled out today, the lucky dogs!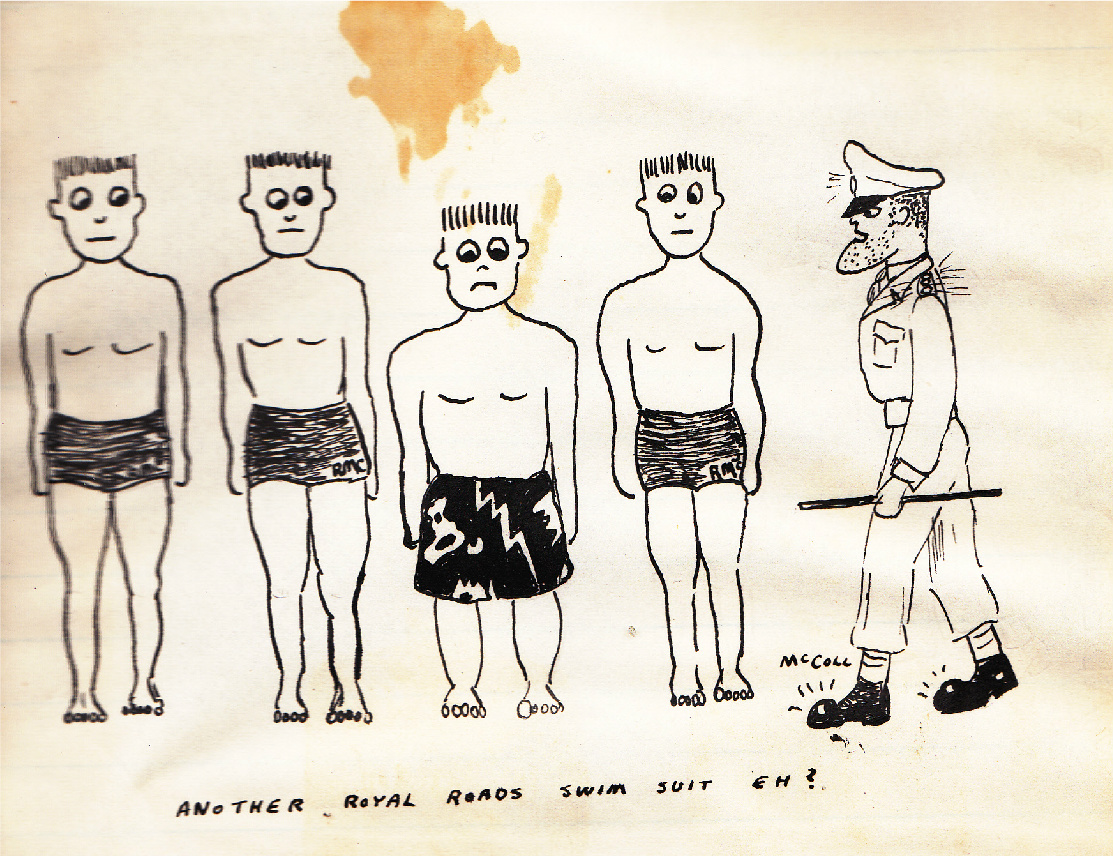 23 April 52
Accounting today was a long, long exam and fairly stiff. All hell has broken out now exams are over. I spent the afternoon packing and polishing. RCR band arrived tonight the staff is holding a dinner for the graduating class, band playing background music, gallons of port, tons of food…maybe next year.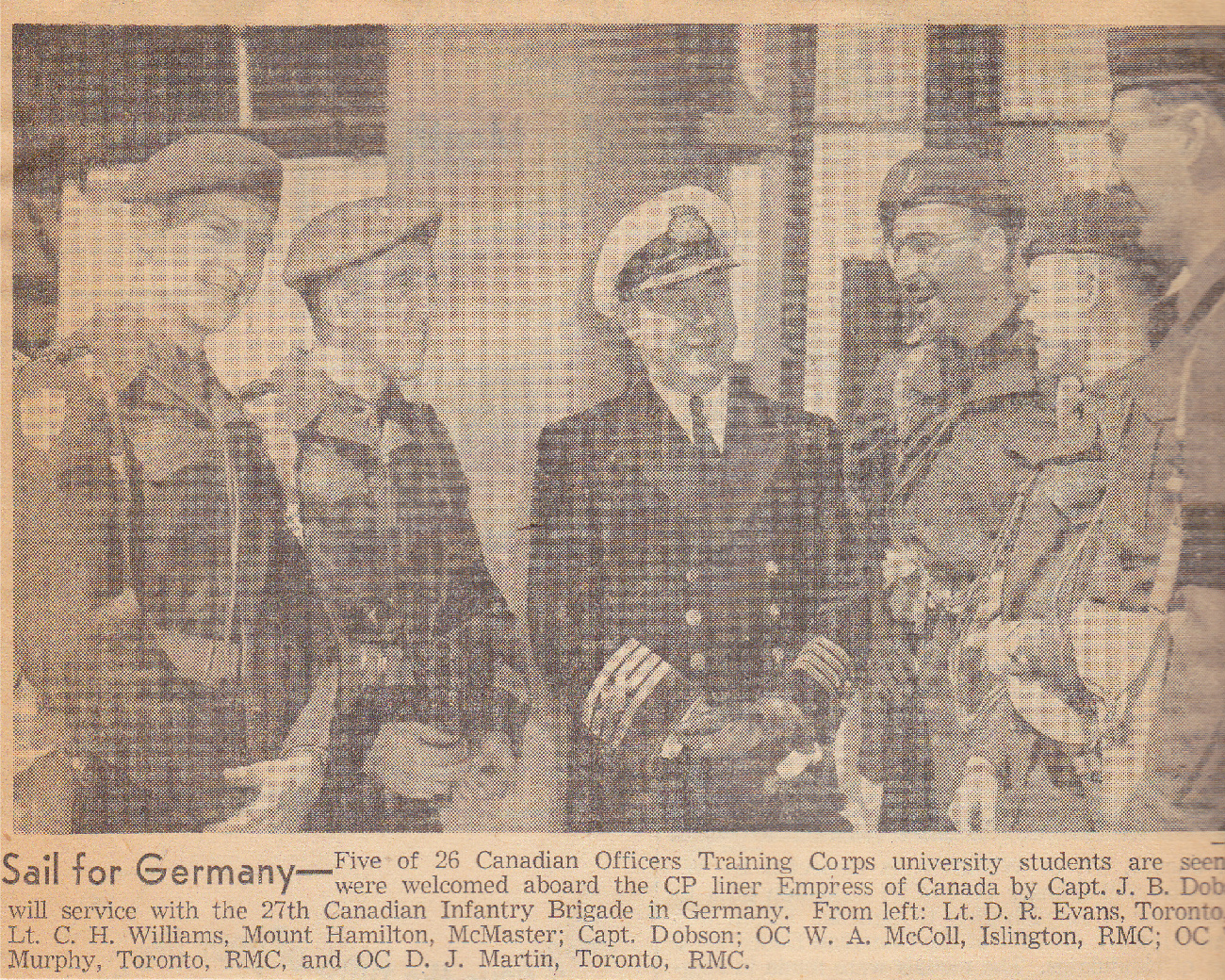 24 April 52
Spent all morning doing very little except a bit of touch rugby with Ken McMillan and some other fellows. We're really in fine shape – were all bushed in half an hour. Dress rehearsal this afternoon with the RCR band. We drilled for 3 whole hours-much of it was getting the band to start off on the right foot since it was so far away from the orders as they were given. Our A flight rifle team was presented with spoons by the Brigadier. Tonight Andy and I went in, saw a show, came back to the college and ate at the buffet supper being held in the mess. An informal dance was held but we came back to the Frigate, cleaned buttons and boots and played 13 games of chess! (of which I only won 5 – Croll is improving).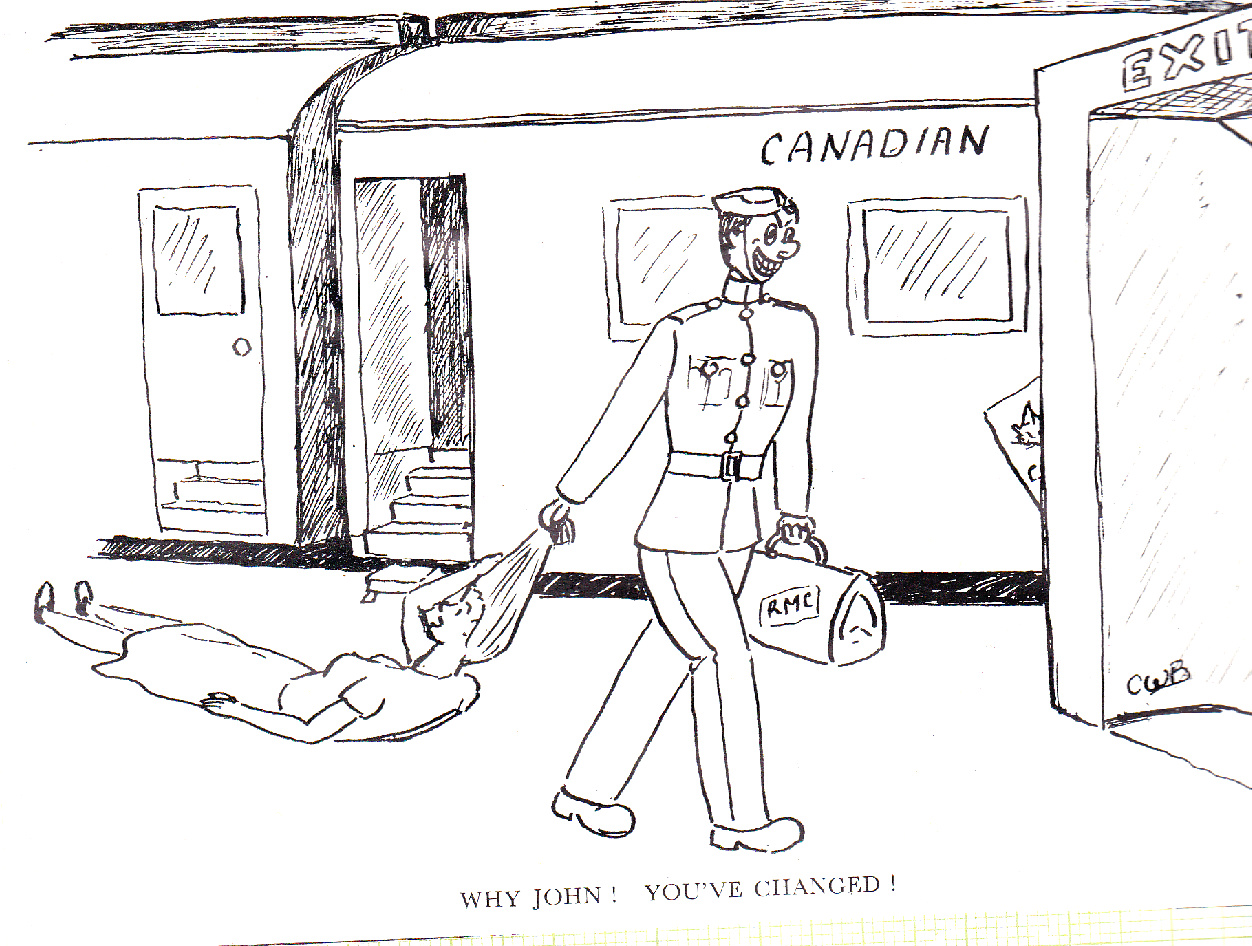 25 April 52
Today is another perfect sunny day with little breeze. At 1417 hours we went on parade for the last time this year. It went off very well. Inspected by Lt. Gen Foulkes; Queen Juliana was there too incognito. The RSM is a constant source of amazement to me. When we're brought to attention there he is in the shadow of the warm door signaling to Williamson. When we're in line of Sqns down by the Frigate end of the square, there he is on the porch of the old hospital. On the eyes right he's there behind the reviewing stand. And by golly when we get to the other end of the square marching in flight column, when we do a right turn, there's the RSM taking it all in. Our parade today must have been pretty fair though because as we marched off behind Fort LaSalle he was there saying "Bloody awful good". The seniors made him a member of their class. Andy and I went in again and saw yet another movie then looked up Walt Murray who got married last year. Walt has a new son of which he is very proud. Andy and I still can't get over it. We came back early got some sleep and took the 0320 train to Toronto. Had breakfast up at his place met Fran at noon, saw Pete Neelands, out to Thorncrest again and finally home that night. It's been another grand year.