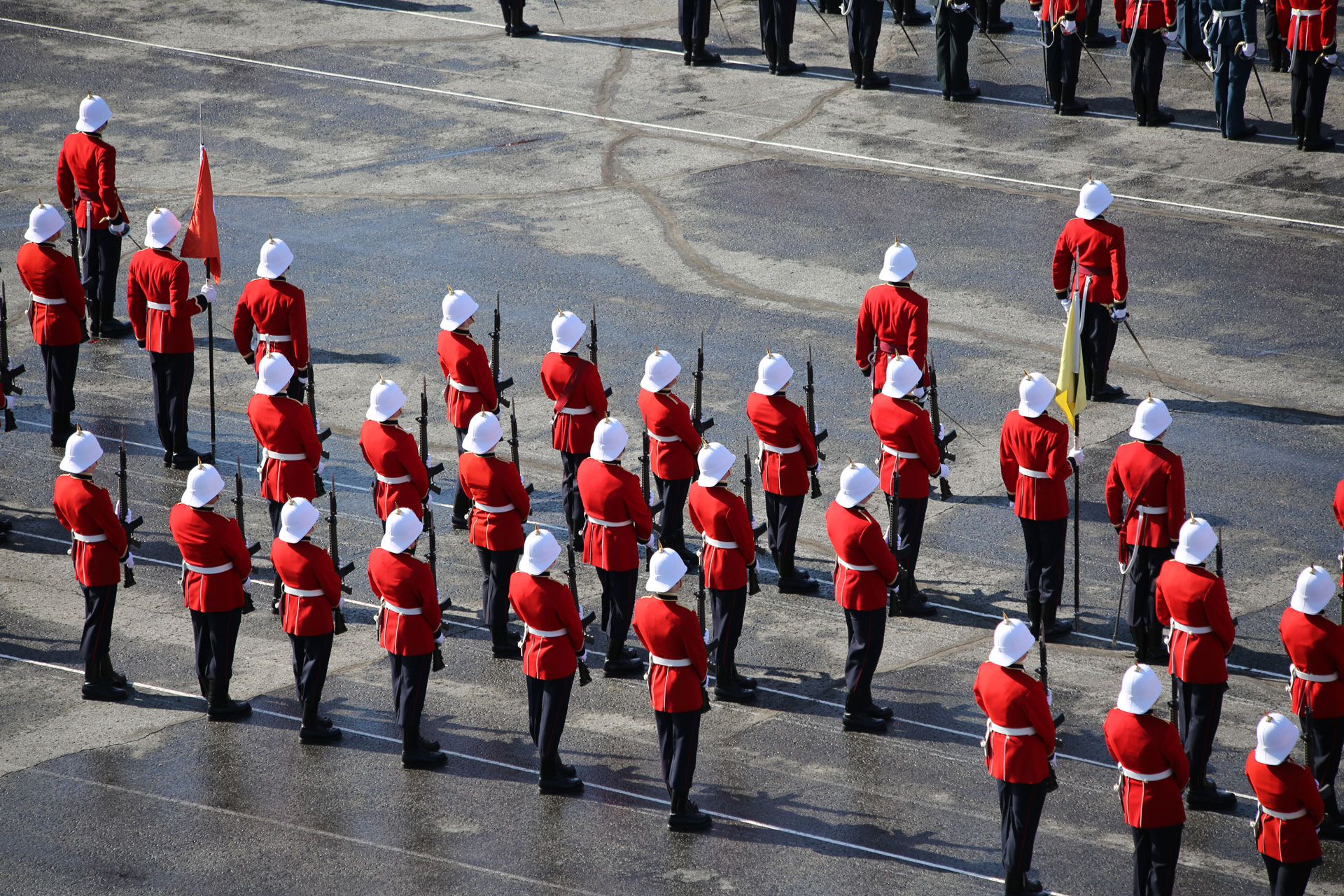 Lieutenant-Colonel R.R.(Rod) McDonald, CD, MA is a 34 year veteran of the Canadian Forces. As a Canadian Forces pilot, he mainly flew tactical helicopters and is a former Commanding Officer of 408 Goose Squadron.  He also has extensive experience in the education and training of NATO military officers  of various ranks.  He was a Directing Staff (D.S.) at Joint Services Command and Staff College – the Defence Academy of the United Kingston.  LCol McDonald also was a D.S. at the Canadian Forces Officer Candidate School (CFOCS) when it was located at CFB Chilliwack.
His appointment to the position of Registrar, a first for a Canadian Forces pilot comes at an interesting and challenging time in the 133 year history of the Royal Military College of Canada.
Bill Oliver, Editor of e-Veritas recently contacted LCol McDonald who took time out from his busy schedule to give our readers an insight on what the latest happenings are in regards to the selection process for officer cadet candidates interested in attending the Royal Military College of Canada.
e-Veritas: First of all, congratulations on your appointment as Registrar for the Royal Military College of Canada. I understand there have been major changes to the process for the ROTP/RETP selection process. Would you outline the process and the major changes compared to recent years?
LCol McDonald: It has generally been felt over the past number of years that using the Strategic Intake Plan (SIP), a projection of what officers would be required in each Military Occupation Structure Identification (MOSID) four years after the selection process, was an inaccurate tool to determine how many ROTP offers should be produced by RMC and Civilian Universities. In addition we, RMC, did not feel that applicants were in the most informed position to select various MOSIDs as a career path. As a result we saw too many applicants not receive an offer because the projection didn't have a position for them, or they refused an alternate MOSID offer because they didn't know what they were getting themselves into. Those that did accept alternate offers came to RMC believing, in many cases, that they could change MOSIDs during their first year here. This was poor information as the Voluntary Occupation Re-assignment program is open to anyone in the CF and therefore very competitive. First year cadets were competing against much more experienced and qualified individuals. As a result we had a high number of voluntary withdrawals due to dissatisfaction.
This led us to what we are doing this year. Applicants apply in the same manner at a recruiting centre except they do not do the detailed interview with a Military Career Counselor (MCC). In past years applicants were merit listed based on an Academic Potential (AP) and a Military Potential (MP). This combined total would determine where they would sit on the merit list. RMC determines the AP while the MP was determined by the Recruiting Centre. For this year applicants were merit listed based on their AP and a more comprehensive questionnaire. The MOSIDs were categorized into 9 groupings, Operations, Support and Engineering, for each of the three environments. Based on the applicants wishes they were offered an operational grouping to determine which uniform they would wear but they were not actually assigned a MOSID. They now come here to RMC without a MOSID but with a list of those they wish to be in.
MOSID selection will now be performance based, and we will have a year of military performance on which to base the selection. At the end of this year the MCCs from the Recruiting Centres will come to RMC and conduct the interview that would normally have been done at the start. The results of the interview, combined with the results of their four-component performance, and recruit camp course report, will determine their merit listing. At this point offers will be made based on the SIP. The differences are, now the individuals can actually compete for their job, they will have a year to learn about other MOSIDs so that if they do not get what they were initially after, they will be more likely to accept something else, and the SIP is based on a shorter forecast and therefore will be more accurate. Individuals who do not get offered anything that they are interested in may still submit a voluntary withdrawal without penalty.
It is not yet certain, but the Commandant has asked that an early acceptance board be held prior to Christmas in order to make offers to a few top-level candidates who submitted early applications – essentially looking to make early agreements with the finest of the excellent candidates who apply. This is being considered at NDHQ and may well be instituted for this year's process.
e-Veritas: What were the unexpected growing pains in developing this new process?
LCol McDonald: Any significant policy changes require full consideration by all parties, and NDHQ needed to ensure the secondary effects had been considered. Also, we need to work out the mechanics of how to conduct the interviews and merit board in a timely fashion at the end of the year. We still have work to do to make this trial a successful way of doing business.
e-Veritas: We understand that most Military Occupation Classifications except the Pilot MOC will not be assigned until the end of I Year this school year. Is this correct? If yes, is there a chance that some of the current I Years will also have a chance to be selected for the Pilot MOC at a later date?
LCol McDonald: None of the MOSIDs will be assigned until after completion of the first year, therefore all first years who have been assigned to the Air Operations category could conceivably apply for pilot.
e-Veritas: Would you outline the process on how the MOCs will be assigned during this school year? What will be the factors in the criteria?
LCol McDonald: The weighting of the interview and performance results still need to be determined before we merit list the first year students. This will be done in a joint planning session with CFRG, the recruiting group headquarters.
e-Veritas: If there is a Board – what is the makeup of this Board? When will it take place? When will the cadets be made aware of their assigned MOC?
LCol McDonald: There will be a board. The plan is to conduct the interviews immediately after final exams so that we have all of their performance results and the interview assessment to merit list the applicants. The board will have representation from RMC Canada, RMC St Jean, CFRG and CDA Headquarters. The intent is to make the offer to the cadets in the first couple of weeks of May so they may accept their offer and proceed on their summer training. Therefore, all will know their disposition before the graduation festivities the third week of May.
e-Veritas: What are the plans for the upcoming intake? Will candidates go through the aircrew selection process at Trenton / Toronto similar to recent years? Or will it happen at the end of I Year?
LCol McDonald: As much as possible, all applicants who are made an offer, that have selected aircrew as one of their MOSIDs will still do aircrew selection either prior to coming to RMC or during their first year. That way they, and we, will know whether or not they are still competitive for aircrew at the May selection board.
e-Veritas: The Director of Athletics is on record saying that 36 recruited athletes have made it through the process to this stage of the current school year. What is the process for identifying and selecting recruited athletes for ROTP and RETP positions?
LCol McDonald: Although RMC has identified a number of special interest groups, including varsity athletes, they are not used as a factor in making ROTP or RETP offers. RMC assigns each applicant a College Potential score based on some of the unique demographics and criteria we wish to satisfy. This special interest factor is only used after the list of applicants who are to receive ROTP and RETP offers has been determined. We then go through the list to determine who will be made an offer to attend RMC and who will go to a civilian university.
e-Veritas: Are you confident this refined process will be better for all parties, ROTP applicants and the Colleges?
LCol McDonald: Indeed I am. For the first time in many years we will have a clearly outlined, transparent and documented system that will guide all phases of the selection process. The development of the new process has been a very positive exercise in cooperation with the military Colleges, CDA Headquarters, and CFRG. I look forward to putting the process into action.