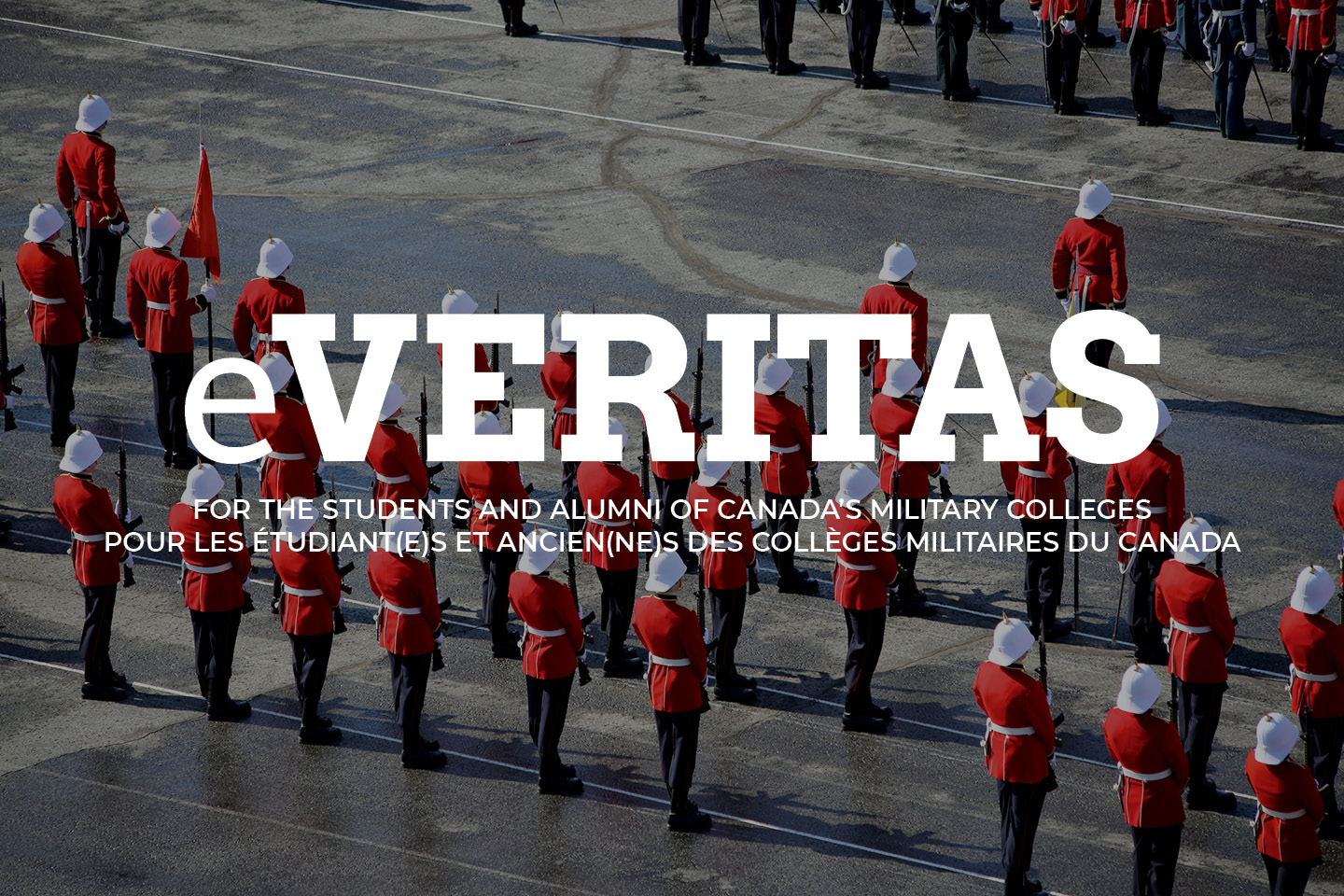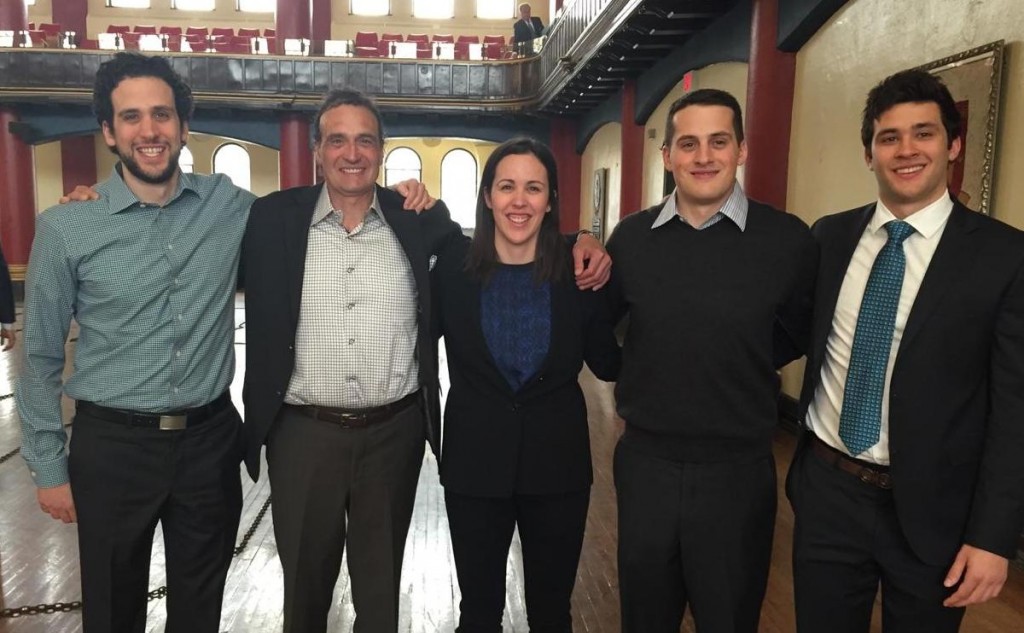 Iron rings all in the Bruni family – Three Ex Cadets each in possession of an Iron ring which they earned at RMC were in Kingston over the weekend, along with their mother, Janice & father, Mike.
The occasion was the Iron ring ceremony which was held at Queen's on Sunday – 15 March. Youngest son, Cass, was the 5th member of the family to earn a ring.
Photo – Mike-(Queen's) geological engineering 1974 – 2nd left ; Jesse, electrical 2004 – 4th left; Amanda, chemical 2006 – centre; Gino, chemical 2008 1st left – all RMC ; and Cass chemical 2015 – Queen's University – looking sharp with the suit jacket & tie. Photo credit – Very proud mom – Janice.
***
19025 LCol Andrew Barrett (RRMC RMC 1993) – Retired from CAF after 25 years

24253 Capt Jesse Slaunwhite (RMC 2009) moves on to second career

L'Odyssée de Preston –

Par 12944 André Durand – Major de la classe d'entrée 1977 au CMR
More

/

plus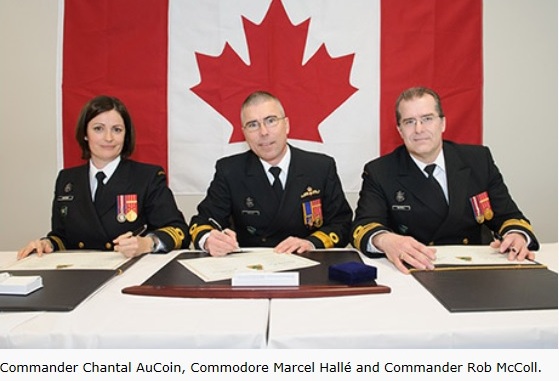 16462 Commander Robert McColl (RMC 1988) is the new Commanding Officer of the Naval Engineering Test Establishment (NETE) in LaSalle, Québec. He is no stranger to the challenges of the Materiel Group having worked recently in DGMEPM, PMO HCM/FELEX and, over the last 18 months, as the Naval Shipbuilding Projects Officer in DGMPD(Land & Sea). Commander McColl enthusiastically welcomes the new opportunity and told the audience that he is looking forward to working with the entire team, to continue providing independent expert test and evaluation services in support of the RCN and the Canadian Armed Forces.
***
19025 LCol Andrew Barrett (RRMC RMC 1993) – Retired from CAF after 25 years
19025 LCol Andrew Barrett (RRMC RMC 1993), DGMPD (L&S) PMO MSVS. Wednesday 14 January 2015 was Andy's last day in uniform after 25 interesting years of service to Canada, the Canadian Armed Forces, and the Royal Canadian Electrical and Mechanical Engineers.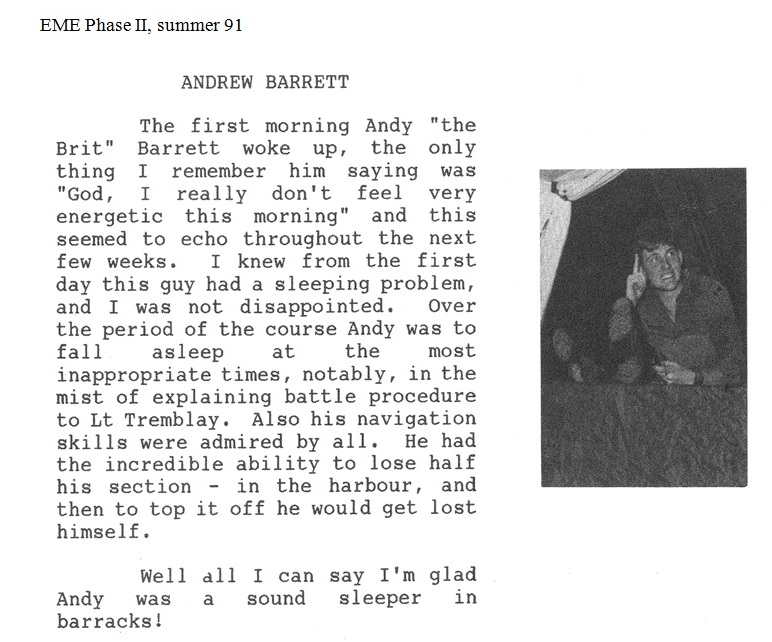 Andy began his career in Petawawa, where he spent seven years training except for three short absences: one to assist with a flood, one to assist with an ice storm, and one to help stabilize Bosnia. Andy's penance for post-graduate training was his first tour with the Medium Support Vehicle System project, where he attempted Integrated Logistic Support.
He was able to escape to Esquimalt, in British California, where greatly enjoyed living on the ocean while helping the Navy with transportation and fixing their kit. He spent just one year as OC Regimental at the school and was exiled for good back to the National Capital Region after Staff College. While in the NCR he spent five years at an operational command, two years as the Equipment Management Team Leader and then three years running the J4 shop.His last posting was a return to MSVS, building and kitting mobile shelters.
Andy's undergrad degree is Engineering Management from RMC and his post-graduate degree is System Engineering from Portland State University. He is staff trained by both the Army and the Canadian Armed Forces.
Andy and Marcy have two children, Libby and Sam who are both in high school. Andy has accepted employment with industry but is keeping his options open. A pub night to mark Andy's career will be held in 27 March 2015.
Maj Martin Brosseau, PMO MSVS ILS, will gratefully collect your messages to Andy at Martin.Brosseau2@forces.gc.ca  or at 819-997-1954.
It is Andrew (Andy) Barrett Pleasure to invite you to his DWD. The details are as follows:
When: Friday, 27 March 2015, at 1930hrs.
Where: Army Officer's Mess, 149, Somerset West, Ottawa
Dress: Casual Civilian Attire (Dress code 5), Jeans allowed
Theme: Irish Pub Night
Music: Live Band, "Furious Gord" who will play Great Big Sea`style music
Cost: None! Alldonations will go towards a departure gift for Andy
Please RSVP NLT 19 March 2015 (spouses welcome) to Marcy_Barrett@hotmail.com
If you haven't had the chance yet, please send your anecdotes on Andy Barrett to
Andrew (Andy) Barrett vous invite à son départ dans la dignité
Quand: vendredi 27 mars dès 19 h 30
Endroit : Mess des officiers de l'armée, 149, rue Somerset Ouest, Ottawa Tenue : 5. Décontractée (le port de jeans est permis)
Thème: Soirée Pub Irlandais
Musique: « Furious George » jouera de la musique du style « Great Big Sea » Coût : Aucun! (tout don contribuera au cadeau de départ pour Andy)
RSVP ATPL1 9 mars à, Marcy_Barrett@hotmail.com (les conjoint(e)s sont les bienvenu(e)s)
Si vous ne l'avez pas encore fait, svp faire parvenir vos anecdotes sur Andy Barrett à
Brosseau Maj MJJC@ADM(Mat) DGMPD(L&S)@Ottawa-Hull
***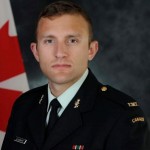 24253 Capt Jesse Slaunwhite (RMC 2009) retired from the Canadian Armed Forces on 4 March 15 after having completed over 10 years of loyal and dedicated service.
He started his military career in the Naval Reserves in Halifax as an NCIOP. Having thoroughly enjoyed his time in the Reserves, he decided to join the Regular Force. He graduated from the Royal Military College of Canada in 2009 with a bachelor's of Mechanical Engineering.
Capt Slaunwhite's first posting was to 1 Svc Bn in 2010 where he was Veh Pl Comd and DO for Op PODIUM. He also had the privilege to deploy with the advance party for Op ATTENTION roto 0 in Kabul as a DO within the National Command Support Element.
Upon returning from tour he was promoted to Captain and posted to CFB Comox in 2012 as the 19 Wing RCEME O. While in Comox he acted as both the Ops O and 2IC for the RCAF's Mission Support Element. Despite miraculously never deploying to Wainwright while at 1 Svc Bn, Capt Slaunwhite deployed to Airfield 21 for three months with the Air Force to build the camp and support Ex MAPLE RESOLVE 1301.
Jesse was also lucky enough to deploy to Campia Turzii, Romania with the CF18's as part of Op REASSURANCE. Like all great things in life, his posting in Comox had to come to an end, and in 2014 he was posted from Comox to Ottawa to take the position of SO RCEME.
Capt Slaunwhite was accepted into the MBA program at the Richard Ivey Business School at the University of Western Ontario in London and started classes 02 Mar 15. Upon completion in April 2016 he hopes to begin a new career in the private sector and, just maybe, finally live with his longtime girlfriend.
A DWD ceremony was held  Monday, 23 Feb.
***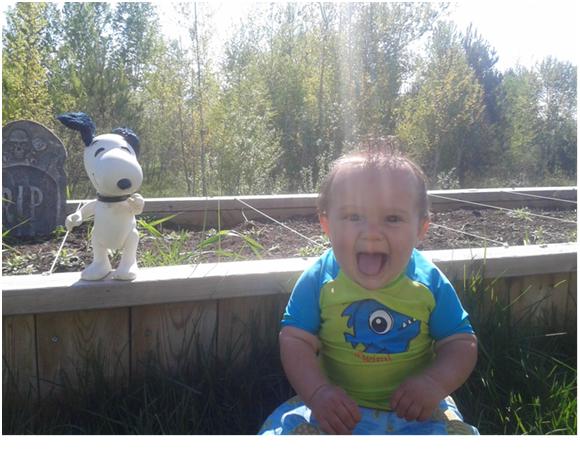 L'Odyssée de Preston
Par 12944 André Durand
Major de la classe d'entrée 1977 au CMR
En préparatoire on m'avait donné en cadeau un réplique de Snoopy. Ce dernier était la mascotte de l'Escadron Preston. J'ai retrouvé cette réplique, que je nommerai "Preston", près de 30 ans plus tard. Peu intéressé par cette relique du passé je l'ai mis dans mon jardin pour faire une blague. Or ma tendre épouse et mes fils ont décidé de faire voyager "Preston" tout comme le nain dans le film "Le destin d'Amélie Poulain".
 De retour de son voyage inaugural au sein de la famille, j'ai décidé de le faire voyager afin de rejoindre les Anciens de l'Escadron 6 (Preston), classe de 1977, en prévision de notre 40ième anniversaire d'entrée au CMR Saint-Jean en 2017. En date du mois de mars 2015, Preston vient de quitter Hong Kong pour un retour au Canada. Destination surprise et à suivre dans une éventuelle mise à jour de cette odyssée.
My sincere  hope is that Preston will be able to reach all 6 Sqn  1977 preps  by our 40th anniversary in 2017. 6 Sqn, as it was the case in these days, will be the leading Sqn.  As of today only 4 Sqn (Hudson) might be in a position to challenge us!
You may follow Preston's Odyssey by reaching the "Classe-77-CMR Saint-Jean" facebook page.