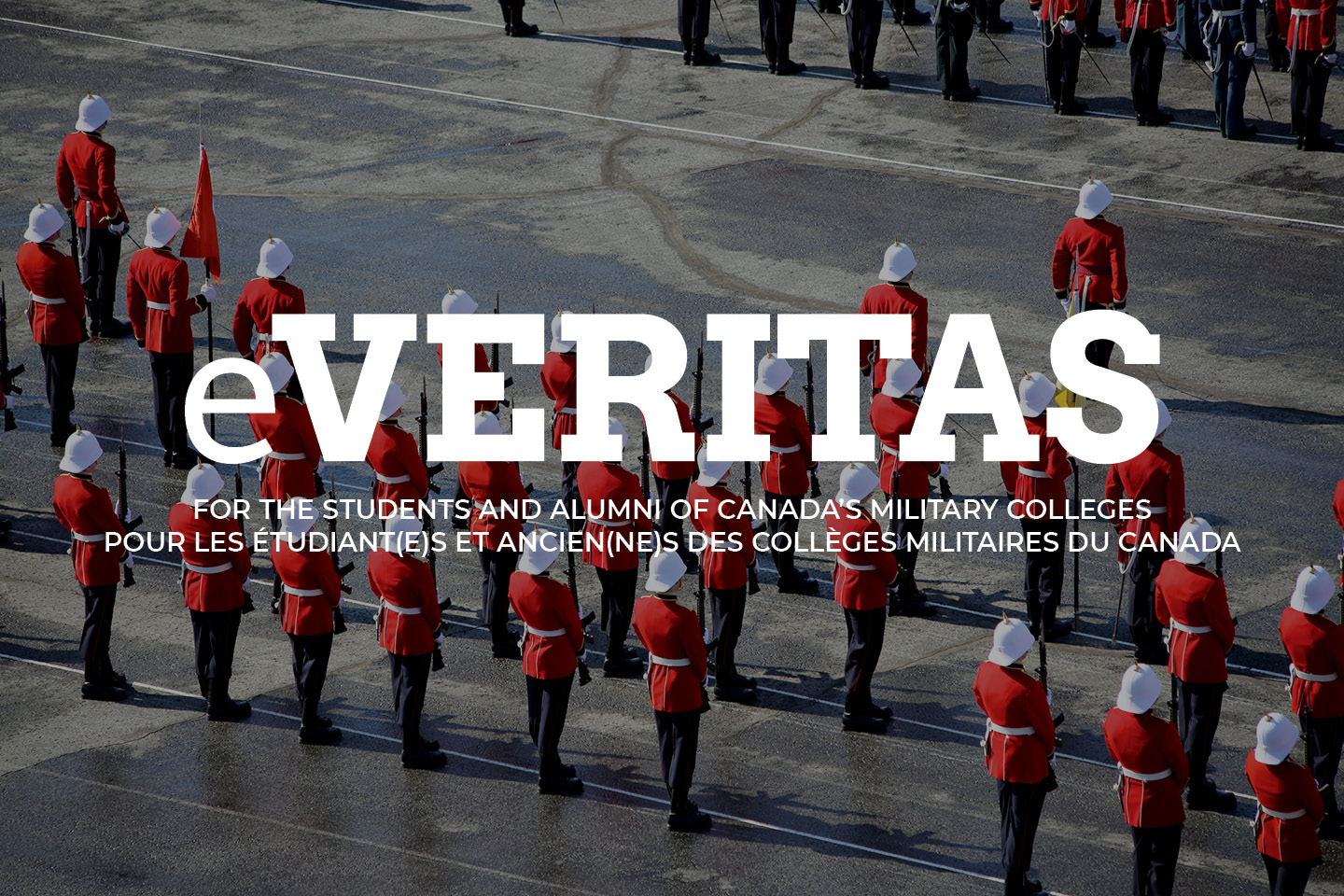 Rain No Match as Bruciepalooza Takes Over the Parade Square –
By: WJO
The main exam period is over. The Convocation ceremony and the grad parade are nine and ten days away. The grind for Drillfest and the countless hours on the parade square will be in high gear soon enough.
What better to do, for cadets and staff on a Sunday afternoon for three hours but to attend Bruciepalooza. Weather was not great but who noticed with all that talent to watch, listen and to appreciate.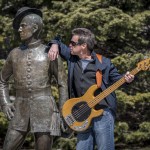 The Artist in Residence Concert featured performances by young and old; in and out of military uniform all connected somehow to the college – including cadets, faculty, military & civilian staff. The main organizer was RMCC's Artist in Residence, Mr. Gordon Sinclair of The Tragically Hip.
When Gord Sinclair began his appointment as RMCC's 2014 artist-in-residence, he said that his objective would be to help students, staff, and faculty alike "discover the musician within themselves … forge new friendships, enjoy the camaraderie of their fellow players, and move forward with something that will give them joy throughout their lives." And he has done just that.  (Click on photo for better viewing) previous e-Veritas article
"Everyone who has worked with Gord this term remarks on how generous he has been with his time and expertise," remarks Dr. Irwin Streight, Associate Professor in the Department of English who has been Gord's 'handler' at the College. "Gord has indeed realized his intent to bring together people from disparate College communities who share the ability to play and make music." Streight observed that Gord has worked with individuals at RMCC from the custodial staff to the Principal's office, and with students from first-year to a graduating UTPNCM.
"Bruciepalooza is both a festival of RMC musicians who have developed their talents with Gord's guidance and a celebration of the community and joyfulness that music creates in our lives," says Streight.
A constant rain with cool temperatures, some would say chilly, did nothing to dampen the enthusiasm of the appreciative crowd. It is usually pretty  tough to pick-out the individual top act (as they were all good); however, most would agree that the high-light of the show was the Trews / Hip – Highway of Heroes.
"Highway of Heroes", was co-written and co-produced by The Trews and Gordie Johnson (Big Sugar) and was inspired by the 2006 death of Ex Cadet  22458 Captain Nichola Goddard (KIA Afghanistan, 17 May 06) from The Trews' hometown of Antigonish, NS. Canada's Highway of Heroes, is the section of the MacDonald-Cartier freeway named to honour those who have sacrificed all in service of country.
All in all, there were about 33 songs accompanied by the full array of musical instruments one would expect to see at a high end musical concert.
From our point of view, the event was a huge success if the constant spontaneous applause from the full contingent, in attendance, from the cadet wing and a huge faculty / staff presence is any indicator.
College Principal, Dr Harry Kowal on behalf of Commandant, BGen Al Meinzinger and the entire crowd thanked all the performers and the organizers for their outstanding efforts in putting on this first-rate, highly professional event.
After a three hour show and nearly three hours of rain – most of the crowd had a hard time to leave.
Photos from Bruciepalooza Here
Ed: We want to acknowledge and thank the following cadet photographers that assisted us with the Bruciepalooza photos:
Curtis Maynard;
Dan Ryan;
Erik St-Gelais; and
Nicolette Gignac

Remember to check out

Flickr

to view more Bruciepalooza photos.
***
More Fun & Games…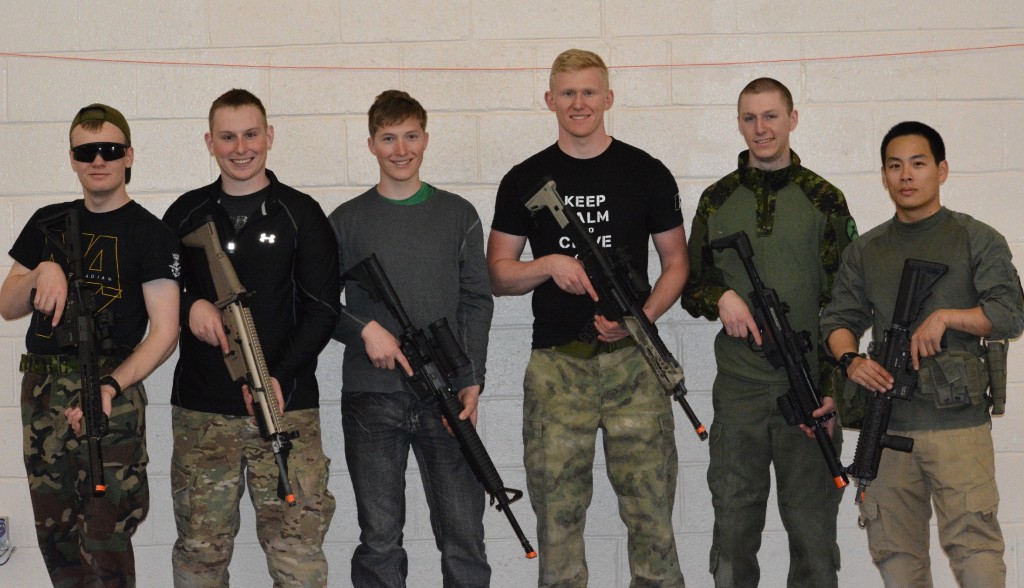 Historical Moment for RMCC Airsoft/Paintball Club
Article by: Club President 26140 OCdt Hansen Tan.
On 27 Apr 14, eight members of the RMCC Airsoft/Paintball Club participated in a shooting competition at CFB Kingston. Within one hour, the club managed to transform CFB Kingston's Thompson Drill Hall into an improvised indoor range. Club members practiced various skills such as tactical reloads, weapon transitions, and target acquisition drills.
While the United States has had airsoft events on military property in the past, this event conducted by RMCC marks the first airsoft event to take place on CAF property. The RMCC Airsoft/Paintball Club is proud to be able to have claim to this historical moment and will continue such activities in the years to come.
22846 Captain Brad Rathbun, Club Supervisor – "The very active airsoft component of the club has been making great progress this year. The tireless efforts of OCdt Tan to lay the groundwork for future events will be a great asset to the club as he departs for additional training. We hope to build on this involvement by holding more ranges and team activities, keeping us at the forefront of airsoft in the CAF."
I am proud to say that our club has been the first in Canada to have been able to pull off such a feat. Even though the event was fairly low-key, I am happy to have had the chance to hold this event for our club members to practice useful skills that they would be utilizing in the field. Although not a full scale event, I know that this event will only be a small part of the promotion that our club will bring to the CAF in the future.
Finally, 26730 OCdt Matthew Mooney, 2IC – "I consider this event a great success. The club members were able to test their skills against one another in a fun-filled environment and we got to see the types of amazing talent that our members possess. I am encouraged because I got to see how many club members were interested in this type of event – I hope to run more of these events in the future with larger groups and continue to promote the sport at RMC and in the CAF."