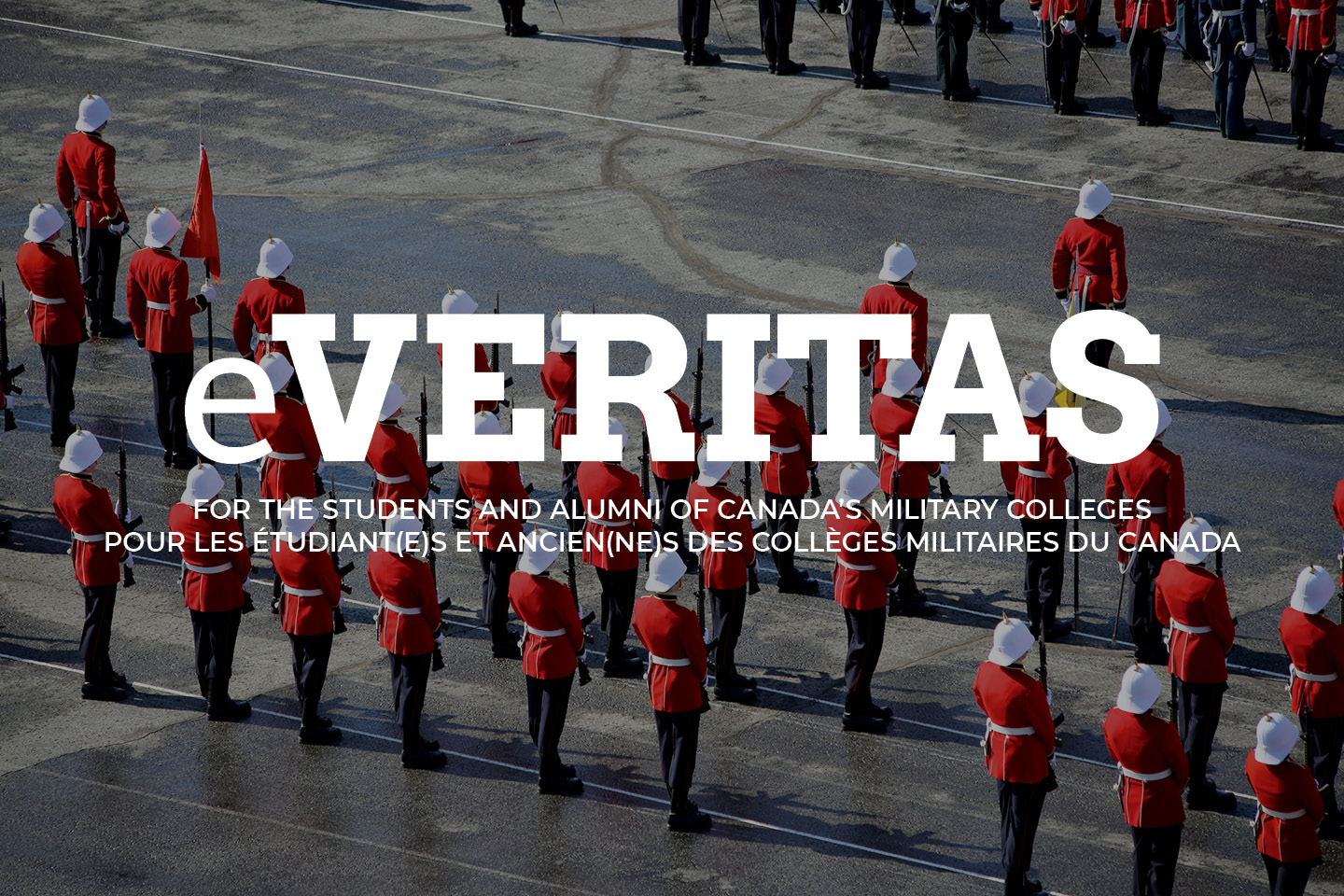 Caption: Following the cheque presentation: Rod McDonald Executive Vice-President RMC Foundation; Dr. Xiaohua Wu – 2014 Cowan Prize for Excellence in Research; 14458 Dr. Harry Kowal, RMCC Principal; and 15592 Dr. Pat Heffernan Vice-Principal, Research and Dean of Graduate Studies at Royal Military College.
Cowan Prize for Excellence in Research – Dr. Wu Wows Currie Hall Crowd
Article: 15595 Dr. William (Billy) Allan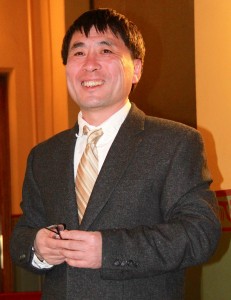 The 2014 Cowan Prize for Excellence in Research was the centrepiece for the annual public lecture, celebrating the accomplishments of the recipient.  At the May Convocation, 2014, Dr. Xiaohua Wu – (photo left), of the Department of Mechanical and Aerospace Engineering, was announced as last year's winner.
The prize is a monetary gift, managed by the RMC Foundation, and made possible through the generous endowment in 2000, of H24263 Dr. J.S. Cowan, former Principal at RMC (1999 – 2008).
On Tuesday 7 April, in Currie Hall, Dr. Wu presented a wide ranging and vividly illustrated survey of techniques and images obtained from experiments in fluid mechanics.  While seemingly technical, the applications to the everyday lives of those in attendance were clear: jet engines for one, climate effects and the advances that computing power continue to have on engineering research, which has society's benefit as its core goal.
MORE
Dr. Wu is a multiple winner of distinguished prizes for his work as a Direct Numerical Simulations expert, applying computational modelling to the behaviour of fluids, like air or water, in close proximity to physical structures, like the earth's surface, aircraft airfoils, submarines, pipes, compressor or turbine blades and other important features in our energy-intensive society.
The host for the evening was Dr. Karim Khayati, who orchestrated the introductions, presentations, and a question and answer session.  Dr. Wu was challenged to extend his observations by members of the academic faculty from many disciplines, undergraduate and post-graduate students, and representatives of the RMC Foundation.
Xiaohua's family was in attendance, and those assembled had the opportunity to meet them, whilst mixing and extending the discussion at the brief reception in Baronial Hall which followed.
The support of the Foundation and e-Veritas photographer, the Operations Cell, Cadet Dining Hall, Event Coordination and Commissionaires were all key to the success of this great event.
Dr. Cowan had been detained on his travels and was regrettably unable to attend on the night, but had sent his best wishes and congratulations.  He was represented by the Principal, Dr.Harry Kowal.
More photos by 26573 OCdt (III) Denice Zoretich – Here