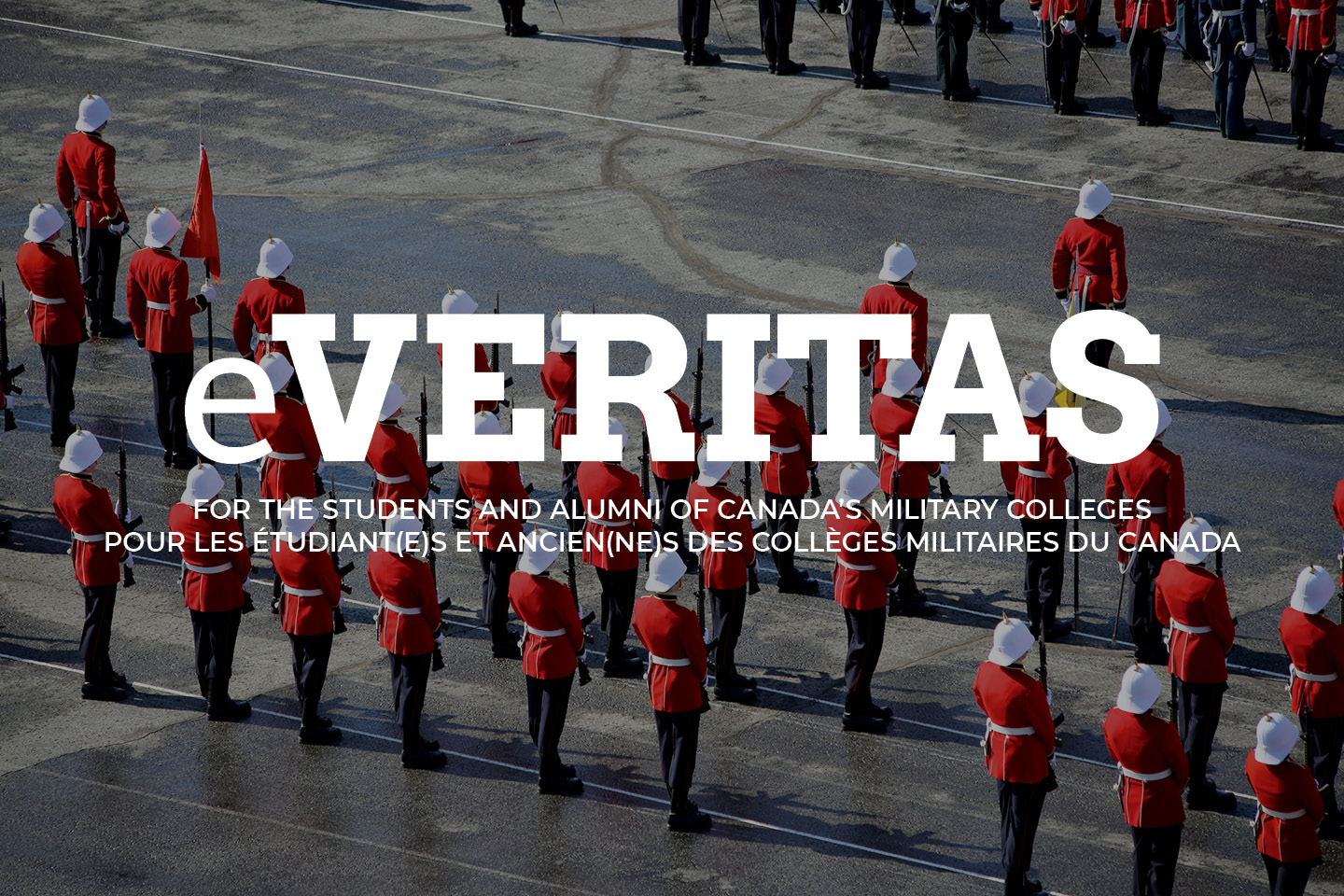 25 Feb 52
Tonight, Mr. Edgar McInnis, President of the Canadian Institute of International Affairs, (and also author of the Upper School History text) spoke to us on "Nationalism in Asia". It was a very interesting lecture. The part I remember was that in India there are about 30 million people and 90 million of these darn sacred cattle who do no work, give no milk, are not used for beef but are just a pain in the neck.
Judging from the results, Royal Roads gave our boys quite a trimming. We should be getting some good athletes from there next year.
27 Feb 52
Highlight of the day was an escapade By Messer Dave Dillon, Picton and Lynch. It seems the guard saw them drive off to Wolfe Island in the fire jeep after tattoo roll call for a few ales in the pub over there. On returning they walked right into the arms of the duty officer. CWC Williamson gave us a pep talk in Currie Hall on general slackness in the wing and it was followed by a cheer practice for the West Point game.
28 Feb 52
Still doing these damn tests in swimming periods…today's was to jump in fully clothed and undress, then tread water for a while. Went in to Queen's to hear a lecture in French by Mr. Bertrand, missed the truck returning and went over to Jock Harty Arena to come back with 3 and 2 Sqns which were playing hockey. Came in to Kingston later tonight to give blood again to the pretty little Red Cross girls from the mobile blood donation clinic from Toronto.
29 Feb 52
The U.S.M.A. team arrived tonight around 1800 hours and as usual impressed with their smart uniform and bearing. Went in to see "Show Boat" which was playing in Kingston tonight – the songs in it are wonderful.

1 Mar 52
Woke up this morning singing "Old Man River". Andy Croll is debating against 2 cadets from West Point with E.P. McLaughlin. Bill Schulz is his opposite number and a very likeable and clued up chap. RMC held an open house this afternoon and a few people kept trickling in to be guided around in small groups by cadets. The gym team held sort of a routine practice which people could watch. #1 squadron won the pistol match again for this month. The game tonight was a great deal of fun and our boys played well winning 7-4. A reception was held after the game back at the college and "They Were Not Divided" shown in Currie Hall. Numerous parties held in town.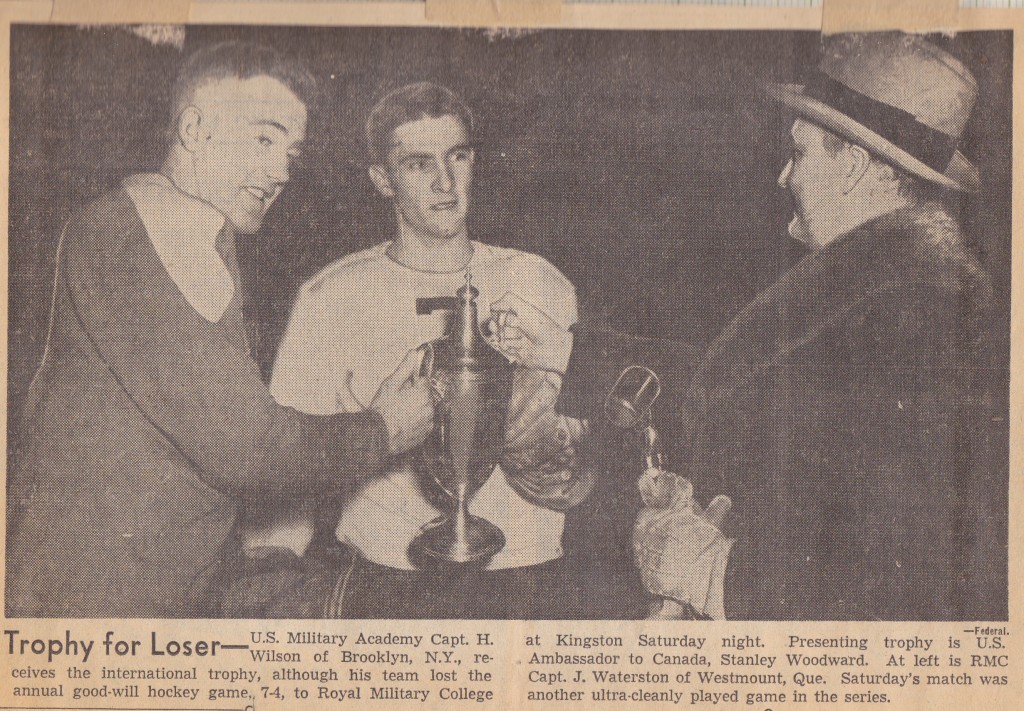 4 Mar 52
Tonight I went into the library in Kingston to attend a forum hour held by the U.N. Association in Canada which has a Kingston branch. The chairman was Air Vice Marshall Dunlop and the topic "Uneasy Europe". It was a very interesting and information hour and I think I'm going to try to go from now on.
5 Mar 52
The staff played the senior basket ball team tonight and everyone there had a hilarious time. The boys came out in the funniest looking get ups while the staff were funny enough just playing basketball. Some of them used to be good players and actually they did very well.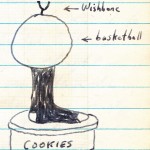 After the game Dr. Fryer made a little speech and the losers were presented with a trophy, which I will sketch here. At half time the staff strung nylon threads across the cadets basket and for a while it was fun to watch the ball rolling over the hoop.
6 Mar 52
The Dramatic Club put on a play tonight and did an exceptionally good job of it. Big Joe Thomas stole the whole show as Lt Trotter. The Jr. Hockey Team won their league championship in playoffs with Queen's, the first time since the college re-opened that we've had a hockey championship.
8 Mar 52
Drill parade this morning was in the form of a route march and we got some good songs started and generally had a fair time.