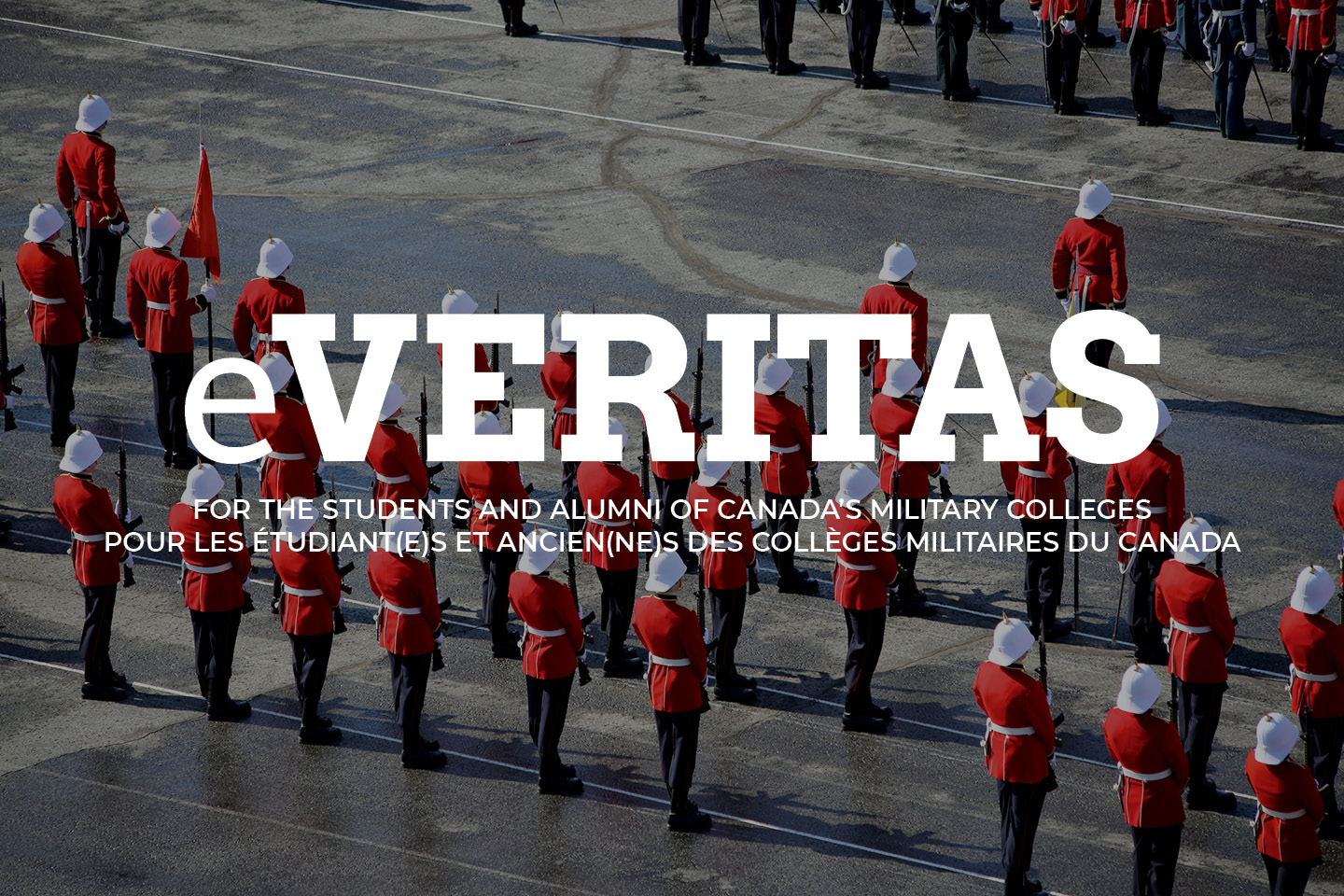 Danielle Andela: Meets up with exchange student from France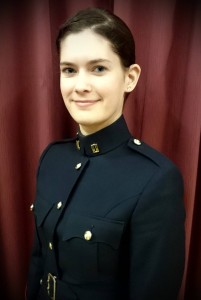 26659 OCdt (IV) Danielle Andela is back for her fourth consecutive year as a volunteer e-Veritas correspondent. Over this time, the Whitby, ON native has made consistent and major contributions by providing timely and interesting articles from within the Cadet Wing. We are indeed fortunate to have her as part of our e-Veritas family.
Danielle also is the architect of the popular 'M' after RMCC pieces where she connects with recent Ex Cadets who are serving in various elements and military occupations across the Canadian Armed Forces.
This time around and over the next few Issues, her concentration is on the various exchange students that are attending RMCC. Following is an interview with SLt (I2362) Elodie Leroux, from l'Ecole militaire de L'air in France.
MORE…
Exchange Students Once Again Arrive at RMC!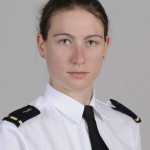 As a part of our first semester schedule, Exchange Students have begun to arrive from many different countries such as the United States, France and Germany to spend the semester at the Royal Military College of Canada. The following is an interview with SLt (I2362) Elodie Leroux, in her final year at l'Ecole militaire de L'air in France:
What are some of the ways that RMC differs from l'Ecole de l'air?
We do not have all the services in our school, just the French Air Force Academy. So we don't have as many people as you do at RMC. There is a second thing which differs from France, the academic way is very different. We all attend the same classes contrary to you who can take different programs and different specialties. We are not as specialized. Here the standard of dress is much stricter than the french air force academy. As well you follow classes all year. In France we have some military periods and flight periods for pilots. We have motivation periods for the other corps. During this period we learn about military things and we learn to pilot a glider. I like that all the services [Air, Army and Navy] are in the same school. It allows one to open one's mind. To have separated schools for each services is also good because I know everyone in my entry class, really, everyone. We are sixty five to sixty eight in number, But that doesn't seem to be the case as much here. I don't really know which way I prefer. One thing I like with the French Air Force Academy is that we have not only academic classes, but also some career ones which motivates us towards our military training. What I like here is that you have really great sports infrastructure. We don't have this in France. It's really something good.
How do members of the l'Ecole de l'air progress through their years?
We have to validate all our classes. In first year some people can have responsibilities in the brigade, we are working in brigades rather than squadrons like you. Each brigade has about sixteen to eighteen people. We can have some responsibilities but it's not much for most of us. In second year we must attend all our classes again and we have to be able, for the pilots, to fly alone in a glider. In all years we are responsible for the first years, especially at the beginning of the year. We begin to accept responsibility. During third year we can live outside of the base, which is not the case here. We have to pay bills, insurance, to keep for ourselves. We have to be real, responsible adults so it's another step for responsibility. At the end of third year as a pilot we have to get our glider pilot certificate and we graduate at the end of third year.
What type of trade training occurs at l'Ecole de l'air?
We have many different types of trades at the French Air Force Academy. We are allowed to become engineers because we have an engineering diploma at the end of the three years. These trades include hydraulics, aerodynamics, telecommunications; they are very scientific trades. We also have to complete our officer training, that's why we study international relations, how war is seen by people during the last century and we also study management and leadership.
I am a pilot so right after graduation I have a few weeks of vacation. After that I begin my pilot training. First we have ground learning about how to fly a plane, then we fly in a simulator. Then we practice real flying and solo flying. This is the first step of pilot training and all happens over a year in Salon en Provence, it's what you could call our fourth year even though it doesn't occur at the French Air Force Academy. After that we leave for Cognac, where we will work on aerobatics. We will change planes and then change planes again, work on Alpha Jets, and after that it is specialization for either a fighter or a transport plane. I want to be a fighter pilot.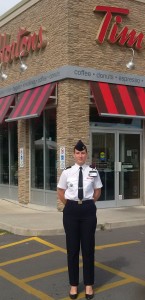 What sort of sports related activities do you participate in at l'Ecole de l'air? What do you want to do here at RMC?
We practice running, indoor soccer, rugby, swimming but not many sports because we don't have the infrastructure you have here. We have few people so we cannot compose many teams. I would like to play hockey here because it is a typical North American sport and because it's an unusual sport in France. It's very expensive, very hard to play hockey. That's why I would profit from the months I would spend here to try it.
What is your favourite thing about Canada thus far?
I love maple syrup. This was something I already knew before I came here but now that I am here I can say that Canadians are very warm. Maybe it's a very cool country because it's such a cool [temperature] country!
What advice would you give any other French exchange students thinking of coming to Canada?
The work is different because you don't have as many trades as we have in France and you have more work outside of classes. So it's a different way to learn. We don't play as many sports in France! Before here I had never played sports or run on a treadmill! Canadians are very lucky for this! It's great just to see how lucky other academies are!
I am happy to be here!