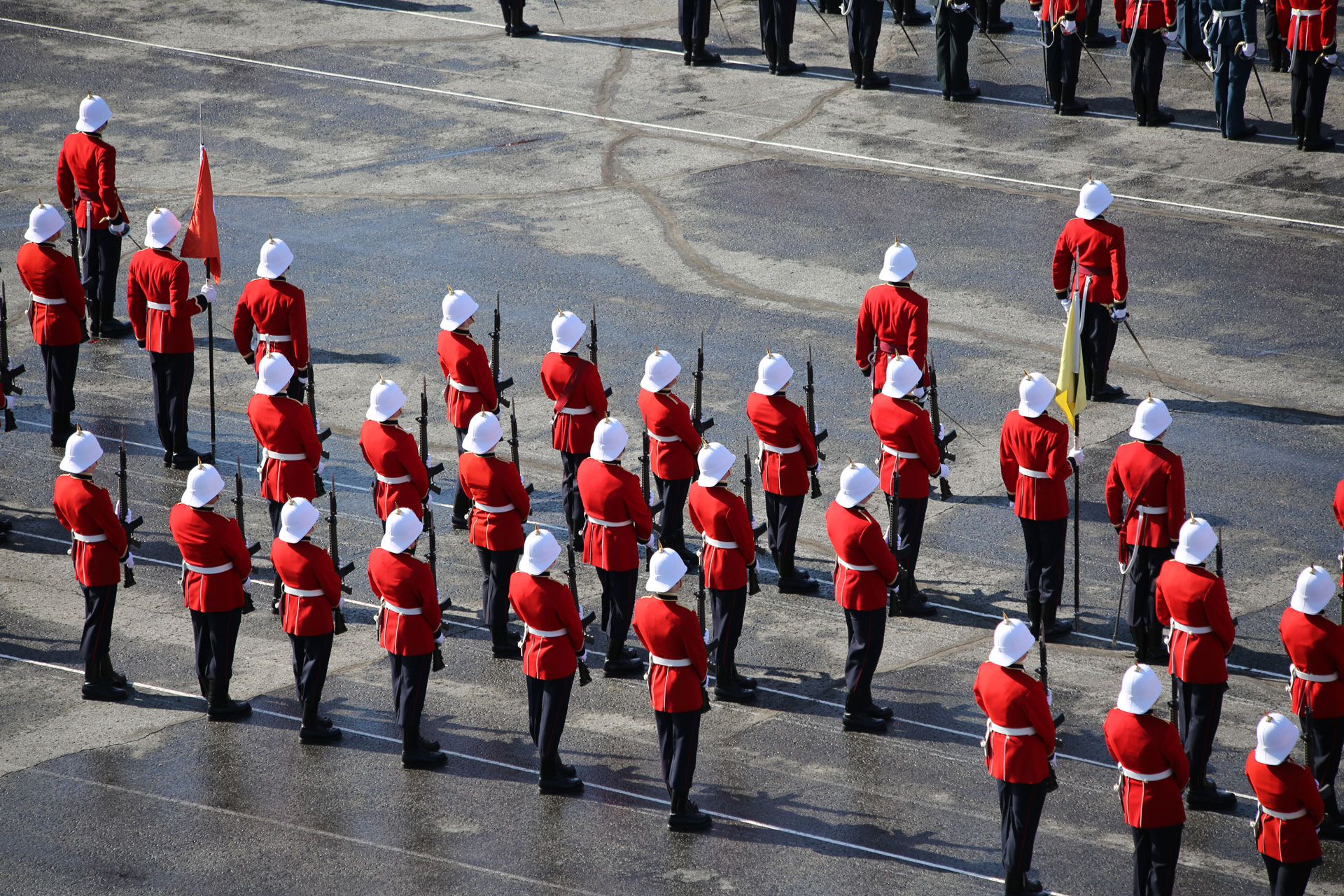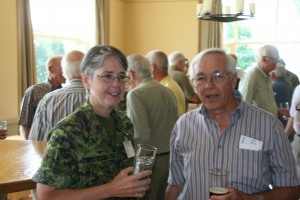 Caption: Prior to addressing members of the RMC Club – Kingston Branch, LCol Sue Wigg with her glass of water shared a few stories with Branch president Reg Watts with his glass of "pop" prior to sitting down for lunch. (Photo by: Dan Fleming)
DCadets addresses the RMC Club – Kingston Branch
A/SLt 24498 Noelani Shore (RMC 2009)
One month after taking over as Director of Cadets at RMC, Lieutenant Colonel Sue Wigg had the opportunity to meet with the RMC Club at a monthly luncheon, and act as the guest speaker.
Members of the RMC Club had a chance to meet the new DCadets before eating lunch at the Senior Staff Mess, and then LCol Wigg was introduced by Andrew Robb.
"I have a great deal of pleasure to introduce LCol Sue Wigg, the new Director of Cadets – the first female DCadets here at the college. That's just one of a number of firsts she's had during her career. Along with Dorothy Hector, [who joins us today as well], she was part of the first class in 1980, graduated in 1984 with a Bachelor's degree in Engineering, and has spent her career up to the present time in the army," Robb said. "I want to congratulate you on your appointment here, and we look forward to seeing what contribution you'll make at the college, and welcome to the Kingston branch."
LCol Wigg was cautious about speaking after only one month on the ground, but her experiences and perspective made for an interesting presentation.
"This group represents the history, the depth of knowledge, and the wheel that has turned a few times. Yes, I'm one cog on the wheel that was important at the time when we started with the women coming in to the college. It represented a huge change in thought process, but those changes eventually regulate themselves, so I'm very privileged, and I'm extremely excited to come back and be the DCadets."
That being said, LCol Wigg promised herself when she left RMC, she was never coming back.
"I think every one of us, as a graduate of this institution, feels that at one point or another. I don't think it was on any one particular level, because I was also never going to have formal education again; I was never going to be in an academic situation again," she said. "I now have a Master's degree, which I got on my own time. Things change – you learn a few things. Priorities become different, and that's what growth and maturity are all about."
LCol Wigg entered the college during a time of change in the Canadian Forces, and while she and her classmates experienced many challenges, she keeps it all in perspective. Responding to a question regarding the "hell" the first women went through she says:
"'Hell', I think is a term reserved for RMC as a whole. My class went through difficulties. The class immediately before us went through difficulties because of us. The fourth years, when we were first years, went through difficulties. We all had our own little challenges, and I'm sure that the group of officers that I represent now also had their own difficulties. It was a very challenging time for the CF," she explained.
To keep this in perspective, LCol Wigg was posted to the NATO Base Headquarters in Belgium. She spent time in Supreme Headquarters Allied Powers Europe (SHAPE), in Baden, and she worked with operational planning at the strategic level of NATO on the Balkans. She received a Major from Italy who was to take over parts of her responsibility. He proceeded one day to tell her how he was struggling because he was planning his next job, which was to be the following summer.
"He proceeds to tell me that he's going to face the toughest challenge that he's ever had in his career, because he's going to be the battalion officer of a "special forces" like organization, and now he has to deal with the women. I kid you not," she said.
That happened this spring, and he continued to rhyme off the litany of problems women create while in a combat unit, "the men dating the women, protecting the women, fighting over the women, the women not having enough strength, the women getting pregnant. And I thought, is this déjà vu? I told him that many people have done it before him, and I'm sure his country is going to figure it out."
LCol Wigg and her classmates paved the way for women in the CF, and while it was a difficult time, she understands now that change is always challenging.
"My class was blessed by having had this experience, because it helps us with our careers to understand change, to understand the difficulties people have when they face change, and to try to make that work."
"I hope RMC is still hell. That's what it's meant to be, but hell in the right way, the proper way. Hell in the involved way, because we're not Italy now. We're well beyond where they're at, and I'm proud to be in Canada for that," the DCadets explained.
As the DCadets, LCol Wigg is focused on the guidance and mentorship of the cadets, and because of the support at the college, she feels she'll succeed.
"I'm very thankful that there's a Commandant here, just a wall down from me. He's two levels above me, and he has a different sphere of interest. I can go and ask him what I don't know. What I've learned over my career is that what you don't know is likely the thing that will change your decision completely."
She also has a vital support network at the college, from the Club, the Foundation, the Base, and the CF recruiting group.
"All these groups are so important to the success of our primary mission: the cadets. Though there are different perspectives, interests, and requirements – in my career, I've continued to rely on what has gone before; process, procedures, probity. You have to use the systems that are tried and true to help you wade through what really is the most important way to decide on something. I'm really thankful that there are so many interested parties, and you're all so active and willing to put your input in, and that's necessary. I thank you for that even before I start, because I already know the important role that you're going to play."
Everything that LCol Wigg will do in her new role will be based off of the first word of the motto: truth.
"I wasn't around when the motto was created, but they could have stopped after truth. Without truth, you won't have the others anyway. You won't get duty, and you won't get valour, because without truth, you don't even have the courage to deal with your own behaviour, your own ideas, and your own approach. My approach will be steeped in truth."
LCol Wigg recognizes the importance of maintaining all four pillars, academics, athletics, military values, and bilingualism, but she also points out the fifth pillar.
"The fifth pillar is the glue that binds all the pillars together, and that's balance. In our wading through the different truths, realities, and perspectives, and the focus on the individual pillars, the only way to succeed is to ensure that the balance is maintained. It's looking very much like the DCadets is going to have to play a big part in that, ensuring that the balance and the trade offs are made. So I see my job as being the pinnacle of all these tough decisions. I'm not going to be able to always be the good guy, I'm sure, but that's necessary, because we can't forget the glue that will keep it going forward."