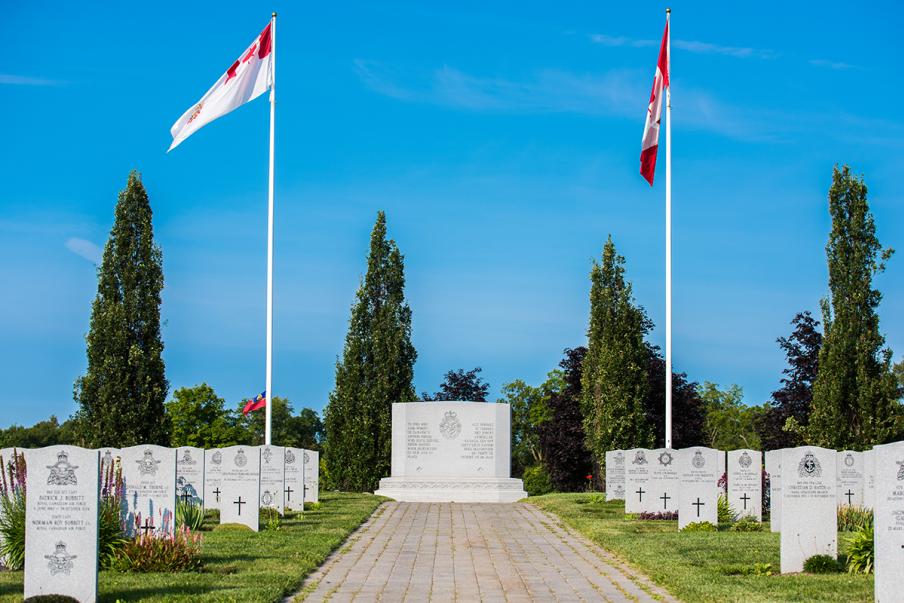 DEATHS
MORE…
6305 ROW, Richard "Dick"

It is with great sadness that we announce the passing of Dick in hospital, Ottawa on June 27th, 2015 in his 74th, year. He was born in Smiths Falls, to parents the late Ethan and Shirley (Mapplebeck) Row. Dick was the big brother to sisters Jane (late Bud) Rohn, Judy (Roger) Hum, Maureen (Colin) Beatty and Leslie (John Smith) Row. He was the beloved husband to Rita (Kelly) and cherished father to Kim (Benjamin Fuller) Lund, Theresa (Stuart Arnott) Row, Christine (Chris Allan) Row and Matthew (Gill Goldsmith) Row. Dick was the loving grandfather of ten and great grandfather to one. He will be sadly missed by his family and the wonderful friends he made throughout his life.
Dick's life was well lived. Graduating in Civil Engineering (RMC), he embarked on a career with R.C.A.F. as a navigator with Squadron 415 in Summerside PEI. He then joined the Department of Environment in Halifax, as an environmental engineer for twelve years. This led him to Dalhousie Law and then to Toronto, where for twenty years he focused on construction law. Moving to Port Hope, he practised privately for the next decade. During this time he enjoyed his role on the Board of Directors for The Capitol Theatre.Dick retired to Perth, Ontario in 2010.
The family wishes to acknowledge the phenomenal care of the oncology staff at Ottawa General Hospital.
Contributions in memory of Dick to the of Lanark County (Drivers Program) or the Perth & District Union Public Library would be appreciated.
***
IN MEMORIAM
12157 WAYNE BOONE
For the benefit of those who were not able to make the funeral for Wayne Boone, you will be pleased to know that the memorial service was extremely well attended – literally standing room only. Along with a large number of family and friends, there was a very eclectic mix of his peers from all walks of life, not at all surprising knowing Wayne. Many of his biker buddies, the Blue Knights and Canadian Army Veterans, came to show their respect and not only provided poignant opening and closing poems (Rider Down) for the padre to read, but also a very moving escort to the internment. The Class of 79 was likewise well represented with I am guessing about 30 classmates, including both Tom and Walt who had quickly cleared their calendars in order to be there. The Military Police community was also out in full force, as were those he worked with on infrastructure security matters. Finally, there were many staff and especially students from his Carleton University courses on infrastructure protection.
Sherain provided a wonderful eulogy of her husband, including some tender and amusing insights in to their personal life together but acknowledging in the end that Wayne was always "soldier first". Pete Avis and Guy Killaby, close friends of his since their 6 Sqn (Brant) Recruit Flight days, both provided touching, and often hilarious stories about their lifelong friendship, all the while choking back a few tears along the way. Cannot remember all the stories, other than one about a hitchhiking trip along the California coast, which included being picked up by a very kind "Aquarius" couple who later offered the unsuspecting hitchhikers some apparently very tasty brownies. Tom also took a moment to add a few kind words. He talked about meeting Wayne's father, a pig farmer and a bear of a man, back in the early days and mentioned how much like his father he had become later on, with his beard and the like – he also surprised us by revealing how he had always secretly hated their 6 Sqn chant, but only because it was so much better than the others. Col (Retd) Tony Battista, representing the MPs, remembered meeting Wayne for the first time at the MP school in Borden and being so relieved that he would not have to be his Unarmed Combat partner. Finally, a fellow professor made us all laugh when she mentioned that she knew her very young son had been influenced by his conversations with Wayne when, after she asked him to do something, he unexpectedly replied "Roger that, Mom!"
In many ways, it was the eulogy from one of his Carleton students that probably caught most of us off guard, because theirs was not the traditional professor/student relationship. He provided many heart warming anecdotes about this unconventional giant of a military man, with a gruff exterior but soft soul, who had been a mentor, a protector, and a caring and loyal friend to all of his students. He was very emotional throughout his eulogy, in part because Wayne had apparently promised to come to his farm that very weekend. When Wayne did not show, he wondered if maybe he had had some other more important things he needed to do, but of course it was much worse. Sherain came up to the podium to comfort him after that, knowing he probably felt guilty in some strange way, but he composed himself and managed through his tears to joke about Wayne's proclivity to use military terms such as "Roger that" and "Seen", and to abruptly stop mid-sentence and scold himself with "Wrong!", before correcting himself. He told us that he was literally wearing a shirt Wayne had bought for him out of his own pocket, because Wayne told him could not be going around looking like a "dishevelled 1970s gigolo".
All in all, it was very heart warming to see such an outpouring of support, knowing that it was for a man who had lived a good and eventful life and touched so many in his all too short time on this earth.
12215 Dave Mowat
***
IN MEMORIAM
BENJAMIN JOHN WEST FLYNN – 1969 – 2015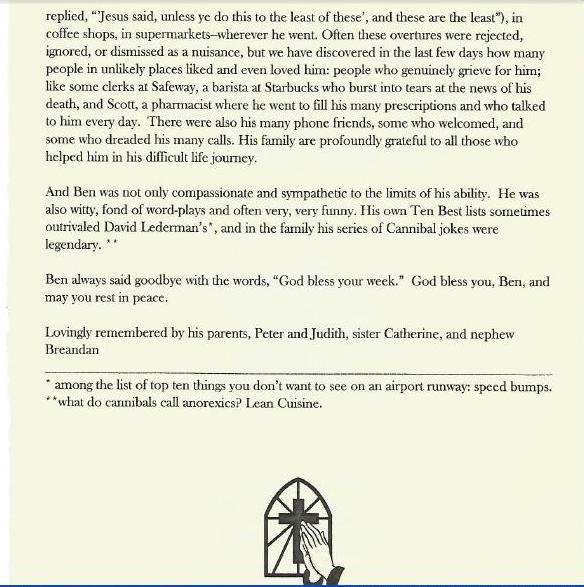 Ben Flynn passed away Monday – June 22 – of a seizure. He was 46. Ben was the son of 4140 Rev Peter and Judy Flynn.