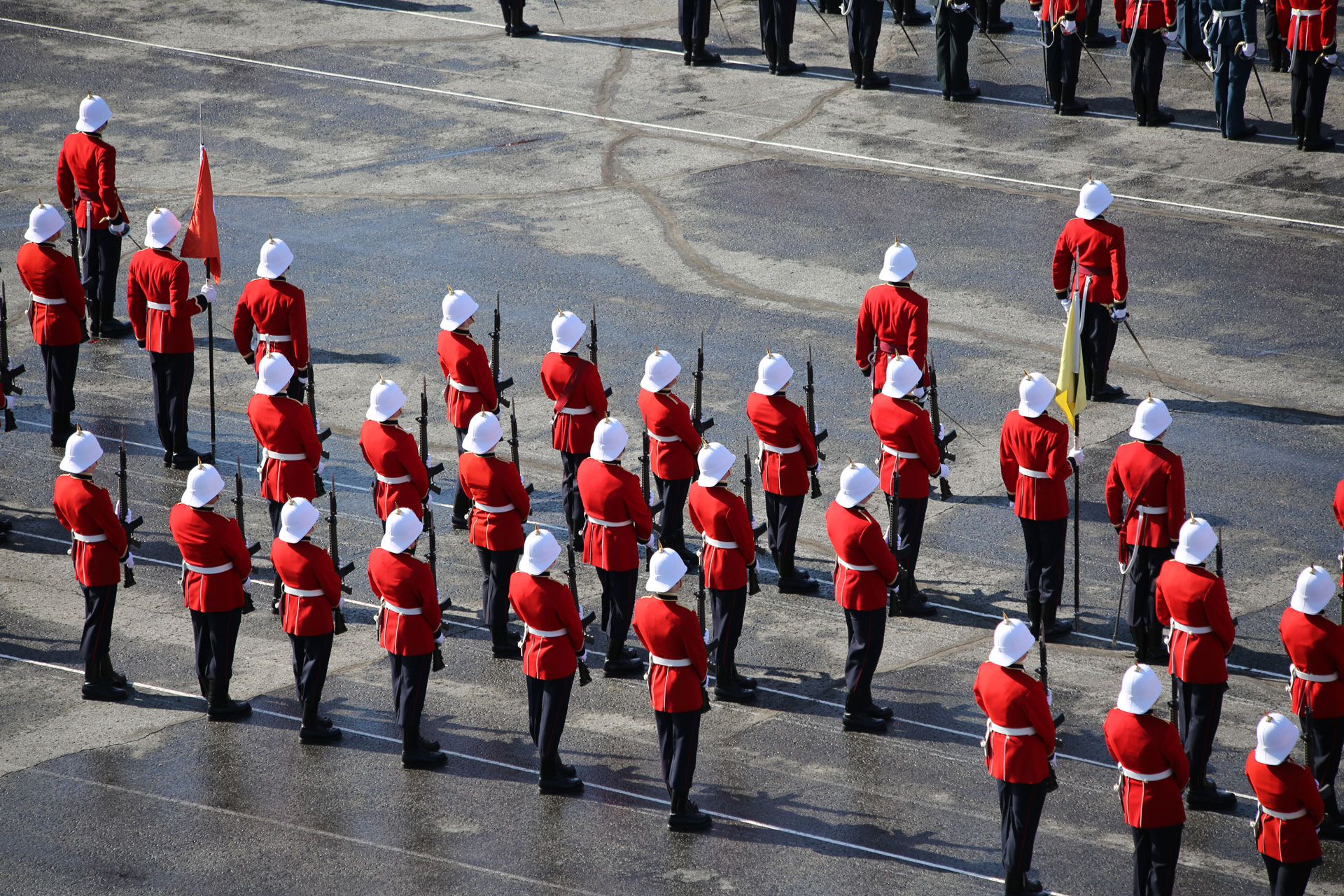 The Club's Executive Committee and General Council, at their meetings on 21 May last, approved a proposed amendment to Section 14.0 Old Brigade of the RMC Club's Constitution. In particular, the proposed new new Section 14.3 is important and worthy of attention from all members of the Club for the reasons given in the preamble below. Please read the preamble and vote, using the form provided in the current issue of VERITAS magazine or on the Club's web site – to be posted soon.
Le Comité exécutif du Club et le Conseil général, ont approuvé une proposition d'amendement à la section 14.0 de la Constitution du Club des CMR lors de leurs réunions le 21 mai dernier. Le projet d'un nouvel article 14.3 revêt une certaine importance et est digne d'attention de la part de tous les membres du Club pour les raisons exposées dans le préambule ci-dessous. Nous vous prions de le lire et d'exprimer votre vote en utilisant le formulaire fourni dans le numéro courant VERITAS ou sur le site Web du Club.
New Article 14.3 – Government legislation ordained, with the opening of RMC Saint-Jean (RMCSJ) in 2008, that there would be two independent, yet interlocking, military colleges in Canada. As a result, they are inextricably bound together with a common goal and common purpose. Nevertheless, they will be somewhat different in their culture, traditions and customs. Of course the Royal Military College of Canada (RMCC) is much more established in this sense, but anyone who attended the end of year parade at RMCSJ in May of this year could not have failed to see the pride, comportment and skill displayed by the cadets on parade.
Nouvel article 14.3 – La législation du gouvernement a décrété, avec l'ouverture du CMR Saint-Jean (CMRSJ) en 2008, qu'il y aurait deux collèges militaires indépendants au Canada, mais qu'ils seraient inextricablement liés par un objectif commun. Néanmoins, leurs cultures, traditions et coutumes seront quelque peu différentes. Bien sûr, le Collège militaire royal du Canada (CMRC) a une plus longue tradition, mais tous ceux qui ont assisté au défilé de fin d'année au CMRSJ en mai de cette année n'ont pas manqué de voir la fierté, le comportement et les compétences affichées par les élèves-officiers présents.
The Fort Saint-Jean Branch of the Club now has a new and important role to play in fostering cooperation between both these Colleges and ensuring that the Club is seen as a unifying force to those cadets who, since 2008, have attended, or will initially attend, RMCSJ before moving on (or not) to RMCC. This is simply a logical extension of what the Club has been doing for many years (admittedly not without difficulty at times prior to rapprochement between the RMC Club and le Club des anciens du CMR!) with regard to all the other CMCs that are mentioned in the Constitution, particularly Royal Roads and the "old" CMR de Saint-Jean.
Le chapitre du Fort Saint-Jean du Club a désormais un nouveau et important rôle à jouer dans la promotion de la coopération entre ces deux collèges et doit veiller à ce que le Club soit considéré comme une force unificatrice par les élèves-officiers qui, depuis 2008, ont étudié, ou vont étudier au CMRSJ avant de passer (ou non) au CMRC. Il s'agit simplement d'une extension logique de ce que le Club fait depuis de nombreuses années (certes non sans difficulté à certains moments avant le rapprochement entre le Club des CMR et le Club des anciens du CMR!) à l'égard de tous les autres CMC qui sont mentionnés dans la Constitution, notamment Royal Roads et les « anciens » du CMR Saint-Jean.
In addition, the Fort Saint-Jean Branch has an expanded role, in relation to other Club branches, in that it is the "home" branch for many anciens du CMR de Saint-Jean (i.e. pre-1996) and is strategically placed to foster their participation in Club activities held at RMCSJ. This is particularly true for the members of the Old Brigade, commencing with the CMR de Saint-Jean entry class of 1952, which entered the Brigade in 2002. Since then, Old Brigade activities (welcoming ceremony for "recruits," badge and coin presentations to first year cadets, participation in special events) have increased with the enthusiastic support of the RMCSJ military staff. As this new College evolves, changes are already occurring with regard to how the Old Brigade will interact with the cadets during RMCSJ Reunion Weekends in mid-September. Old Brigaders will still be in the thick of things, although not in the exact same way as in the past or at RMCC during Reunion weekends there.
En outre, le chapitre du Fort Saint-Jean a un rôle élargi par rapport aux autres chapitres du Club, en ce sens qu'il est la « maison mère » pour de nombreux anciens du CMR de Saint-Jean (pré-1996) et est stratégiquement situé pour favoriser leur participation aux activités du Club tenues au CMRSJ. Cela est particulièrement vrai pour les membres de la Vieille Brigade, en commençant par la promotion entrée au CMR Saint-Jean en 1952, qui fut admise dans la Brigade en 2002. Depuis lors, les activités de la Vieille Brigade telles la cérémonie d'accueil pour les « recrues », la présentation des pièces du Club et écussons aux élèves-officiers de première année, et la participation à des événements spéciaux, ont augmenté avec l'appui enthousiaste du personnel militaire du CMRSJ. Parallèlement à l'évolution de ce nouveau collège, des changements sont déjà en cours en ce qui a trait la façon dont la Vieille Brigade va interagir avec les élèves-officiers lors de la fin de semaine de réunion à la mi-septembre. La Vieille Brigade sera toujours au cœur des choses, mais pas tout à fait comme par le passé ou au CMRC.
For several years now, there has been an Old Brigade representative on the executive of the Fort Saint-Jean Branch. He has been instrumental in helping the Adjutant organize Old Brigade activities, first at Campus Fort Saint-Jean and then, since 2008, at RMCSJ. It seems logical at this time, as RMCSJ continues to thrive and grow, to recognize this member of the Fort Saint-Jean Branch executive formally as Assistant Adjutant in the Old Brigade.
Il y a un représentant de la Vieille Brigade au sein de l'exécutif du chapitre du Fort Saint-Jean depuis plusieurs années. Il a joué un rôle en aidant l'adjudant à organiser les activités de la Vieille Brigade initialement au Campus Fort Saint-Jean, et depuis 2008, au CMRSJ. Il semble logique maintenant, comme le CMRSJ continue de prospérer et de grandir, de reconnaître ce membre de l'exécutif du chapitre du Fort Saint-Jean formellement en tant qu'adjoint à l'adjudant de la Vieille Brigade.
Since the opening of RMCSJ two years ago, the Fort Saint-Jean Branch has obtained office space at the College and now interacts with RMCSJ staff at all levels in the same way that Panet House does at RMCC. As a result, this Branch plays a key role in promoting one culture within the Club. In fact, it is an essential extension of Panet House at RMCSJ and a vital link in the overall operation of the Club. Having an involved Assistant Adjutant will greatly enhance the efficiency of the Brigade and raise the profile of both the Brigade and Club in the eyes of an important constituency of Ex-Cadets, some of whom have been disaffected in the past.
Depuis l'ouverture du CMRSJ il y a deux ans, le chapitre du Fort Saint-Jean a obtenu des locaux au Collège et interagit maintenant avec le personnel du CMRSJ à tous les niveaux de la même manière que le personnel de la maison Panet le fait au CMRC. En conséquence, le chapitre joue un rôle clé dans la promotion d'une seule culture au sein du Club. En fait, il est une extension essentielle de la Maison Panet au CMRSJ et un lien vital dans le fonctionnement global du club. Avoir un adjoint à l'Adjudant permettra d'améliorer grandement l'efficacité de la brigade et d'augmenter la présence de la Brigade et du Club dans l'esprit d'un groupe important d'anciens élèves-officiers, dont certains étaient insatisfaits dans le passé.
There are, if you like, now: Two Colleges, One Club, One Old Brigade and One RMC Family. The aim of this amendment is to ensure, through the presence of an Assistant Adjutant, that the spirit of this motto will not only be maintained, but also expanded.
Il y a, si vous voulez, maintenant deux collèges, un club, une vieille brigade et une famille du CMR. Le but de cet amendement est de garantir, grâce à la présence d'un adjoint à l'Adjudant, que l'esprit de cette devise ne sera pas seulement maintenu, mais également élargi.
ARTICLE 14.0 – OLD BRIGADE
14.1 The Old Brigade is an entity within the Club and shall appoint an Adjutant.
14.1 La Vieille Brigade constitue une entité au sein du Club et elle élira un adjudant.
14.2 If fifty (50) or more years have elapsed from the year of entry into a Canadian Military College, a person eligible for ordinary membership shall become a member of the Old Brigade.
14.2 Lorsque cinquante (50) ans ou plus se sont écoulés depuis son entrée à l'un des collèges militaires canadiens, une personne admissible à être membre ordinaire, deviendra membre de la Vieille Brigade.
14.3 The Adjutant, in consultation with the Executive Committee of the Fort Saint-Jean Branch, shall appoint an Assistant Adjutant for the primary purpose of helping to coordinate activities involving Old Brigade members who have attended the Collège militaire royal de Saint-Jean, Campus Fort Saint-Jean or Royal Military College Saint-Jean.
14.3 L'Adjudant, après consultation avec le conseil de direction du chapitre du Fort Saint-Jean, nommera un Adjudant adjoint dont la fonction principale sera d'assister à la coordination des activités impliquant les membres de la Vieille Brigade qui sont passés par le Collège militaire royal de Saint-Jean, le Campus Fort Saint-Jean ou le nouveau Collège militaire royal de Saint-Jean.
14.4 There shall be an Old Brigade Advisory Council (OBAC) to advise and assist the Adjutant, including the selection of new Adjutants, consisting of the Assistant Adjutant, and one representative from each of at least ten Old Brigade classes
14.4 Il y aura un Conseil consultatif de la Vieille Brigade (CCVB) composé de l'Adjudant adjoint et d'un représentant d'au moins dix promotions de la Vieille Brigade dont le rôle sera de conseiller et d'aider l'Adjudant, incluant la sélection de nouveaux adjudants.
14.5 Notwithstanding Article 14.2, classes may, through written notification to the President of the Club, opt for an early welcome into the Old Brigade up to four months prior to some members of these classes meeting the entry criterion of Article 14.2. Those members of classes opting for an early welcome into the Old Brigade who do not meet the entry criterion of Article 14.2 will, during this four-month period, be entitled to adopt the customs normally accorded to members of the Old Brigade, as decreed by the Adjutant.
14.5 Nonobstant l'article 14.2, les promotions peuvent, en s'adressant par écrit au président du Club, opter pour un accueil anticipé à la Vieille Brigade jusqu'à quatre mois avant que certains membres de cette promotion ne répondent aux critères d'admission exigés à l'article 14.2. Les membres des promotions qui ont choisi l'accueil précoce dans la Vieille Brigade qui ne remplissent pas les critères d'admission à l'article 14.2 pourront, au cours de cette période de quatre mois, adopter les privilèges généralement accordés aux membres de la Vieille Brigade, tel que décrété par l'adjudant.
14.6 Honorary Life Members, Honorary Members and Associate Members are eligible to become members of the Old Brigade upon attaining the age of 67 years except that Honorary Members who become so pursuant to Article 9.4.4, such as an honorary class member nominated for Honorary Membership in the Club, shall become members of the Old Brigade with that Class.
14.6 Les membres honoraires à vie, les membres honoraires et membres associés sont éligibles à devenir membres de la Vieille Brigade à partir de l'âge de 67 ans, sauf que les membres honoraires qui le deviennent conformément à l'article 9.4.4, tel qu'un membre honoraire d'une promotion en nomination pour devenir membre honoraire du Club, sera admis à la Vieille Brigade avec cette promotion.
Translations: By 6426 Serge Arpin (CMR RMC 1966)