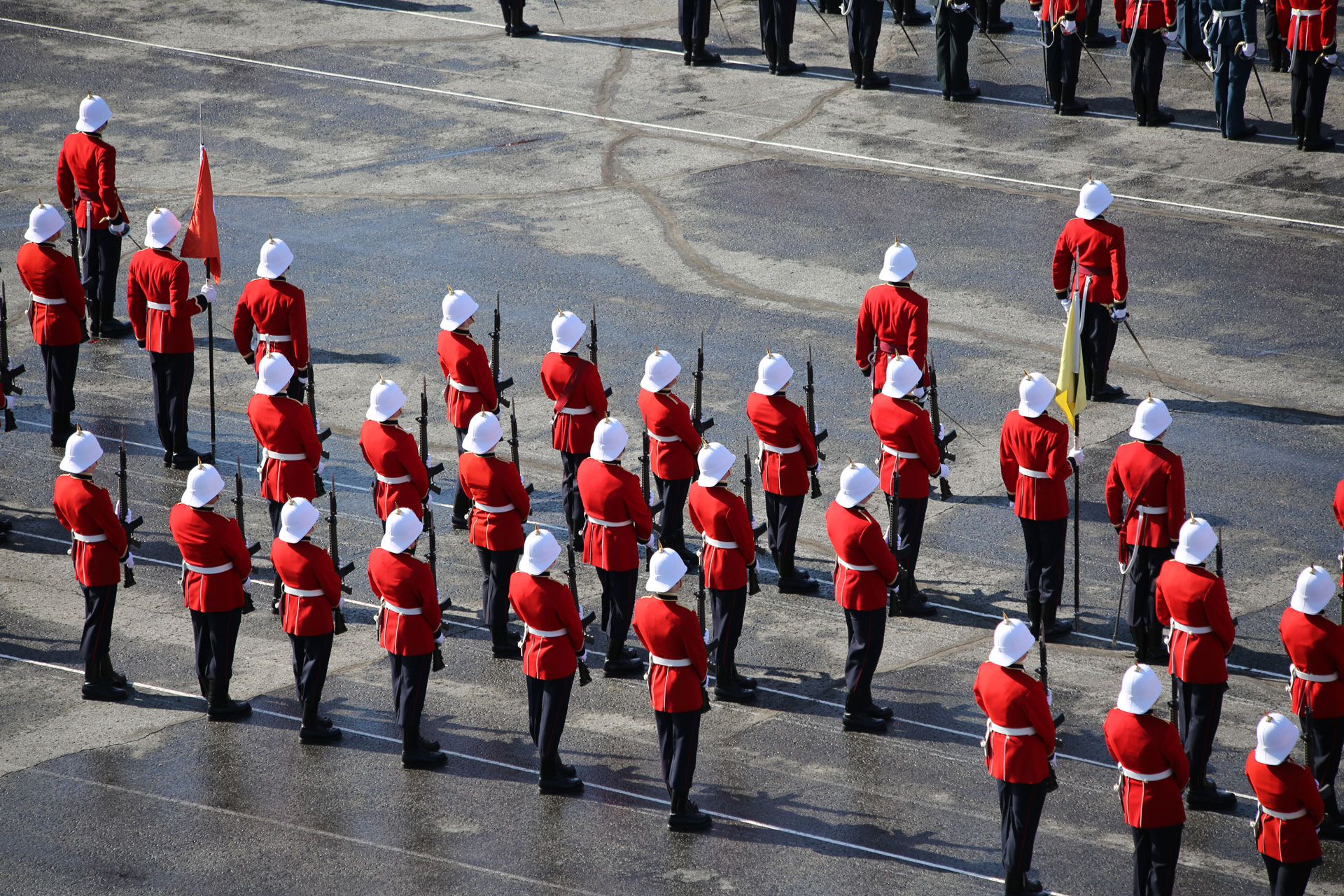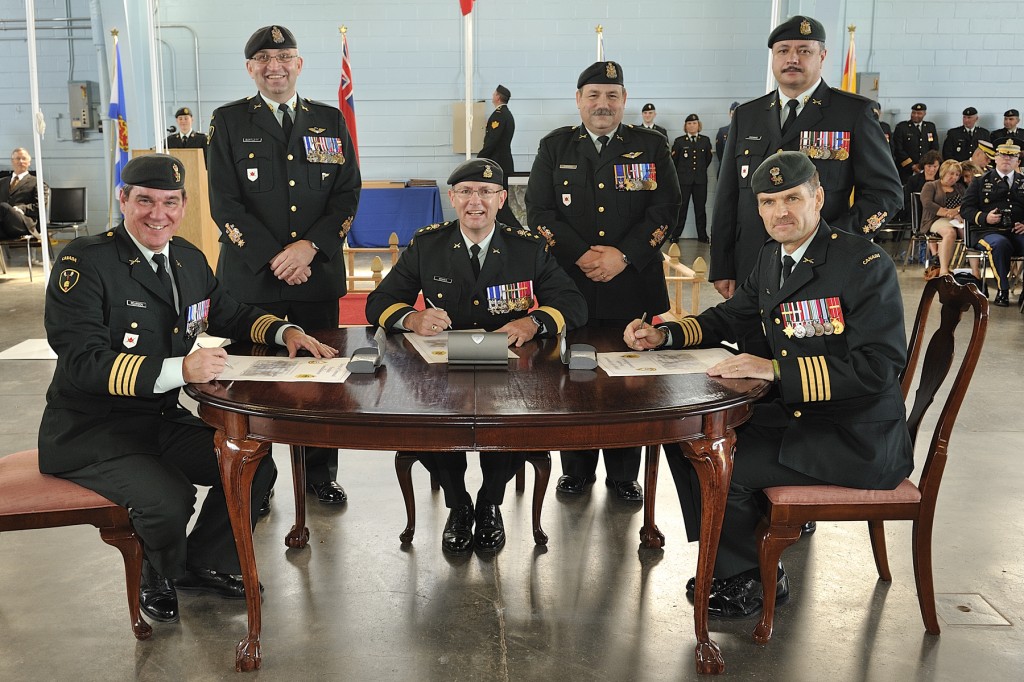 A change-of-command ceremony for the commander of Canadian Forces Base Gagetown took place at the base Friday. At the table, from left, are: outgoing commander Col. Michael Pearson, Maj.-Gen. Stephen Bowes and incoming commander Col. Paul Rutherford. In back, from left, are Chief Warrant Officer Stephen Bartlett and Chief Warrant Officer Christian Charlebois, area chief warrant officer Land Force Atlantic Area.
New commander to focus on people
14493 Col. Paul Rutherford can be a bear when he has to be, but the new commander of Canadian Forces Base Gagetown doesn't feel that will be necessary as he assumes control of the country's second largest military facility.
Meeting with reporters Friday, Rutherford expressed confidence in his new surroundings and in the people who work within them.
"I can be tough when I need to be tough but, I think, the work environment internal to Base Gagetown and the phenomenal work environment within the province and wider regionally in Atlantic Canada means that I don't think I am going to need to be tough a lot of the time," he said.
Rutherford, who officially took control of the base from 14069 Col. Michael Pearson during a ceremony Friday, is assuming responsibility for a facility that features a 1,100-square-kilometre training area and employs 1,500 civilians.
CFB Gagetown is the second largest public-sector employer in New Brunswick, behind the provincial government
Aside from civilian workers, the base and its lodger units provide full-time work to approximately 4,500 military members, while contributing more than $200 million to the local and $500 million to the provincial economies annually.
The base is also home to the Combat Training Centre, which oversees the infantry, artillery, armour and tactics schools, along with the Canadian Forces School of Military Engineering.
The base also houses the 4 Air Defence Regiment (4ADR), 403 Tactical Helicopter Squadron, The Second Battalion, The Royal Canadian Regiment and 4 Engineer Support Regiment, as well as the Joint Meteorological Centre, the Land Force Trials and Evaluation Unit, the Land Force Atlantic Area Training Centre and the Argonaut Army Cadet Summer Training Centre.
"I think you'll find my approach … will be setting conditions for people to have success," Rutherford said. "I am a very people-oriented person. I love working with all military, all civilian – people outside the military environment – so a focus on people."
Rutherford, a 30-plus-year veteran of the Forces, comes to CFB Gagetown following a stint as army adviser with the Canadian defence liaison staff in London, England.
Pearson is leaving to assume the position of military adviser to the Canadian ambassador at the United Nations. He said the chance to go to New York and work on behalf Canada is an exciting opportunity.
Although Pearson quipped he views the assignment as "quietly terrifying," he said he felt it would be stimulating.
"Every day is going to be quite an adventure," Pearson said. "It's not clear how long my appointment is going to be, so I am using a range of one to three years."
He said that after two years at CFB Gagetown, leaving is bittersweet.
"I had such a magnificent time here working with the community, working so much on behalf of the soldiers and very much my family and I loved it," Pearson said. "I am not sure that we're not coming back."
He said he knows Rutherford well and is confident services on base will get better under his direction.
11190 Dick Isabelle, a retired colonel and former commander of both the Combat Training Centre and CFB Gagetown, said it's never easy to say goodbye to a lot of great friends and networks that have been set up.
"I think the most important thing for the new guy coming in is to recognize what are all the opportunities out there for the military community to be connected to the municipal level of government, the provincial level of government and just the community at large," he said.
Friday's event was supported by 104 soldiers representing units from across the base.
It was attended by a sea of local politicians from the municipal, provincial and federal levels, as numerous other dignitaries that included Lt.-Gov. Graydon Nicholas.
Maj.-Gen. Steve Bowes, the head of the Land Force Doctrine and Training System, also attended.  Source
____________________________________
A P.G. soldier comes home from war
"The mission did change Canada," he said. "About how Canadians feel about their military, about how soldiers think about themselves, and we all got to see that we compare very well with the countries at the top echelons of the global military. We are tactically competent and technically proficient; very, very well-led; motivated; fit; but also witty and aware of the world which you can't say about every country's soldiers."
18452 Jon Burbee
____________________________________