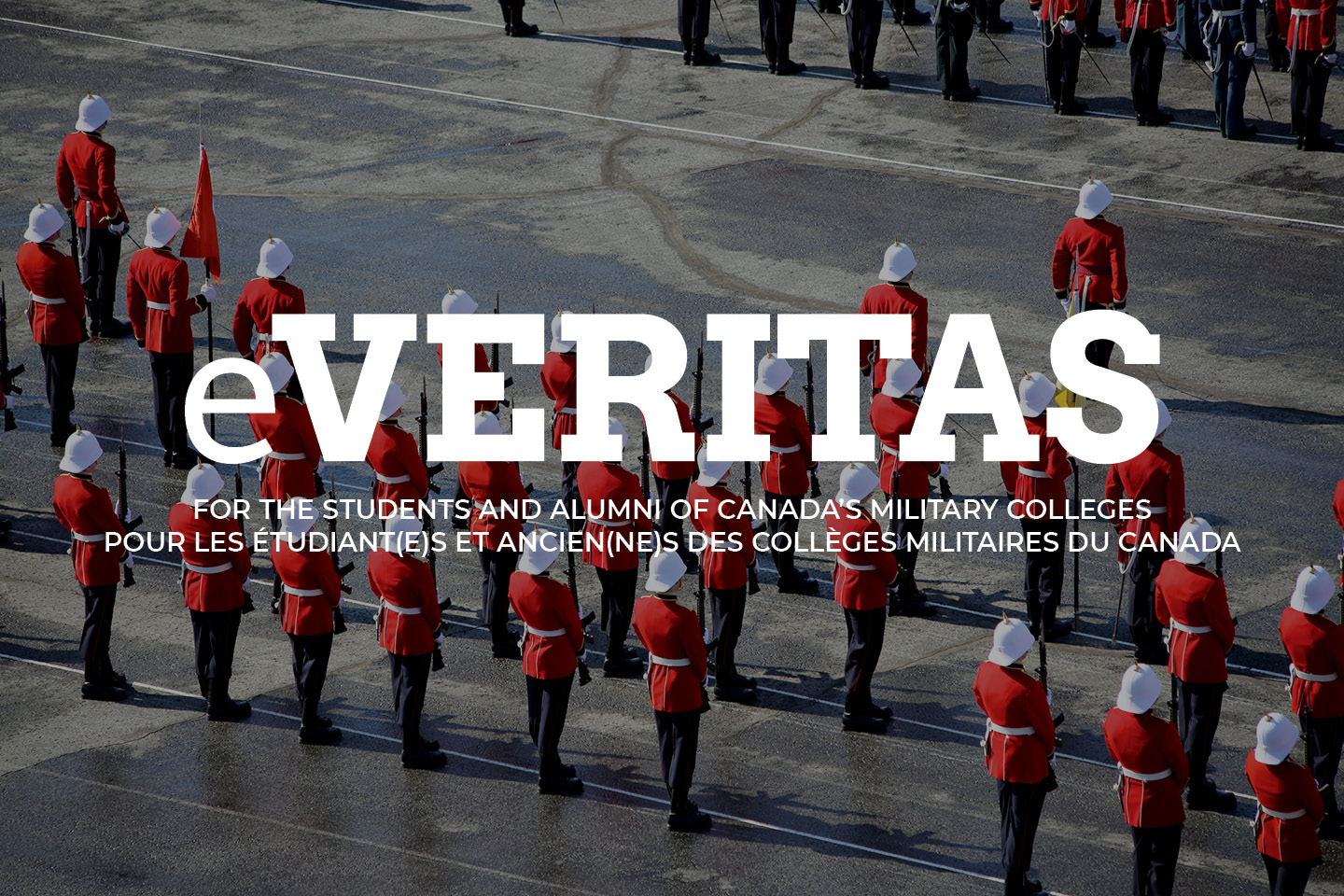 That entire week of October was a sport-fuelled event… (Click on photos for better viewing…)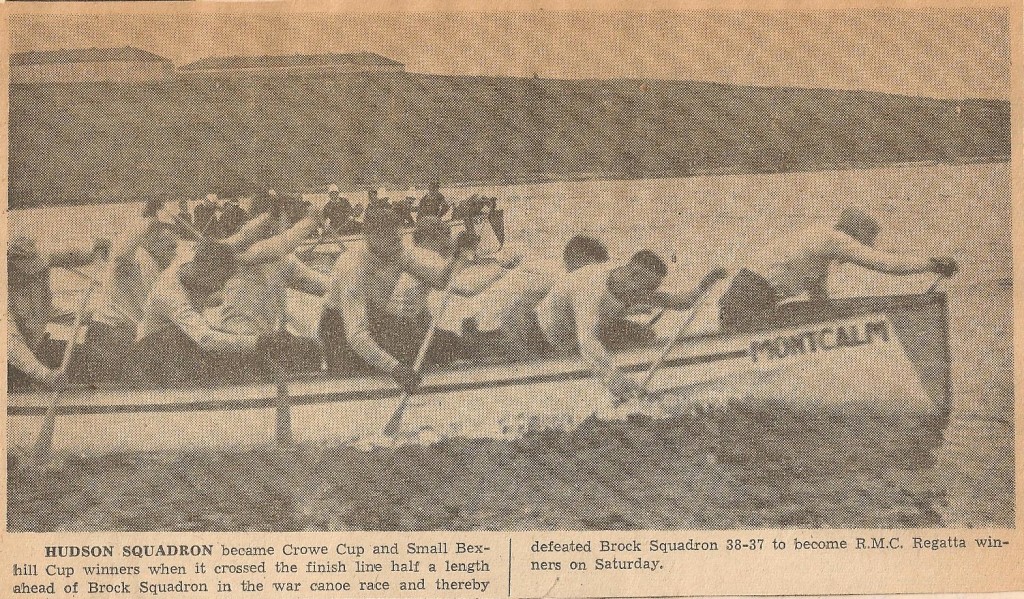 13 Oct 52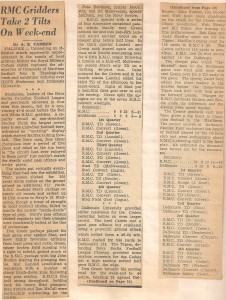 The team had a light practice this morning and after a good meal – off again for Studley Field – a dandy day for a rugby game – brisk, sunny and a moderate wind. Well, the game was an exciting one and we won 46-24, against Dalhousie. After the game we had a buffet dinner with the Dal team at the Nova Scotia Hotel. From there to Shearwater, there to Trenton – and eventually by 0330, R.M.C. This weekend has undoubtedly been the best football weekend yet. They certainly showed us a good time in Halifax. I think we achieved our purpose of creating an interest in the College because the papers down there gave us quite a spread, and the people seemed to all know who we were. Incidentally we gave Cdn. Football a bit of a boost too for until recently English Rugby has been the thing in N. Scotia.
14 – 16 Oct 52
Time seems to have passed pretty quickly. I spent my off-duty time drilling recruits after classes and holding passing-off parades.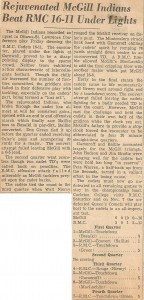 17 Oct 52
At 1500 the rugby team set out for Cornwall where we were scheduled to play our return game with the McGill Indians. The game was a night game and the light made the field as bright as day. McGill arrived late and didn't have a time clock, stickmen, timer or anything such as that in spite of the fact that it was their home game. So we played straight time using a guy's wrist watch which meant about 35 minutes playing time. We lost 16-11. McGill was really pushing but I think if we could have played a full hour our boys could have tied it up & won the game. I just can't believe that McGill beat us.
18 Oct 52
P.T. was especially gruelling today after last night's trip to & from Cornwall. Drill was O.K. Mr. Coggins handed out another paper and gave us tips on checking people, and tips on words of command. For the regatta, Moon, Bill Furtis & Dave Dillon, our three best sailors were all in the sqn. Sloop, so we tried to get Moon or Dave to ship the Admiralty. But they didn't want to do it. So I had to ship with Bizzy as crew. We went around the entire course & missed our lunch. It was my third time out this year, and on top of that a very windy day, especially from the buoy off Pt. Frederick to Ferguson Pt. off Wolfe Island where the wind got a good sweep. I was scared silly! Anyway in the afternoon the wind rose again and the waves were huge. The first time we came about we took on about 2 tubs full of water and kept on getting more water. We kept on going through, made it around the first buoy OK. But on the trip to Wolfe Island we really had our hands full. The dinghy became almost unmanageable with as much water in her so we decided to try & land in order to pump her out. So we tried to run free into the island when we were about 400 yds out, the water all ran to the nose which dug into the water and down she went. Bizzy & I were in the water about 10 to 15 minutes before Jim Graham came along in the tug and pulled us out. The Chief had a 26'er of rum down in the little cabin and we pretty well killed it between the three of us. But we weren't the only ones to drink, three others did too, all for the same reason – we didn't tip, we sank!
19 Oct 52
The scripture lesson this morning was very amusing & appropriate (Mathew 6, 1-8). The Red Feather campaign is just over; in our squadron, the nominal roll was used to record the exact amt of each contribution and each cadet had to initial after his name. Then this roll was posted on the notice board. Naturally there was quite a storm of protest and some fellows put in 2 cents and initialled the roll. We had a track & field meet with Queen's today and our boys did pretty well – the final score was 53-53. Fritz broke a College record for the three mile (from 1932 Wickson 16 min 39 sec to 16 min 1 sec) I clocked his laps for him and they were very constant at about 1 min 20 sec per lap. We should do well in intercollegiate track this year. Jim Graham, myself & a few others in our year went up for tea at Major Nation's and had a very pleasant 2 hours and lots of delicious little cookies & cakes.