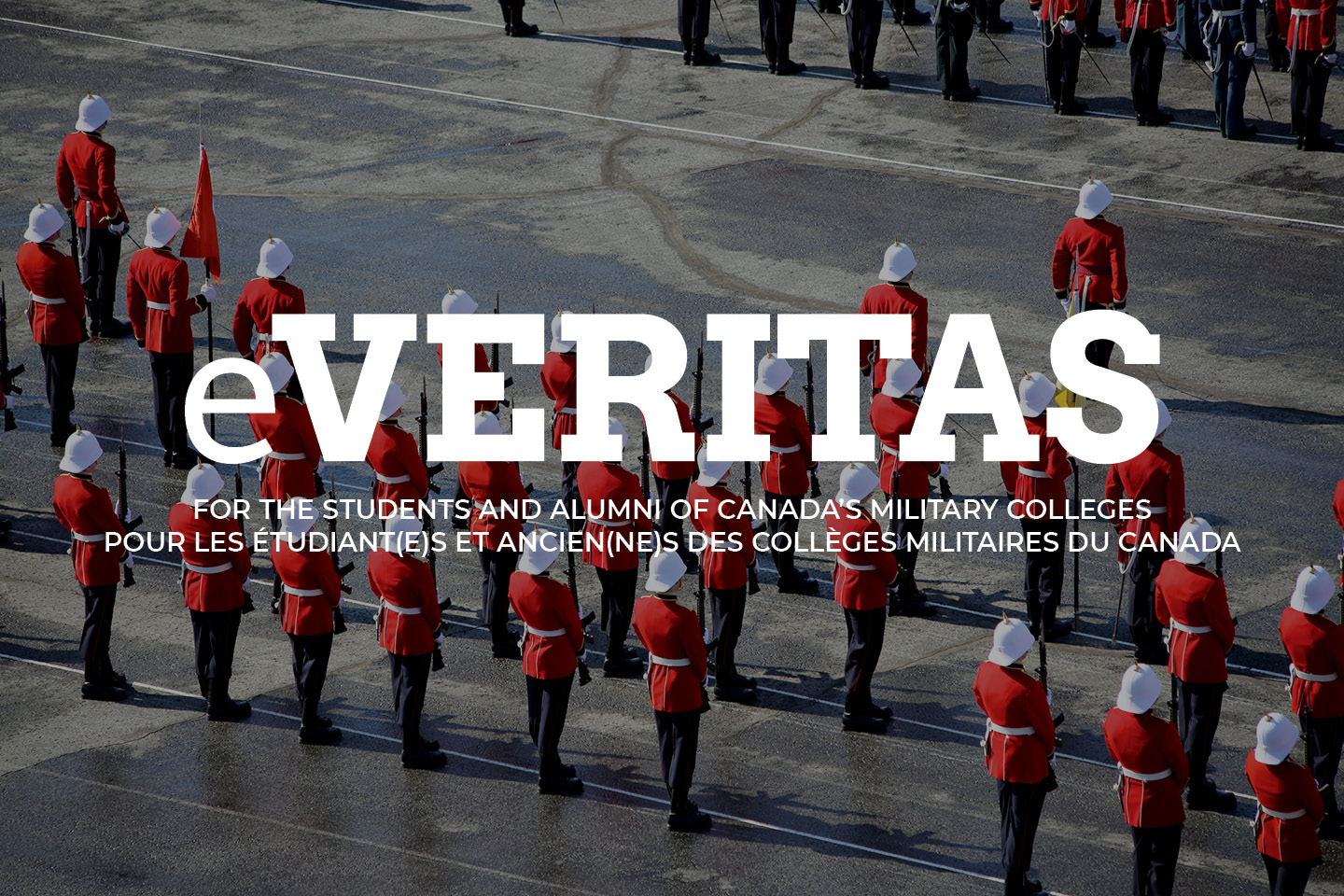 The RCA Heritage Campaign
Regimental Headquarters
The Royal Regiment of Canadian Artillery
Canadian Forces Base Shilo
P.O. Box 5000 Stn Main
Shilo, MB R0K 2A0

In Flanders Fields – Lieutenant-Colonel John McCrae, May 1915 – May 2015
Lieutenant-Colonel John McCrae, artillery officer, physician and poet, wrote In Flanders Fields at the height of Second Ypres, one of the most bitter battles of World War I. The centenary of that poem falls at the beginning of May 2015. As a result of the initiative of the RCAA and the dynamic leadership of the McCrae Statue Committee, the Royal Regiment of Canadian Artillery will erect a statue to honour John McCrae.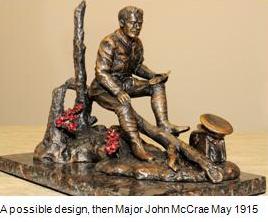 Design work is well advanced. The figure will resemble McCrae and show him in a way highlighting all of his roles, with his dress as an Artillery officer and his medical bag nearby, as he writes. The statue will show the destruction of the battlefield and, at his feet, the poppies which are such an enduring symbol of Remembrance of that war and all armed conflict since. We are pleased to have commissioned renowned Canadian sculptor Ruth Abernethy, known for works such as the Oscar Peterson statue at the National Arts Centre in Ottawa and the statue of Glenn Gould outside the CBC building in Toronto.
We have now received authority to place the statue near the National Artillery War Memorial, on Green Island at the junction of the Rideau and Ottawa Rivers, just off Sussex Drive in Ottawa. This ideal site is just minutes north of the National War Memorial.
The citizens of Guelph, Ontario will also honour John McCrae, by placing an identical statue near his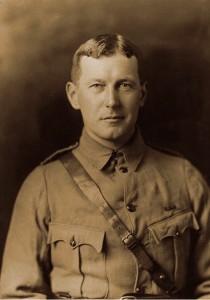 birthplace. They will undertake a separate civic fund-raising campaign and work closely with our Regimental committee in Guelph.
We are beginning the process of fund-raising for the statue. The Campaign Goal is $350,000. All Canadians can help us ensure that this iconic Canadian and his work are remembered on the centenary of In Flanders Fields.
To donate or for further information visit our web site at http://www.artillery.net/beta/ Mention McCrae Statue in the comments section of the donation form at the Canada Helps button.
Or mail a cheque payable to the "The RCA Fund" to: LCol MD McKay, P.O. Box 970, Guelph, ON, N1H 6N1. Mention "McCrae statue" on the cheque.
Or contact; The Regimental Major RCA at cdnartillery@gmail.com or at 204 765-3000 ext 3595
Donations to the RCA Heritage Campaign form part of the RCA Regimental Fund – Charitable Registration No. 11925 2997 RR 0001. Tax Receipts are issued for donations over $20, or on request.
Yesterday, Today and Tomorrow:
Celebrating our Heritage; Securing the Future
This note has been written by the RCA Heritage Campaign Committee.
***
Campagne du Fonds du patrimoine de l'Artillerie royale canadienne
Quartier général régimentaire du Régiment royal de l'Artillerie canadienne
Base des Forces canadiennes Shilo
C.P. 5000, succ. Main
Shilo, MB R0K 2A0

Au champ d'honneur – Lieutenant-colonel John McCrae, mai 1915-mai 2015
Le lieutenant-colonel John McCrae est un officier d'artillerie, un médecin et un poète qui a composé Au champ d'honneur lors de la seconde bataille d'Ypres, une des batailles les plus horribles de la Première Guerre mondiale. Le centième anniversaire de ce poème aura lieu au début de mai 2015. Suite à l'initiative de l'AARC et grâce au leadership dynamique du comité de la statue de John McCrae, le Régiment Royal de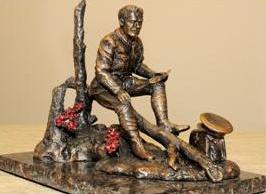 l'Artillerie Canadienne dévoilera une statue de John McCrae pour lui rendre hommage. Le travail de conception avance bien. La figure est créée afin de ressembler à McCrae et pour le montrer de façon à mettre en valeur tous ses rôles, avec sa tenue d'officier de l'artillerie et son sac de médecin, tout près, pendant qu'il écrit. La statue exposera la destruction du champ de bataille et, à ses pieds, les coquelicots qui représentent, depuis longtemps, le symbole du souvenir de cette guerre et de tous les conflits armés depuis.  Nous sommes heureux d'avoir retenu les services de la célèbre sculptrice canadienne Ruth Abernethy. Au nombre de ses œuvres, on compte la statue d'Oscar Peterson au Centre national des Arts à Ottawa et la statue de Glenn Gould qui se trouve à l'extérieur de l'édifice de la CBC, à Toronto.
Nous avons reçu l'autorisation de donner suite à notre plan, soit de placer la statue près du Monument national aux artilleurs, à l'île Verte, à la jonction des rivières Rideau et des Outaouais, tout près de la promenade Sussex, à Ottawa. Ce site idéal se trouve à quelques minutes au nord du Monument national de guerre.   
Les citoyens de Guelph, en Ontario, travaillent également sur un projet pour honorer John McCrae, qui est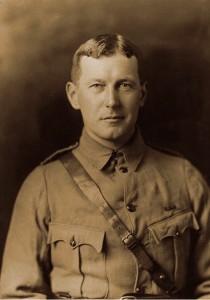 d'installer une statue identique près de son lieu de naissance. Ils entreprendront une campagne de financement civile distincte et travailleront étroitement avec notre comité régimentaire, à Guelph.      
Nous commençons le financement pour la statue, avec un objectif de campagne de 350 000 $. Tous les Canadiens peuvent nous aider à faire en sorte que l'on se souvienne de cette légende canadienne et de son œuvre lors du centenaire du poème Au champ d'honneur.
Pour faire un don ou pour de plus amples renseignements, visitez notre site Web au http://www.artillery.net/beta/. Mentionnez « Statue de McCrae » dans la section « Message/instructions » du formulaire de don en ligne de CanaDon.
Ou envoyez un chèque par la poste payable au nom de « Fonds  de l'ARC » au : Lcol MD McKay, C.P. 970, Guelph (ON), N1H 6N1.  Mentionnez « Statue de McCrae » sur le chèque. 
Ou contactez le major régimentaire, ARC, par courriel à cdnartillery@gmail.com ou par téléphone au 204 765-3000, poste 3595
La Campagne du Fonds du patrimoine est administrée par l'intermédiaire du Fonds du Régiment royal de l'Artillerie canadienne, un organisme sans but lucratif enregistré auprès de l'Agence du revenu du Canada – No. 11925 2997 RR 0001.
Hier, aujourd'hui et demain:
Célébrer notre patrimoine; garantir l'avenir
Cette note a été écrite par le Comité de la Campagne du fonds du patrimoine de l'ARC.