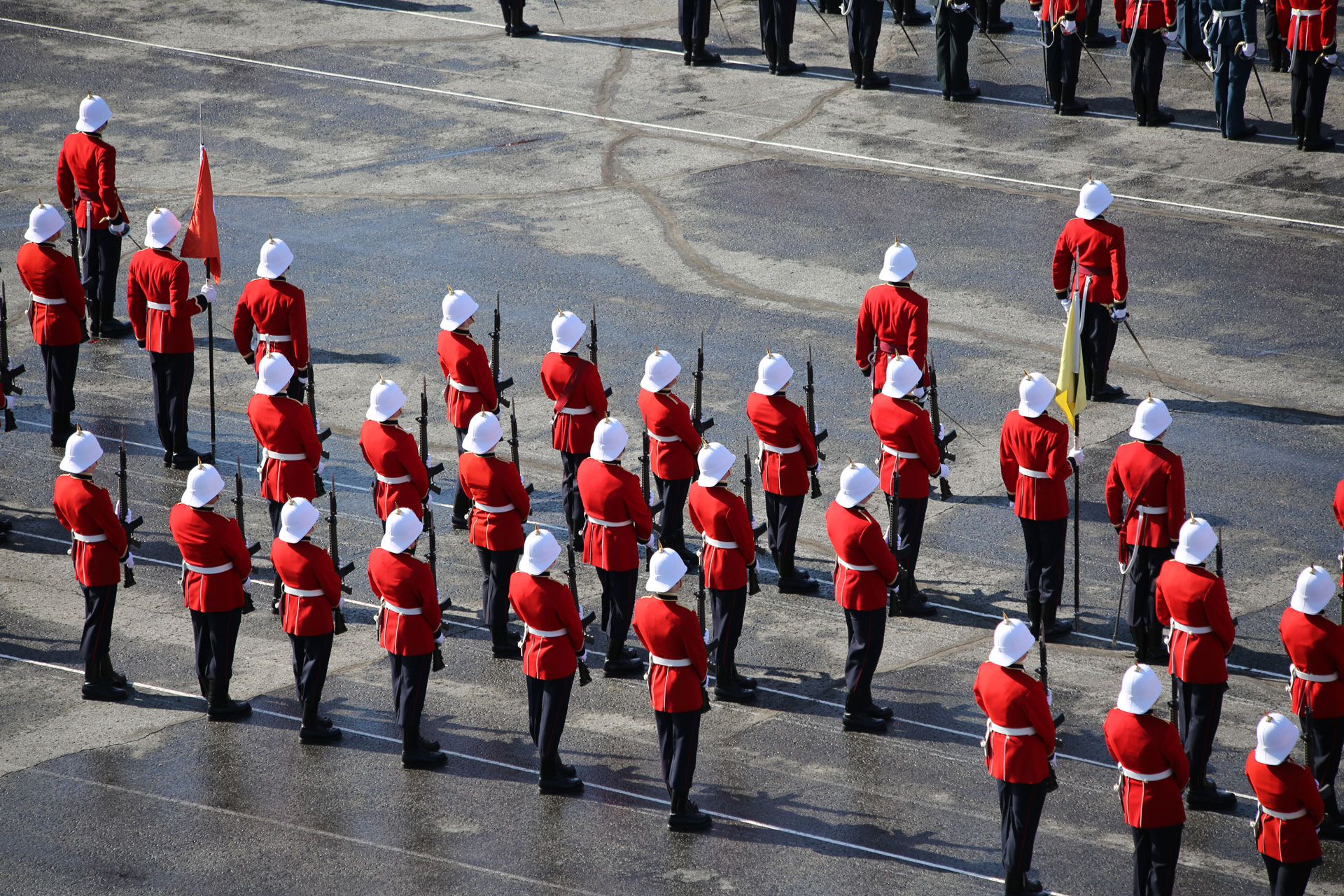 Ken MacDonald served at RMC 1970-73
…"What a pleasure for aspiring coaches and athletes and what a great feeling after all of these years to be greeted by these former young "sponges for knowledge" with a "hiya-coach!"…"
e-veritas: How did you come to join the Army?
Ken: I was born in Moncton (Humphrey's Mills) NB on 9 Nov 1932. I received my formal education at the Sunny Brae Elementary School and Moncton High School. During this period I was very active in the YMCA. I joined the Army on 19 Aug 1950 and on 1 Aug 1953 I married Edith Marie (Dunn) and we raised 4 children; Lori, Kim, Heidi and Dayle.
e-veritas: Describe your training to be a physical training and recreation instructor/physical training and recreation officer.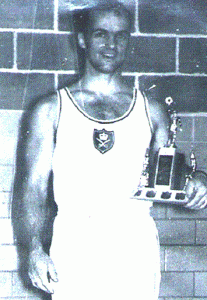 Ken: I joined the Army to become an airborne member of the PPCLI and go to Korea; however, upon graduating from Basic Training in Camp Borden, I was removed from further Infantry training and sent to the Physical Training Wing of the Royal Canadian School of Infantry and placed on a Unit PT Instructor Course, after which I was immediately taken on staff. I stayed in the PT Staff (RCIC) for 10 years (1950-1960). In 1952 I was selected to attend the British Army Advanced and Probation Physical Training Courses at the Army School of Physical Training (ASPT), Aldershot, England. A Sgt at age 20, I was heavily involved in gymnastics, diving and aquatics. In 1958, as a Staff Sergeant, I completed the Army Physical Training Corps Gymnastics Course at the ASPT again in Aldershot, England where I placed first, received an A grading on all portions of the course and a letter of commendation from the CDS. In 1963, so we could gain knowledge and background for the preparation of a training syllabus for a TG 4 Course for the PTS (RCIC), Gerry Kasanda and I were selected to attend a Royal Canadian Navy TG 4 Course at HMCS Cornwallis. I did well and placed first on this course as well. I was CFR'd in 1964 from the rank of MWO and became an Army Fitness and Recreation Officer and served in Camp Gagetown, CFB Shilo, NDHQ, RMC, CFB Kingston and HMCS Naden where I took my release on 19 Aug 1980, exactly 30 years after joining. During the early 1960s in Gagetown I competed in and conducted several clinics for gymnastics and won the New Brunswick and Maritime Gymnastics Championships. As a member of the Gagetown Army swimming team I also competed in and won several swimming and diving events during that  period. While in Shilo I conducted several local gymnastic coaching clinics in the nearby towns and communities and assisted in the training of Canadian Amateur Swimming Association and Canadian Track and Field Association Officials in preparation for the Pan-American Games held in Winnipeg in 1967. I was the Referee for the Canadian Pan-Am swimming trials and Referee for throwing events (shot and discus) at the Pan-Am games. During my posting at NDHQ I worked with and learned a lot from Ernie Miller and also coached the Ottawa Kingfish Swimming Club.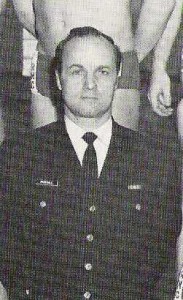 e-veritas: What were your key postings?
Ken: Each course and posting brought varying experiences, situations, knowledge and other ingredients that combined to improve my knowledge and skills; therefore there was no one specific posting that I would consider to have been "key.". . . . although I did thoroughly enjoy my time at RMC.
e-veritas: At which Military College did you serve?
Ken: I served at RMC from 1970 to 1974.
e-veritas: What was your primary duty?
Ken: I was the Assistant Athletic Director responsible for the administration and conduct of the Intercollegiate Sports Programme.
e-veritas: Did you also coach or become involved with a varsity team?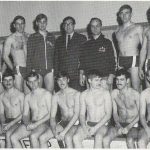 xxxxx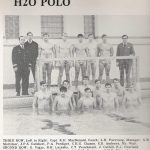 xxxxx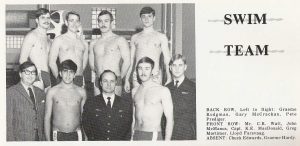 Ken: I coached the swimming and water polo intercollegiate teams. I had never played water polo, so coaching the team was a challenge for me, but, since I had an extensive background in coaching gymnastics and competitive swimming it worked out OK. Most cadets arrived at the college with some background in sports and athletics and some at a reasonably high skill level, so it was unique and thrilling for me, with my modicum of experience at a lower level than intercollegiate, to take the cadet's talent and expand it by improving their fitness and tactical levels. We had the fitness and theory components, the cadets had the desire and skills. What a pleasure for aspiring coaches and athletes and what a great feeling after all of these years to be greeted by these former young "sponges for knowledge" with a "hiya-coach!"
e-veritas: What do you consider the high-light of serving at the Military College?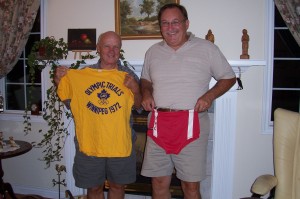 Ken: Being posted to RMC to become part of an elite team of staff and motivated student-athletes was a great honour for me. Taking Rick Douglas to Winnipeg in 1972 for the Canadian Olympic Swimming Trials was right up there as well.
e-veritas: What are you doing these days?
Ken: After retirement, I worked with Maritime Life for a few years, then took a Reserve call out and worked with the Air Cadets at their Gliding School in Princeton, at PacRegHQ Cadet Training Division as the Admin Officer for PacReg Air Cadets and at the Air Cadet Camp in Albert Head as the DCO, until they kicked me out as a Major at age 65. In Mar 1985 my wife Edie passed away after a long bout with Multiple Sclerosis.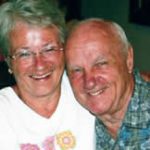 On 31 Dec 1985 I married Yvonne (Cheesman). Yvonne and I travel a LOT to escape our peaceful bungalow-style townhouse in Esquimalt to be away for our birthdays. (They don't happen if you aren't home to celebrate them). Between us we have 8 children, 13 grandchildren and 1 great grandchild. We do a bit of curling and golf together and I get into deep ca-ca from Yvonne for spending so much time working on the Periscope Website, writing a monthly Newsletter for our complex and organizing the past few West Coast Reunions. knymac@shaw.ca
e-veritas: Do you have any particular memory or short story you would like to share with our readers?
Ken: I have many memories. Here are a few:
• Using fitness exercises, juggling and other ambidextrous skills and using cadets with water polo experience to run a few drills with the team while I read up on the rules and how the game was played;
• Seeing Rick Douglas get very embare-assed by having his bathing suit ripped completely off during an RMC-Queens water polo game. He handled it very well;
• Making both the swim and the polo teams remain in the water when I spoke to them so I wouldn't have to crane my neck to look up at them (I am not very tall);
• Switching hats and numbers of our water polo players also during an RMC-Queens game. Our fastest swimmer at the time was Dave Read and since teams scouted each other, players were recognized by their cap numbers, so they would double team Dave to attempt containment. Graham Rodgers and Dave had similar moustaches and Graham had a basically similar swimming stroke to Dave's; so I switched their caps and therefore the numbers. What a hoot it was to watch how well Queens contained Graham while Davey swam all over the pool and scored nearly at will. We easily won the game and their coach wondered for some time where this other player had come from;
• Bringing the McMaster water polo team to RMC for a clinic, and then beating them in our next OUAA game (they sat out their best players for the first half then played them in the second only to have many of them fouled out through frustration). A shallow victory. . but a "W" in any case;
• Having the water polo team beat the highly touted and very skilled U of T team after I was rushed to Sunnybrook hospital with an allergy attack. It really under-scored the leadership; skills and tenacity the cadets have. BUT, it made me wonder just how valuable I was to the team, when they performed so well without me!
• Dealing with the politics, maneuvering and antics of the RMC-West Point week-end co-ordination meetings (who goes on parade, special needs and requests, etc, etc);
• The camaraderie and big-mac eating contests on road trip competitions to Quebec; Halifax; Ottawa; Toronto; Hamilton and other such exotic places;
• Getting myself removed from our own rink for harassing the referee during an RMC-West Point hockey game; and
• Participating with and watching these fine young men mature and become successful.
e-veritas: I understand that you were a member of the Canadian Army gymnastics display team.
Ken: The display team was formed shortly after the establishment of the Army Physical Training Staff (APTS) in the early 1950's. One of its roles was to provide publicity for the Canadian Army and thus enhance the campaign to recruit new personnel for military service. Most of the training took place after normal duty hours and the displays were performed during weekends and holidays. The team performed twice a day at the Canadian National Exhibition in Toronto. Our shows usually included individual tumbling routines, "chair tricks", individual routines on various gymnastic apparatus, balancing on a "bongo" board, a running maze or synchronized club or sword swinging to music, and vaulting over a high horse. Our team also performed numerous swimming displays, which included battle swimming and clown diving. Many of our members also participated in numerous swimming, diving and gymnastic competitions and always won a few medals.
e-veritas: Describe how to instruct and demonstrate battle swimming.
Ken: Battle swimming is swimming and jumping into water from various heights while dressed and wearing full "battle order" equipment. During a typical battle swimming test, with full kit on, the Canadian Forces members might be expected to remove and pass the kit to the side of the pool, swim 50 m swim using the breast stroke, then tread water for 2 minutes without touching the side of the pool. During our demonstration of "battle swimming" for the Barrie TV station at the Notawassaga River near Angus, Ontario, we jumped off the bridge in full "battle order" and demonstrated the "abandon ship" drill practice and diving deep under water to avoid an area engulfed in burning oil. Lt. Harry Mayne dove so deep that he got entangled in the weeds and required the assistance of our duty lifeguard to make it to the surface.
Interview carried out by E3161 Victoria Edwards (RMC 2003)