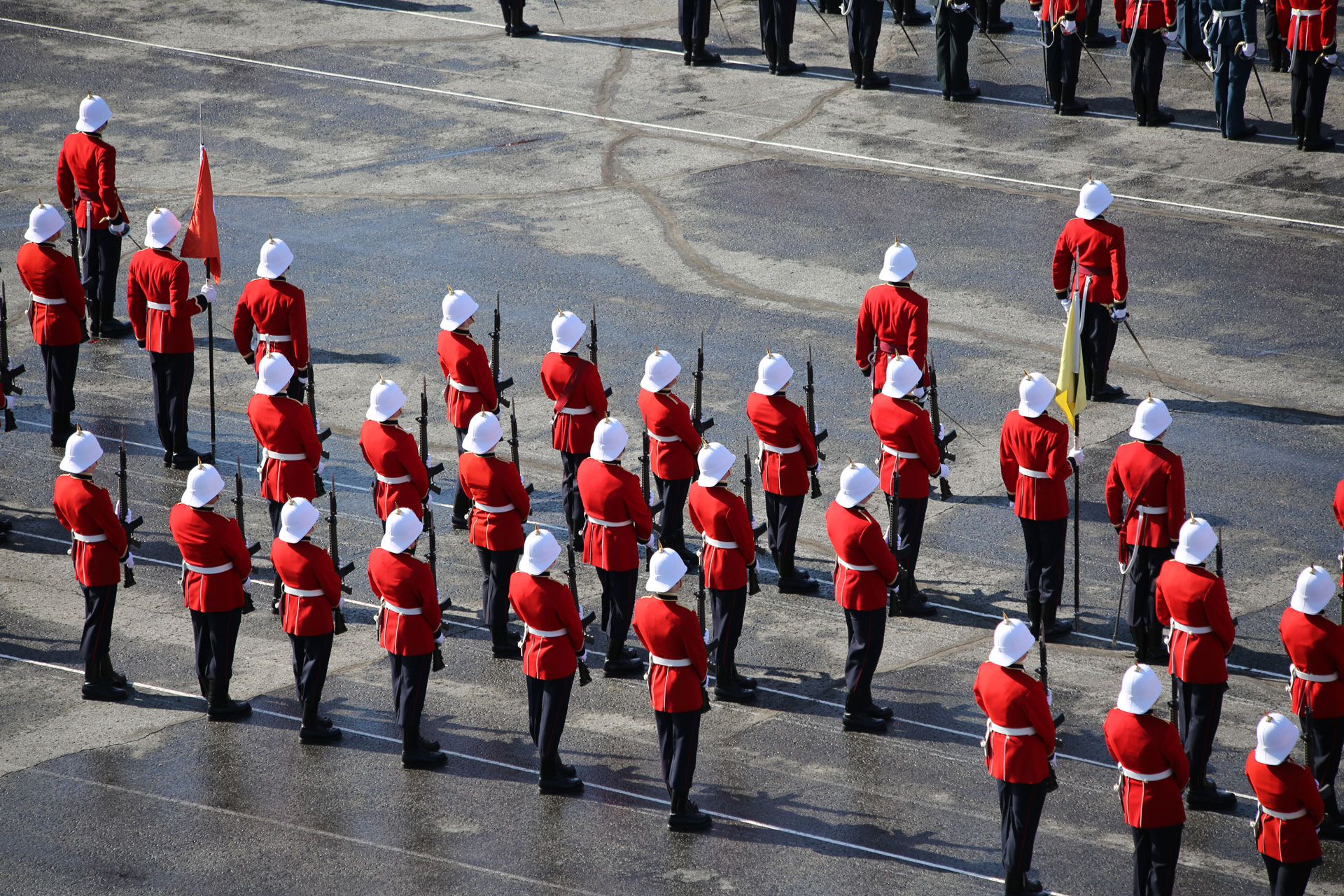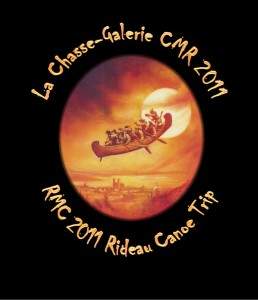 "Logo courtesy of Sleeman/Unibroue"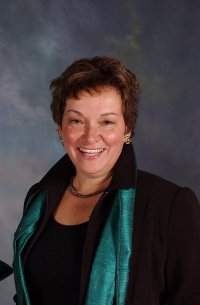 E3161 Victoria Edwards (RMC 2003) interviewed M0288 Captain (Ret'd) Roxanne M Rees (RMC 1983), one of fifteen Ex-Cadets who will raise money for the Danny McLeod Athletic Endowment Fund by paddling a voyageur canoe from Ottawa to Kingston this September, 2011. You can make a pledge or donation at www.rmcclubfoundation.ca
Victoria Edwards: This will be your first fund-raising canoe trip down the Rideau. What gave you the idea?
Roxanne M Rees: This is my first canoe trip and once the others find out how incompetent a paddler I am – it will probably be my last. I learned about this last year from fellow Vancouver Island Club member 8788 Geoff Bennett. He told me they would really like to have female Ex Cadets join the crew.  I told Geoff I would love to go but I was reticent about a stamina issue. He assured me that the toughest part of the trip was keeping the paddlers filled with beer.  I have since read of the other paddlers' qualifications, which far surpass mine so I think Geoff may have stretched the truth a bit. I will find it my heart to forgive him as his heart is obviously in the right spot!!
Victoria Edwards: Do you have any canoeing experience? Any lessons learned?
Roxanne M Rees: I have done some canoeing but I am probably the least qualified to fill a spot on the crew.  Somewhere in my misspent youth I paddled a canoe in Algonquin Park but I have tried to block out the memories of giant mosquitoes carrying away the coxswain. I don't think his bloodless body was ever found! My water sports of choice are Windsurfing followed by Stand Up Paddle Surfing and Kayaking; none of which I am any good at.  I can, however, swim so in the event of being tossed overboard, I can probably get to shore!
Victoria Edwards: You were one of the first female cadets at RMC.
Roxanne M Rees: I first made inquiries into attending RMC on my 13th birthday.  The way I was treated would be considered politically incorrect today. My mother, who had been a long time executive member of a major political party, was not amused.  I was apologized to profusely by a very red faced CO of the Recruiting Unit. The newly elected Prime Minister Trudeau saw fit to write to me and explain why it would be impossible for me to attend RMC.  I took this as an invitation to hound his office and for years entreated him to allow women entrance to the college. I tried again at 17 and was politely directed to the newly formed Communication Reserve, who were purported to be "Female Friendly." 728 (St John's) Comm Sqn did not yet have official status so I was temporarily taken on strength of the Royal Newfoundland Regiment.  By the time I was 21, I had nearly given up on RMC.  My former boss 3292 Colonel Don Kidd and his boss Gen Ramsay Withers told me that if hell ever did freeze over and women were admitted to RMC they were sure I would be first on the list. True to Col Kidd's word and in his role as Director of Education I was invited to apply when the College eventually opened up to women in 1979.
Victoria Edwards: Do you have any relatives who are ex-cadets/cadets?
Roxanne M Rees: My former husband M0289 John Smithers and I attended RMC together under the University Training Plan Men (UTPM) program. We arrived from Germany and were thrilled with the quality of sports equipment available to us. We played a lot of squash and spent our out of class time at the various sports facilities.  We had already been going to school for many years so both went directly to third year. My Mom was really proud as we took turns being first in our class.  We neglected to tell her that there was only the two of us in the class.  John went on to Dalhousie University under the Legal Officer Training Plan and is now a federal prosecutor in Halifax. We both attempted to get our daughter Elaine to attend RMC but she was having nothing to do with that idea! John is now married to Sue and they have four children together.
Victoria Edwards: Any stories about College athletics?
Roxanne M Rees: I learned how to fly in Baden, Germany just as windsurfing was becoming popular in Europe.  I watched the sails from the air and thought I have to learn how to do that.  When we arrived at RMC and I found out that classmate 13868 Major Mike Fabbro was teaching Windsurfing; I leapt at the chance to learn the sport. He went on to a career in public affairs with combat camera and international recognition in the sport and I went on to utter defeat from a Rubber Duck! Class Secretary 13846 LCol Kevin Bryski (RMC 1983) gave me further instruction after graduation.  I also did a little sailing which I still do with the Cowichan Bay Wooden Boat Society.  Providing ballast is my specialty.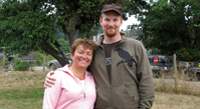 Victoria Edwards: As member of the UTPM program your participation in the College intramural and varsity programs was limited.
Roxanne M Rees: As an ancient UTPM, I was not required to participate in all the sports but I did every one they would let me have a go at. I had never seen anyone Fence before so I convinced Sgt Dave Huntsinger that he should teach me.  He says it was not his finest hour but I had lots of fun. I often said that the Physical Education and Recreation Instructors (PERI) staffs are the ones who really got me through RMC. They were very dedicated to the cadets and particularly anyone who wanted extra help.  I needed all the help I could get. I left RMC feeling well qualified to be a Unit Sports Officer and it was particularly helpful in my volunteer capacity as a Girl Guide Leader.  A Rudimentary knowledge of many sports is a great basis for creating a fun and active environment in any organization. We also know that exercise is far more effective than drugs in treating the non chemical forms of depression so "ask your doctor if getting off your butt is right for you?"
Victoria Edwards: How do you stay fit today?
Roxanne M Rees: I'm not!! I have spent the past 25 years just trying to stay alive. Unfortunately, not too long out of RMC, I was stricken with a neurological disease that pretty much wiped out 20 years of my life. I am doing well now but `fit` is a relative term. Any day I wake up breathing is a good day but I am absolutely determined to be well enough to windsurf again. This canoe trip is the first in many physical fitness challenges I have set for myself. Outdoor experiential training, including canoeing and kayaking is excellent for rehabilitation as it is low impact. The psychological benefit of being in nature cannot be underestimated as health is a reflection of the whole person not just a physical experience.
Victoria Edwards: How does your role as logistician on the canoe trip in 2011 meet the needs of the crew? What is your particular role and strategy on the canoe trip?
Roxanne M Rees: Logistics is the management of the flow of goods and services between the point of origin and the point of consumption in order to meet the requirements of customers. It involves the integration of information, transportation, inventory, warehousing, material handling, and packaging, and often security.  Any good commander will say that Logistics will never win a battle but it will lose it for you every time if not handled well.  Geoff has obviously mistaken me for a Logistician so has assigned me the job of Bean Counter; presumably because the role of Queen Bee was taken.
Victoria Edwards: I understand that you were medically released from the Canadian Forces  much sooner than you had anticipated leaving. How has that worked out?
Roxanne M Rees: I hold a Bachelor of Arts in English and Philosophy from RMC and if nothing else it caused me to Question Reality which comes in really handy in business. I was devastated to have to leave the military so I needed a way to get well and reinvent myself. I went on to study business through University of Phoenix and other non traditional business schools. It was quite an eye opener to me to learn that Corporations have all the rights of an individual but none of the responsibilities.  So when one attempts to "Follow the Money" it is often a dead end.  The recent economic collapse is directly related to this lack of responsibility, in my opinion.  Both my degree and the Motto of RMC makes for very good understanding of what constitutes the difference between a solid company of integrity and companies that are only influenced by the bottom line. I now work as representative of Nikken, the Japanese Health Research and Development Institute.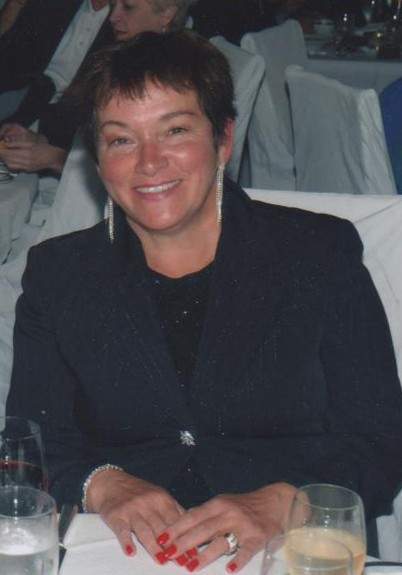 Victoria Edwards: Your favourite expression is `We make a living by what we get: we make a life by what we give!` by Sir Winston Churchill (1874 – 1965).
Roxanne M Rees: When someone loses their health, everything else suffers with it.  I have managed to put it all in perspective and as a result of deep soul searching have just decided to help others who may not have the skill set and training that I am fortunate to have. I have been fundraising, in one form or another, for most of my life and it has always involved recreating the wheel.  Responding to the needs of the global community is part of the Nikken corporate vision. With a philosophy that says we as Humans can be more than we are, Nikken allows me to use the power of leverage to help a number of non profit organizations such as www.trinitychildren.com but especially www.woodwynnfarms.org! Donour fatigue is very high in this economic climate so I help organizations earn their funding through a proven business model that continually builds on previous success in the fastest growing and largest sector of the world wide economy.  The structure allows several organizations to profit from the same amount of work. I was recently shortlisted for an award by an international business leader as a "SocialPreneur" or an entrepreneur with a social conscience.
Victoria Edwards: You are part of a group of people dedicated to helping the most marginalized of Victoria, BC.
Roxanne M Rees: Many of us have anguished over the increase of addictions and the related problems of homelessness in our city. I was particularly distressed to learn about a number of homeless veterans. Many of these veterans feel abandoned by the very organization that Colonel Pat Strogan spoke about so publically.  I do my best to help them navigate a system that I believe is fundamentally flawed.  The very qualities that make for very good soldiers make for very poor clients of this other federal institution and I speak with some authority and knowledge in this.  I have been under the Johnson St Bridge attempting to find an RMC Grad and get him the help he deserves.  There is an extremely fine line between a comfortable middle class life and a life of destitution that quickly spirals out of control.  Losing one's health is often the difference between middle class comfort and abject desperation. It is not OK with me to just pretend it is someone else's problem.
Advocates raised money to purchase Woodwynn Farms, our 193 Acre therapeutic community for the homeless and high risk young adults in British Columbia. This is a farm in transition to 100% organic vegetable, fruit and nut orchards that will expand to other areas, over time.  While I served with Comm Group Lahr, as an NCO, I had the opportunity to visit www.sanpatrignano.org in the Rimini Area of Italy.  Woodwynn Farm is modeled after San Patrignano so we are learning from them in what to do but more importantly what not to do. This project provides unique opportunities for members of our community to get involved in a program that has the ability to change people's lives. Our mandate is to help those people who want help, and will commit to their own success, the chance to be a functioning member of society.   It is however, the enormous group of volunteers including fellow VI Club Treasurer 3334 MGen (Ret'd) Dave Wightman who have really impacted my sense of community. Homelessness is a complicated issue and for many of these people, no one has ever cared about them.  The participants in the program work right alongside the many volunteers who I would say have also had their lives enriched through this affiliation.  I feel extremely blessed to come from a family of people who care about each other but also to have had a career in the military where the concept of responsibility to others was reinforced.  From what I can tell, none of us are getting out of here alive so we better just look out for each other.  The lessons that were reinforced to me at RMC were based on solid principles of responsibility for each other and I am fortunate enough to represent a company that espouses a similar philosophy. Every penny earned through www.woodwynnwellness.com directly supports Woodwynn Farms Therapeutic Community.
If the purpose of a life is to lead a Life of Purpose then I am fortunate indeed to have two careers of purpose.
Our aim at e-Veritas is to conduct one-on-one interviews with all 15 participants (in no particular order) over the next few months of e-Veritas editions.
Class of 1960 4815 Mike Jackson
Class of 1960 H4860 John de Chastelain
Class of 1963 5893 Tom Gee
Class of 1971 8725 Fergus McLaughlin
Class of 1971 8788 Geoff Bennett
Class of 1971 8816 Marius Grinius
Class of 1971 8833 John Leggat
Class of 1972 9143 Bruce McAlpine
Class of 1983 M0288 Roxanne Rees
Class of 1986 15414 Catherine Paquet-Rivard
Class of 1997 20800 Cindy McAlpine