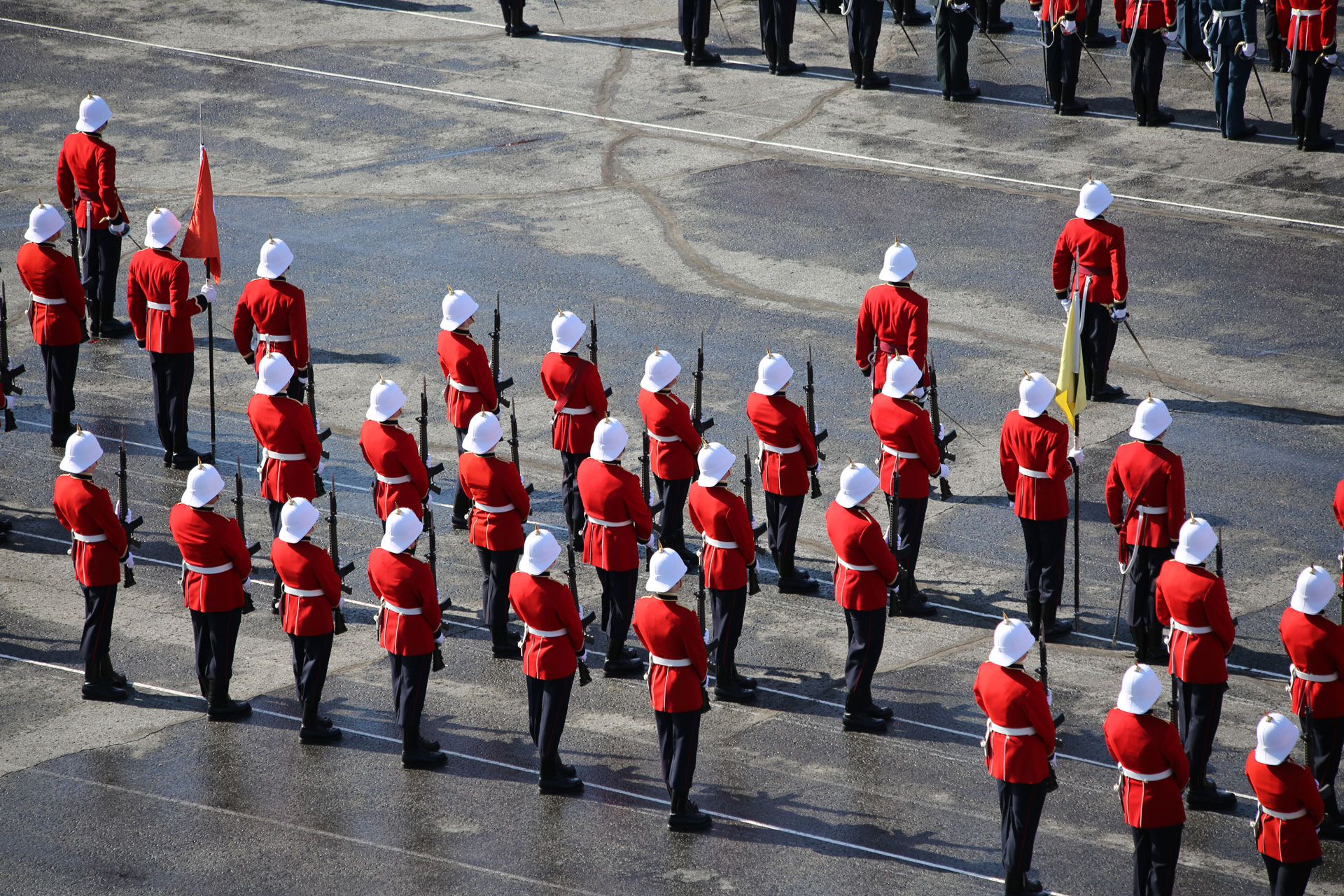 MEMORIAL WALL DEDICATED TO VETERANS OF THE BATTLE OF HONG KONG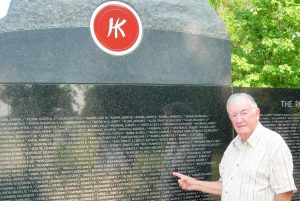 The 1,975 Canadian soldiers, mostly from the Quebec City based Royal Rifles of Canada, and the Winnipeg Grenadiers, were the first Canadian troops to see battle in World War II. They had been sent to Hong Kong to help Britain defend its colony against invasion by the Japanese. Their war began on December 8, 1941, and lasted only 17 days. Outnumbered ten to one, they fought valiantly, but on Christmas Day, after 291 of their brave comrades had been killed in action and 493 had been wounded, they could hold out no longer and capitulated. Those who survived were incarcerated in Japanese P.O.W. camps under horrific conditions for 44 months, during which period 269 of them would die from maltreatment and starvation.
These Canadian heroes were largely forgotten for a long period of time while battles were being waged in Europe and elsewhere in the Pacific Region. It has taken six decades for any really tangible recognition to come their way.
On August 15th, fittingly on the 64th Anniversary of VJ-Day marking the end of the Pacific Campaign and the end of WWII, a Memorial Wall honouring all of those who fought at Hong Kong was unveiled in Ottawa in the presence of numerous dignitaries, including 12320 General Natynczyk (RRMC CMR 1979). Of the 80 veterans of Hong Kong who are still alive, 23 were able to be present for the unveiling ceremony. Nearly 500 family members and friends attended the ceremony and the other activities of the Annual Conference of the Hong Kong Veterans Association. The Hong Kong Youth Orchestra travelled from Hong Kong to perform at several events.
The list of names on the Memorial Wall includes that of at least one ex-cadet: 1119 John Herbert Price (RMC 1915). As a Lieutenant-Colonel in the Artillery, Jack Price came to the Royal Rifles of Canada to be Second-in-Command, but he volunteered to take a cut in rank to Major in order to become a Company Commander. He survived the battle and his ordeal as a P.O.W. He returned to his home in Quebec City where he is fondly remembered for hosting serving cadets and ex-cadets at a reception every Christmas.
Dr. Kenneth Cambon, also from Quebec City, brother of 3201 Austen "Aus" Cambon (RMC 1954), was a Rifleman with the Royal Rifles of Canada. Enlisting when he was only 16 years of age, he became a P.O.W. at age 17. Miraculously, he, too, survived and went on to become a highly-respected physician and surgeon in Vancouver. Dr. Cambon passed away in February, 2007. His widow, Dr. Eileen Nason Cambon, their two daughters, and a grandson, attended the unveiling ceremony in Ottawa with Austen. Gen Natynczyk and his wife, and Hon. Greg Thompson, Minister of Veterans Affairs, were most gracious in chatting with the Cambon family on this memorable occasion.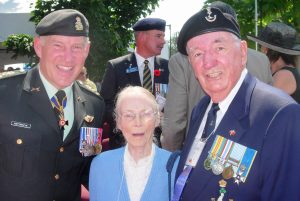 Dr. Kenneth Cambon's book, "Guest of Hirohito", ultimately published also in Chinese and Japanese versions, chronicled his experiences as a soldier, as a P.O.W., and as a most fortunate survivor. It is in the RMC Library. It can also be read online at: www.fourthmarinesband.com/cambon.htm
The magnificent Memorial Wall is located in Ottawa at the corner of King Edward and Sussex Streets (directly across from the NRC building). It exists through the extraordinary efforts of the Hong Kong Veterans Commemorative Association, an organization made up of the families of these veterans. They need help to complete this fine project and any donations will be most gratefully received. Go to: www.HKVCA.ca
________________________________________________________________

FALL OUT!: Beating the Retreat will not be held this year.
Autralia today…similar cuts here tomorrow? Entire article Here