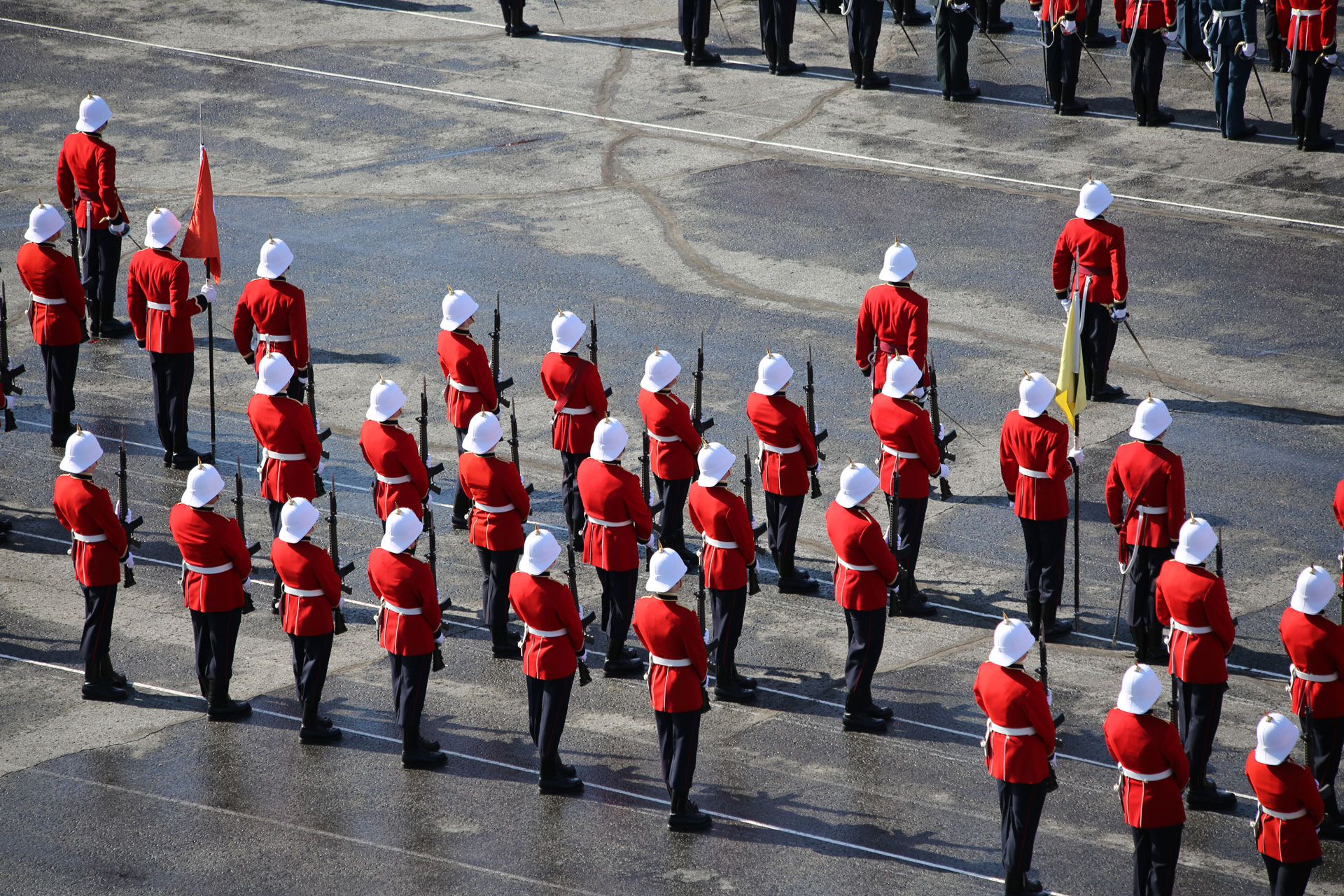 x
e-veritas has been given permission to publish excerpts of 5105 Doctor J. L. Granatstein's (CMR RMC 1961) interviews (1991-1993) for "The Generals: the Canadian Army's Senior Commanders in the Second World War". 5105 Doctor J.L. Granatstein fonds are at the National Defence HQ Directorate of History and Heritage.
x
x
___________________________________________________________________________________________________
1878 Major General Herbert Allan "Sparky" Sparling (RMC 1925)
MGen (Ret'd) Herbert Allan (Sparky) Sparling was interviewed by 5105 Doctor J.L. Granatstein in Oakville on 18 Apr 91. 1878 MGen. Herbert Allan Sparling died on 26 March 1995. 6776 Tim Sparling (CMR RMC '66), Past President of the RMC Club, is his proud son.
On RMC:
His father was in the army. 1878 MGen Herbert Allan "Sparky" Sparling (RMC 1925) and his brother 1760 J.L. Sparling (RMC 1923) went to RMC. He is clearly an RMC believer. He listed the ex-cadets who were at the HQ mess at 5th Armoured Division in 1944: the CRA, Division Signals, Chief Engineer, Science and Technology, A&Q, DAAG, 11 Brigade command etc.) He maintained stoutly that the RMC connection didn't mean favouritism. Promotion was always based on the quality of the individual. Still, RMC people did shine because of the College training. His first posting was to B Battery, Royal Canadian Horse Artillery where he found that everything he had learned at RMC about artillery was near useless. He learned more from Non Commissioned Officers and from the Adjutant–who had the job of preparing officers for promotion exams.
On the Militia and Permanent Force:
He never saw any difficulty in relations with the militia and never knew any Permanent Forcer who did. He made the point that as an RCHA officer, he got to know the militia well. His summers (after a month or so of PF training) were spent instructing the militia batteries at Petawawa or Sarcee and later at Shilo. He knew all the militia officers as a result, and in the winter he spent a good part of his time instructing provisional officers for promotion exams and NCOs. The bonds were good, he said, and in his view, there was really very little difference in quality or training between the two-after all, the Permanent Force had very little modern equipment either. He cited the example of (Brig) Stan Todd who was CRA 3 Div and who he knew from the mid-1920s. He added too that the only time the Permanent Force had as much as a brigade in the field was in 1938 at Petawawa and even then the infantry units were under strength and there were too few vehicles.
On Hong Kong:
MGen (Ret'd) H. Allan Sparling's was GSO1 in DMT when Hong Kong came up. He was told that they needed 2 battalions for service in a tropical post on garrison duty; he wasn't told where. Colonel Lawson, the DMT, told Sparling to prepare a list in three parts: l. battalions from which selection could be made at once; 2. battalions that needed more training before selection; 3. battalions that shouldn't be selected. He took the list to Lawson but he'd gone home, so he signed and sent it up. The selection, by General Crerar, was made from 2. No one protested though Sparling was not surprised at the choice-both battalions had done garrison duty. When the Royal Commission occurred, he was called and questioned by George Drew–a militia gunner that Sparling had trained and knew well. He thought Drew, who asked him about 2″ mortar and state of training, was trying hard not to hurt him. He thought that the QMG, MGen Edward James Schmidlin, unfairly took the rap for the Hong Kong force's problems.
In I Cdn Corps in Italy, he had a UK Air Operation, a heavy battery, and a medium regiment under his control. When the Corps was to go to North West Europe, the Commanding Officers of these units came to Sparling to ask if they were going too. No. Great protest–they were as much a part of the Corps as any Canadian battery. Sparling got the decision reversed–this all showed how close the UK-Canadian relationship could be.
On General Harry Crerar (RMC 1909); professor of tactics RMC1909; Commandant RMC 1938-9:
MGen (Ret'd) H. Allan Sparling knew General Harry Crerar well. At RMC, Crerar had been his company officer and had asked him to join the artillery. Crerar also got RMC Commandant MGen C.F. Constantine (RMC 1905)'s permission to let the senior class come to his house for beer in the evenings. He told the class that even if he wasn't there they could help themselves. That, Sparling says, was when he realized how thoughtful Crerar was of his subordinates. Crerar was no hale fellow well met, but he was nice. He also served under Crerar in 1938 briefly pre-Staff College in DMO&I to get some staff experience. Crerar told him to do a report on AA defences for Canada and he knew nil of this. Sparling swotted it up from CID papers in the classified section of NDHQ library and gave drafts to Crerar who marked them up very thoroughly indeed. This taught Sparling about memo writing. He thought Crerar had good sense, good political sense, and they got on well. And in DMT, he used to accompany Crerar as Chief of the General Staff on visits to training camps.
On General Bert Hoffmeister (RMC Canadian Junior War Staff course):
If MGen (Ret'd) H. Allan Sparling had to fight a war again he would want to do so under General Bert Hoffmeister. He was a good tactician, good at dealing with troops and at man management, humour. He was a helluva good soldier. Morale in the 5 Cdn Armoured Div was weak, but Hoffmeister established himself quickly. The Division was out of the line before attacking the Hitler Line and, having done only static defence, was learning how to move like an armoured division. They were practising an advance behind a barrage when Sparling had to locate Hoffmeister; he was told he was with the leading infantry battalion teaching them how to lean into a barrage. When the word got around, morale soared, and the "Mighty Maroon Machine" was in formation. How could Hoffmeister command an armoured div? He had as much experience as most Canadians at command–he'd fought through Sicily, and for most of its early life 5 Armoured was in static positions; Italy moreover wasn't exactly tank terrain.
He said that after VE Day the 5 Div had a party in Northern Holland to which he went (he had become CCRA); he had been told he was to command an occupation division. Hoffmeister got hold of him: Why had he not volunteered for the Pacific? He had. "Will you go?" "Of course, if they'll let me." A few minutes Hoffmeister came back to say "I've been on to Army, you're my CRA. Most of the Pacific Force staff were 5 Armoured, and Sparling thought the whole Division would have volunteered.
On General E.L.M. Burns (RMC War Certificate 1915/RMC instructor 1924-6):
Gen Burns was 5 Armoured Division commander from Jan-Mar 44. He was a very intelligent engineer and staff officer, but he had no sense of humour which was a real flaw. Still, Sparling liked him and had known him since RMC where Burns taught him Tactics. He never looked on him as a commander, and he recalled the boob Burns made in getting sent home from the UK in 1939-40–apparently a defeatist remark. When 5 Div first went into the line, Burns asked Sparling at dinner if he had arranged Very signals for artillery defensive fire. Sparling said no, it was too easy for Germans to fake this and there was wireless and line commands. Burns said he didn't care. Lights had worked in WWI and he wanted them. At breakfast the next morning, Burns asked Sparling if he'd done this. Sparling, who disagreed and hadn't had a chance in any case, said no. Burns then lit into him in front of everyone, so Sparling threw down his napkin and left, returning to his caravan, basically to pack and leave. Then he was summoned to Burns who had his AQ officer there. Burns said that he wanted someone who had been in the mess to be there "when I apologized. I was upset over something else." Sparling said he took his hat off to him for doing that.
On Gen Charles Foulkes:
He was an admirer, though they had a bad start. Capt Foulkes was attached to Royal Canadian Horse Artillery and Foulkes denounced RMC in the mess. Sparling defended it. But they got on OK. In Malta, when he was with 21 Army Group mission, Foulkes was there as BGS to Gen Andrew McNaughton, waiting to get to Sicily. Foulkes facilitated Sparling seeing McNaughton, and Andy sent him to Sicily to attach himself to 1 Cdn Armd Bde and to report back to him. Then Sparling was Foulkes CCRA in North West Europe and found him good to work for. If he didn't take your advice, he had good reason; he got on well in the mess. As Chief of the General Staff, Foulkes got Sparling promoted and made VCGS where he got on well with him.
On LGen Granville Simonds:
Gen. Sparling had no doubt Simonds was the best field commander in the army. He'd been very good in Sicily and as a corps commander. Sparling knew Simonds from Permanent Force; he'd been brevet captain when he'd joined the RCHA and he had taken over his job as artillery instructor in Kingston in mid-1930s. Simonds did what he had to which was to go out in the field to see Korea brigades, NATO etc. Sparling knew what Simonds wanted done, and he was very professional.
_________________________________________________________________________________________________
2374 Malcolm C. Sutherland-Brown (RMC 1934)
2374 Malcolm C. Sutherland-Brown and Athol Sutherland-Brown were  interviewed by 5105 Doctor J.L. Granatstein in Victoria on 27 Feb 92. These are sons of BGen James (Buster) Sutherland-Brown, CMG, DSO, and Clare Temple Brown (nee Corsan). BGen James (Buster) Sutherland Brown (1881-1951) was DMO&P in the 1920s-30s and retired from the Permanent Force in the 1930s. A third son 2609 Flying Officer Ian Mcdonnell Sutherland-Brown (RMC 1937) was Killed In Action at 21 years of age, August 14, 1941. Ian Sutherland-Brown is commemorated on Page 24 of the Second World War Book of Remembrance.
LCol Malcolm Sutherland-Brown was a LCol in the Royal Canadian Engineers overseas. Malcolm was A/CRE in 2 Div under Gen Foulkes in 1944-5.
Dr. Athol Sutherland Brown, a pilot in the Royal Canadian Air Force in Burma with 177 Beaufighter Squadron in 1944-1945, was awarded the DFC in 1945. After the war Atholl earned a PhD from Princeton University. He was a research geologist with the BC Geological Survey and its chief geologist for ten years. He wrote 'Buster Buster: A Canadian Patriot and Imperialist'. Victoria, BC: Trafford Publishing, 2004.
On BGen James "Buster" Sutherland-Brown, CMG, DSO:
As Assistant Quartermaster General of the 1st Canadian Division he was substantially responsible for the rapid advance of the Division through Mons, Beligium, to the Rhine in the last 100 days of WWI. He also provided for the efficient demobilization of the Canadian Expeditionary Force in 1919-20.
As Director of Operations and Intelligence he was the author of Defence Scheme No.1 designed to defend Canada in case of an attack by United States in the 1920s. Although he had a dark view of US he had no special commitment to the plan–it was just a job he'd been given to do. Indeed, Malcolm recollects his father giving a talk praising the US (although on trips to visit friends in the US he continued to collect data!) The scheme was dropped in 1931 by the chief of the general staff, General A.G.L. McNaughton.
As District Officer Commanding in Victoria during the Great Depression he managed on a slim budget to get military facilities built and the Militia as prepared as possible in anticipation of WWII. As DOC, BGen Sutherland Brown lived in quarters at Work Point (near Esquimalt), in a house that held four officer families and the officers' mess (it is now the Officers Mess). Built in 1898 it had a great view, had tennis courts and a pool, and there were always horses to exercise for the Permanent Force soldiers. They had a nanny and entertained a lot.
BGen Sutherland-Brown then lost a confrontation with his immediate superior, General A.G.L. McNaughton, centred on the humane treatment of the unemployed in Relief Camps in the 1930s and consequently he resigned. Though he sought one, he was refused a role in WWII as a result of this clash. When he resigned, there was no pension until 65 (indeed, he had to keep on paying in) and things were tight. When he resigned there was a big move in the District to have a mass resignation but BGen Sutherland-Brown squelched this. BGen Sutherland-Brown ran unsuccessfully provincially and federally for the Tories.
On General McNaughton:
The relationship with McNaughton was difficult–but not at first. When Malcolm Sutherland Brown went to RMC in 1934, BGen Sutherland-Brown told him "any feud in one generation shouldn't be carried on to the next." The feud dated to the depression when the army had to cope with the unemployed in camps. They were treated like POWs and paid 20 cents a day. As DOC in British Columbia BGen Sutherland-Brown had to cope with the bulk of the problem. He made ten recommendations to Gen McNaughton and in desperation after nil was done, he wired "either accept recommendations or resignation". Ottawa did both, eventually implementing some 8 of his ten. The dispute made BGen Sutherland-Brown physically ill, aggravating his rheumatic fever from the war. When Sam Browne got made AG, he told Sutherland-Brown, "it's you who should have got this job".
In September 1939, Malcolm was a Royal Canadian Engineer officer in Calgary under General Pearkes. General Pearkes got construction of huts underway w/o OK on the funds from NDHQ. When General McNaughton came out of the building, he said to General Pearkes, "Great, who's done it?" General Pearkes pointed to his chief engineer who in turn pointed to Malcolm. It made no difference to General McNaughton, and Mrs. Mabel McNaughton had him to tea in UK.
Gen Guy Granville Simonds (RMC 1925); Associate professor of artillery and tactics, RMC 1938: He was Malcolm's company commander at RMC and was very strict-no cadet would go to him with a problem. Cadets had to be sent to call on him; none went by choice. In Normandy, he used a Staghound to visit units and if anyone blocked his way there was trouble. Malcolm received a direct order to discipline a sergeant who'd been mine clearing the verges and interfered with Gen Simonds' progress.
2609 Flying Officer Ian Mcdonnell Sutherland-Brown (RMC 1937)