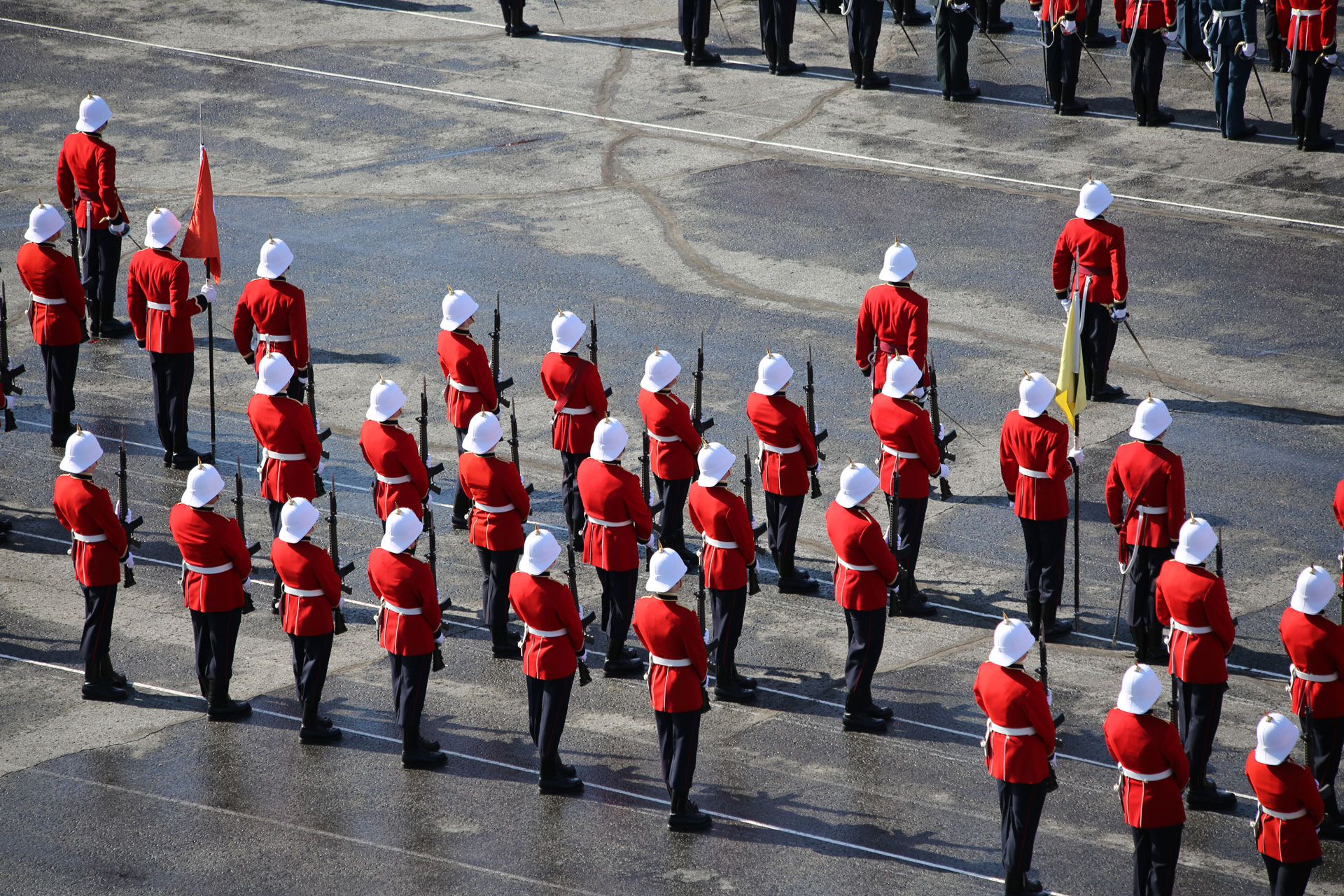 RMC Think Tank Delivers
By: 25881 II Year, Anthony Matlock
Photo by: Will Chalmers
Caption: Dr. Anthony Seaboyer (left) and Dr. David Last (LCol Ret), the driving force of the Centre for Security, Armed Forces and Society at RMC.

RMC Think Tank Delivers
By 25881 II Year OCdt Anthony Matlock
Not many cadets or ex-cadets have heard of RMC's Centre for Security, Armed Forces and Society (CSAFS), a think tank founded in 2006. In academic and military research circles, however, it has been on a streak of success.
In January, the Principal and Commandant opened its new office in the Department of Politics and Economics. This year alone has seen more than $300,000 in research grants, and the delivery of cutting-edge political and strategic research to clients such as the Canadian Expeditionary Force Command (CEFCOM), J2, J3 and Defence Research and Development Canada (DRDC) which has supplied the majority of the funding.
"We have thirty-eight deliverables spread over four major research project this year," says the Centre's director Anthony Seaboyer, an adjunct professor at RMC. "These deliverables range from publication, presentations and symposiums, to briefing notes, round table discussions and conferences."
Two of this year's projects develop a Canadian approach to a process called "Red Teaming." Derived from decision theory and Cold War experience, these technique have been revitalized by Western intelligence agencies following the passage of the Intelligence Reform and Terrorism Prevention Act of 2004 in the United States. "Red" refers to the colour used to represent the enemy in the Cold War.
"There are many ways to do Red Teaming," says Seaboyer, "essentially though, is that it's a team of experts from the outside who develop alternative solutions to problems with the full knowledge of what blue force [friendly] is doing."
Dr. David M. Last (Ret LCol), head of the Department of Politics and Economics and Principal Investigator for the Red Teaming Research, adds, "The Red Team challenges assumptions and questions thinking in order to improve decisions. It can help to reduce groupthink, tunnel vision, mirroring, and other common flaws in collective thinking. Looking for deception, validating hypotheses, playing 'devil's advocate,' brainstorming, and comparing alternative futures are just some of the tools a Red Team might use."
The Red Team case study and other CSAFS research projects have drawn the expertise of several RMC professors such as Dr. Christian Leuprecht, Dr. Kerim Ousman and Dr. James McKay. Many premier academics from all over the world also contribute through contracted studies, research reports and presentations.
Additionally, Officer Cadets have been instrumental in the organization of the Centre's events, and in some cases, have contributed to the research.
Earlier in the year, senior political science students such as 24963 OCdt Jamie Hill had the opportunity to participate in a conference that launched the Centre's Red Teaming Use-Case Project.
"While working on the project I submitted four works that focused of Red Teaming and the Sudan," Says OCdt Hill, who is having one of his papers reviewed for publication.
OCdt Hill will be serving on the executive committee for a crisis simulation on the Sudan which is being held at Queen's University on the 4th and 5th of March.
"Queen's has been a very important strategic partner," says Seaboyer. "The Queen's Centre for International Relations has provided first-class, PhD-level expertise to most of the projects we have been working on so far."
This upcoming simulation will see Queen's and RMC students develop solutions to a "Sudanese crisis" with the guidance of diplomats and ambassadors from Canada, Sudan and other nations with a stake in the region.
With an expanding budget and world-class research being published, Seaboyer admits, "It's too early to tell if this year's projects have been a major success; however, feedback from our clients has so far been positive."
Such feedback has already come from Matthew Lauder, a defense scientist at Defence Research and Development, who has been upbeat about the contribution the RMC think tank is making.
Seaboyer also credits the staff who have been instrumental in the Centre's success: Dr. Genevieve Susemihl, War Studies graduate Will Chalmers, Queen's students Ben Hartley and Xiren Wang, and reservist George Al-Koura in RMC's politics program. Responsibly spending the funding grants and implementing the research projects heavily relies on the RMC research administration staff, Stephanie Belanger, Sharon Harrison, Nathalie Lebrun, and Bernadette Garrett.
"Without their outstanding support none of the projects could have been implemented at the quality level we try to deliver and in the often tight timeframes given," says Seaboyer.
When asked if he sees the Red Team process lasting in the academic setting of CSAFS and the Political Science Department of RMC, Seaboyer says, "Absolutely. I believe it has a strong future across Canada. There are more research projects coming to RMC, and we're already applying for additional funding beyond these new projects for next year."
When asked the same question, OCdt Hill replied, "I believe that the Red Team process and research here at RMC is a possible groundwork for the creation of a CF Red Teaming capacity. I think the research should continue and that it presents a viable and effective capability in the operational planning process."
Hill adds, "I enjoyed working on the project and would recommend other cadets to take advantage of similar opportunities to pursue research and other academic endeavors."