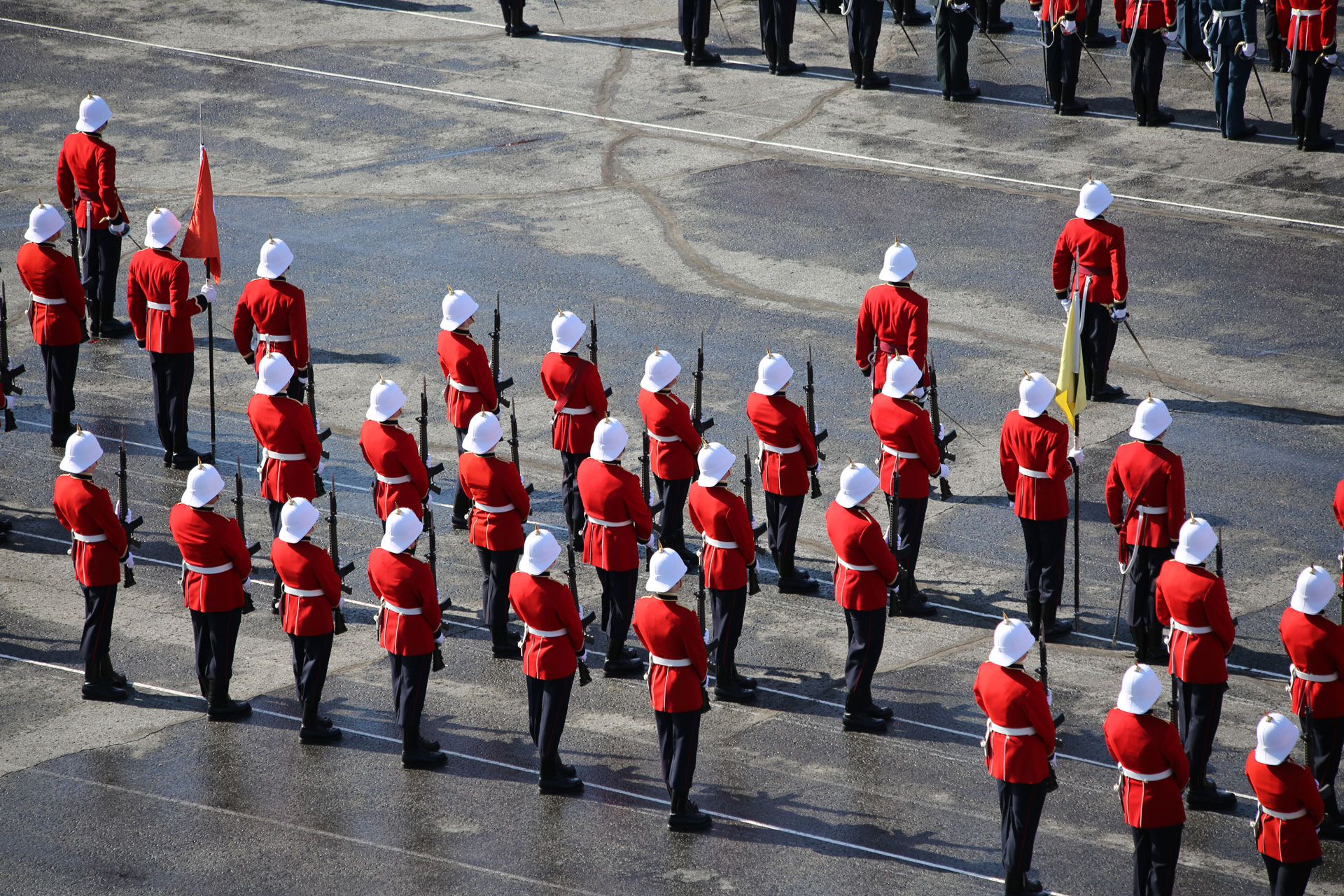 13789 Commander Darren Rich is a 25 year veteran of the Canadian Forces. Over that time he has had his share of sea time and life ashore. The Canadian Forces Naval Engineer has five years under his belt at RMC. He has been the Deputy Director of Cadets; Special Assistant to the Commandant; and has just recently taken over the reins as Chief of Staff (COS).
Darren grew up in the military and followed his parents around to bases like: Edmonton (Namao); Kingston; 4 (W) Baden; and Penhold. He is a big time CFL fan and likely the biggest Saskatchewan Roughriders follower between Kingston and Regina.
When he is away from the daily work grind Darren spends a good deal of his spare time following the fortunes of the RMC varsity teams; he has a commercial pilot's license with over 650 hours "in the air". He is also a proud hockey referee who "calls" about 100 games a season. These days he confines himself mostly to the RMC Intramural and CFB Kingston Intersection Leagues.
e-Veritas read should find this Victoria Edwards interview with this muli-talented senior officer very interesting.
By: E3161 Victoria Edwards
13789 Commander Darren Rich (RRMC 1983) joined the Canadian Forces in 1978. He graduated from Royal Roads Military College in 1983 with a degree in Physics and Oceanography, was commissioned as an Acting Sub-Lieutenant and began training as a Marine Systems Engineer. Cdr Rich returned to Victoria as the Marine Systems Engineering Officer in RESTIGOUCHE in the summer of 1991. In 1992 RESTIGOUCHE was deployed to the Red Sea in support of UN sanctions against Iraq. The six-month deployment resulted in RESTIGOUCHE circumnavigating the world, the last Canadian steam-powered warship to do so. In 1998 Cdr Rich attended the Canadian Forces Command and Staff College and was promoted to his current rank in June of 1999. In 2003 he was posted to the Royal Military College of Canada as the Special Assistant to the Commandant. He became Deputy Director of Cadets in 2007 and assumed his current duties as Chief of Staff in August 2008. Cdr Rich is married to Valerie Rich from Greenwood, NS. A commercial pilot, he holds an aerobatic endorsement in addition to a multi-engine instrument rating. He is a hockey referee and also enjoys cycling and SCUBA diving.
E-Veritas: When referring to your role at RMC, you say, "I am the Chief of Stuff rather than a Chief of Staff".
Cdr. Rich: When the Cadet Wing prepares for parades, my labourers to do the hard work moving the bleachers and other stuff around. The Chief of Staff, Comptroller, Principal, Director of Cadets and College Information Officer are all direct reports to the Commandant. About 80% of the Chief of Staff work I do is common to any military Chief of Staff. My staff provide administrative support, pay, security, maintenance, facilities & quarters, oversight of construction of new facilities, logistics, engineering, operations and plans, and cleaning services to the College. In addition, the Chief of Staff at RMC assists the Cadet Wing in ensuring that the Recruit Camp, First Year Orientation Period, parades and events are successful. When the 2nd year class builds the obstacle course – my labourers will install the cargo net rope. To enable the Cadet Wing to concentrate on the four components, my staff ensure that they have 3 square meals, clean clothes and clean linen. When an OPI organizes conferences and symposia, my events coordination staff help to coordinate various aspects of the event. The RMC Foundation and various classes provide funds to maintain various monuments and memorials on the RMC grounds, which our Museum Curator oversees. We hire professionals periodically to repaint the F-86 Canadair Sabre; the Leopard tank (army green) and HURON's naval guns (shipside naval grey). The RMC Museum reports to me through J3, Operations and Plans. My staff operates the senior staff mess and the Cadet's Mess.
E-Veritas: Compare the obstacle course at RMC to the one you participated in at RRMC?
Cdr. Rich: The obstacle course is the culmination of the First Year Orientation Period. It lasts a little over an hour, consists of a series of obstacles built by each Squadron located around the College grounds. Obstacles such as the 12-foot wall and truck pulling are designed to test the teamwork and physical fitness of First Years.
When I was at Royal Roads, the second year class had a natural terrain advantage when building the obstacle course. The Royal Roads campus provided plenty of natural obstacles including a gorge, culverts, walls, a huge forest with old growth trees several hundred feet tall, a farmer's field with tall grass, a pond and plenty of mud. I threw out my cripplers (white runners) after the obstacle course since it was impossible to get them white again. The class would use a crane to lift a cargo net rope between two tall cedar trees and make sure there was water for the mud obstacles. In contrast, the Royal Military College of Canada is a relatively flat property with an urban landscape. Prior to the first years running the course, RMC's College Engineering Officer, 20633 Major Geneviève MCG Lehoux (RMC '97) and select staff (Director of Cadets, Military Wing Sergeant Major, etc.) walk through the obstacle course to ensure all is as safe as it can be, while providing rigour and challenge for each cadet.
E-Veritas: What was your role, as Special Assistant to the Commandant of RMC to ensure that the Aboriginal Recruitment program is successful?
Cdr. Rich: On 4 April 2006, as Special Assistant to the Commandant of RMC I presented the Aboriginal Recruiting Initiative to the Defense Diversity Council (DDC). The DDC is a senior executive body that establishes the strategic framework for the management of diversity in DND/CF and provides overall direction on diversity policies and program. The aim of the Aboriginal Recruiting Initiative was to continue to increase the diversification of the Canadian Forces to better reflect Canadian societal values and our multi-cultural identity RMC has embarked upon a program to encourage Aboriginal candidates to join the military for a one-year period of service. There is an inherent expectation that these individuals will either elect to continue with a career in the Canadian Forces or advance into other opportunities to serve Canada. The next steps were to determine minimum applicant acceptance criteria and design a one-year contract. A suitable academic structure was designed, available Aboriginal support systems were identified and required financial and personnel resources were secured.
E-Veritas: When referring to RMC, you say, "This is not your father's Oldsmobile…"
Cdr. Rich: There was an old television commercial which attempted to change the image of the Oldsmobile from a stodgy old car to a new flashy shiny car. The RMC of today is a different college than it was 10/20 or 30 years ago. When I was at RRMC, the students were solely undergraduate cadets. There were no postgraduate students in the first couple years, then one or two military members underwent post graduate training. At RMC in 2008, there are approximately 1000 cadets in undergraduate studies, over 600 full and part-time graduate students, over 2000 distance learning students, and more than 16,000 students in the officer professional development program. The evolution of the college from even the 1990s to 2008 is not well understood by many of those who have not been here since they graduated.
E-Veritas: As a cadet, you were a member of the RRMC band. Are you a fan of the RMC band?
Cdr. Rich: Yes. As a cadet, I ran cross country, slowly I might add. I also played trombone in the RRMC concert band. As a member of the RMC staff, I was a member of the RMC concert band from 2003-2007. I am currently a member of the Communications & Electronics Garrison Band. I have played in my local community band wherever I've been posted because it is a wonderful opportunity to meet people in society who I would otherwise not meet: schoolteachers, lawyers, customs agents, accountants and high school students and I frequently have opportunities to educate Canadians about the Canadian Forces.
E-Veritas: Do you have any ghost stories from RRMC?
Cdr. Rich: There were stories about Mrs Dunsmuir, a benevolent ghost who haunted Hatley Castle. The Castle is a big old building filled with creaks, groans and mysterious noises. The third and fourth year cadets stood Officer of the Day in the Castle. We had to conduct rounds from 20:00-24:00; 24:00-04:00 to make sure the doors were locked and lights were out. I made sure every light was on before opening the door to the hallways on the upper floors and I would quickly turn off the lights then close the door and leave. We slept overnight in a small change room on the main floor listening to the creaky floors, rattling single pane windows, noisy plumbing, and banging tree branches. I was once given a fright when I awoke suddenly in the room in the middle of the night and saw a green sweater left behind by a member of the kitchen staff. One of my classmates, who carried a fire axe for protection, terrified a Commissionaire he came across one night during their respective rounds. The 1980 film The Changeling was filmed at Royal Roads. In one scene an old wooden wheelchair rolls down the long dark staircase from the band room. It's very creepy, and it stays with you, along with a few other spooky moments in the film. Yes, I'll admit I was not comfortable standing duty in that building.
E-veritas: What is your view on skylarks at RMC? What skylarks (practical jokes) do you recall?
Cdr Rich: I prefer a good clean skylark with minimal after action clean up – no one gets hurt, and nothing is wrecked or destroyed. Skylarks involve an idea, a feasibility analysis, planning, military training, and execution. I thought the fireworks at the last year's Director of Cadets Wednesday morning parade were very good.
As Chief of Staff, my cleaning staff, maintenance crew, and construction engineering crew occasionally have to clean up after skylarks. It is important to consider the environmental impact of a skylark. If a skylark involves writing a message, don't use paint. Chalk has less environmental impact since it can wear off in the rain or my staff can clean it up in a minute with a fire hose.
At Royal Roads, the statue of Neptune was often dressed up and covered with things, like the statue of Brucie is at RMC. At one point, Neptune`s trident was broken. We recently spent $5000 to refurbish Brucie, a bronze sculpture of a cadet, and remove years of paint. In the excitement of a skylark, cadets may not realize what they are doing or pause to read the label. Don't pour any liquid on Brucie and don't paint him! The cadets in the Aboriginal Leadership Opportunity Year recently dressed up Brucie in a traditional native costume.
14085 Captain David R Smith (RRMC 1983) proposed a skylark to take advantage of an unexpected accumulation of 3-4 inches of wet snow in December when I was in second year at Royal Roads. The Duty Cadet read an announcement in the Dining Hall at lunch that the first years were not to leave the mess until told to do so. The second to fourth years left the Dining Hall en masse and prepared their snowballs and ambushed the first years as they left the 'first year door' from Grant Block. Two hundred and fifty cadets held a snowball fight for 15 minutes, followed by a truce.
When I was a cadet a Royal Roads, some of the skylarks related to the long history of rivalry with the University of Victoria. Cadets borrowed a skylark nesting area sign from UVic and placed it in the front lawn of RRMC. Cadets used the Webbo polish, which we used to clean our white doeskin sword belts to write a bright and shiny RR against the roof of the observatory at the University of Victoria in my second year. Although we cleaned up the roof afterwards, the Webbo left behind a faint RR as a semi-permanent reminder of the skylark.
Some skylarks reflected the rivalry with the Princess Patricia's Canadian Light Infantry which was garrisoned at Work Point at the time. One evening as I walked back from dinner, a 2.5 ton truck drove up to Grant Block. A couple of Patricia's hoisted the cannons into the truck and held them for ransom. After we treated them to beer, the cannons were returned, none the worse for wear. Afterwards, the cannons were held in place with a chain and padlock.
At RRMC, while the seniors celebrated 100 days to graduation, the first years would move their beds. A senior might find his bed: on a rock in the middle of the Esquimalt Lagoon, in the hallway in front of his Squadron Commander's office or suspended outside the window by the window cleaning eye bolt.
E-Veritas: What skills did you learn at RRMC that have since been of great value to you?
Cdr Rich: I learned to manage my time and to prioritize to get my work done with a minimum of delay. I learned to allocate a fair balance of time to work and time to play. I learned to value being surrounded by young people who have a positive outlook, high ambition, and enthusiasm. Most of the cadets are fresh, eager, and keen to try things and are always looking to the staff to learn. I am the senior Navy Officer at the College and as such have a responsibility to impart Naval customs and traditions to tomorrows Naval Officers. The College staff basically live in a goldfish bowl – the cadets watch us and emulate our leadership styles – good or bad. As a role model it is important to portray a positive image, to be well turned out, and to be well disciplined. I come from the Navy, which is full of customs and traditions. We were taught to conduct Colours (raise the Canadian flag) at 0800 daily and Sunset (lower the flag) at the actual time of sunset. As a first year we were required to raise and lower the turret flag, which was located at the top of Hatley Castle. We would go up four flights of stairs, outside onto the Castle roof and up an exterior iron ladder to the turret to raise or lower the Canadian Forces flag. We even have a different vocabulary: bulkhead (wall), racks (beds), deck (floor), heads (washrooms). At RRMC, the cadets were exposed to the naval lexicon, the naval base and to the fleet during military training.
e-Veritas: How did cadets wake up?
Cdr Rich: A Duty Bugler played Reveille in each of the six flight hallways in Nixon Block at 7am or a Duty Cadet played `wakey wakey` on a boat swain pipe over the dormitory's PA system. My roommate and I had twenty minutes to get up, make the beds, shave, shower, get dressed in the dress of the day, and be standing at attention outside with our gash can at our side. During Recruit Term we listened to `Help` by the Beatles and `One Fine Morning` by Lighthouse in the morning and we went to bed to 'Stairway to Heaven'. I still get sleepy when I hear that song. The lyrics to Help really do describe what Recruit Term was all about.
E-Veritas: Have you found yourself concerned with any facets of cadet discipline since coming to RMC?
Cdr Rich: As the Special Assistant to the Commandant for S133 Brigadier General (Ret'd) Jean Leclerc and E1607 Brigadier-General Jocelyn Lacroix (RMC 1999), I conducted summary trials over cadets. Generally, a Colonel or Lieutenant Colonel would conduct the summary trial as the Presiding Officer. Until recently, a cadet who was found guilty could only be fined up to a couple hundred dollars. Now, however we have more options, for example fines, extra work and drill and stoppage of leave to better suit the punishment to crime. With a view to maintain discipline, the goals are to encourage the cadet to think about and change his or her behaviour; deter others from repeating the same behaviour and rehabilitate the offending cadet. We encourage cadets who are struggling to seek support from their Squadron Commanders, peers, the Peer Assistance Group, the Padres, staff, and medical personnel (such as the mental health experts on base, etc.). In the rare case where the police are involved, the issues are dealt with either in civil court downtown or via the Court Martial system. The more serious cases stem almost invariably from the consequences of the misuse of alcohol.
When I was a cadet at RRMC, senior cadets conducted summary trials on junior cadets. The senior cadets were learning how to lead and mete out discipline and didn't always get it right. The senior cadets had a few options, for example extra work and drill, inspections or denial of leave. I was once assigned extra duties for not showing up to referee a ball hockey game that I didn't even know I'd been assigned to do. The punishments were designed to take away the cadets` free time. Cadets could be sentenced to run up to 6 circles a day at Royal Roads (2 miles). Alternatively, they may be assigned inspections in the morning, lunch, evening, and before lights out. They could lose their [scant] leave privileges. They may have to wear white belt and white gaitors all day.
e-Veritas: What do you recall driving cadets crazy on campus?
Cdr Rich: The peacocks drove the cadets crazy at Royal Roads. They were invariably in mating season during the winter exams in April. We often heard weird, ghostly sounds at 2 am. The birds would howl outside the windows and wouldn't go away. One peacock managed to get 60-70 feet into a tree and would not come down. Eventually, the bird jumped, glided and wandered away.
E-Veritas: What do you recall about social aspects of cadet life?
Cdr Rich: Since RRMC was an all male college, cadets often dated students from the University of Victoria or from the nursing college downtown. We attended ballroom dance classes at the University of Victoria. On Friday nights there was a movie at the cadet mess. I enjoyed the Xmas & Graduation Balls.
e-Veritas: How did cadets (try) to impress each other?
Cdr Rich: In my day we impressed each other with how big our stereo system was and how large the speakers were. We often traded LPs [records]. Cars had only been permitted recently for first years when I arrived at RRMC in 1978. I had a brown five-door Honda Civic station wagon with lots of room. I was pretty popular with the rest of my Squadron mates. It was a terrific car until it rusted out.
e-Veritas: Who were your roommates in first year?
Cdr Rich: My roommates were Reg Ross 13792, who was smart academically and quiet. He stayed in the military for awhile. In second semester I roomed with Steve Kerr 13753, a rugby player. He introduced me to the music of Alice Cooper. He also served as a naval engineer in the fleet in 1983-84 in MACKENZIE and last I'd heard works as a schoolteacher in Hamilton.
e-Veritas: Where did you live?
Cdr Rich: I lived in Nixon Block at Royal Roads, a 3 story dorm with 2 flight halls per floor.