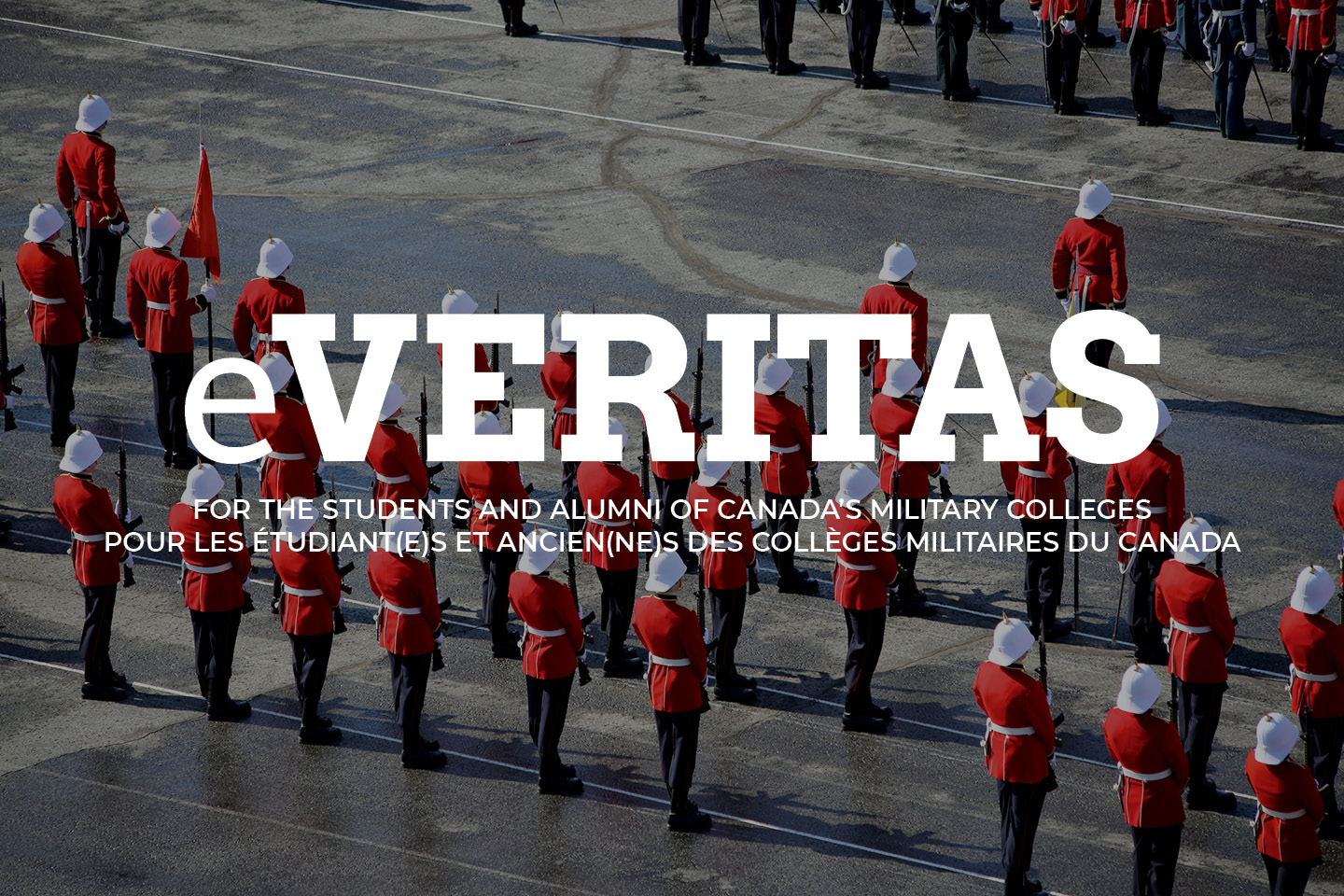 The RMCC Competitive Sailing Team hosted the Canadian Intercollegiate Sailing Association's (CICSA) National fleet Racing Championships in Kingston, October 25th-26th. According to school records, this is the first national championship sailing regatta to be held at RMCC since 1961.
Throughout the sailing/training season, the RMCC's competitive sailing team competed internally for the opportunity to represent RMCC at this regatta. Officer/Naval Cadets Alek Robaczewski (II), Liam Cole (I), Brendan Puddington (I), and Mary Valair (II) were the eventual winners and as such competed for RMCC against 9 other Canadian university teams.
The first day of competition was a wet one, but despite the rain, the wind and sailing were amazing! With the assistance of HMCS CATARAQUI and their two RHIB's, teams were shuttled out to the race course and were able to transfer competitors from A Fleet to B Fleet more efficiently, allowing for more races to be conducted in the weekend than usual. The first day, RMCC conducted 16 races and the next day 10, for a total of 26 races! Everyone was exhausted afterwards, but ecstatic to be able to fit so much sailing in a couple of days.
The RMCC competitive sailing team members were overall responsible for the planning and execution of this regatta. However, the overall success of the weekend relied heavily on other organization's assistance. The RMCC competitive sailing team is heavily reliant on the support of HMCS Ontario. Currently, the RMCC does not have the commensurate sailboats required to train and or compete in CICSA and we can only do so with the generosity of HMCS Ontario. Each year, HMCS Ontario provides RMCC with several 420 sailboats and 1 auxiliary safety boat which permit RMCC to have a sailing team. Lt(N) Mike Evans of HMCS Ontario, provides outstanding support and emergency repair requirements throughout the sailing season. The team recognizes this reliance on HMCS Ontario and greatly appreciates their support, for without it, there would be no RMCC sailing team.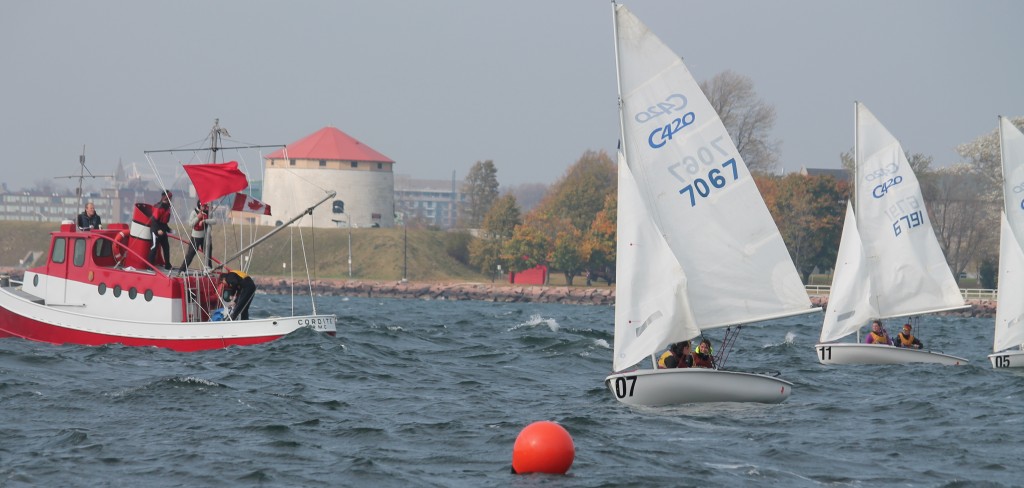 RMCC would also like to thank HMCS CATARAQUI for their assistance. HMCS CATARAQUI provided two RHIBs and 4 highly trained boat coxswains. Without their support, RMCC would only have been capable of running half as many races. Committee boats are the focal points of any regatta and the Cordite did RMCC proud. The racing team would like to thank the mechanical engineering department for permitting the Cordite to be used in this manner.
Key to RMCC's sucess was the excellent support by Holding Platoon's (HP) leadership and its members. Holding platoon leadership assigned 3 HP members to the boathouse over the summer period creating the necessary infrastructure required to run a regatta of this nature and under the outstanding leadership of Ocdt Marshall, the boat house crew had transformed the boat house and its adjoining waterfront, into a sail racing facility envied by our competitors.
We would also like to thank the athletic department's Craig Palmer and Ryan Thompson. Their mentorship and unwavering support has allowed this team to create a substantial sail racing capacity at the Royal Military College of Canada.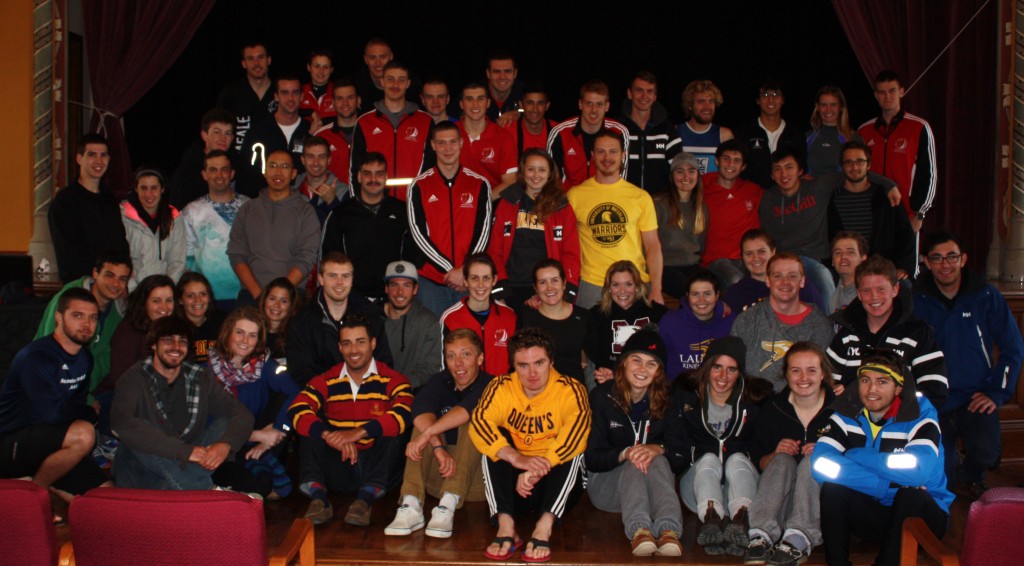 The awards ceremony was held at Currie Hall
The rankings were as follows:
1 – Queen's University
2 – McGill University
3 – University of BC
4 – McMaster University
5 – Dalhousie University
6 – Wilfred Laurier University
7 – Royal Military College of Canada
8 – Concordia University
9 – University of Waterloo
10 – École de Technologie Supérieure
Last, but not least, I would like to thank all members of the RMCC Competitive sailing team. We all worked so hard to make this regatta a success. RMCC has received several emails from competitors and other university's alumni, praising the sail racing team's efforts and for executing a first class regatta.
This was a great season for the 420's and now the RMCC sailing team is looking forward to practising on our newly acquired J24s.
OCdt Mary Valair (II)