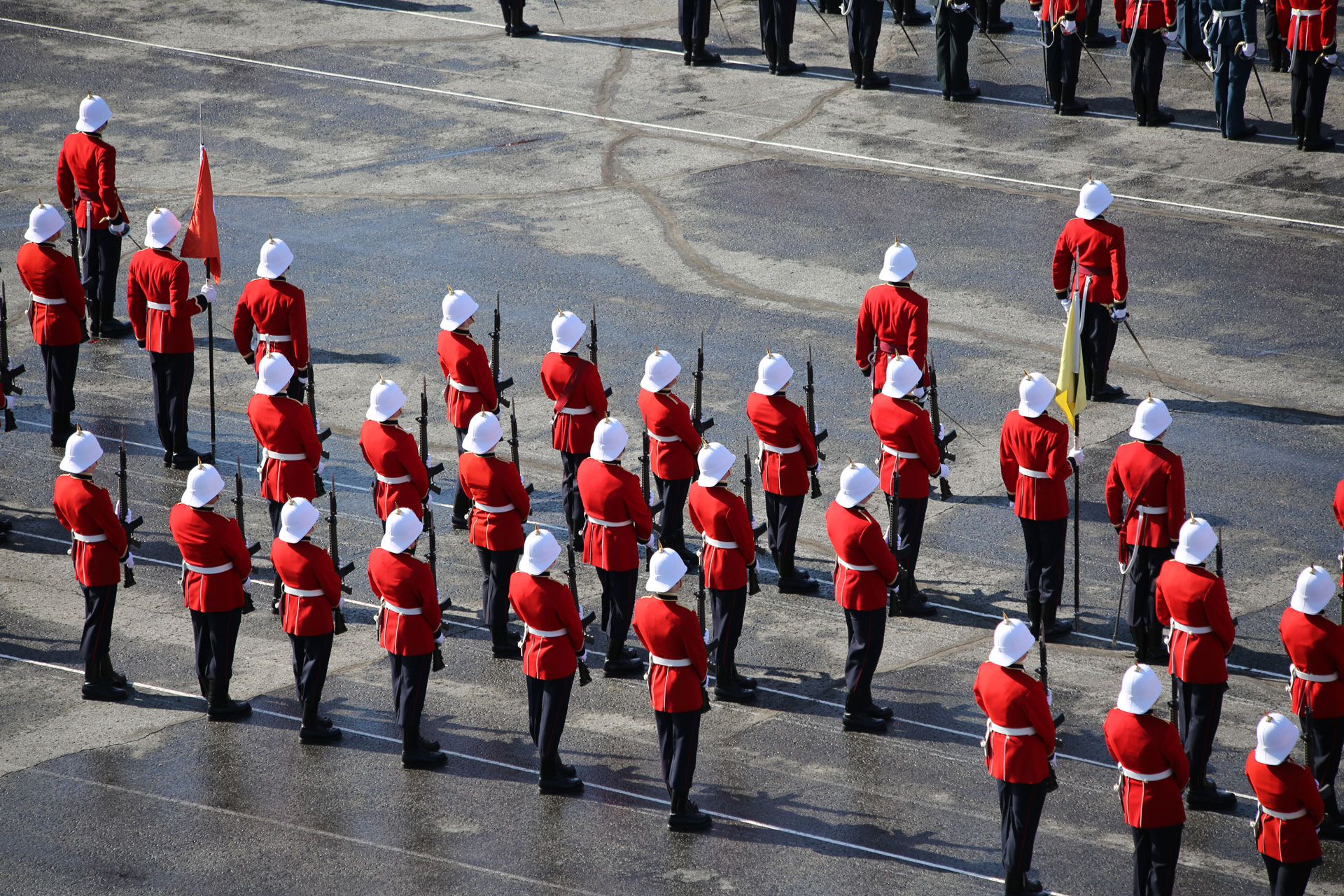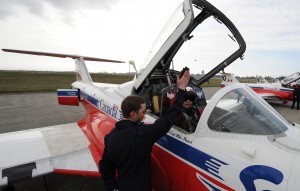 Captain Mike French is a 5-year veteran of the Snowbirds and graduate of RRMC, Class of 1994.
In 2004, 19520 Captain Mike French (RRMC 2004) was selected to fly as Snowbird Number 7 for the 2005- 2007 show seasons. He was subsequently posted to the home team as Snowbird 12, Standards Pilot for the 2008 season. Capt. French (Call sign: Migs) is returning for the 2009 season to fly as Snowbird #3.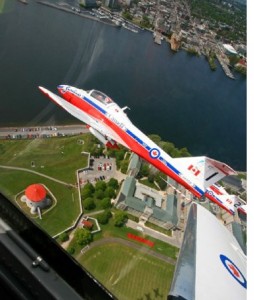 "It's great to see RMC is vibrant and well and that Officer Cadets are still going to get to experience the exciting career opportunities I've had. Military College has been a great foundation for all I've been able to and still aspire to accomplish in my career."
19520 Captain Mike French (RRMC 2004)
21970 Capt Jennifer Jones (RMC 2001)  – Public Affairs Officer
Capt Jones flies with Capt Steve Thompson, one the team's two advance and safety pilots, in the #10 jet. They fly out to each show site approximately two hours ahead of the main formation, ensuring that each location is prepared to host the team. They flew over RMC as a two-ship at approximately 10 a.m. on May 26th.
"I can't believe that it's already been eight years since my RMC graduation and its amazing to see how many changes have taken place in such a short time. Tuesday (May 26th) was the second time I had the opportunity to fly over RMC in the Tutor and it always feels like coming home in a way. I feel extremely privileged to be enjoying such an exciting career and it's great to be back where it all started for me. "
21970 Capt Jennifer Jones (RMC 2001)
Former Otter Squadron member M530 Maj Greg Nelson, Deputy Commanding Officer – (RMC 1992)
The snowbirds were in Kingston last week. Unfortnuately, the weather did not cooperate and the show had to be cancelled – much to the regret of the majority of Kingstonians.
All was not lost, as the team had a good day of training (the day before the scheduled public event) which included a fly-over of RMC.
Canadian Forces Snowbirds – Remaining 2009 Performance Schedule
This schedule is subject to change without notice.
June
June 6-7 Portage, MI – Portage Air Show 2009
June 10 Sault Ste. Marie, ON
June 13-14 CFB Bagotville, PQ – Bagotville International Air Show
June 17 Baddeck, NS – Baddeck Air Show
June 20-21 St. Thomas, ON – Wings and Wheels Airshow
June 24 Orillia, ON – Orillia Air Show (fundraiser on behalf of the Community Foundation of Orillia and Area)
June 27-28 North Kingstown, RI – Rhode Island National Guard Open House & Airshow
July
July 1 Ottawa, ON
July 4-5 CFB Trenton, ON – 8 Wings Anniversary Weekend Air Display
July 18 Peace River, AB – Peace River Regional Air Show
July 19 Fort St. John, BC – 2009 Fort St. John Airshow
July 22 Airdrie, AB – Airdrie Air Show (Town Centennial Celebration)
July 25 Lethbridge, AB – Alberta International Air Show
July 26 Edmonton, AB
July 29 Prince George, BC – Prince George Air Show
August
August 1-2 CFB Cold Lake, AB – Cold Lake Air Show – Centennial of Flight
August 5 Penticton, BC – Penticton Air Fair
August 7-9 Abbottsford, BC – Abbotsford International Air Show
August 15-16 Saskatoon, SK – Canada Remembers International Air Show
August 22-23 St. Johns, NF
August 26 Gaspe, PQ
August 29 Windsor, ON – Windsor International Air Show
September
September 2 Brantford, ON – Brantford Air Show
September 5-7 Toronto, ON – Canadian International Air Show
September 12-13 Yarmouth, NS – Nova Scotia International Air Show
September 19-20 Scott AFB, IL – Scott Air Show
September 26-27 Colorado Springs, CO – In Their Honor Air Show
September 30 San Diego, CA
October
October 3-4 MCAS Miramar, CA – MCAS Miramar Air Show http://www.miramarairshow.com/
October 7 Tucumcari, NM – Tucumcari Rotary Club Airshow
October 10-11 Sheppard AFB, TX – Sheppard AFB Air Show
October 14 NAS Pensacola, FL
October 17-18 Cape Canaveral/Kennedy Space Center, FL – Air-Space Expo
More on the Snowbirds Here