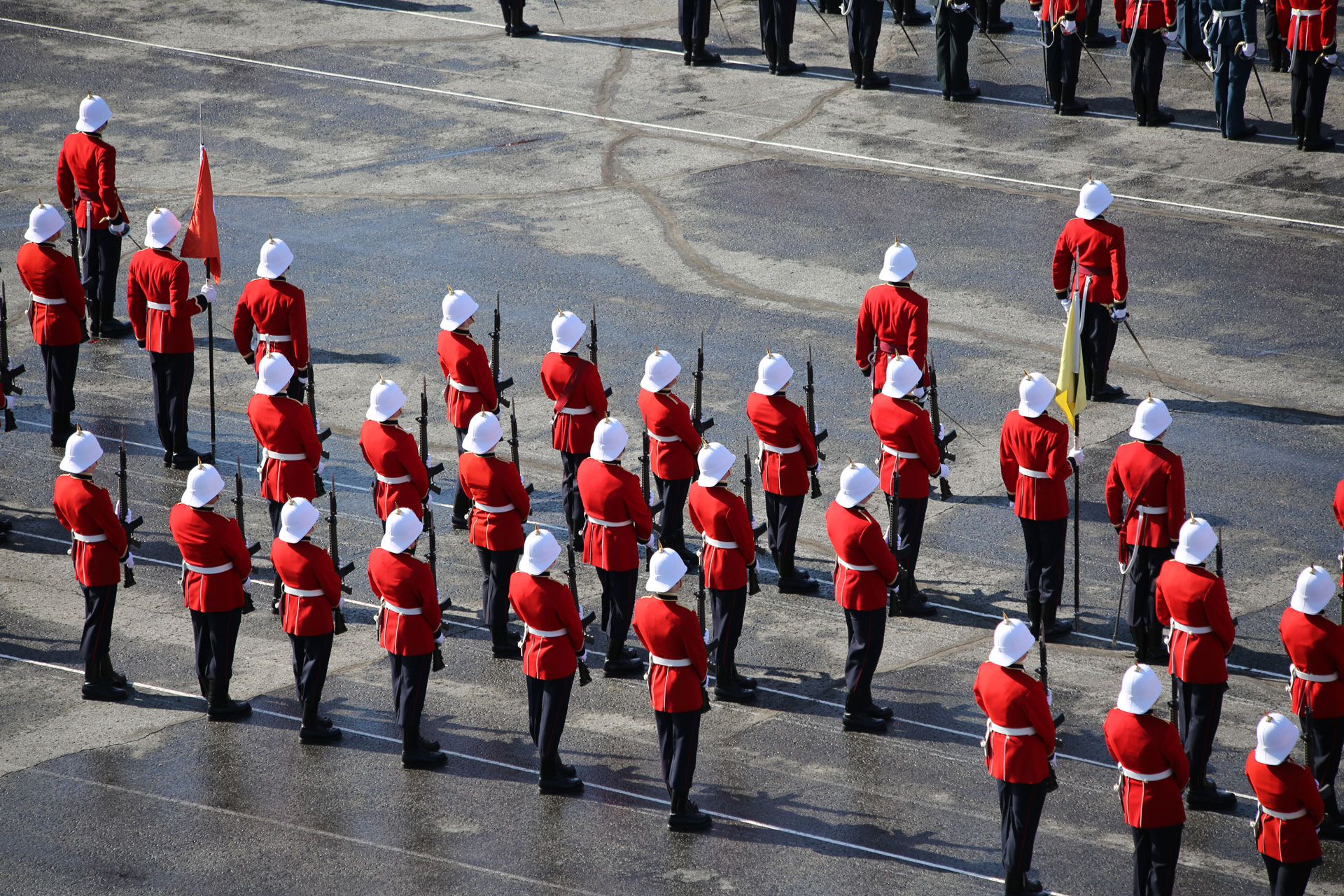 "I am truly honoured and humbled to be standing here as the 43rd Commandant of this incredible college and look forward to being at the helm during this next watch."
Commodore Bill Truelove – Incoming RMCC commandant –  17 July 2009
Change of Command Ceremony – Classy
By: WJO
For the first time in the 133 year history of Royal Military College of Canada (RMCC) an ex cadet who attended Royal Roads Military College exclusively – graduating in 1985 with a Bachelor's Degree in Military and Strategic Studies will be commandant.
This past Friday under ideal summer conditions, 15185 Commodore William Truelove (RRMC 1985) signed the Change of Command documents with 12192 BGen Tom Lawson (RMC 1979) and presiding Officer Major-General JPYD Gosselin, Commander of the Canadian Defence Academy thus becoming the 43rd commandant of RMCC.
RMCC has had three other RRMC Ex cadet as commandant over the past 133 years, however, the former Liverpool, N.S. native is the first "pure blood" Roadent ( a term fondly used by RRMC Ex cadets who entered and graduated from RRMC ) will occupy the former office of Col E.O. Hewett the first RMCC Commandant (1876 – 1886).
3173 JA Stewart (1980-82); 3572 FJ Norman (1982-85); and 4459 ERA Murray (1987-91) are three former "Roadents" that spent their first two years as officer cadets at "Roads" in Victoria, British Columbia and later moved on to Kingston, Ontario to complete their Regular Officer Training Programme training. All three eventually became RMCC Commandant – time period in brackets. These three gentlemen along with 2816 WW Turner (1973-77); 6496 JCA Emond (1994-96); and Jean  Leclerc (2002-05) all had VIP front row seats during this CoC ceremony.
"I'd like to recognize and thank the ex-Commandants who have used such tact in providing me guidance and support. I find that as my time in office wanes, I feel warmer and warmer towards this group, as I know that I am soon to be one of them" quipped BGen Lawson. He went on to add, "Make some room on the bench, fellas."
In a serious tone, the CF fighter pilot added, "At any rate, your presence at College events throughout the year truly serves to make those events special. Your presence ties RMC to its roots, and reminds us of the dedicated leaders who preceded us. And Kelly and I take particular pleasure in seeing General and Mrs Turner here, and looking so fine, because they were in the Commandant's residence when we were prancing about the College grounds as cadet and girlfriend, so we figure if we play our cards right, and do some healthy living, we might just be sitting at a change-of-command parade right here some 35 years from now. One can hope."
Major General Daniel Gosselin, heaped huge praise on the departing commandant.
"BGEN LAWSON HAS ACCOMPLISHED MUCH IN HIS TENURE AT THE COLLEGE.
TO NAME A FEW OF THOSE, HE HAS:
• RESHAPED THE COLLEGE TO MEET THE IDEALS AND THE NEEDS OF A TRANSFORMED CANADIAN FORCES
• REINFORCED THE ROLE OF FOURTH-YEAR CADETS IN GIVING THEM GREATER LEADERSHIP RESPONSIBILITIES FOR MANY ACTIVITIES AND FUNCTIONS OF THE COLLEGE
• PLACED GREATER EMPHASIS ON THE FITNESS PROGRAMMES, WITH SUPERB RESULTS
• RE-INSTITUTED A NUMBER OF KEY TRADITIONS TO HIGHLIGHT FOR THE FUTURE OFFICERS THE CRITICAL ROLE THAT OUR HISTORY AND HERITAGE PLAYS IN OUR INSTITUTION
• MORE IMPORTANTLY, THROUGH VARIOUS SMALL CHANGES, INCREASED THE RESPONSIBILITIES ASSIGNED TO CADETS TO HELP THEM BECOME BETTER LEADERS FOR THE CANADIAN FORCES."
Cmdre Truelove arrives following a stint as Special Advisor to the Chief of the Defence Staff. "…bringing with him a unique understanding of the strategic issues affecting the CF" said. Major General Gosselin, during his address to the large crowd in attendance which included 7543 Senator Joseph Day (CMR RMC 1968), Hon. Peter Milliken, MP and Speaker of the House; and the 94th Mayor of the City of Kingston, Harvey Rosen.
The Commander Canadian Defence Academy made a point to mention, "He also brings with him a wide range of experiences and perspectives that will no doubt keep the college moving forward, and benefit the CDA. The vision and credibility established under BGen Lawson's leadership will continue to be reinforced with Cmdre Truelove in command.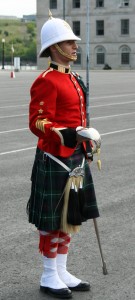 Officer Cadet Nick Goulet was the cadet parade commander – the 103 cadets on parade were impressive with their deportment and dress. The IV year Mechanical Engineering student beamed with confidence and moved with the ease one would expect from a senior combat arms officer during the one hour parade.
OCdt Goulet was the wily architect behind a series of skylarks pulled off by cadets during the final few days of the BGen Lawson regime. " …it was this group who recently set a College record for the greatest number of skylarks in a 24 hour period, including a sailboat hijack, a car theft, and a hostage-taking. Thank you for this departing gift, I guess,"… said the highly popular outgoing Commandant.
"It is a great honour to participate as Parade Commander for Brigadier General Lawson's send off, as he has been a great example for all cadets to follow over the last two years. I know that the gentlemen and lady cadets will look good out on the square today, it's hard not to with our spiffy red uniforms. We hope to make it a memorable experience for him, and we look forward to working with Commodore Truelove," replied the soon-to-be Electrical Mechanical Engineering Officer when asked what he was feeling just an hour or so before he would be leading the cadets for this memorable CoC parade.
"Change of command ceremonies tend to be bitter sweet events, at least they are for me", said MGen Gosselin. "We are saying goodbye to BGen Tom Lawson and his lovely wife Kelly. Kelly has been most actively engaged in all activities of the college. I know it has made Tom's role as commandant so much easier. Thank you Kelly for the support you have given to Tom, and your contribution to the college. We are indebted to you as well." The presiding officer was obviously referring to the fact that it was a regular occurrence around RMCC these past two years – it didn't matter the event or the activity – the commandant, Kelly and often with Barney their friendly and lovable beagle would be in attendance.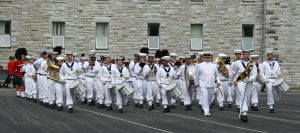 Cmdre Truelove ensured that the presence of the sea cadet band was recognized. "Let me also compliment the HMCS Ontario cadet Band under the leadership of Lt(N) Beatty and Cadet Drum Major PO1 Ian Goldie– you sound wonderful and have certainly contributed a great deal to this special day – Thank you for being here. How fitting it is that these young navy cadets, accompanied by our own RMC Pipes and Drums, are performing here on these historic Royal Navy Dockyard grounds of 1789, and on the eve of the Canadian Navy's 100th anniversary. I look forward to recognizing the naval centennial with all of you in 2010."
When the parade commander gave the Advance in Review Order, on queue, a CF 18 flew over the parade square in spectacular fashion catching all in attendance by complete surprise.
Master of Ceremonies, 22853 Capt I Goldberg, 2 Squadron commander with the poise and presence of a T.V. news anchorman ensured the entire ceremony ran smoothly. This is the same Capt Goldberg who coached the 2009 Sandhurst championship RMCC team.
Nathalie Filion-Poitras who is onto her fifth Commandant, as administrative assistant made a special presentation to the departing BGen Lawson.
The final word from the podium came from new commandant, "General Gosselin, Sir – I have the watch!"
Click on all photos for better viewing.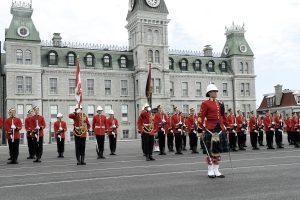 Kingston Branch CoC Slide Show
Click here for more photos of the Change of Command parade.