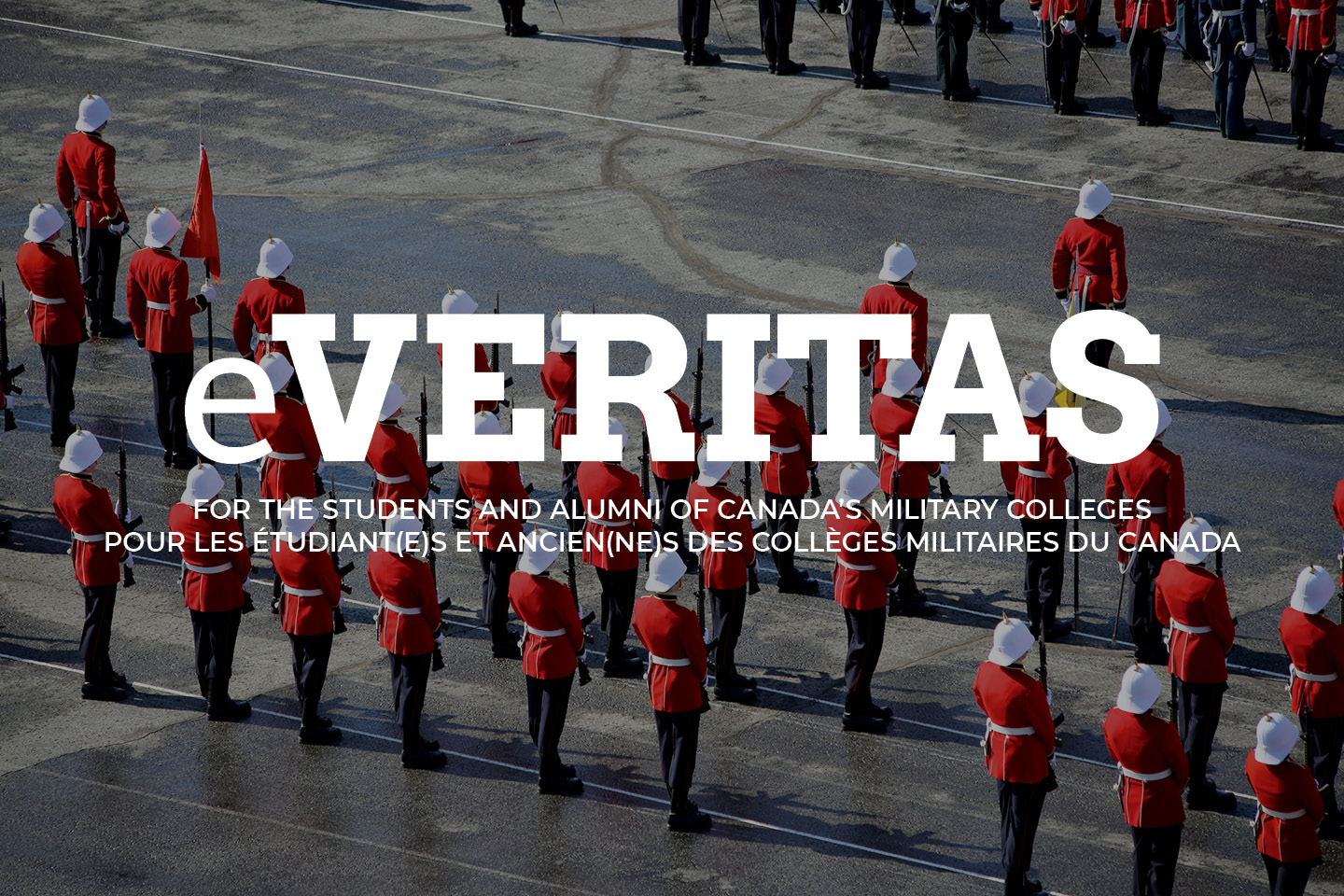 Click, click on photos for better viewing
The Sunset Ceremony is almost upon the Royal Military College of Canada!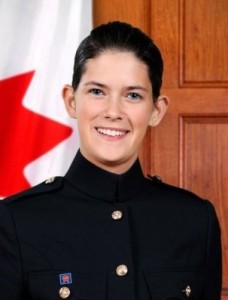 Co-ordinated & Edited by: 26659 OCdt (II) Danielle Andela – e-Veritas Correspondent | Correspondant d'E-Veritas
Every year the college hosts a Sunset Ceremony to celebrate the many unique groups, teams, and historical events related to RMC. The ceremony is an exciting event and weeks of preparation are put into ensuring it is a successful night. The following are just a taste of the all the different parts involved in the ceremony. Displays will also be put forth by the Sandhurst team, a Band display and many more!
E7842 OCdt Hookimawillillene speaks on behalf of the Aboriginal Leadership Opportunity Year for their display:
For the Sunset parade we will be doing traditional aboriginal drumming using our handcrafted drums to offer a glimpse into our cultural and ancestral music. Bernard, our elder, has taught us to sing in different aboriginal languages and just as various nations would sing long ago. We sing to thank our ancestors, our Creator, Mother Earth, the food that we eat and the water that we drink. Throughout our year here at RMC, we have been participating in smudges and drumming sessions weekly to become acquainted with our culture and learn about aboriginal art, food, history, and beliefs. We do this in order to be able to better contribute to our community and nation in the future. The sunset parade is a great way for us to express our spiritual and cultural skillset in which we have been immersed in for the last year.
26559 OCdt Landry discusses of his experience with the drill team and their preparations: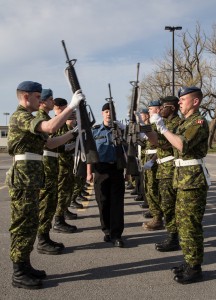 When the wing wide email got sent out early in October 2013, I jumped on the opportunity to be able to join the Royal Military College Precision Drill Team. As the future Cadet Wing Drill Instructor, little did I know how much of an impact this team would have on my time here at RMC.
We slaved away 3 mornings a week, waking early in the morning to meet in the Old Gym for 0630 to slowly chip away at our routine that we now know by heart, with the precision and skill required to execute each movement at the appropriate time, with not a single command given other than the initial dressing.
Needless to say, this special group of people has become more than just individuals participating in a drill routine to me. We are now a team; bonded in the hours of practice we put in daily during Drill Fest 2014 and ready to put on a spectacular performance for the ages this coming Sunset Ceremony.
It will not only be an honour, but also a privilege to take the Parade Square this coming Thursday as so many different versions of the team have done before me. We can only hope that our rendition is as graceful yet as sharp as those that have gone before us have been.
It has been a pleasure working with you this year Drill Team 2014, and here's to a special thanks for the Commander and 2IC, NCdt Yates and OCdt Marshall!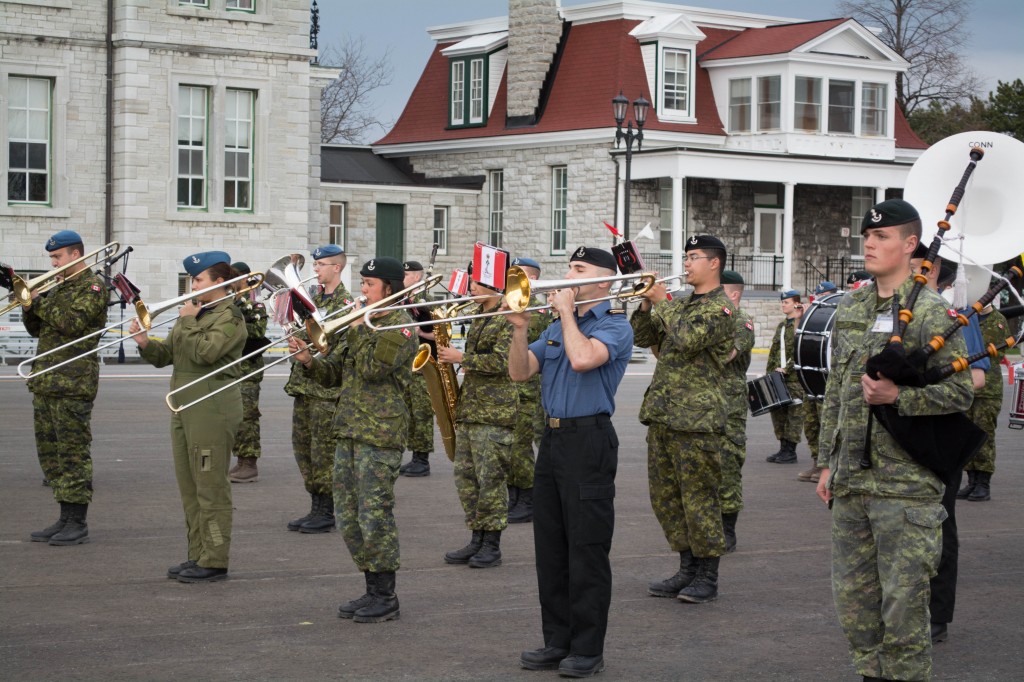 ***
Wing Prepares for Graduation:
Co-ordinated & Edited by: 26659 OCdt (II) Danielle Andela – e-Veritas Correspondent | Correspondant d'E-Veritas
This week has been a week of hard work and perseverance by the members of the Royal Military College of Canada. The cadets have been out on the parade square day after day preparing for this momentous day for the college graduates. Officer cadets of all years and squadrons have participated in the preparation for this event and they took the time to discuss what it means to them to be a participant in Graduation Parade.
26946 OCdt (I) Saciuk
Graduation parade preparation is a time of palpable excitement for us First-Years. It is an amalgamation of anticipation, impatience and apprehension. We first year cadets have been watching the Fourth Year class prepare for their imminent graduation next week. Their prowess on the parade square gives us all cause to improve our own personal drill, dress and deportment. This is especially important for us, since the challenge of BMOQ awaits us in only a few weeks. We are taking full advantage of the opportunity to practice and improve our own drill, and to learn from their extensive experience, in order to one day follow our senior cadets in marching under the Memorial Arch
***
26667 OCdt (II) Bowles
As a second year, I can't help but feel a small pang that I am sure is shared by many as we practice for the Grad Parade. Several of these young men and women graduating were in key mentorship roles during our first and second years, and as much as we are proud to see them graduating from this place, we will also miss them once they are gone. Honouring them with a parade, though it may seem tedious to us during the many practices, will in my opinion be worth it as we watch our former mentors march out under the arch. Wishing them all the best in their future careers, we salute you.
***
26333 (III) OCdt McCall
Grad parade preparation weeks, also known to current and ex-cadets as drillfest, is in full steam at RMC. From the 5th to 14th of May, cadets work to prepare for the Sunset parade (May 14th) and Commissioning parade (May 15th). In order to prepare, cadets go through parade routines all day long, so that the parades will be perfect to honour the new graduates. With one more week left to go, graduates are eager to move on to their units and begin their work in their trades as newly commissioned officers. In order to escape from the routine, the engineers of the college completed the 2014 Engineering tours at various facilities near Toronto. These tours gave valuable insight into professional engineering, and earned them a few days respite from drillfest.
***
25936 Élof (IV) Labrecque
Sans aucun doute, les pratiques de parade pour la classe de 2014 sont beaucoup plus tolérables cette année que les années précédentes. Non seulement ces pratiques nous rappellent que dans une semaine, nous recevront notre baccalauréat et notre commission dans les Forces armées canadiennes, mais en plus toutes les pratiques jusqu'à présent se sont déroulées dans un atmosphère agréable avec la température de notre côté. Nous avons cinq pratiques de parade de complétées à présent, et nous sommes confiants que nous serons prêts pour le grand jour le 16 mai. Il devrait nous rester que trois jours de pratiques la semaine prochaine, et vendredi nous passerons enfin sous l'arche, pour la dernière fois!
 Click, click on ALL photos for better viewing.
Ed: We want to acknowledge and thank the following cadet photographers that assisted us with the photos, leading up to Grad Parade: Curtis Maynard; Dan Ryan; and Nicolette Gignac.
More photos from the Sunset Ceremony practice and Drillfest: Here; Here; Here;  Here; & Here