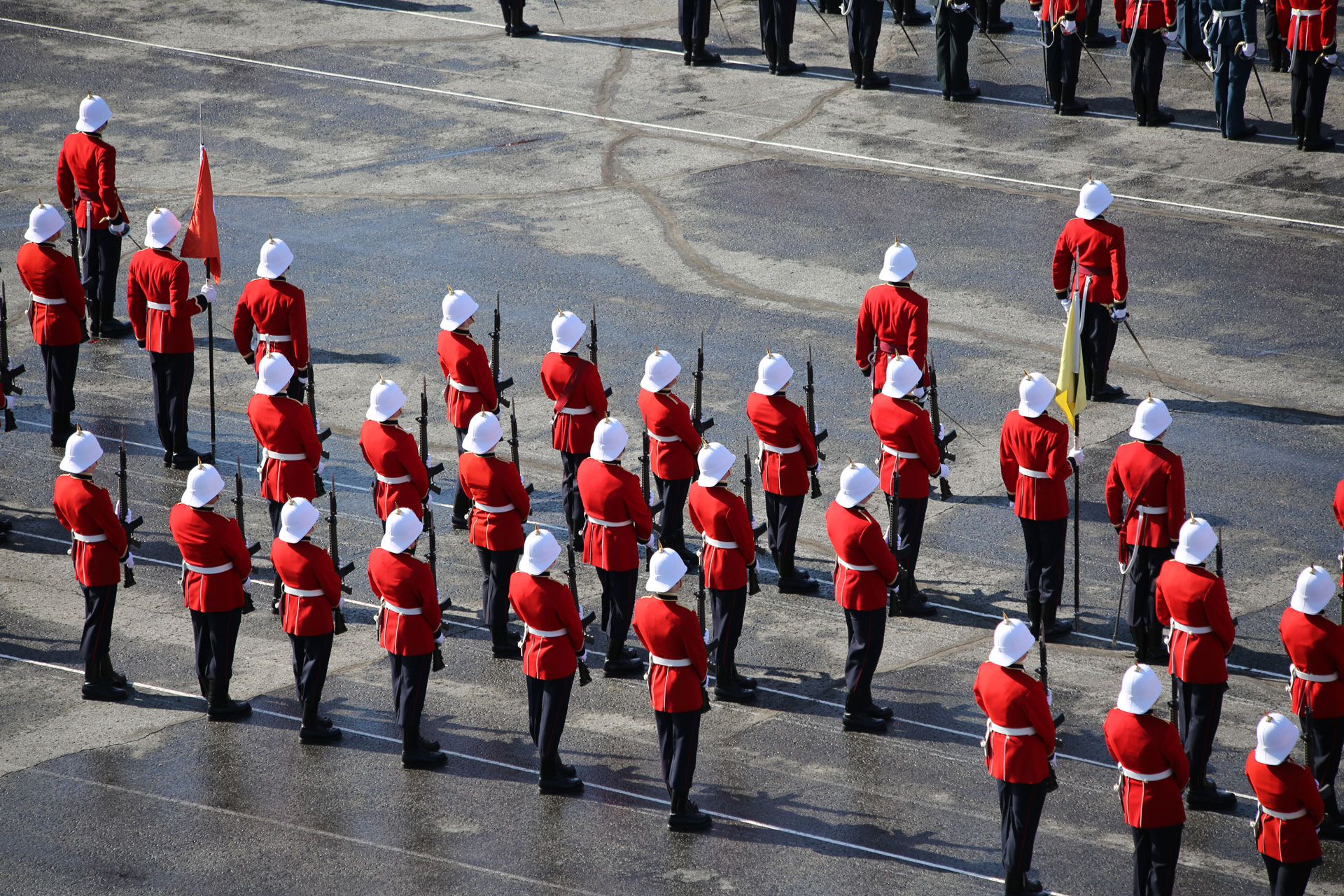 xxxxxxxxx
Classy Function
By: WJO
Last Wednesday at the monthly luncheon of the Kingston Branch two presentations were made. Brit Smith and Danny McLeod were both awarded lifetime honourary membership to the RMC Club of Canada.
H2652 Brit Smith (RMC  1938) is particularly well known in the Kingston area for his support of a number of worthwhile causes.
The decorated war veteran, distinguished lawyer, three time Kingston city councilor, longtime hospital governor, former United Way chairman, author, editor, historian, church warden, cattle breeder just to name a few has been a lifetime supporter to RMC.  He is a former President of the RMC Club – 1983-84 and a member of The New 18 Society  every year.
5611 Gerry Stowe (RRMC RMC 1962) (photo on the right – with the sharp looking beard) – filled in at the last minute for an ailing  2816 WW (Bill) Turner (RMC 1940) made a classy presentation.  Britt graciously accepted and made a point of saying "…that being an ex cadet has always been very important to me…"
25917 Danny McLeod is another WWII veteran who made his mark at RMC mainly as the Director of Athletics for 11 years. Ex cadets from the 1960s and early 1970s all have "Major McLeod"  stories and memories. The Maj as he was fondly referred to by cadets of his era, moved on to the National Hockey League as a supervisor of on ice game officials following his time at RMC. Later on he was a highly respected employee with a local GM car dealership.  Through the years he has stayed connected to the college and is a frequent invited guest to all the major sporting, social and military events.  He holds an Honourary degree from RMC and was the 2007 recipient of the Birchall Leadership Award.
4869 Bob Billings (RRMC RMC 1961) (pictured  above with his arm around Danny McLeod) was a hockey player on the first team that Danny coached at RMC. Bob quite appropriately and with a great deal of finesse described the many lifetime achievements of The Major,  many of which have an RMC connection.  The Billings and the McLeod families have  remained close  friends over the years.
Danny McLeod was obviously moved by the whole affair.  The Medicine Hat, Alberta native said with a touch of emotion in his voice, " As a high school dropout, what can I say other than, I'm very proud of my association with the college and with so many ex cadets over all these years. I'm very appreciative to receive this honouary lifetime membership to the RMC Club of Canada."
4976 Reg Watts (RRMC RMC 1960) was his usual eloquent self  during the official ceremony that was well attended by a large number of ex cadets, their spouses including the Commandant, Commordore Bill Truelove and his wife Brenda. " This is an exciting time for the Kingston Branch because today we can recognize two special people who have been granted honourary life membership in the RMC Club of Canada," said the well spoken Kingston Branch, President.
The Club Constitution defines who may so honoured:
"Gentlemen and Ladies who have at any time rendered outstanding and long term service or brought great honour to the Canadian Military Colleges, the Club or the Foundation may receive this designation.
Ex-cadets are honoured by the placement of the prefix "H" before their college number. Honourees who are not ex-cadets are granted an honorary college number, in the normal ROTP/RET number sequence, with the prefix "H".  One such example is the late H8829 Colonel the Hon. George F. G. Stanley, former Lieutenant Governor of new Brunswick."
How does this award happen?  Reg answered,  "Well, it's not handed out to anyone!"  He went on to read other parts of the sonstitution:
A proposal for election to Honorary Life Membership must receive the unanimous approval of the RMC Club Executive Committee and of the General Council, following which the proposal will be submitted to the next Annual General Meeting. There, the appointment to this special classification takes place if approved by a majority of the members present at such Annual General Meeting.
For these two gentlemen, this approval was passed at the October AGM.
The Constitution then states that:
"Honorary Life Members shall be accorded all privileges of membership and shall be exempt from the payment of annual dues. "
Nationwide there are only 51 H numbers, 10 of which are now in Kingston Branch. The preceding 8 are:
H115 Joy Fehr; H12881 Donald Tilley; H17417 John Matheson; H24263 John Cowan; H2840Don  Strong; H3536 Jack Vance; H3938 Peter Kirkham; and H3948 John Plant.