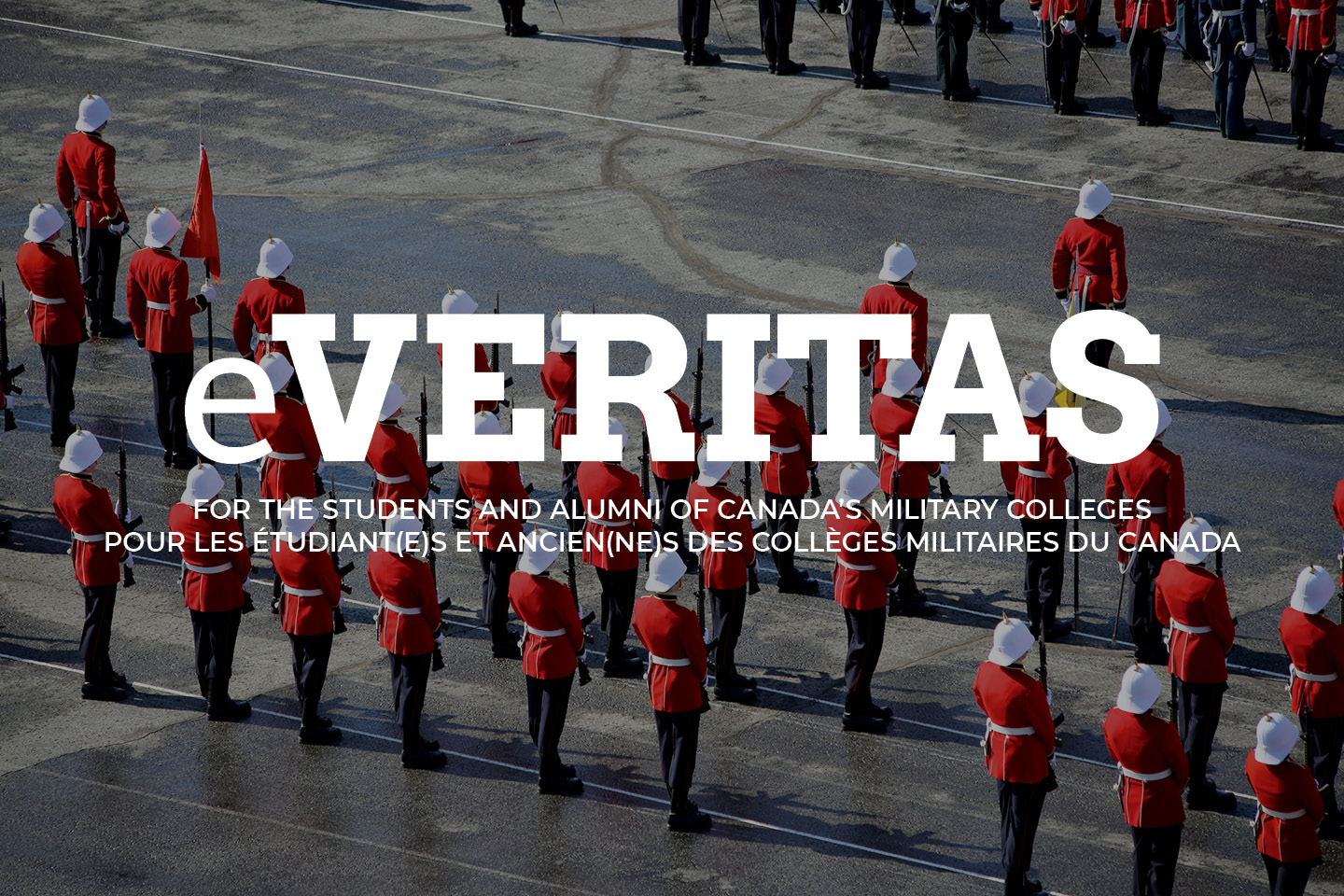 ***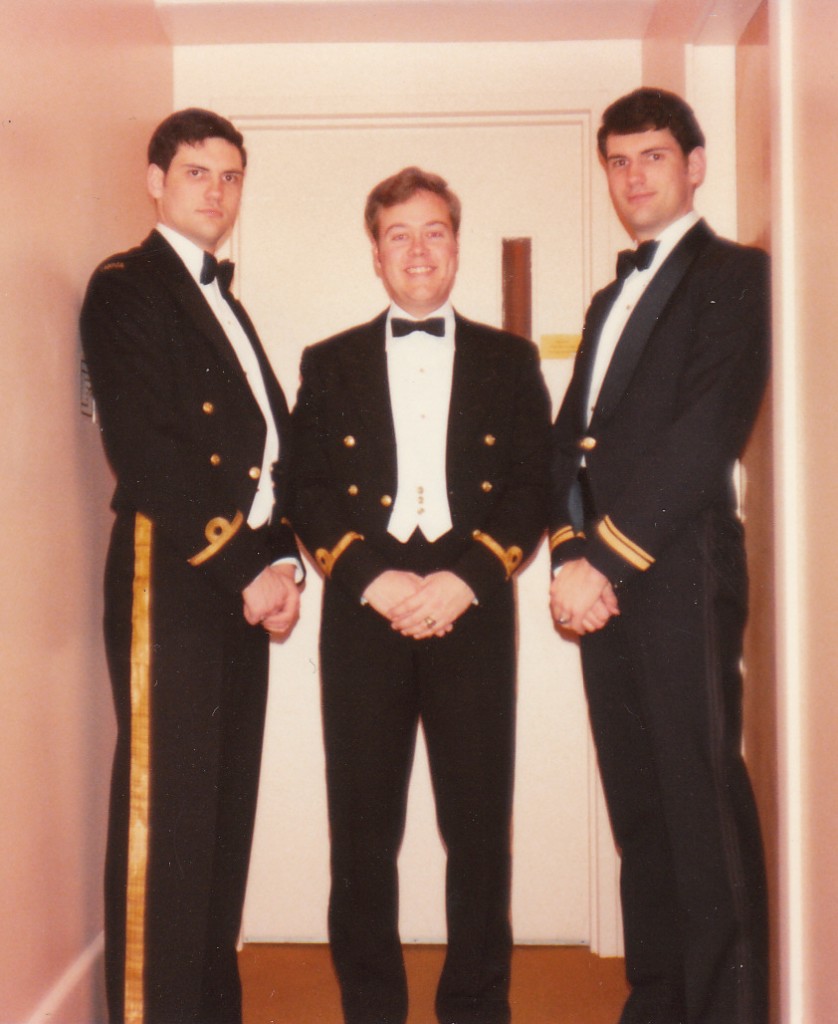 Caption: Harold (L), Philip (R) and 11722 Ken Stewart at a mess event, approximately 1980. They were all Sub-Lieutenants at the time.
11668 Harold & 11667 Philip Henderson: Wrap-up 42 year careers serving in the RCN
By: Mishall Rehman
Harold Henderson, half a pair of twins, recalls many moments in his career with the Royal Canadian Navy when he was mistaken for his brother. One such incident was early in his career when he and his brother were serving on separate ships. At the time, Harold's brother, Philip, had a beard. Confusing the twin's identities, Philip's Commanding Officer saw Harold and remarked that he looked better without a beard.
"When I bumped into my brother a little later I told him that and so he dashed back and cut off his beard," laughed Harold.
Philip and Harold Henderson each have a 42 year accomplished career serving in the RCN. Many times the identical twins have had identical careers but each one has their own successes to be proud of.
MORE…
Harold and Philip left their home behind and moved to St. Jean, Quebec in the fall of 1973 to attend le Collège militaire royal de St Jean. Both started off in the Engineering program and later moved to Sciences. After graduating in 1978, Philip and newly married Harold moved to the West coast to complete their MARS training. For the first few years, the twins had nearly parallel careers often serving on sister ships, sailing to different ports on both coasts.
However, in 1985 Philip and Harold went on separate paths. Harold went on to serve in the Maritime Command Office Headquarters in Halifax while Philip was appointed as Squadron Commander at Royal Roads Military College. In 1987, Philip was posted to Washington, DC serving as the first Canadian representative in the NATO Improved Link Eleven (Nile) Project Management Office. Philip's daughter was born during his posting in the U.S., where they remained until 1991.
As Philip was returning to Canada, Harold was taking his now family of four to Northwood, U.K. at the NATO headquarters as part of the Maritime analysis team for NATO, observing major NATO exercises and conducting analysis of operations in the Adriatic. Before his posting to England, Harold was posted to Quebec City for three years serving as a staff officer.
After returning to Canada, Harold attended the RMC in Kingston for post-graduate training. During this time, Philip attended the Canadian Forces College in Toronto and completed the Command and Staff Course.
As Harold was leaving RMC after finishing his post graduate training, Philip was moving into Kingston where he served as a Division Commander then Deputy Director of Cadets.
Since 2001, Harold has resided in Ottawa. During his time there he worked with the Chief of Defence Staff for four years. He has served aide-de-camp to two Chief of Defence Staffs. Harold later worked in NATO policy as the policy advisor to the CDS accompanying him on trips and various NATO meetings. More recently, Harold was transferred into Assistant Deputy Minister Review Services.
"It's a job where the Treasury Board has mandated reviews of all Defence programs to ensure they are relevant, they're doing what they're supposed to do and that they're delivering the program they've been mandated to do economically and efficiently. I'm just wrapping up an evaluation of our Special Operation Forces and am currently involved in an evaluation of Land Force Readiness," stated Harold.
Even after retiring from the Forces, Harold works in the department as a civilian.
While Harold settled into Ottawa, Philip had taken up permanent residence in Kingston with his family. He transferred to the Reserve Forces in 2008 and joined HMCS CATARAQUI. He was appointed Commanding Officer of HMCS CATARAQUI in July 2012.
Though not always serving in the same place, the twins have been met with confusion throughout their careers. Philip recalled that even as children in elementary school their parents were forced to dress one in blue and one in brown so teachers could tell them apart. Over the years, the twins have grown used to the confusion, finding the situations humorous and even taking advantage of the confusion to play pranks on cadets. According to Harold it's all "part of being a twin."
Serving in the military is a family affair for the Hendersons. Both Philip and Harold's children joined the Navy. Harold's son and daughter both started off as Sea Cadets and later completed their officer training to become Naval officers. His daughter is still currently serving as a Naval officer in Esquimalt.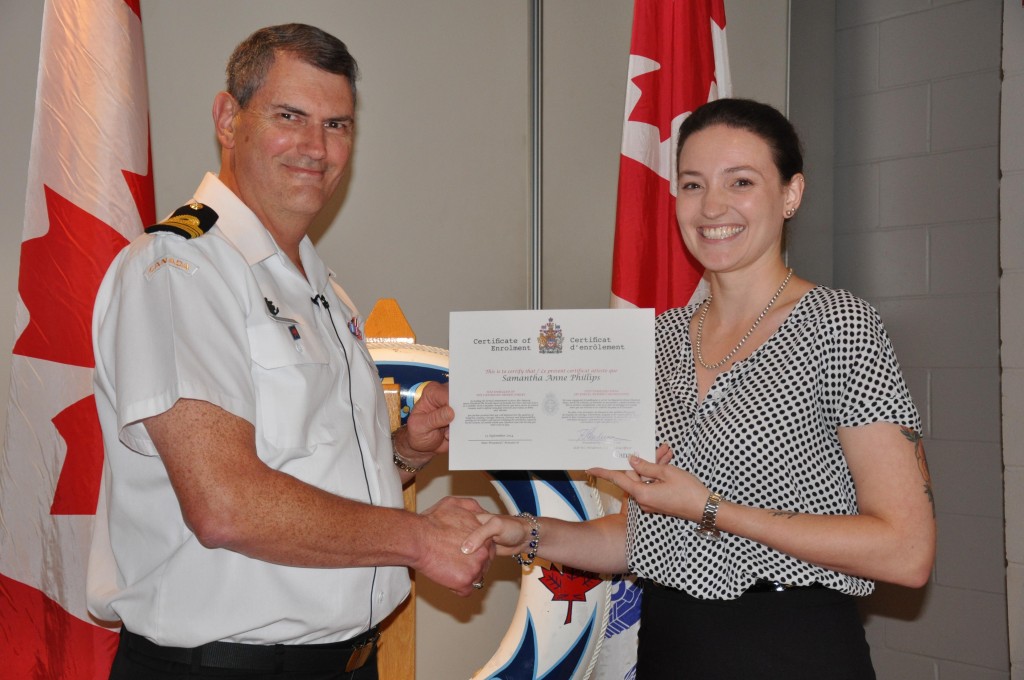 Caption: Phill swearing in his married daughter, Samantha Phillips , as a new member of the Royal Canadian Navy Reserve and member of HMCS CATARAQUI in September 2014.
Philip's daughter, Samantha, after completing a teaching degree, enrolled to be a reservist with HMCS CATARAQUI. Philip was Samantha's Commanding Officer and swore her in.
"I am very proud and it was a real honour to be able to swear her into the military as her commanding officer," recalled Philip.
Last month Harold and Philip officially retired from the military. The two are one of the few CAF members to receive the 3rd clasp for their CD.
"That was a huge culminating point for me because not only did I retire on Sept. 19, I turned over command of HMCS CATARAQUI and was presented with a third clasp to my CD which represented 42 years of service. It was a huge day. I can't imagine anything more remarkable in my career. I can safely say from a young age both my brother and I never really imagined doing anything but serving in the Navy," said Philip.
Harold shares his brother's sentiments believing the Navy has played an important role in his life.
"The Navy has been an integral part of my life. It was difficult to take the uniform off even after I took it off to go into the Reserves. It was bit of an emotional event and the fact that I was able to move in to public service doing the same sort of work made the transition to civilian life and retirement much easier and less painful. It's been a fulfilling, rewarding and interesting career," said Harold.
The Henderson brothers realize that the people they've met over the course of their careers has played a huge part in the success of their careers.
"I don't think I'd ever change a thing I've done. I've had the privilege to work with some amazing people, many of them inspiring. And that's all part of the satisfaction you need to stick with something. I'm happy to say I've always been able to find that wherever I've worked," said Philip.
This also includes the connections the twins made during their time at the Military College.
"It's been nice to go through the college [CMR] and stay connected to former classmates. You make lifelong collections through the Military College," said Harold.
Article written by: Mishall Rehman – Originally from Atlanta, GA, Mishall is a freelance journalist pursuing her passion for writing in her new homeland of Canada. She currently lives in Trenton, Ontario with her husband.