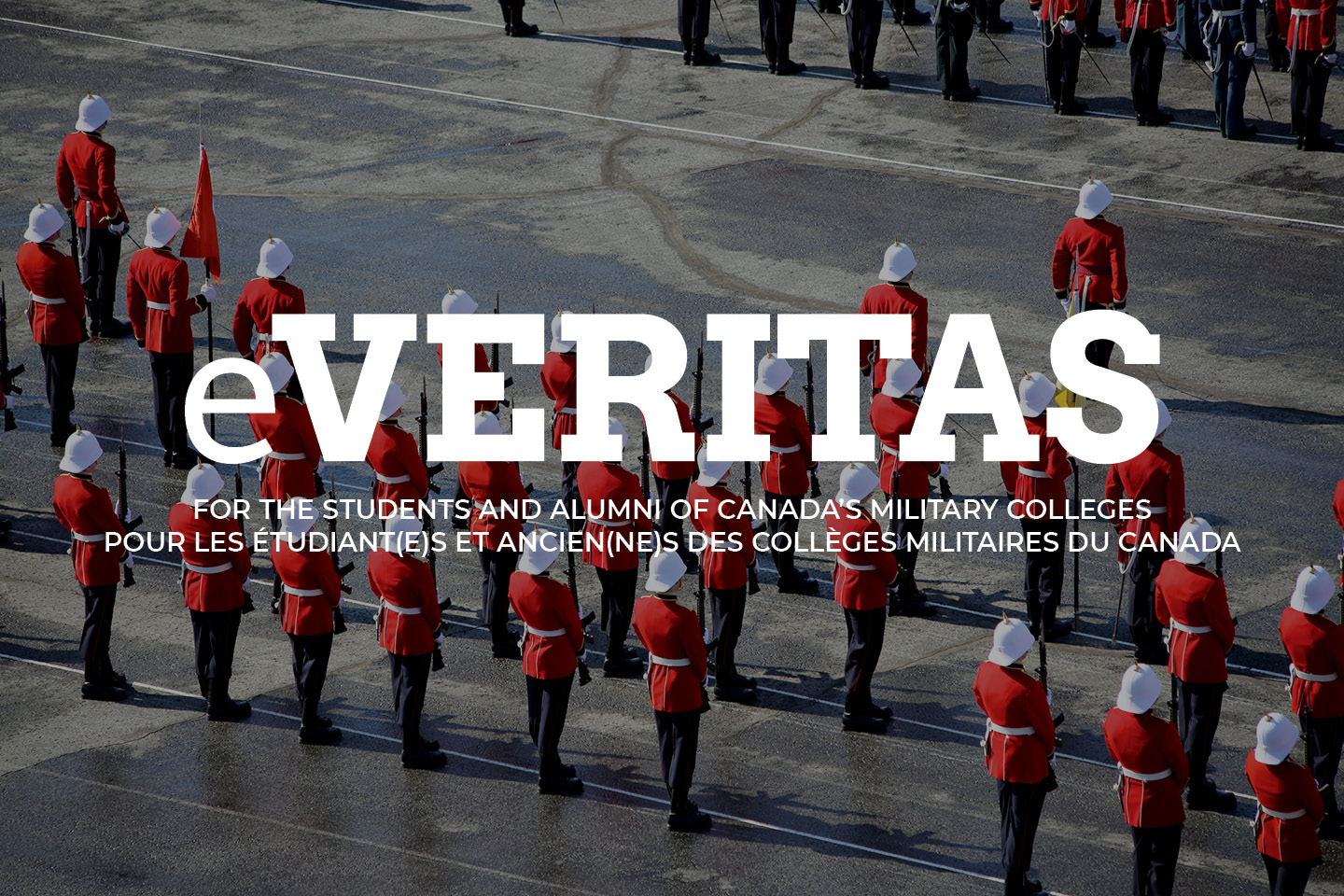 Classmates from '79 Hand Over Top Position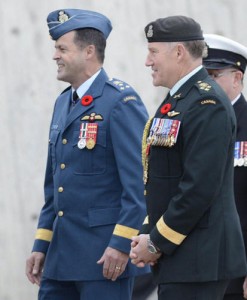 Since the position of Chief of the Defence Staff (CDS) was created in 1964, this is the first time that one member of a graduating class has followed another into the position. 12192 Gen Tom Lawson, who graduated from RMCC in 1979, replaced 12320 Gen Walter Natynczyk, who began at Royal Roads Military College before graduating from RMC Saint-Jean in 1979. Gen Lawson's entry into the position became official as of today, 29 October.
Since the creation of the position, seven ex-Cadets, including Gen Lawson, have served as CDS. Before Gen Lawson assumed the role, 2420 General Frederick Ralph Sharp, CMM, DFC, CD ; class of 1934, He was CDS from 1969 to1972.  H2951 Ramsay Withers (Class of '52) served from 1980 to 1983, 3528 Paul Manson (Class of '56) served from 1986 to 1989, H4860 John de Chastelain (Class of '1960) held the post from 1989 to 1993 and again from 1994 to 1995, 8790 Joseph Édouard Jean Boyle (Class of '71) served as CDS in 1996, and 12320 Gen Walter Natynczyk (Class of '79) served from 2008 to 2012. For a complete list of all of the officers who have served as Chief of the Defense Staff, click here.
General Tom Lawson was officially appointed as Canada's new Chief of the Defence Staff for the Canadian Forces (CF) during a Change of Command ceremony held today at the Canadian War Museum. The event was presided over by His Excellency the Right Honourable David Johnston, Governor General and Commander-in-Chief of Canada, and marked the official transfer of the Command of the CF from General Walt Natynczyk to General Tom Lawson. The Right Honourable Stephen Harper, Prime Minister of Canada, as well as the Honourable Peter MacKay, Minister of National Defence, and the Honourable Bernard Valcourt, Associate Minister of National Defence were also in attendance.
Along with the many dignitaries present were some recognizable faces with an NHL connection, including Guy Lafleur, Tiger Williams and Brian Burke, GM of the Toronto Maple Leafs. All three have been part of past moral building groups which have visited the troops in Afghanistan.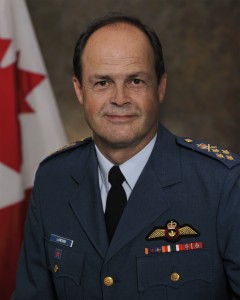 "I am honoured to be chosen as your new Chief of the Defence Staff. I'm also very proud to be leading a team of such highly professional and dedicated sailors, soldiers, airmen and airwomen," said General Lawson. "I am very fortunate to follow in the steps of the inspirational example set by my friend and mentor General Walt Natynczyk On behalf of all of us in the Canadian Forces, I extend my heartfelt thanks to General Natynczyk and his wife Leslie for all of their years of remarkable service to Canada."
"It has been my honour to serve Canada for the past 37 years, and in particular to serve as your Chief of the Defence Staff during these last four. Canadians can be very proud of their soldiers, sailors, airmen, and women who have worked hard to protect our peace and security," said General Natynczyk. "I also appreciate the support of our civilian team members who have enabled the success of our forces. As I pass the torch to General Tom Lawson, I am confident that he and his leadership team will continue to provide outstanding service to protect Canada and Canadian interests. I wish to thank all the men and women of the Canadian Forces and their families for their support and loyal service. You are Canada's finest! I am proud of you and proud to have been your Chief of the Defence Staff."
e-Veritas had extensive coverage of Gen Lawson during his tenure as Commandant of RMCC. A list of the highlights of his time at the College is below.
2011 e-Veritas interview with Gen Lawson, when he was Assistant Chief of the Air Staff
Send off that Cadets gave Gen Lawson on his departure as Commandant
Bittersweet Departure: Commandant to leave RMC (2009 Article from The Kingston Whig Standard)