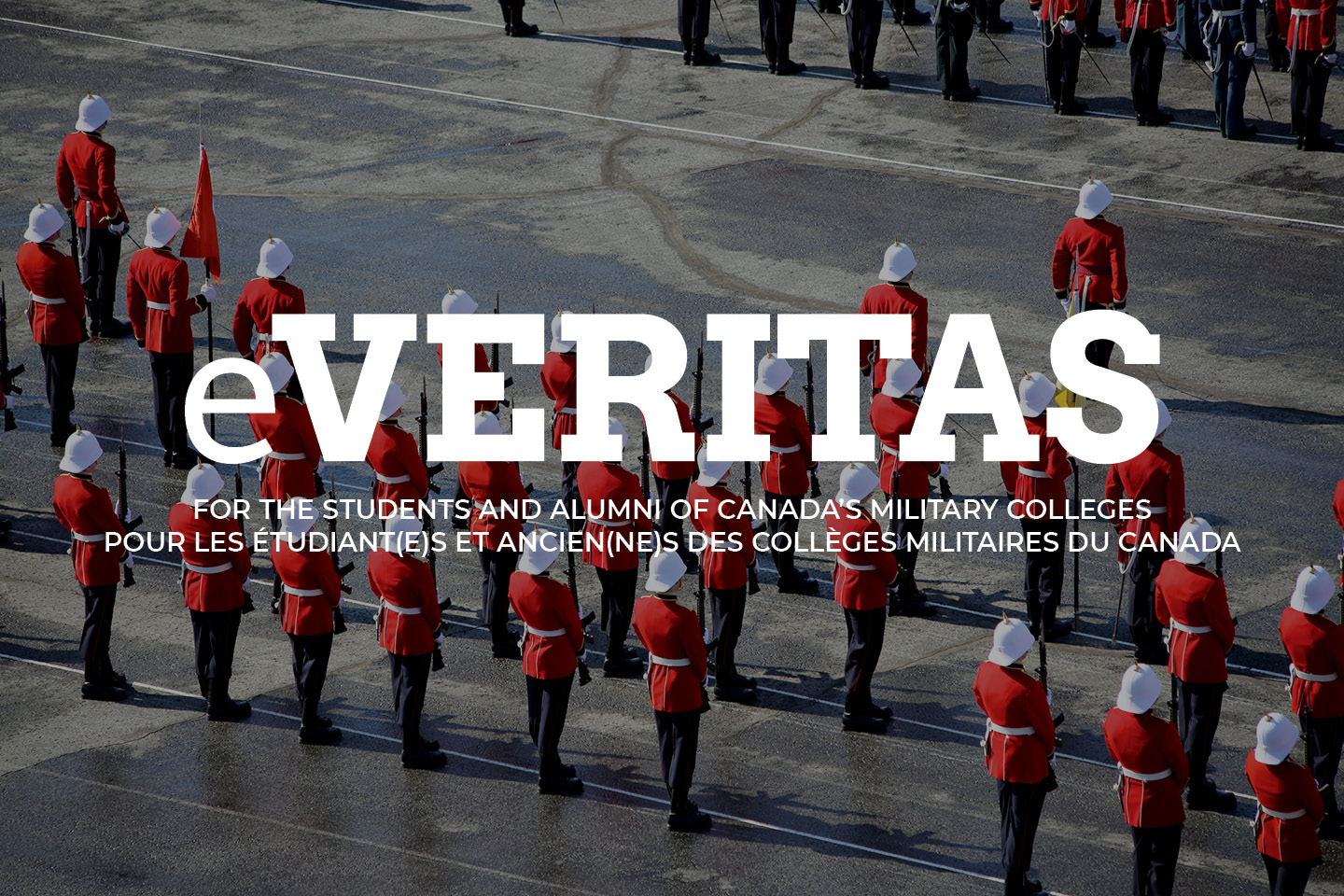 E3161 Victoria Edwards (RMC 2003) interviewed 18293 Ben Boehm (RMC 1992), who was appointed EVP & COO for Cascade Aerospace last October.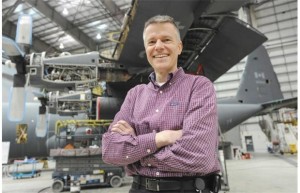 e-veritas: Headquartered in Abbotsford, British Columbia, Cascade Aerospace is a leading Canadian aerospace contractor with over 650 skilled professionals supporting military and civilian aircraft programs. Cascade Aerospace Inc., which is a division of IMP Group Limited, is currently undergoing a hangar strike. Any tips or lessons learned?
Ben Boehm: A strike is a complicated situation. Although it's not easy having to cross the picket line every day, I keep my car windows down and stop to talk and listen to the employees on the picket line. They are after all, still members of the Cascade Aerospace family. I respect the rights the employees have to strike and want to ensure everyone has the correct information. I keep the lines of communication open on both sides of the fence. We all have a job to do, whether to turn a wrench on the hangar floor or to think of a long term strategy to turn a profit. I have respect for the workers who are outside on the picket line as well as those who are inside on the job.
e-veritas: Cascade holds contracts with the Royal Canadian Air Force and the Mexican Air Force to upgrade the avionics systems of the Lockheed C-130 Hercules planes and give them a major overhaul. Any other emerging markets?
Ben Boehm: Cascade has demonstrated its ability to handle the long-term planning and management of aircraft fleet maintenance through the contracts it has won for the Royal Canadian Air Force's CC130 (the Canadian designation for the Hercules) fleet. To get a contract that is international in nature, to move away from (the Canadian military) and have a second pillar customer, was big for us. It meant moving away from being just the "garage" where companies and governments take their planes for maintenance and moving towards becoming a consultant and design authority capable of exporting expertise for foreign air force fleets. Additionally, as Transport Canada approved organization, we are also capable of designing and building aircraft modifications to international civil certified standards. Part of the contract with Mexico involves operational and technical training of its air force personnel at our facilities in Abbotsford. Cascade Aerospace is now setting its sights on other potential customers in South America and the Asia Pacific region. Read more: http://www.vancouversun.com/Cascade+Aerospace+sets+sights+international+horizons/9414361/story.html#ixzz31WiAHLj2
e-veritas: Your secret to work-life balance?
Ben Boehm: Christine and I own an equestrian farm in Sainte-Justine-de-Newton, a small town of approx. 500 people outside Montreal, Quebec. The house and original barn were built in the 1800's on the highest point in the parish, so we named the farm after Christine's family home 'Viewpoint' in Devon, England. As we began the renovations on the house we had to make a few design changes to accommodate the roof lines that are still held up with original logs. About five years ago, we started build a 22,000 square foot 12 stall barn complete with viewing room, an indoor full size riding arena and even a shower for the horses. We wanted to ensure that the jobs and funds from this undertaking stayed in the community so we became our own General Contractors and only hired local companies to do the work. Many remain good friends even today and will often stop by to show their work to other prospective clients.
After nearly 20 years at Bombardier and now at Cascade Aerospace, the farm is my way of "getting away from the daily grind" and relieve some stress. Don't get me wrong, work on the farm is still tough physically, but there's something about working outdoors with your hands, on a tractor, or tossing bales of hay that seems to allow you to open your mind and really reflect. Sometimes I come up with some great aerospace strategies with a hammer in my hand.
The local community is also a great way to "remember what life is really about". Don't be fooled by the town's small size. Each year, using volunteers, we manage to host a Randonee des Moto-neiges Anciens that has grown to over 300 participants coming from as far away as Maine. Then last summer, the annual Lawn Tractor Races had 30 teams and over 2000 spectators. It's a lot of work, but fun at the same time. Reminds me a lot of my days at RMC.
e-veritas: The bilingualism pillar at Mil Col was important to your later career.
Ben Boehm: Certainly. My mother, who is a teacher, insisted that I take high school French through to grade 13 so I was reasonably competent by the time I started at RMC. By fourth year, I even did some of my engineering courses in French. About 12 years later, I found myself as the Program Director of the Bombardier CSeries in Montreal. My boss at the time was an American formerly from Boeing. I quickly realized that he would only be doing the media interviews in English and that I was to do all of the interviews with the French-language media. My former highschool French teacher, Mr. McDermitt caught my first ever live interview on Radio Canada and called my mom wondering how I ended up on the French channel. Even today in British Columbia, I have a number of employees from Quebec and we are also in negotiations with some customers in francophone Africa for future work.
e-veritas: In your class at RMC, many graduates took an early retirement under the Force Reduction Program (FRP)?
Ben Boehm: I began my aerospace career as a graduate of RMC Kingston in Mechanical Engineering, and served as an aerospace engineer with the Royal Canadian Air Force. At the time, both Royal Roads and College Militaire Saint-Jean were open and RMC only had about 400 to 500 cadets. On the engineering side (most trades) a large proportion of our class took an early retirement / FRP because there was a surplus of Captains and Majors and the Armed Forces didn't have enough "real jobs" for us. It was a bitter sweet situation. On the one hand, industry was crying to have us. But, we were a pretty "gung ho" class and didn't want to just take our degree and run to leave the CF. The good news is that the majority of us are now in executive positions across Canadian industry and can hopefully give back to Canada in some other way.
e-veritas: Have you kept in touch with ex-cadets who stayed in Uniform? (Note. On Ben's suggestion I checked in with 18325 LCol Pete Earle to confirm which classmates are or are not still in uniform).
Ben Boehm: In today's global commercial and military worlds, it's difficult for all of us to keep track of each other. Many of my closest friends from RMC have had to take on difficult overseas assignments in Afghanistan, Bosnia, and the Middle East to name just a few. Add to that, quite a few top performers who did staff college in exchange positions in Brazil, Germany and Australia. Meanwhile, I ended up living in China for just over 2 years while at Bombardier, and typically log over 120 days "on the road" for various business pursuits. One funny encounter with a classmate took place at Vancouver Airport. For me it was a China-Korea-Vancouver-flight where I battled jet lag in the Maple Leaf Lounge while chatting with classmate 18404 LCol John Reiffenstein (RMC 1992), who was on his way up north to the Territories as part of his role in the base command at Edmonton.
It seems we are more likely to see more of each other at industry events than we do at reunions at RMC. Just recently, in Ottawa at CANSEC 2014 many of us crossed paths: 18346 France Hébert (RMC 1992) is a director at General Dynamics Canada, 18325 LCol Pete Earle serves as Senior Military Assistant in the Minister's Office, and 18292 LCol Derek Black (RMC 1992) is a CC130 Weapon System Manager in DAEPM(TH), 18315 LCdr Nathalie Desarzens (RMC 1992) in the VCDS shop. There were sightings of others as well such as Craig Fowler (soon to be Deputy Defence Attaché in Moscow) and Dave Beya.
e-veritas: How did you come to serve as Deputy Cadet Wing Commander at RMC?
Ben Boehm: When the "Bar positions" were announced at the end of third year, I was surprised to be selected as the Recruit Flight Leader for 4 Sqn. I had never seen myself in that type of a roll but looking back at it now, I can definitely see some of those same mentoring and discipline skills being vital for what I've had to do in industry. Back then, first year cadets came to RMC after 6.5 weeks of Basic Officer Training in Chilliwack (coincidentally I now live less than 30 km from there) and then assisted in another 6 weeks of Recruit Term. The challenges of teaching the cadets multi-tasking, time management, discipline and attending to their own personal issues with military and university shocks in hand was a major preparation for future life in the military and industry. Moving from that to DCWC in 2nd term, was like moving from front line operations to the executive level overnight. Fortunately, the people management skills are much the same. Back then, the DCWC was responsible for the day to day college operations together with the 8 Cadet Squadron Leaders (CSLs). In retrospect, although I never expected to serve as Deputy Cadet Wing Commander, the position suited me. I came to realize that even today I prefer to work and run operational units and strategy leaving the more ceremonial and governance tasks to the next executive level.