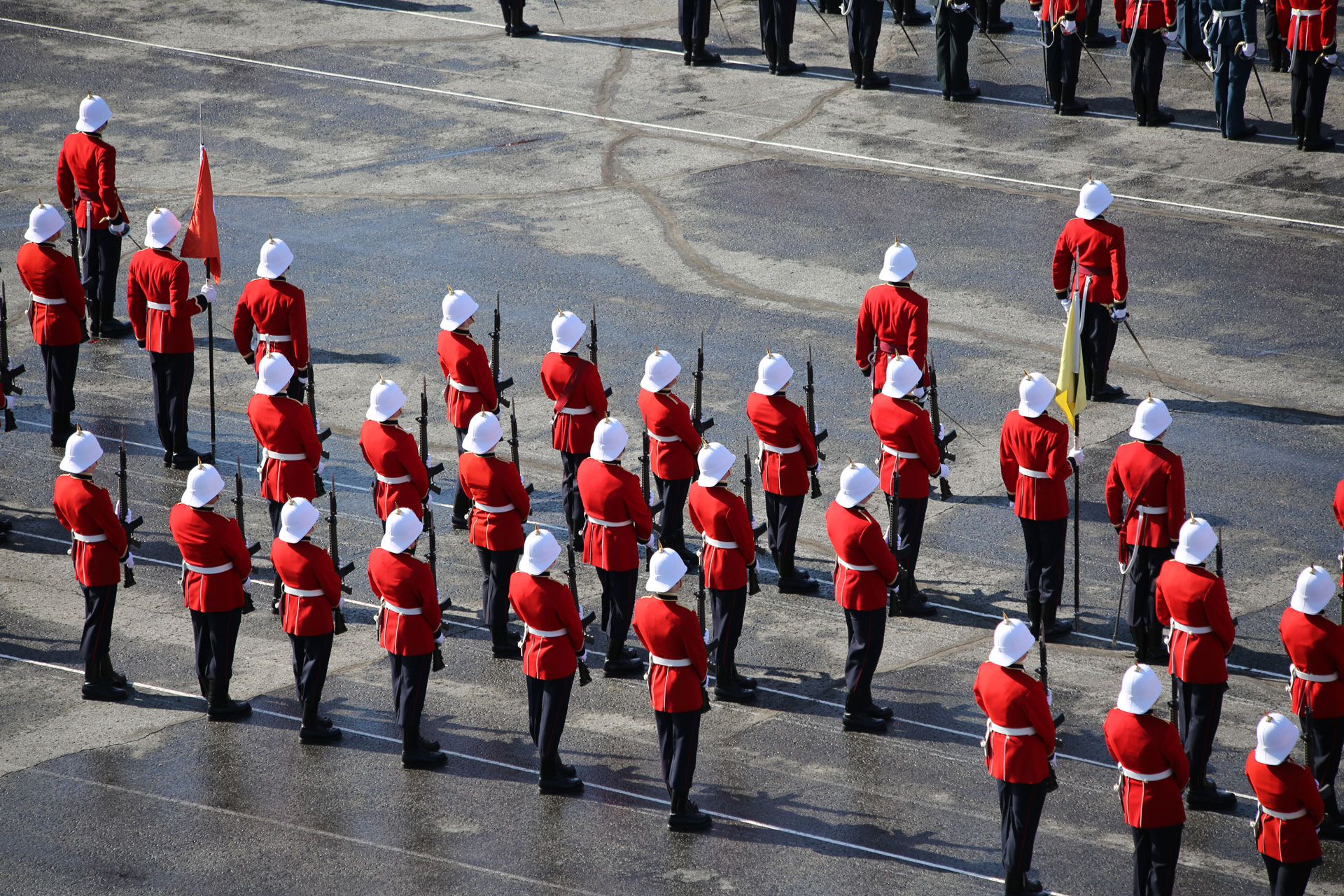 "Welcome to the Cadet Wing Commander, OCdt Bouchard and the entire Bar Slate. As you have heard me say, I empower you to lead the Cadet Wing and I hold you responsible and accountable to ensure that the RMC Cadet Wing continues to reflect the level of excellence that it is internationally known for. You have a wonderful opportunity to exercise leadership – please do so."
ARCH MARCH: THE NEW STUDENTS AT KINGSTON'S ROYAL MILITARY COLLEGE CARRIED OUT A TIME HONOURED TRADITION TODAY.video

Arch Ceremony – Commandant's Remarks     
Cérémonie de l'Arche – Mot du commandant
Mesdames et Messieurs, Lady and Gentlemen cadets of RMC, Recruits;
Bienvenue à tous au CMR. Bienvenue plus particulièrement à l'Escadre des élèves officiers. J'espère que vous avez tous passé d'excellentes vacances et que vous avez trouvé l'instruction d'été gratifiante et plaisante. Bienvenue également aux élèves officiers de 2e année qui se joignent à l'Escadre après avoir réussi leur formation au CMR de Saint Jean. Vous faites maintenant partie de l'Escadre du CMR et nous sommes très heureux de vous compter parmi nous.
Welcome to RMC and a very special welcome back to the Cadet Wing. I hope that everyone had a great holiday and that you all found your summer training rewarding and enjoyable. Welcome also to the 2nd year cadets joining the Wing after having successfully completed time at RMC St Jean. You are now members of the RMC Wing and we are thrilled to have you here.
It's great to see the College coming back to life and I encourage you all to get settled back in and prepare yourselves for the commencement of the Academic year on Tuesday.
Want to highlight and congratulate the group of RMC cadets who represented the College in the Nijmegen March. I have heard incredible comments back about your professionalism, effort and determination to complete this very difficult activity. Thank you for your efforts – you made us all very proud. Let's give them a round of applause. Applaudissons les.
Welcome to the Cadet Wing Commander, OCdt Bouchard and the entire Bar Slate. As you have heard me say, I empower you to lead the Cadet Wing and I hold you responsible and accountable to ensure that the RMC Cadet Wing continues to reflect the level of excellence that it is internationally known for. You have a wonderful opportunity to exercise leadership – please do so. To the rest of the Wing, I expect that you will support your Bar Slate as they lead you through the year ahead. Enable their success as you would wish them to enable yours when you are in the same positions in the future.
Welcome also to the Military and Civilian staff – returning and new. I want to thank each of you for your tremendous efforts and for showing the cadets what 'right looks like' each and everyday. If you don't already know, RMC is one of the best places to work in the entire country. Ask your peers, they will tell you how fortunate you are to be here. I think you will find working around or teaching the cadets exhilarating; their can-do attitude can be infectious.
Bienvenue également aux membres du personnel militaire et civil – anciens et nouveaux. Je vous remercie tous pour vos efforts prodigieux et pour l'exemple que vous donnez aux élèves officiers au quotidien. Si vous ne le savez pas déjà, le CMR est l'un des meilleurs endroits où travailler dans tout le pays. Demandez à vos collègues. Ils vous diront que vous êtes très chanceux de travailler ici. Je crois que vous trouverez exaltant de travailler ou d'enseigner dans ce milieu d'élèves officiers; leur attitude positive peut être contagieuse.
Thank you also to your families who support you and permit you to provide the level of commitment to the college that you do. I appreciate their support!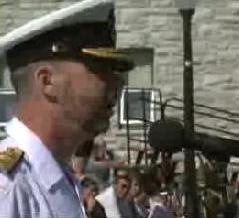 Let me also recognize the families and friends visiting RMC today for this important occasion. Thank you for your support to the CF and Canada. Thank you also for your trust and confidence in RMC and for enabling your son's and daughters to attend this historic institution. We are in the business of taking Canada's finest young men and women and turning them into incredible leaders for the CF and the nation. The path that your son's and daughters will travel over the weeks ahead will not be easy and there will be moments of reflection.
There may also be times along the way of doubt by your loved ones which may lead to those late night phone calls home indicating intent to give up. This is normal. I ask for your help on these occasions. I'd ask that you to offer a little 'tough love' and tell them how proud you will be when they march onto this parade square during the Badging Ceremony as full members of the Cadet Wing – then tell them to go back to bed and get some rest – they have another tough day ahead of them.
Let me be the first to congratulate the recruits. The march through the Memorial Arch today represents the beginning of many 1st's here at RMC.
Laissez moi être le premier à féliciter les recrues. Le défilé sous l'Arche commémorative marque le début de nombreuses premières fois au CMR. Let's give them a round of applause.
Once you are dismissed you will begin FYOP -likely to be the toughest few weeks in your lives so far. Remember that 1000's have done it before you. It is not easy and that is by design. It will test you and push you to new levels in many areas – all with the goal of helping you achieve the level of excellence required of the Lady and Gentlemen cadets of RMC. You have already proven in boot camp that you have the ability to succeed. You will now need to raise your game and work even harder. A worthy challenge that I know you will achieve.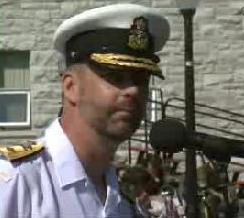 To the entire Cadet Wing and College staff, your role over the weeks ahead is to enable the success of this recruit class. FYOP is not a Darwinian exercise.. FYOP is about helping these future officers prepare to enter the Wing. I need you to lead by example and remember what I have said many times since arriving – Everything we do at RMC we do Safely and always with Respect and Dignity as our guiding principles. I thank you for the superb job you have done so far, and I'm confident that you will meet the challenges of the year ahead. Our motto; Truth, Duty, Valour, has great meaning. I expect you to live up to this motto and be living examples to the new recruits.
In closing, let me remind you that RMC is unlike any university in Canada and RMC is unlike any unit in the Canadian Forces. Being here at RMC represents challenges to both cadets and staff alike. Undoubtedly, some days will be tougher than others. All I ask of each of you is to do your best. Remember you aren't alone in this endeavour.
En conclusion, j'aimerais vous rappeler que le CMR diffère des autres universités canadiennes et qu'il diffère des autres unités des Forces canadiennes. Il présente des défis particuliers tant aux élèves officiers qu'aux membres du personnel. Sans aucun doute, certaines journées seront plus difficiles que d'autres. Tout ce que je demande à chacun d'entre vous, c'est de faire votre possible. Rappelez vous que vous n'êtes pas seuls.
Mr. Bouchard. Let's wrap up this parade so that you and your cadet leadership, assisted by the tremendous staff of RMC, can take this class of recruits away and prepare them to become Lady and Gentlemen Cadets of RMC!!
Best of luck to all of you.
Thank You.

(Left and Right) New First Year recruits march through the arch. (Center) Cadets who have transferred to RMCC  as second years from RMC SJ  also march through the arch marking a new twist to an Old Tradition at the college.
x

x
Photos and Caption By 25275 Julia Anderson