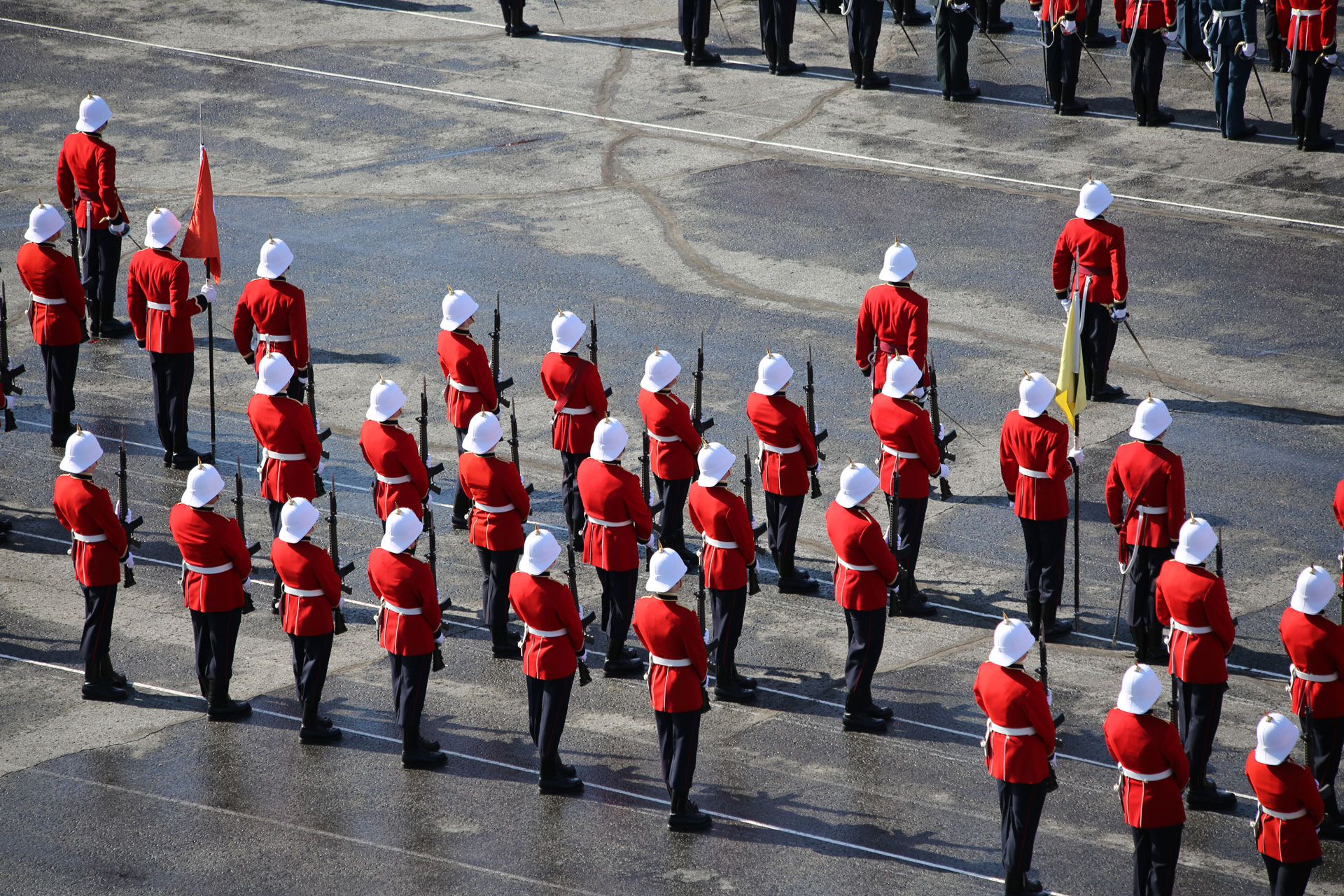 The Next Step in the Process
By 25275 Julia Anderson

On Monday August 10th, 2009 at 10:00 in the morning the Canadian Forces Recruiting Center (CFRC) Kingston hosted a swearing in ceremony for one Civilian University and 4 new RMC recruits. I attended this, and sitting in the background brought back my memories of nervousness and excitement for my upcoming training. As these recruits were sitting in the waiting area of the CFRC, recruitment videos play showing them what to look forward to during their career in the CF. One by one they are called in to sign their Terms of Service and agree to their contracts, which seem like an eternity in the moment, but looking back, the time flies past. The 5 recruits finally complete all their paperwork and it is time for the actual ceremony. As the cadets nervously head in I wish them all luck, and tell one of my close friends "Civilian life is almost done, smile kiddo, and I'll see you on the other side." 25843 Krisztina Rekezski (4 SQN) smiles and continues down the hallway with the other recruits.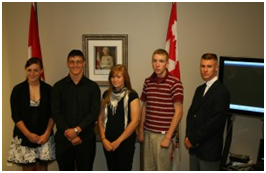 Left to right : 25843 Krisztina Rekezski, 25841 Nick LaRone, 25839 Amy Clements, name not available at press time, and 25840 Tucker Densmore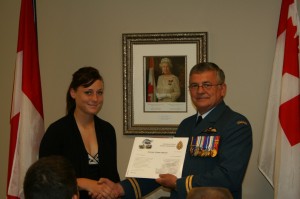 Once we are all in the room the ceremony begins. I take various pictures and really capture their nervousness in a few of the shots. Another friend, 25839 Amy Clements (4 SQN) gives me a big smile as she finishes her oath. I turn to 24734 Alex Gagnon beside me and comment on how professional and sharp one of the recruits looks in his suit, and that he will probably do well at RMC, this recruit, 25840 Tucker Densmore (9 SQN) is going into engineering at RMC and has been put into the Air Ops trade grouping with hopes of becoming a Pilot. The last RMC recruit goes up and finishes his swearing in, when his dad asks me what the pictures are for, and if he can get copies of them. I introduce myself to this recruit, and tell him about the RMC Club, and explain the e-Veritas briefly.
x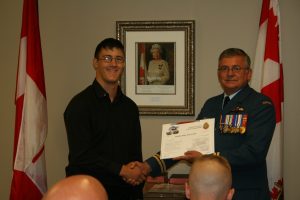 25841 Nick LaRone (2 SQN) sounds intrigued by the RMC Club so I explain to him that he will have his chance to be a part of it too. As the swearing in ceremony finishes up I pack up the camera and tell the new recruits I will see them all in 2 days when they arrive, and realize how important this day will be to the rest of their careers, the "I do", the moment you actually have given yourself over and sworn to do what every cadet who has graduated this college has done before you.
x
Two days later as I stand under a mod tent at RMC, I watch as these same cadets arrive, and say their goodbyes to their parents. All the parents are beaming with pride as their children are taken away by the RMC staff who in four years will mould them into the Lady and Gentlemen cadets of the Royal Military College of Canada. The recruits from the swearing in ceremony two days prior all find me and say hello, and seem grateful for a semi-familiar face around the campus. The recruit camp staff is busy helping the recruits with in-clearance and moving into their new rooms. Everyone around RMC is out and helping, even if they aren't tasked to. 24766 Gabor Somogyvari directs traffic and helps recruits unload their vehicles. All the RMC cadets are smiles as new recruits pour into the college.

24198 Nicholas Goulet, CSL 8 SQN takes the family members of these cadets on tours of the buildings and campus before they have to leave their kids to the capable hands of the staff.Various military wing staff is seen around throughout the day to watch how things are running. Finally things slow down as the cadets unpack, go to dinner and stop by Canex and the barber to get that infamous recruit haircut. Cadets are in bed by 11pm, but the staff's night is not nearly over. They are seen preparing lessons and section interviews and finding lost luggage. Many of the staff worked for 2 days on no sleep to ensure the smooth arrival of cadets, and they did a fantastic job. Day one of recruit camp is now complete, and it will move on to the fun part.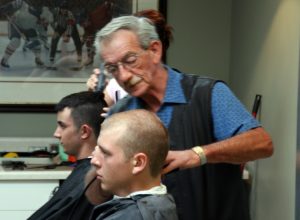 A recruit gets their first "military" hair cut from Jim.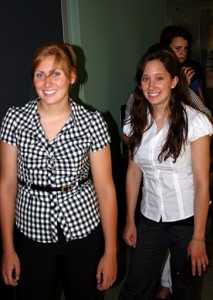 OCdt Clements (left) and another recruit wait patiently for their first Canex experience.

0530 aka "zero-dark-thirty" the morning following arrivals, Major Robert Parent leads the new recruits on their first PT session. Including a few km walk around the campus, so they have can see everything they missed driving in, including the CDA. They also do some push ups, everyone's favourite activity. All the recruits fared well and are looking forward to the next 2 weeks of recruit camp, as I am to be reporting on it.x
All photos by 25275 Julia Anderson