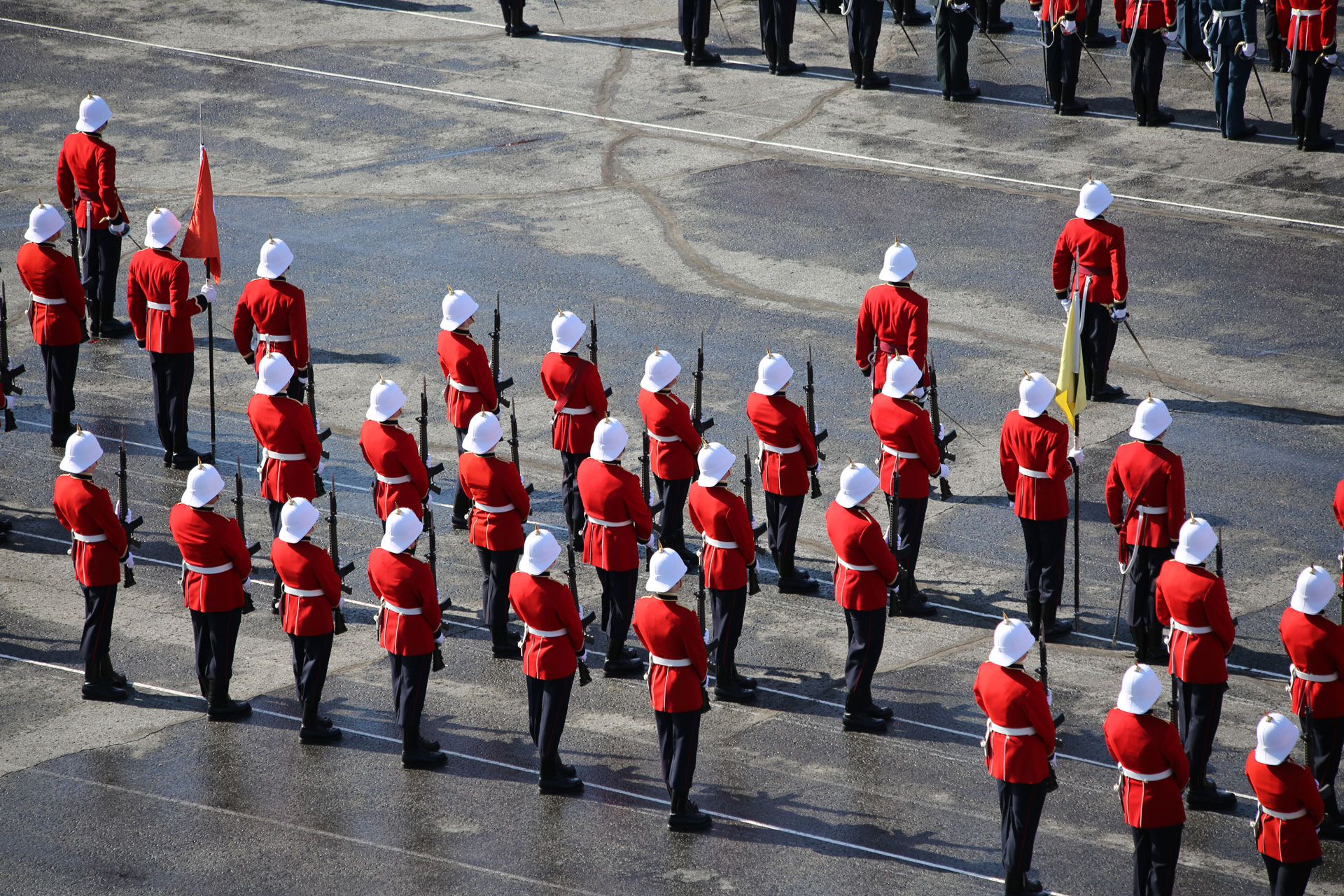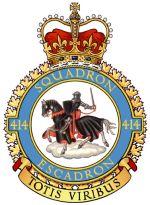 xxx
Re-formation of 414 Electronic Warfare Support Squadron
OTTAWA, ONTARIO–(Marketwire – Jan. 20, 2009)
Major-General Marcel Duval, Commander of 1 Canadian Air Division, presided over a ceremony today at Vintage Wings of Canada, located at the Gatineau Airport near Ottawa, to mark the re-formation of 414 Electronic Warfare Support (EWS) Squadron.
Known as 414 Combat Support Squadron when it was last disbanded in 2002, 414 (EWS) Squadron will provide electronic warfare support to Canadian Forces combat training. The re-formation of 414 (EWS) Squadron is a clear illustration of the Air Force's ongoing transformation initiatives to ensure an Air Force that is effective, efficient and relevant.
"I am very happy to see the rebirth of 414 Squadron," said Maj.-Gen. Duval. "The role of electronic warfare training is extremely important in ensuring that our troops are prepared to fight in today's modern battlespace."
The re-activation of 414 (EWS) Squadron as an independent flying unit reporting to the commander of 3 Wing Bagotville, Quebec will result in a definite improvement in the way the Air Force delivers electronic warfare support.
Nicknamed "Black Knight" Squadron, 414 (EWS) Squadron traces its origins to the Second World War when it existed as a Fighter Reconnaissance Squadron and flew throughout Europe. The Squadron received eight Battle Honours for its wartime service before being disbanded in 1945. It has existed in various forms since that time, and was last disbanded in 2002.
For further information, contact the DND/CF Media Liaison Office at 613-996-2353 or 1-866-377-0811.
For more information about the history and heritage of 414 Squadron, see the backgrounder entitled "414 Electronic Warfare Support Squadron: History and Heritage" dated January 20, 2009 in the Newsroom at www.forces.gc.ca
______________________________________________________________________________________

3 Generations (L-R): 12192 Tom Lawson, 23479 Benjamin Lawson, George Lawson
Flight Lieutenant George Lawson and 414 Squadron
1943, when Flying Officer George Lawson joined the RCAF's relatively new 414 Fighter Reconnaissance Squadron in the south of England, he could have been forgiven for harbouring a sense of foreboding about what the next months would bring. Their aircrews had been severely tested in preceding months and many 414 Squadron pilots were missing or had been lost in action. Still, it was a good life for a 23-year old. Weeks filled with exciting missions over the coast of France, an entertaining mess life with fine colleagues and a warm bed every night.
By the time Lawson left 414 Squadron, he had gathered more than a hundred operational missions, been promoted to the rank of Flight Lieutenant and was posted to Scotland for instructional duties. "I felt a sense of loss when I left the squadron." he explained. "I was saying goodbye to the friends I'd made, some of the finest men I would ever meet, and I knew it would be the last I'd see of many of them. I was right."
Shortly after the end of the Second World War, 414 Squadron disbanded. Four times over the next 60 years it would be reformed and stood down. Before standing down in CFB Comox in 2002, the unit had spent 35 years as an electronic warfare squadron providing training for the air force, army and navy. This would be its link to eventual reformation.
Last December, George Lawson, now a late-octogenarian living quietly in Toronto with his wife Eileen of some 62 years, received a letter from the air force asking if he would like to attend, as a guest of honour, the stand up of 414 Squadron. He was delighted to accept. He had encouraged his son, 12192 BGen Tom Lawson, to commence a military career at the Royal Military College, so in recent years he had had the opportunity to attend several military parades, but this one would be different. At this one, his eldest grandson, 23479 Lt Benjamin Lawson, an Air Combat Systems Officer recently posted to the unit, would be carrying the colours.
The reformation parade was held on January 20th, 2009, at the Gatineau hangar of RMC ex-cadet 6767 Michael Potter, so that the backdrop could include Mr. Potter's Mustang and Spitfire, alongside one of the squadron's latest aircraft, an Alpha Jet supplied by ex-cadet 17398 Didier Toussaint (RMC 1990). The effect was striking. With this impressive backdrop, the Commander of 1 Canadian Air Division, MGen Marcel Duval passed the colours to Commanding Officer, E1248 LCol Larry Weir, who then handed them to the colour-guard commander, Lt Lawson, for trooping.
When interviewed during the celebration following the parade, Mr. Lawson shared how moved he was to attend the event alongside his wife, son and daughter-in-law, and to watch his grandson carry the colours. He told the interviewer that he knew the day would be a special one when he arrived at his hotel room the night before and, entirely by chance, was issued the key to Room 414. "I feel very lucky to have had the opportunity to fly as a member of 414 Squadron, to have attended a 414 Squadron reunion in 1975, and today to be present to see these young men and women, my grandson among them, once again take up the 414 Squadron Colours." When asked if he thought he would be able to get the Spitfire airborne one more time, he quipped, "I think I could get it airborne, yes, but the problem might be getting it back down."
______________________________________________________________________________________
414 Squadron standing tall again
By David Krayden
414 Electronic Warfare Support Squadron is back in business.
The storied Air Force unit is no stranger to stand-up ceremonies or diverse operational roles. Since 1941, it has been disbanded four times and has served in such capacities as fighter reconnaissance, photography, all-weather fighter combat and electronic warfare. Until this Jan. 20, 414 had last been a combat support squadron (conducting electronic warfare) at 19 Wing Comox, B.C. from 1992-2002.
But this week's re-formation parade and colours ceremony, held at the Vintage Wings hangar in Gatineau, Que.,was just a little bit different for the men and women of 414. Surrounded by a P-51 Mustang, Supermarine Spitfire and Hawker Hurricane, three generations of Canada's Air Force attended the event: Flight Lieutenant (Ret'd) George Lawson, who flew with the squadron during the Second World War, Brigadier-General Tom Lawson, commandant of Royal Military College and Lieutenant Ben Lawson, an air combat systems officer (formerly navigator) with 414 today.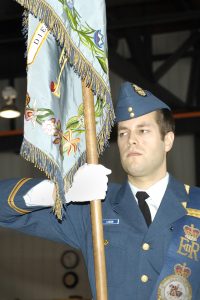 Lt Lawson had the honour of leading a colour guard and carrying the squadron colours – the flag depicting the squadron's crest and battle honours. Lt Lawson passed the colours to Major-General Marcel Duval, commander of 1 Canadian Air Division, who was the presiding officer for the parade. Before the hand-over occurred, Lt Lawson removed a vinyl sheathe from the flag, freeing the colours from their restraint and unfurling the symbol of their squadron's history, heritage and pride.
Lieutenant-Colonel Larry Weir, the squadron's commanding officer, spoke of 414's historic ties to its local communities and the sense of family that the unit has always encouraged. He noted what an historic occasion the ceremony offered. "More than 60 years ago, George Lawson said goodbye to 414 and today his grandson is becoming a part of it," he said.
As EWS squadron, 414 will support Air Force, Army and Navy operations of the Canadian Forces and our allies using Alpha Jet aircraft from Top Aces Inc., the prime service supplier to the Contracted Airborne Training Services (CATS) Project. MGen Duval explained that electronic warfare is still concerned with the jamming of enemy radio signals though "the squadron has more capabilities today (than it did in the 1990s) as technology continues to evolve and threats change." MGen Duval called the reformation of 414 a means of rationalizing command and control of the electronic warfare function as 414 will be situated in Ottawa, Ont. but operationally responsible to 3 Wing Bagotville, Que.
Photos courtesy of Pte Ryan Winton