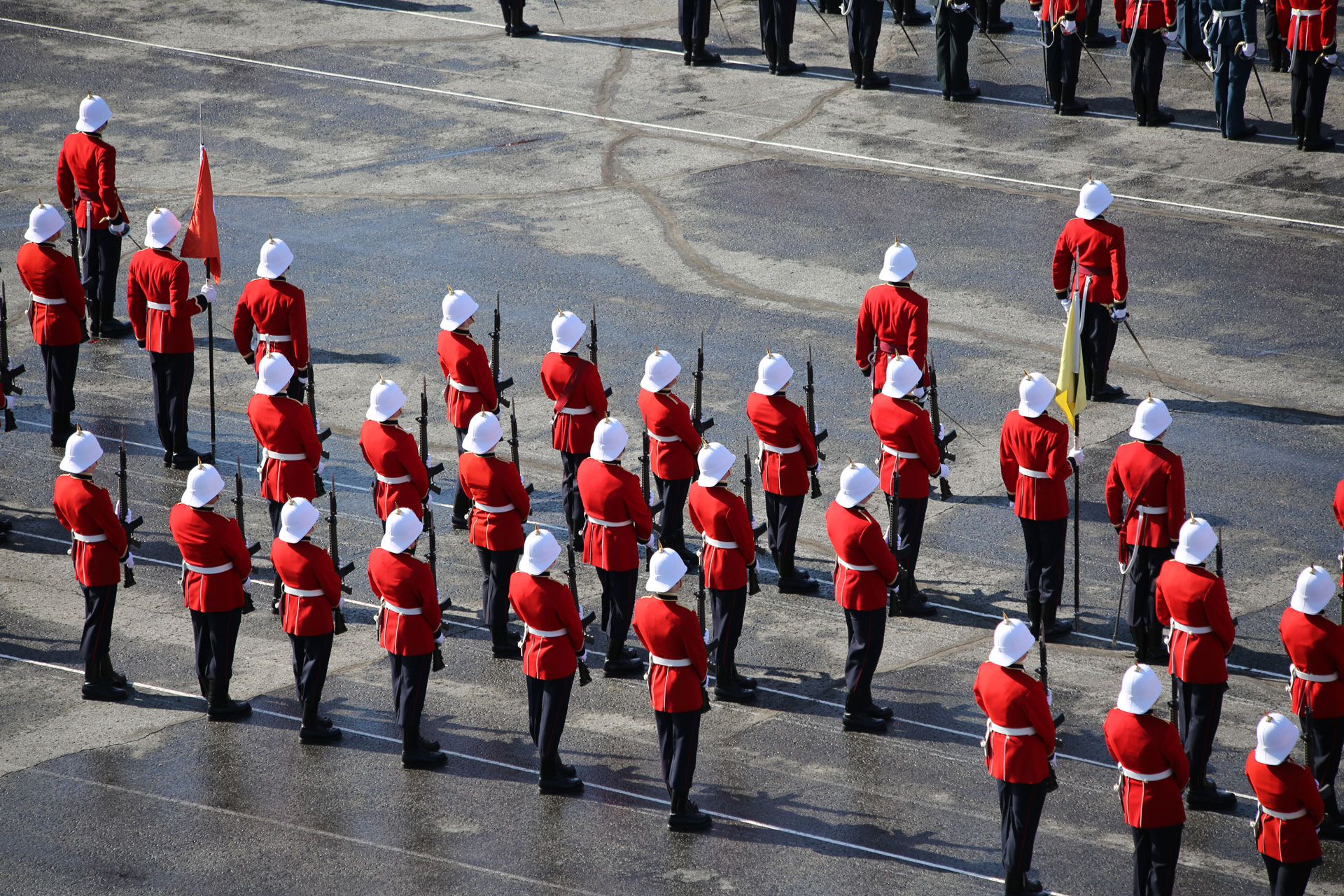 Meet the RMC Cadet Wing Top 4
With a new semester comes dramatic changes in the Cadet Wing command structure. The new leadership, under Officer Cadet Bryan McCulloch, has taken the reins after a thorough transition from Officer Cadet Jacklyn Power's team.
Under BGen Lawson's and LCol O'Keeffe's leadership, Cadets have seen their responsibilities expand to a degree not seen in some years.  The response has been positive: Cadets are eager to take up the challenge and welcome the opportunity to practice before they head out into "the real world".  The new Top 4 are excited by the prospect of leading the Wing, and though the weight of this daunting task could cow many a young person, these four see it as a challenge to overcome and say: bring it on!
For those unfamiliar with the current College terminology: CWC – Cadet Wing Commander, DCWC – Deputy Cadet Wing Commander, CWAdO – Cadet Wing Administrative Officer, CWTO – Cadet Wing Training Officer.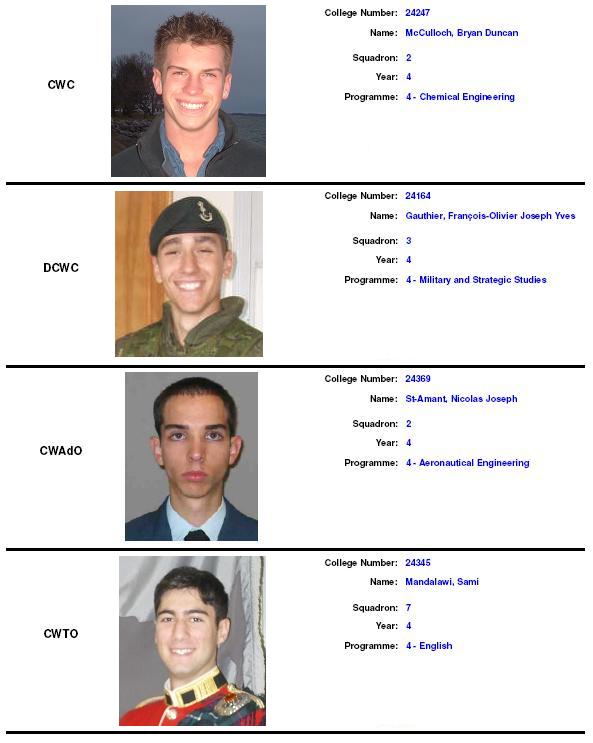 ___________________________________________________________________________
Winter Sports Day: February 7th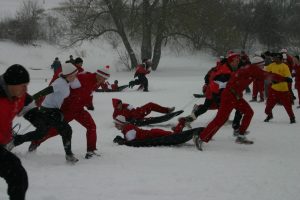 Sports Day is quickly approaching, and Cadets are looking forward to an action packed day in the snow.  Cadets along with military staff will fight off the winter blues by competing in a variety of events such as touch football, soccer, ball hockey, tabloids, and a relay race.  All are invited to come and watch!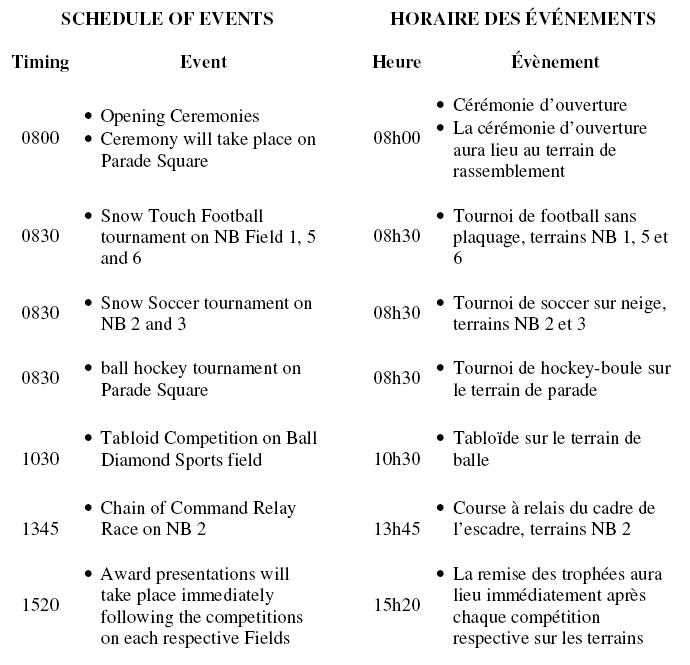 ___________________________________________________________________________
International exchange program – Canada Well Represented at USMA

IV Andrew Goodall & IV Mark Stevenson

16 Jan 2009 – First appeared in "Precision", RMCC Journal

On the 16th of Aug 2008, I, IV OCdt Andrew Goodall (24616, 9 Sqn) and IV OCdt Mark Stevenson (24375, 3 Sqn) arrived at United States Military Academy for a four month exchange. We had the opportunity to take part in experiences such as visiting the Pentagon in Washington DC, being escorted by the Director of NORAD and NORTHCOM, and meeting distinguished United States Representatives. For example, we had the pleasure of meeting General David Petraeus, current CENTCOM Commander, in charge of operations in the Middle East, as well as Mr. Robert Gates, the current US Secretary of Defense. We also had a private tour of the Canadian embassy in Washington, during which we met other Canadian soldiers, officers, and ambassadors representing Canada.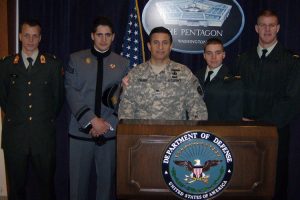 The highlight of the exchange was no doubt when Mr. Bush made his final farewell address to the Cadets at West Point. The former President of the United States of America dedicated three hours of his time in a closed media session to the graduating class. IV Stevenson and I were actually the only exchange cadets permitted to attend this session, during which Mr. Bush answered personal, military and strategic questions directed from the fourth year class.
The weekends were spent traveling; for instance, West Point flew approximately 600 plus cadets and one Canadian (IV Goodall) to College Station Texas in two 747 jumbos' to attend the football game between Texas A and M Aggies and The Army Black Knights. Other weekends included ceremonies such as Homecoming, Ring Weekend and Army Football games. During Army's home games, IV Stevenson and I manned our own "Canadian Gun", a 75 mm WWII Howitzer, as part of the West Point Cannon Crew. In fact, we fired our Gun every time Army scored a touch down.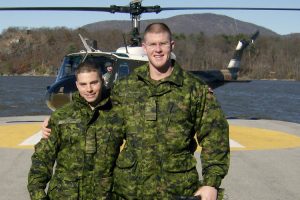 Overall, the experience was great. It was the opportunity of a lifetime to meet new contacts and friends from all services of the United States Army, Navy, Air Force and Marines, as well as cadets and officers from other academies all around the world, such as the Netherlands, Germany, Austria, France, Chile, South Korea, Afghanistan and Peru. It was very interesting to witness and to learn how other NATO nations train their future military leaders. Having the ability to gain valuable combat knowledge from military professors, who have recently returned form either Iraq, Afghanistan, or both, was truly unique.
The relationship between RMC and USMA, two well established institutions, is persistently strong. Canada has a very solid reputation for producing quality leaders who continue to represent the CF in good standing. If you are interested in hearing more about our experience please feel free to contact either one of us by e-mail at mark.stevenson@rmc.ca or Andrew.goodall@rmc.ca.
GO ARMY BEAT NAVY!