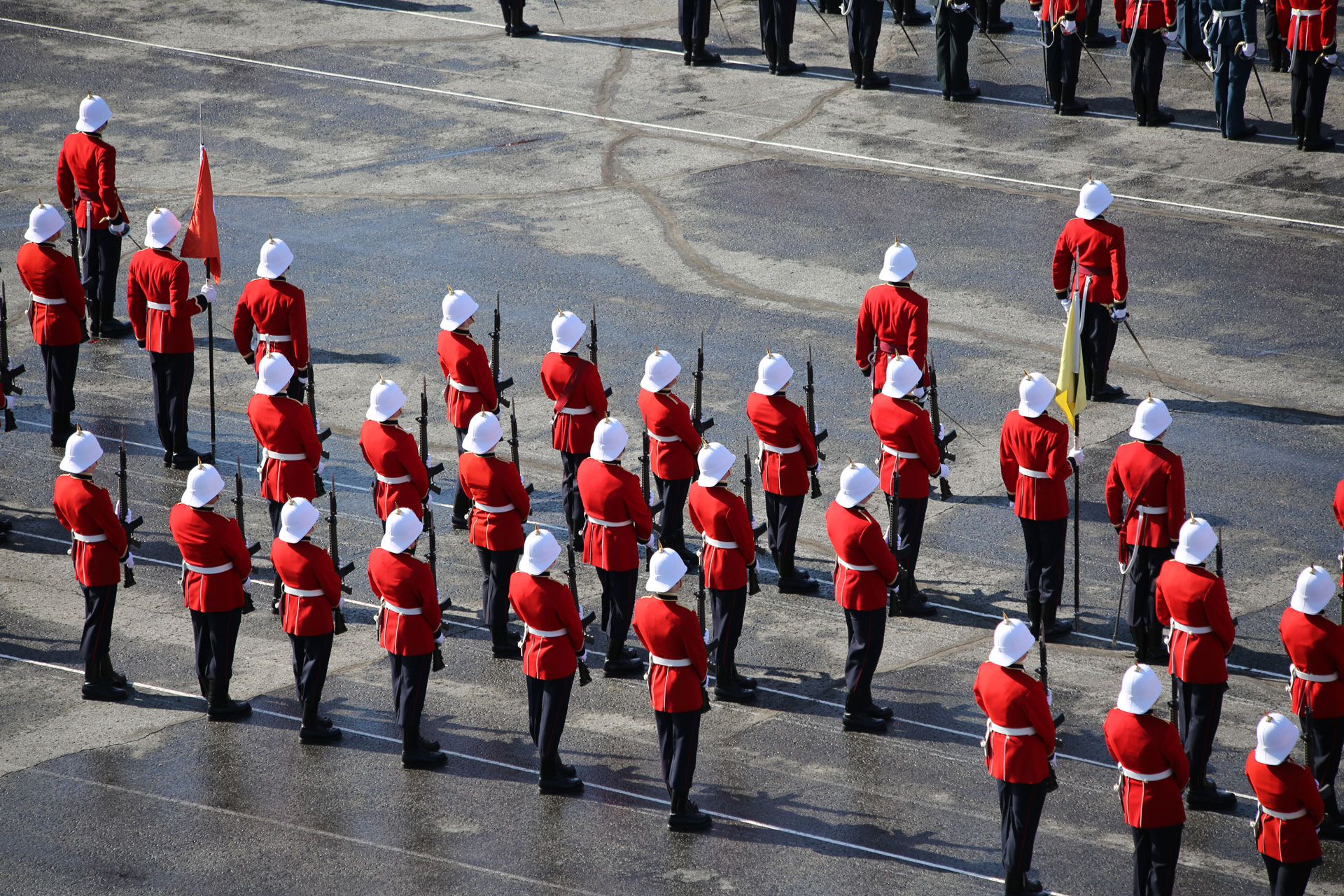 23179 Captain John Kim
Written by: 25057 Ocdt (II) Nalae Yang
The weekend of November 15th and 16th was one of the biggest annual Tae Kwon Do (TKD) competitions in Toronto. When I arrived at the site to get registered as a competitor on early Saturday morning, a member from my team tapped on my shoulder, notifying me that Captain John Kim is competing this weekend. He was just over my shoulder when I found him under a dark blue cap in a red and black CISM TKD suit, talking to the other CISM TKD athletes.
John Kim is an athlete in the CF TKD community well-known for his high achievements in national competitions. In fact, everybody in my RMC Varsity team including myself recognize him for setting an example of an excellent Tae Kwon Do athlete.
During his time at RMC, he has won several medals at major competitions.
2002 CF National- Silver
2002 Canadian National- Gold Poom Sae
2003 Canadian National- Gold Poom Sae
2004 Canadian National – Silver (light weight category), Gold Poomsae
2005 Canadian National – Silver (welter), Gold Poomsae
2004-05 Male Athlete of the Year – Tommy Smart Cup Winner
After graduation, he continued to perform at a high level and won the following competitions:
2006 Canadian National – Bronze Poomsae
2007 Canadian Pan AM Games Team Trial – 4th
When I met him this weekend, he was kind enough to accept my request to interview him despite his many other obligations.
Here is some background information about Lt John Kim:
Full Name: John Kim
Home town: Toronto
Unit: Lord Strathcona's Horse (Royal Canadians) aka LdSH(RC)
Current Position: Troop Leader, B Squadron
Year of Graduation from RMC: 2005
SQN at RMC: 9 and 7 Sqn
Studied Program at RMC: Honour's Politics, Minor Psychology
Captain Kim won a silver medal on this particular weekend and the following is the interview with this exceptional Tae Kwon Do athlete.
Q How many years have you trained for?
I started competing at civilian provincial/national circuit in 1996.
Q When did you start TKD?
I started TKD in Korea in 1989. After moving to Canada I re-started TKD in 1993.
You can see from the pattern when I peaked as an athlete. My last two years at the college (04-05) is when I was most successful. You can see the reverse of that as well. As soon as I graduated and began focusing my efforts towards military career, TKD had to be on the back-burner. My not being able to make the podium in the 2006 national was a result of me training on my own between field exercises and career courses in Gagetown. After Jan 07, I virtually ceased all TKD activities once I received my badge as an Armour Officer and became slated for overseas deployment.
Q What have you done since graduating from RMC?
I completed 2 months OJT at Canadian Forces Joint Headquarters in J3 Ops. This enabled me to train in Kingston to compete at the World University Games in Izmir, Turkey to represent Team Canada in Aug 05. At this time, I was nationally ranked #2 in my weight category for TKD. In Turkey, I advanced to the round of 16 defeating a fighter from Peru in my first match. I lost to Iran in the second match who ended up winning silver in welter weight category. I was one of two Canadian fighters who won a match in that competition. The other fighter was Jocelyn Addison. (Records could be found at the FISU website, www.fisu.net). Upon returning to Canada from the competition I immediately got posted to CFB Gagetown at the Armour School in order to complete my phase training. I spent two years in Gagetown completing Ph. 3, Ph. 4, and my tank commander course including my OPMEs. While in Gagetown I continued to train and compete on my own time where I participated and won gold in both poomse and sparring at the 5th International Open TKD Championship in Portland, Oregon in Oct 06. I also competed at the 2006 Canadian National in Halifax where I won bronze in poomse. My last competition was in 2007 where I competed at the Olympic Team Trials in Montreal. I came 3rd in that competition for Olympic 3rd division. I ceased all training and competition after this tournament in order to focus on completing the rest of my military trade qualifications. This was a difficult thing to do for me as I loved TKD but had to make a choice to focus on my career. Although everyday I miss training and being in the circuit, I have found something equally rewarding as TKD, and that is leading troops. I am currently slated for Task Force 3-09 where I will lead troops in a tank squadron in Sep 09.
Ed:  John was just recently promoted to Captain.  Congratulations!!
Q Where are you currently training and who are you training with? How many hours a week do you train in a week?
Any training I do I do by myself, on my own time. I currently have no coach, trainer, or team to train with. It has been this way for me since I arrived in Gagetown after grad. My advice to you: enjoy your time at RMC because it will never come again. I was very pleased and proud of you and the entire RMC team when I saw you compete in Toronto. Keep up the great work!
Q Do you think that being at RMC was helpful for you as an athlete? How did your life at RMC affect your life as an athlete in the military?
My time at RMC was invaluable. The relationships I had formed as team captain while I was there, and equally important, the relationship I had formed with my coach Peter Nicol was what enabled my success. Talent can only take you so far, and I had very little of it. What enabled my success was the support I received from the college and the training staff. In the 4 years I had been at the college, I competed all around the world representing RMC, the CF, and Team Canada. I was ranked #2 in my weight category for two years with 4 gold medals, 2 silver medals, and 1 bronze at the Canadian National Championship.
TKD was, and still is, to me, a martial art before it is a sport. The values I have learned from training and the humbling lessons learned from defeat in competition have all enabled me to become a better leader and better soldier in the CF. There is an article I wrote regarding the values of being a TKD competitor at the college and its greater implications as a combat arms officer in the CF. You may be able to get a better perspective if you take a read. It can be found at the E-Veritas website:
http://www.rmcclub.ca/eVeritas/2005/200504.htm
http://www.rmcclub.ca/eVeritas/2005/200506.htm
Q If you can go back to when you were at RMC, would you have done anything different?
Not a thing.
Q What are the things that you like and dislike about being a TKD athlete/ CISM athlete?
If one was to ask me, "Has TKD at RMC shaped your life or have you shaped TKD at RMC," my response would be TKD has shaped my life. If there is something for me to complain about being a TKD athlete, then it would mean I have something to complain about my life. I am grateful for my having had the opportunity to do something I love doing and bringing greater pride to the college and the CF. I have no right to dislike anything about being a TKD athlete.
Q Which competition was your most memorable? What was memorable about it? Could you tell me some of your personal experience?
Out of all the different competitions I attended around the world, I would have to say that my CISM competition in October 2006 was the most memorable. It took place 18-26 Sep. It was most memorable because it was in Korea. The last time I had visited Hangook before this time was over ten years ago. Not only did I have my most successful CISM fight at the game, I narrowly escaped a bronze medal against Greece, but I also got to spend some valuable quality time with my relatives that I haven't seen in years. I also flew my mom down from Canada as a birthday present and she got to travel and move around with the team throughout the week. Although none of the fighters from the CF came back with a medal, to be able to fight and compete in the country where TKD was founded inspired all of us and brought out the best in us. This was my experience in Korea.
Q How do you prepare for a competition? (Mentally and Physically)
When I was in the competitive circuit, I used to follow a routine which I did every single time before competition. I would plan at least a year in advance a competition to prepare for, usually CISM or Canadian National. That 1 year training plan would then be broken down into segments, with each segment focusing on a particular aspect of the game. For example, months 1-2 would focus on purely physical conditioning (cardio, plyo, weight management, and diet). Months 3-4 would focus on sparring techniques and so on and so forth. The latter part of the training plan sees a shift from the physical aspects of the game to the mental aspects such as concentration, visualization, and simulation.
One of the most important things about training is to have a clear goal. I did a lot of research into sports psychology to understand the road to success followed by other successful athletes. In reality, every athlete has their own taste and style of preparing for a competition. The important thing for one starting out is to find your own style and experimenting. Once you have a set of procedures down in place, apply it to future competitions and analyze if it works. In order for this approach to work, however, you need to have an excellent feedback mechanism in place. This means that you and your coach/trainer must be constantly talking back and forth. The relationship I had with my coach was truly excellent and this is what enabled me to succeed.
As we talked very briefly in Toronto, each experience (it doesn't matter whether you win or lose) has something very valuable to teach us. As smart TKD practitioners, we must take in the lesson that each competition teaches us. Like I told you, I have lost many more games than I have ever won and I hazard a guess that this is a streak that I will never break. I do not let this fact distress me, however, because the greatest lessons we learn are those we learn when we lose. Don't be afraid of losing. Only be afraid of not getting better.
Q Now that you have experiences outside of the RMC boundaries and see the bigger picture, what advice can you give to the student athletes at RMC?
The advice I would have applies to all TKD athletes, but I hope that my message strikes a particular cord with you and your teammates: this is because we are not mere athletes; we are officers in the CF and martial artists first. This carries with it a greater responsibility than just being athletes. It means that you must prepare for life, not just competition. Right now, as Officer Cadets, your world naturally and rightfully revolves around the college. Make the best of it while it lasts because we can never return to our college years once it's done. Remember that sports and physical fitness is only 1 of the 4 pillars at the college. The rest are equally important: academics, bilingualism, and military training. I know the tendency as a cadet is to just get by each day so that it brings us 1 day closer to becoming a senior cadet or 1 day closer to graduation. However, once we leave the safe confines of the campus, reality hits us quick and mercilessly. Use every opportunity you have at the college to Seek and Accept Responsibility. First of all, as officers, we don't brush aside our duties (don't be a ghost cadet). Second, as TKD practitioners, we hold ourselves to a higher standard. Why? We are not just athletes. First and foremost, we are officers and martial artists. Truth, Duty, Valour. Don't let this motto just to be a cliché. Let it stand as something to strive for. When you speak the truth, when you perform your duties, and you demonstrate valour in everyday living, you will become a successful person- this is what I was alluding to when I said that you must prepare for life, not just competition.
Q Anything else you would like to add?
Please pass on my best wishes to the team.
Captain Kim exhibited the qualities and techniques he described during his bouts at the Toronto Open. His actions during the competition reflected his beliefs of being a CF Officer and martial artists first. Watching such an experienced CF athlete in competition motivated me to appreciate each opportunity I have and use them to become a better OCdt and athlete.