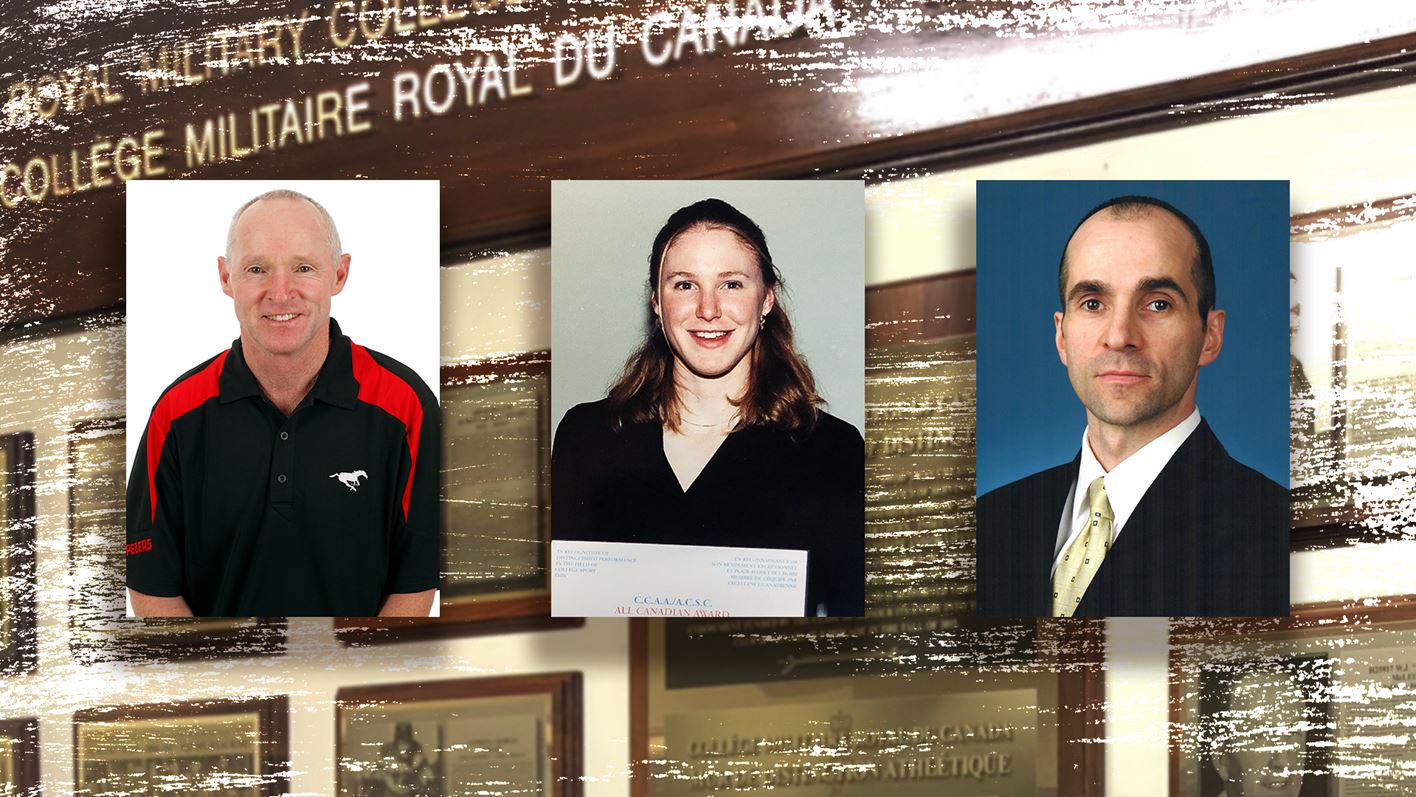 The Royal Military College of Canada (RMC) Athletics Wall of Distinction ("AWOD") was established to honor those who have brought distinction to the Canadian Military Colleges (CMC) through significant achievements and contributions in sport while at a CMC and/or following graduation throughout their athletics careers. The Athletics Wall of Distinction program was conceived of by the Class of 1970 and is supported through an endowment funded by the Class to honour its entry into the RMC Club of Canada Old Brigade in the fall of 2015.
Eligibility
Eligible candidates include former athletes, athletic teams, coaches, administrators, support staff or any other individuals who have made outstanding contributions to the long history of athletics at RMC and other CMC's and/or during their lifetime contributions to sport in Canada.
Nominees are not eligible for induction until five (5) years after completion of athletic competition at a CMC or service as an employee (or coach).
Nominations will remain active for a period of five (5) years if the nominee is not selected in the year in which he/she was nominated.
Nominations are accepted in the following categories:
Athletes:

The athlete's contribution to athletics at RMC should be the primary criteria. The selection for athletes is based on meeting at least one of the following:  All-Canadian in the respective sport; provincial / national champion; significant athletic achievement, such as competing at the Olympic Games or other international level competition; national individual statistical leader; school statistical record holder; conference statistical record holder. Accomplishments outside of CMC will also receive serious consideration for those graduates who have achieved significant honours as an athlete in competition post-graduation.

Teams:

Similar to athletes, a team`s contribution to athletics at RMC should be the primary criteria for nomination, since this is a school-based program. Accomplishments outside of CMC competition may also be considered. The selection for teams is based on their accomplishments, championships won, playoff appearances, league all-stars, etc.

Builders:

Builders can be coaches, administrators, trainers or support staff and will be selected for achieving outstanding success and rendering extraordinary service and leadership. The selection criteria for coaches will be considered in the following categories; career record; provincial / national titles; Coach of the Year; number of championships; length of distinguished service. For support staff the selection criteria will be considered in the following categories; Direction of the overall program during their administration; Facility development; Programs started and (or) developed; provincial and national achievements; Length of distinguished service. Serious consideration will also be given to those graduates of CMC who have made a significant contribution to amateur or professional sport in Canada in the builder's category.
More information can be found here:  https://gopaladinsgo.ca/honors/athletics-wall-of-distinction-mur-de-la-renomm-e-sportive