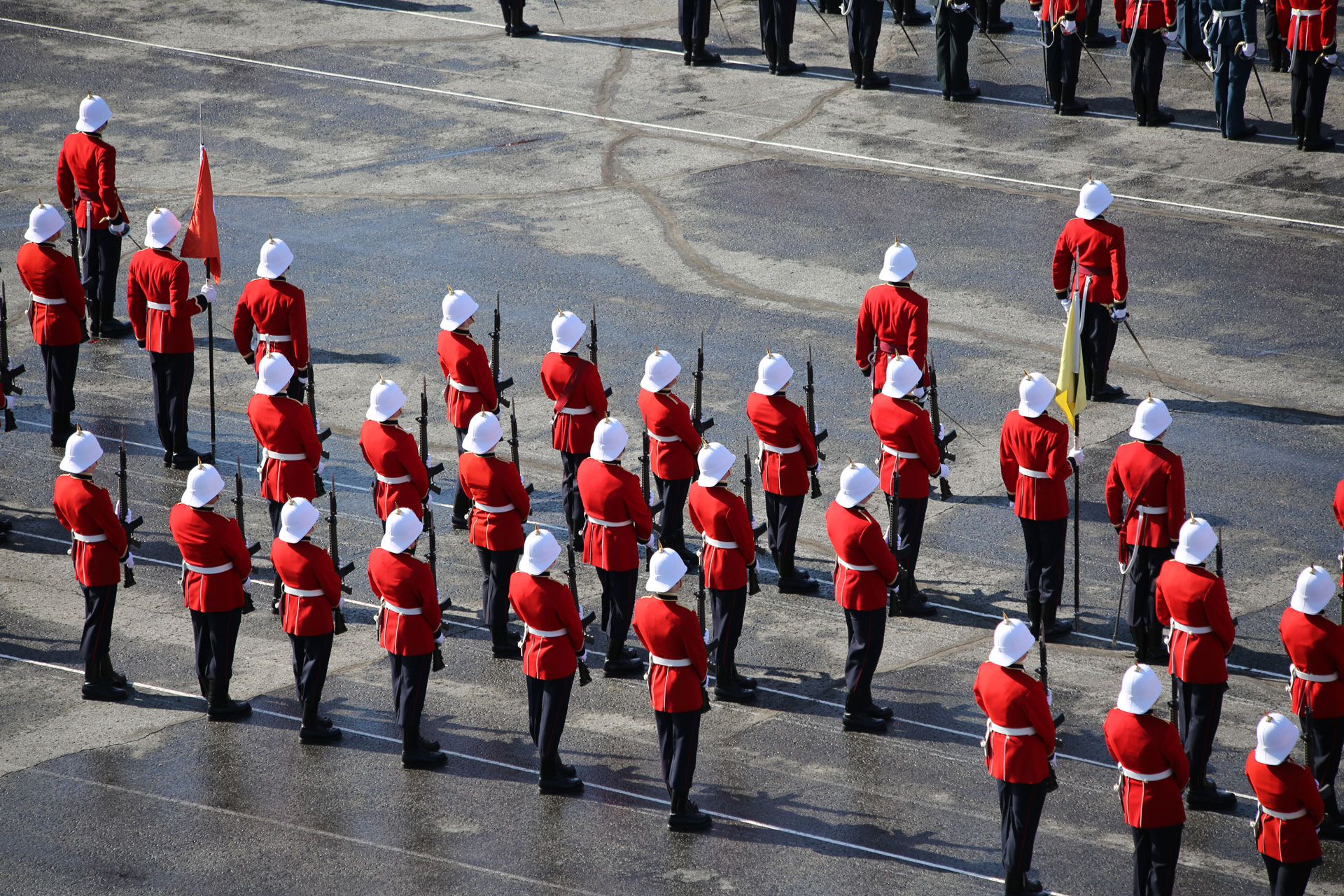 Au Revoir XLII Commandant
12192 BGen TJ (Tom) Lawson became Royal Military College of Canada 42nd Commandant two years ago. He has a pending promotion and will be moving to National Defence Headquarters next week.
During his short time as RMCC Commandant – the Toronto native and CF 18 fighter pilot quickly demonstrated that he had a plan.
He executed the plan to perfection.
As Editor of e-Veritas we have had the opportunity to interact with BGen Lawson on a number of occasions. We found him to be a very sharp and highly positive thinking individual whose wit always sparkles and is a straight shooter. His poise and class is always evident and he never misses an opportunity to heap praise on the faculty & staff – military & civilian.
Recently the former Cadet Wing Commander from the RMC Class of 1979 took time out to share his Commandant experiences with Bill Oliver.
What were your primary focuses when you began in the position of RMCC Commandant two years ago? Did you find that you had to shift direction? If yes, what was the event or circumstances which forced this change?
First and foremost, to provide increased opportunities for senior cadets to practice the art of leadership. Second, to return to a College dress-of-the-day in order to enhance College solidarity and squadron identification, and third, to reduce the numbers of 4th years living off. Although we have reduced the number of 4th years living off, the delay in the renovation of Fort Champlain has delayed the return date for the remainder.
In your two years on campus, what kinds of general observations have you made about RMCC compared to your memories you had while as a cadet and / or a PG student / staff?
Most large events and traditions are alive and well and even better handled than in my time as a cadet. For example, the Reunion Weekend and Obstacle Course are now carried out on a remarkable scale. The engagement of senior CF Generals and civilian leaders at RMC is an order of magnitude greater. And, except for Fort Champlain and Sawyer Building, the college infrastructure is in better shape.
As Commandant you have also been a "Prof" in the Engineering Department – how has that experience worked out? Did all of your students pass?
This was a luxury I afforded myself and an absolute delight to be doing it again after twenty years. You would have to ask the students if it was as delightful, but nearly all of them excelled.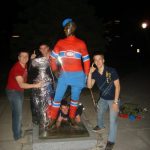 Early on during your tenure you were often on record for encouraging cadets to engage in skylarks. We are aware of many that have gone off very well. Are there any favourites that stick out in your mind?
First of all, I rarely talk about skylarks anymore because cadets quickly catch on to the idea of "useful mischief" and they didn't need much encouragement. I have enjoyed many skits over the last two years, including the painting of the Commandant's fence green for St Patrick's Day. My favourite was perhaps the middle-of-the-night frontal assault on the Residence during the night of the last Legacy Dinner, when the CDS was staying with us. Of course, we heard the cadets scaling the front of the house and saw them reach the balcony outside the bedroom window. When I said, "think very carefully about your next move", they very calmly aborted the mission and made a stealthy and silent get away, waving as they disappeared down the driveway. I'm still not certain what they had in mind.
There are all kinds of construction projects going on within the college grounds. One could even say – mega projects. You must be very excited to see all this work in progress. What, if any, are the associated problems?
Dusty shoes and noisy classrooms, but it will all be worth it for the end result. Revitalization is happening all across CF facilities. It's exciting, heartening and quite inconvenient, but wonderfully exciting.
What other mega projects are in store for the foreseeable future that you can mention to our readers?
We have two large projects being considered in Ottawa and those are the renovation of Sawyer Building and Fort Champlain. The first would provide badly needed facility improvement for the staff and students. The second would allow the return of the remainder of those cadets living downtown.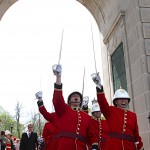 Shortly after arriving in 2007 you ordered the restructuring of the Cadet Wing so that cadets actually command. Two years later and looking back, are you satisfied with the results? What still has to be done to improve it?
I think the last two classes of 4th years have built on each others efforts to fashion an improved model of cadet leadership that we needed, but we have a way to go. Senior cadets complain to me that they perceive a lack of respect from junior cadets, but they are, so far, at a loss how to address this. Interestingly, this would be naturally resolved by a stronger senior cadet leadership model. This will come.
Otter Squadron (UTPNCM) appears to have gone through a number of positive changes and UTs are a lot more visible in military training such as ethics briefings and the recruit camp. Can you tell our readers why these changes took place?
The UTPNCM program will forever swing between more and less involvement with the cadet wing. That's natural and to a certain degree will be a personal decision with each UTPNCM. The big difference is that we have asked our UTPNCM's to become more involved in applying their CF experiences in helping to train the ROTP cadets. This has turned out very well for us and I think they have enjoyed being recognized for this experience.
You've been highly visible at a variety of athletic events. What role do you feel intercollegiate athletics plays at RMCC?
Varsity athletes set a standard of physical training and competition to which all other cadets can aspire. On top of that, they bring to the Cadet Wing the opportunity to experience great College pride. Last year when the women's soccer team beat Queen's in the playoffs, it was a highlight of the term. This year, when the women's basketball team beat York, it was another great highlight. Various other teams, such as Hockey, Fencing, Taekwondo, Running and Rugby are always very competitive. Isn't it remarkable that we do this with 1000 cadets?
You mentioned in your interview with Peter Dawe, in the Fall / Winter 2007 Veritas magazine – "…I believe we have it just about right with varsity sports." What did you mean just about right with varsity sports? Do you make that same assessment on departure?
By "just about right", I meant that we have, by and large, an excellent coaching staff and a balanced program for varsity athletes, but of course there are refinements to be made. This comment was actually a lead-in to my observation that 80% of our cadets, the great majority, are in the IM program and that this program, while excellent, is in my opinion one event per week too few.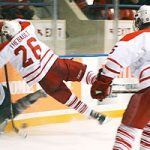 I believe you and key staff members have worked a great deal behind the scenes over the past couple of years, to have the RMC / West Point hockey series resumed? Knowing what you have learned, do you envision this series being resumed in the near future? If yes, why the optimism? If no, why not?
I believe we are very close to finding common ground with West Point to restart the series. I had not, upon arrival, understood the depth of concerns that West Point had regarding where the series had gotten to. I believe the series will recommence in 2011, but with a renewed emphasis on social activities preceding and following the game. This will be how it should have always remained.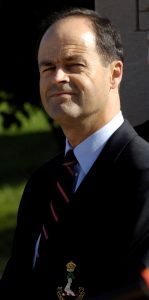 During your time as Commandant you have worked closely with staff from both the RMC Club and the Foundation. What, if anything, would you like to see changed in how the Foundation supports the college; and how the Club interfaces with RMCC?
I'll treat them separately. The RMC Club of Canada provides the college with a tremendous link to ex-cadets and vice versa. I can't think of how to improve what the RMC Club does and I think that the percentage of cadets who join before graduation is indicative of a healthy relationship between the Club and the College. Cadets love the opportunity to attend Branch Dinners.
Through the RMC Foundation, ex-cadets and ex-staff provide the opportunity to enhance the RMC program in so many ways. I know that the stewards of the Foundation seek to commence more significant and large scale projects – the first of these being the Birchall Pavilion which will open in the fall – but I always remind Foundation staff of the importance of the dozens of smaller infusions which make our program top-notch.
There have been at least a couple of times that you may have had to respond to various parties on an e-Veritas article or two (such as our most recent April Fools Day caper). All in all, what is your view of e-Veritas and the service it attempts to provide?
Although the RMC Club has always had a lively and professional publication, it has only been in recent years that the e-Veritas has come into being. In my opinion, it is the single most important link between all those who are interested in the welfare of the College. If I am occasionally called to account for something that has been published in the e-Veritas, this is a small price to pay for the joy and connectivity it brings to thousands across the country and around the world.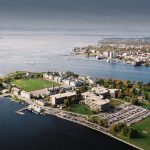 Do you have a favorite place on campus?
A few. The Commandant's office first belonged to Colonel Hewitt and right to today, it remains a room I feel humbled to enter. Similarly, the residence is a wonderful collection of limestone room additions, none more enjoyable than the sunroom from which my wife and I survey cadet activity after hours. Finally, during my morning runs, I am always astounded by the beauty of the RMC peninsula from the vantage point of Fort Henry hill.

What have been the toughest challenges in your position over the past two years?
First, staying ahead of some of the cadets in the electrical engineering class I teach has been a challenge.
And, re-learning how to play the bagpipes has been tough. Also, keeping up with the cadets during the Wing Harrier's was hard. Meeting all of the other challenges has been made easy by the quality of the RMC staff and the faculty.
What have been the most "unexpected" pleasant surprises?
My wife and I have been pleasantly surprised by the willingness of the cadets to engage with us whenever we meet. Either that or they just want to pat the dog. Although the remarkable quality of the RMC band has not really surprised me, the quality of the individual performances during the Talent Nights I have attended has indeed surprised me.
What would you like your RMCC Commandant legacy to be?
It would be a dangerous thing for a Commandant to arrive at RMC with a plan to leave a legacy of his own. The institution is just too big and complex for that. If we were to look back some years from now and attribute some part of the program to refinements from my tenure, I would hope it would be associated with a heightened level of cadet ownership in the program and activities.
——————————————————————————————————————————————————————–
Bienvenue XLIII Commandant

Change of Command parade scheduled for this Friday, 17 July. Following is an article that first appeared novanewsnow.com – July 8, 2009.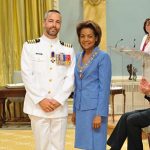 Her Excellency, Michaëlle Jean, the Governor General of Canada recently inducted 15185 Commodore Bill Truelove (RRMC 1985) into the Order of Military Merit.
Cmdre Truelove is the son of Cynthia and Larry Truelove of Milton, and brother of Peter Truelove, Brooklyn, Brian Truelove, Chester, and Cathy, Strathroy, Ont. The ceremony was held in Rideau Hall, Ottawa on June 25.
Cmdre Truelove was recognized with the Officer of the Order of Military Merit Medal for his exceptional service during his 28 years career in the Canadian Forces. On Friday, June 26, the Chief of the Defence Staff, General Walt Natynczyk, promoted Cmdre Truelove to the rank of Commodore. Cmdre Truelove will soon complete his duties as Special Advisor to the Chief of the Defence Staff and will assume Command of the Royal Military College of Canada on July 17, 2009.
Cmdre Truelove was born in Liverpool, Nova Scotia in 1963, and enrolled in the Canadian Armed Forces in 1981. He attended Royal Roads Military College, graduating in 1985 with a Bachelor's Degree in Military and Strategic Studies. After graduation, Cmdre Truelove completed his initial naval officer training in HMC Ship's CHALEUR, FUNDY, SASKATCHEWAN and QU'APPELLE. He was then posted to HMCS ATHABASKAN in 1986 where he served as a Bridge Watchkeeper, Navigation Officer and Above Water Warfare Officer. In 1990, he was posted to the Canadian Forces Officer Candidate School where he served for two years as a Course Instructor and member of the Standards and Evaluation Cell.
In 1992, Cmdre Truelove was promoted to Lieutenant-Commander and attended the Operations Room Officer course in Halifax, Nova Scotia. Following the course, he was posted to HMCS IROQUOIS where he served as Deputy Combat Officer and Combat Officer until 1995. During this time, he completed a seven-month deployment to the Adriatic Sea in support of the United Nations Embargo on the former Yugoslavia.
In 1995, Cmdre Truelove was appointed as the Senior Staff Officer Above Water Warfare in Maritime Command Headquarters. He then returned to Victoria, BC in 1997 to assume Command of HMCS CHALEUR. In 1998, he was selected to attend the Canadian Forces Command and Staff College and subsequently promoted to Commander and appointed as Executive Officer of HMCS PRESERVER.
Cmdre Truelove returned to Victoria, BC to command HMCS REGINA from August 2001 – August 2003 during which he deployed to the Persian Gulf for five months in support of Operation Apollo – Canada's contribution to the War on Terrorism. He then commanded the Naval Officer Training Centre in Victoria, BC from September 2003 until June 2004.
Cmdre Truelove was promoted to Capt (N) in July 2004 and completed studies at the Naval War College in Newport, Rhode Island as a student in the Naval Command College Class of 2005 while also completing a Master's in International Relations at Salve Regina University. In August 2005, Cmdre Truelove was appointed as the Canadian Forces Naval Attaché in Washington and subsequently assumed Command of Maritime Operations Group Four in Esquimalt in July 2006. In 2007, Cmdre Truelove moved to Ottawa and assumed duties as the Special Assistant to the Vice Chief of the Defence Staff until July 2008 when he transitioned to Special Advisor to the Chief of the Defence Staff. Cmdre Truelove was promoted to Commodore in June 2009 and is assuming Command of the Royal Military College of Canada on July 17, 2009.
Cmdre Truelove is married to Brenda (Nee Foss) and has two children. His son Anthony is a Maritime Engineer currently in his third year of studies at the Royal Military College of Canada. His daughter Ashley is entering her final year of high school. Source