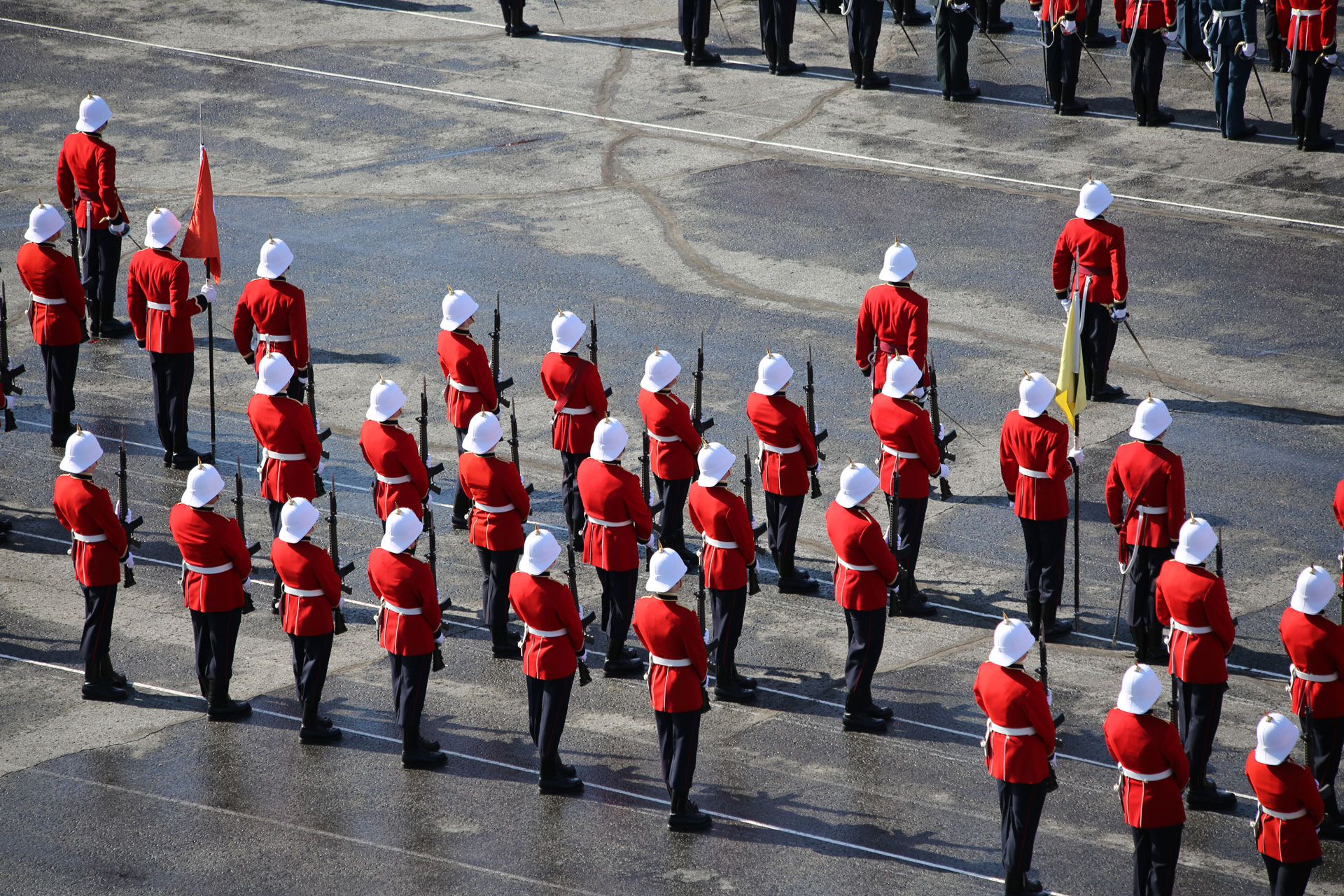 A Visit to the Commandant's House
From left to right: Mrs. Anne Ginn,  Ms. Suzanne Hamilton, BGen Tom Lawson,  Mr. Peter Ginn and Miss Evelyn Constantine
After an absence almost 80 years, two former residents of the Commandant's House recently paid a short visit to BGen. Lawson. No. 621 Brigadier C.F. Constantine, DSO, served as RMC's Commandant from 1925 to 1930. General Constantine and his wife Marie had three daughters; two of whom, along with two of General Constantine's grandchildren, paid a call on the Commandant at the Commandant's House on Wednesday, 28 January.
Mrs. Anne Ginn (nee Constantine) and her younger sister Miss Evelyn Constantine had not been inside the house since their family moved out in 1930 – 79 years ago! Miss Constantine (born in 1922) was too young at that time to have any clear memories; but her older sister, Anne, who was 6 years old when the Constantine family moved in, had some vivid memories indeed. She recalled her parents hosting Cadets in the living room and her mother making her and Evelyn serve the cookies. Anne wasn't happy about that – she'd rather have been off playing. She also recalled that her bedroom was at the south end of the house and Anne had a very clear memory of the long (to a young child-very long!) upper hallway and affectionate memories of her 'nanny,' who had a room in the servants' area at the far end of the hall.  Anne also remembers a certain sleigh ride incident…one of RMC's first "traffic collisions".  Mrs. Constantine was miffed at her husband for some reason so she took the two younger girls out for a sleigh ride, while he entertained cadets' parents in the house. On returning, her mother was driving the horse too fast and in turning into their backyard the sleigh tipped over, causing Mrs. Constantine to hit her head, opening up a nasty scalp wound. Anne can remember running into the middle of her father's reception screaming "Come quick, mommy's all bloody!"
Mrs. Ginn has even closer ties to the College for she was born in Hewitt House in 1919, when her father, then Lt.-Col. Constantine, was the RMC Professor of Artillery.
Accompanying Mrs. Ginn and Miss Constantine during their visit was, Mr. Peter Ginn, Anne's son, and their niece, their neice, Ms Suzanne Hamilton, eldest daughter of Anne's and Evelyn's older sister, the late Mrs Frances Doone Hamilton (nee Constantine).