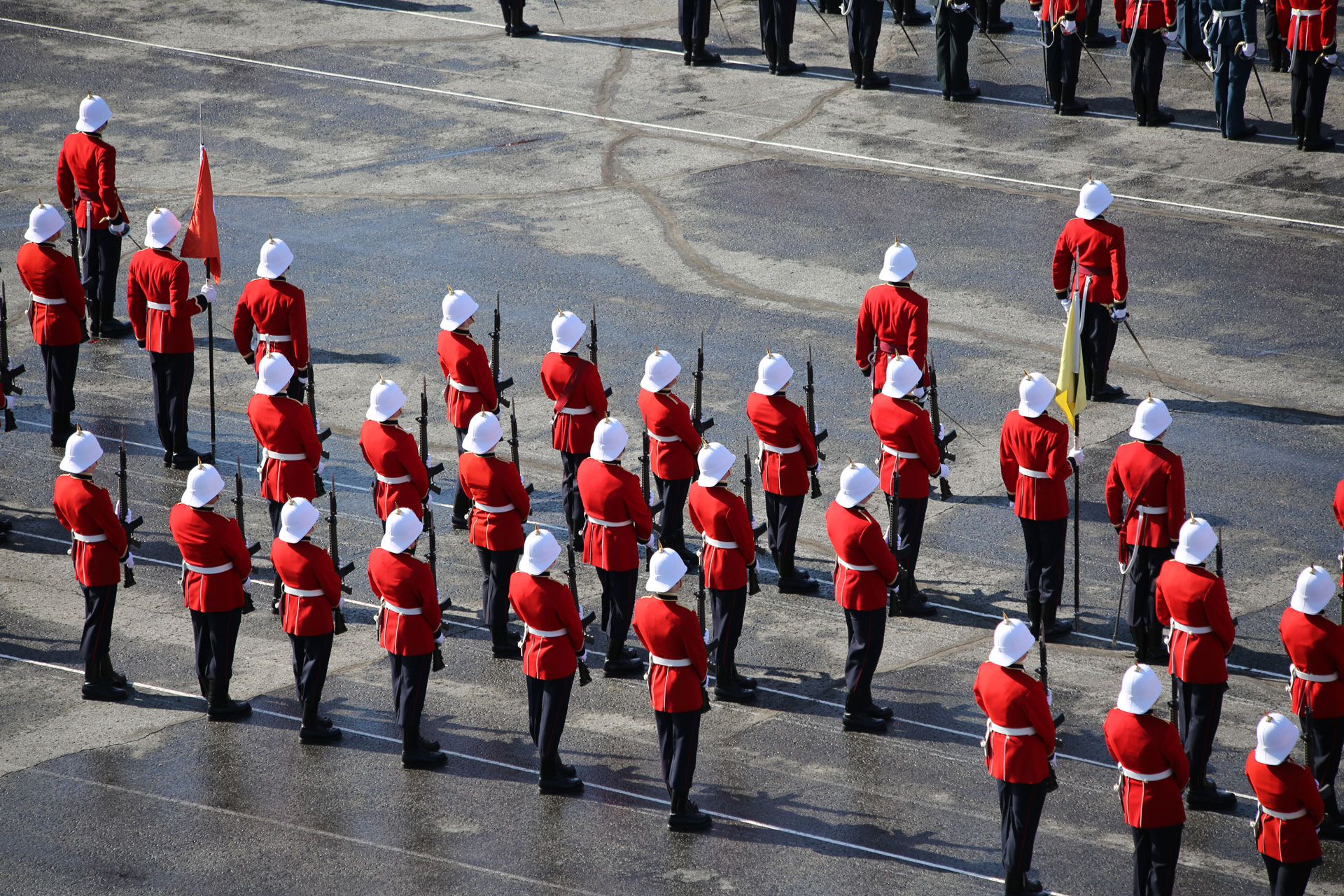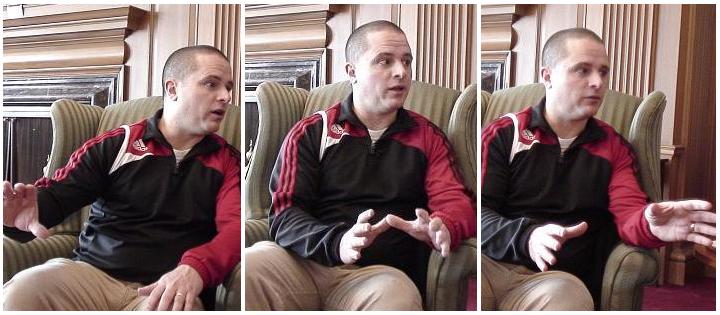 Guy Dube is widely recognized as one of the top varsity sports administrators in Ontario University Athletics (OUA). The popular and soft spoken native of Sudbury, ON is now in his eighth season at RMC, he took time recently to talk with Bill Oliver, e-Veritas Editor about his job and the college sports program.
e-Veritas: What is your academic background?
Guy Dubé: I graduated with an Honours Bachelor of Commerce (Sports Administration) degree from Laurentian University in Sudbury.
e-Veritas: What pertinent athletics related positions have you held prior to coming to RMC?
Guy Dubé: I worked for three years (1997-2000) at Collège Boréal in Sudbury as the varsity / intramural coordinator. This was my first direct exposure to post-secondary sport as an administrator. I started at RMC in June of 2000.
e-Veritas: Why did you decide on a career in athletics?
Guy Dubé: I've always loved sports, and once I figured out I wasn't going to make it as an athlete, which in fairness came pretty early on, I was looking for other ways to get involved in athletics. When I was figuring out what to take in university, I came across the Sports Administration program from Laurentian, and the rest, as they say, is history.
e-Veritas: What are the main duties of the RMC varsity Sports Manager? What two or three things eat up most of your time?
Guy Dubé: My main duties as varsity manager revolve primarily around personnel management and program supervision.
I am responsible for the regular personnel management of all 10 full-time coaches, as well as other full – and part-time varsity support staff.
The varsity program supervision is broken down into several key areas: competition / preparation, athlete recruiting, administration and community relations. Although each individual coach is responsible for these areas within their respective programs, it is my responsibility to ensure that general guidelines and directions are being followed.
e-Veritas: Working in a "military environment" surely has advantages and disadvantages.  What are some of the advantages? Disadvantages?
Guy Dubé: This comes up often when we discuss varsity-related issues with staff at other universities. A good example of one of our advantages is that we don't have to worry about athletes missing practices because of a part-time job. We, for the most part, are able to provide our varsity teams with everything they need in order to properly prepare for competition.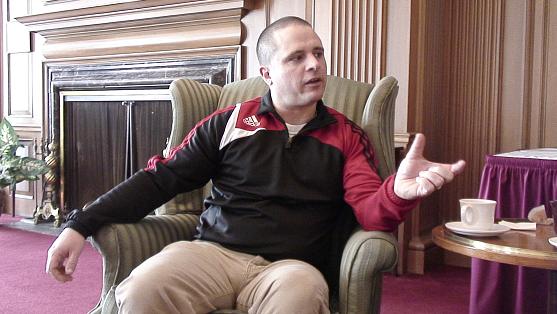 The flip side is that we have to reach compromises with the college in order to ensure the student athletes are taking part in the military training that occurs throughout the year. The greatest impact is felt primarily in the summer, where athletes from other universities have the opportunity to continue training in their sport, whereas our athletes rarely, if ever, get to build on the development they've attained from the previous spring.
e-Veritas: What has been the biggest challenge you have faced during your time at RMC?
Guy Dubé: I would say my greatest challenge has come with being fully involved in the change to the varsity program stemming from the Scott Report back in 2002. We moved from an essentially part-time program, where the majority of varsity teams were either coached by volunteers or part-time coaches, to the current program which features primarily full-time coaches with a mandate of competing at the highest level in the country, and everything that this entails (training, competition, national scale recruiting, etc…).
e-Veritas: What are the biggest sources of satisfaction?
Guy Dubé: As I've always said, dealing with the varsity athletes is my greatest source of satisfaction. We have some truly great young men and women involved with our teams, who often face incredible odds in the name of representing their school and their teammates.
e-Veritas: How important are the wins & losses for varsity teams at RMC?
Guy Dubé: This certainly depends on your perspective. If you're an RMC athlete, I'm sure you are not giving it all you have at practices and in games simply to lose. From the college leadership's point of view, there are various other factors that come into play when assessing the value of the varsity program, such as teaching teamwork as well as the ability to deal with adversity in pressure situations. We work towards achieving both of these goals simultaneously.
e-Veritas: I understand you are part of the OUA Executive.  What is your role?
Guy Dubé: I currently hold several positions within the OUA. I have been co-chair of the OUA Sport Committee for 2 – ½ years now. This committee primarily deals with all issues of sports through the various coaches and convenors, and provides guidance to the Board of Directors of the OUA.
Within this role, I am also a member of the OUA Management Committee, which is the group that helps guide the overall direction of the league.
I've also served as OUA Fencing Convenor for the past 7+ years.
e-Veritas: What is your role in the process on how major sports awards are determined at RMC? Has this changed much since your arrival? If yes, what are the changes?
Guy Dubé: My role in this process has always been that of coordinator / facilitator. I obtain the athlete nominations from the coaches, and I am also a member of the awards selection committee. The latter is really where the only change has taken place since I started being involved. We were finding that in some cases, the selection committee as it was previously constituted was running into conflicts on interests, and the voting process was skewed. We also weren't making full use of our in-house experts, the varsity coaches, in a process that involved evaluating and comparing athletic performances and accomplishments across a wide variety of sports. The coaches are now all involved in the selection process, along with DCdts and DAth.