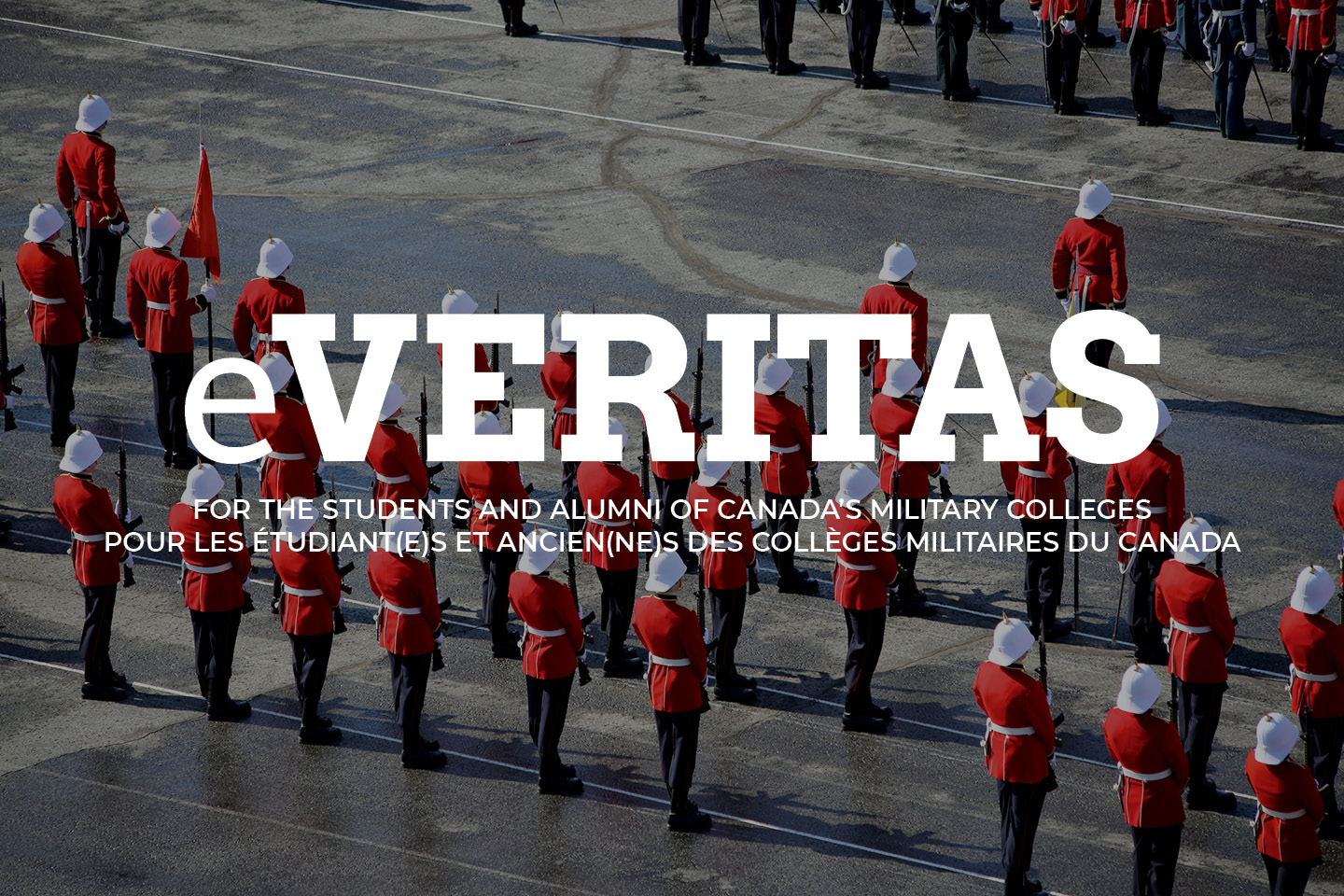 Cadet top performers feted at recreation awards function
Article from various sources
RMCC presented their annual recreation & competitive club(s) awards at a most enjoyable function headed by Elizabeth Gibson – Recreation and Intramural Manager; Craig Palmer – Recreation Coordinator and Ryan Thompson Intramural Coordinator – all PSP staff.
The well attended and popular event was held at the new gym, located in Yeo Hall Tuesday last – 31st March.
A number of the staff – military and civilian attended, including: BGen Meinzinger, CCWO Davidson, LCol Popov, Maj (ret) Bill Oliver, Mr. Darren Cates and CWC OCdt Zach Day.  A number of others had sent regrets due to previous commitments.
MORE
The evening started with the Master of Ceremonies and Cadet Wing Sport and Recreational Officer (CWSRO), OCdt Julien Bouchard welcoming everyone to the event.
This was quickly followed by presentations to the competitive club teams for Most Valuable Player and a second award of the club's choosing.
It only seems befitting that those participants who go above & beyond are paid special tribute by their coach and / or peers.
The following are this year's award winners:
Rowing:
Most Valuable Player: OCdt Matthew Noonan
Dedication and Leadership Award: OCdt Nicole Gignac
Women's Rugby:
Most Valuable Player: OCdt Emily Prosper
Most Improved Athlete: OCdt Victoria Glen
Running:
Cross Country Most Valuable Athlete: OCdt Jordan Vadala
Indoor Track and Field Most valuable Athlete: OCdt Pierre-Alexandre Lacasse
Indoor Track and Field Rookie of the Year: OCdt Andrew Juvonen
Swimming:
Most Valuable Player: OCdt Claire Choi
Dedication and Leadership Award: NCdt Nicolas Swanson
Taekwondo:
Most Valuable Player: OCdt Ann Lee
Rookie of the year: OCdt Antonie Boule
Sailing:
Most Valuable Player: OCdt Mary Valair
Rookie of the Year: OCdt Jessie Dumont
The Club Presidents were also singled out (see photo at the top). The amount of tireless work performed by club presidents often goes unnoticed. It is because of each of these club presidents that the recreational clubs are as healthy as they are. Some examples of trips planned by our clubs this year include; Women's Rugby travelling to Jamaica, Multisport club travelling to Florida, Expedition Club travelling to Peru and CICSA sailing regatta just to name a few.
Most of the away trips were fully or partially funded by the RMC Foundation.
Wrapping up the awards ceremony was the volunteer of the year award. This is given annually to a NCdt/OCdt who goes above and beyond their normal scope of duties for the betterment of their club. This year there were 5 very deserving nominees;
1. NCdt Hannah Harrison – Multi Sport Club
Hannah has gone well above and beyond her duties as Club President. Hannah worked diligently to organize a last minute event in Florida for the club. Taking on the vast majority of the work for the Multisport Club's annual Aquathon, Hannah was able to organize one of the largest winter indoor race events in Kingston.
2. OCdt Scotty Marshall – Sailing Club
OCdt Marshall has been the RMCCYC president for the last two years. Under his supervision he has built a fully functional yacht club. OCdt Marshall's superior technological knowledge coupled with his outstanding personal motivation has been directly responsible for the procurement of almost all of the Clubs assets. Under his leadership, the revenue generated by the club's moorings, as well as the clubs membership is at its highest. Due in part to OCdt Marshall's leadership he has created a community of sailors at RMCC that come together regularly all summer long.
3. OCdt Gwen Jang Naruse – Women's Rugby Club
For the Women's Rugby Club OCdt Gwen Jang Naruse served as this year's Club President and Team Captain. As team captain Gwen has successfully re-established the club into a 7's program and organized a club tour in Jamaica where they introduced rugby to children. Gwen is an excellent Ambassador for rugby and RMC. She was able to facilitate through her volunteer efforts and leadership, a successful year for the Women's Rugby Club
4. OCdt Matt Noonan – Rowing Club
Acting as Club President for his second year Matt has continued to successfully help the growth of the club. He initiated a joint competition with West Point and organized the head of the fish regatta in Saratoga, NY. Through Matt's leadership he has helped secure new equipment for the benefit of future club members.
5. OCdt Sean Manser – Curling Club
Club President Sean Manser demonstrated impressive leadership and dedication which enormously benefited the club. His organizational abilities were first rate in terms of organizing the Club, recruiting members, conducting meetings and preparation of the budget. He took the initiative to expand upon the recreational curling base by entering men's and ladies' teams into the local garrison curling league. This enabled the club's best players to compete in the league which afforded them a tremendous development opportunity which they had not previously enjoyed. Overall, OCdt Manser led by example and his personal drive resulted in significant improvements to all aspects of the RMCC recreational curling club.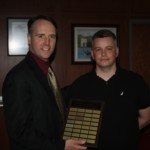 Although any of these 5 deserving athletes could have won the award, one stood out amongst the rest. The winner of the 2014/15 Volunteer of the Year Award went to OCdt Scotty Marshall of the Yacht Club. (photo left)
Highlight of the night was the presentation of this coveted volunteer of the year award.The winner was OCdt Marshall from Otter Squadron.
The commandant, BGen Meinzinger made the presentation.  The soon to be Major General and headed to Ottawa ( late May) wrapped up the event with a short but highly appropriate address to all those in attendance that touched all the bases.
Hats off to the trio of organizers. A fitting end to a great year.
Special thanks:
The Department of Athletics would like to thank everyone involved for their tireless efforts to help make their Recreational Clubs the successes they are. We look forward to seeing non graduating athletes returning for another strong season in 2015/16 and wish nothing but future success to all graduating athletes.
More photos from this event – here