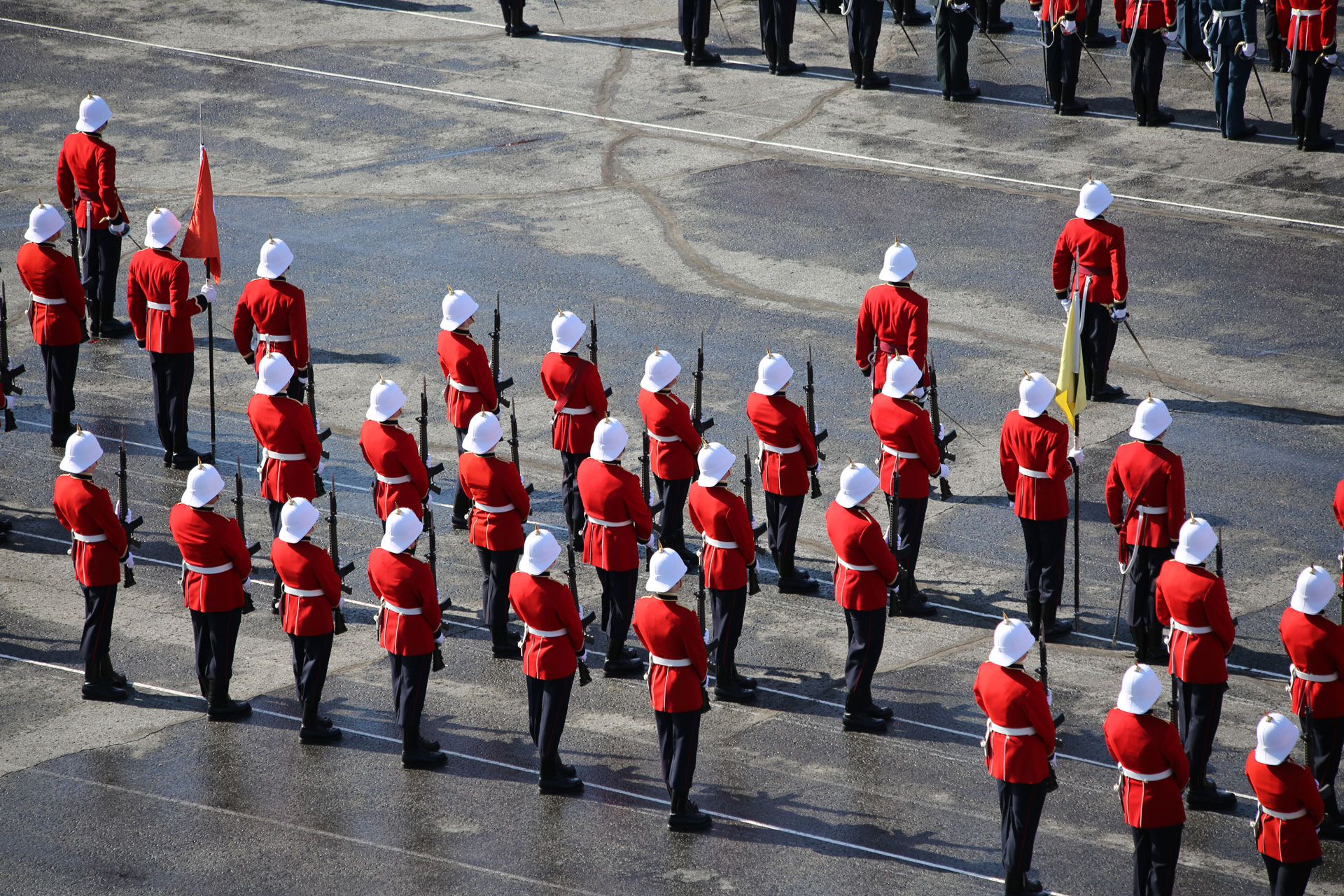 RMC Participation at University of Toronto Model Parliament
This week RMC sent a contingent of 6 members to participate in the U of Ts Second Annual Model Parliament. They were Melissa Chandler, Alex Warren, Eve Bonneau, Kevin Morin, Jean-Luc Plante, and myself, Derek Vanstone. We were all assigned to one of the sitting provincial parties. Kevin and myself were in the PC party and by day two, so were Jean-Luc and Eve after they crossed the floor from the Liberal Party. Alex and Melissa retained their party solidarity and stayed with the NDP party. Each party was supposed to act as realistic as possible unfortunately at times it seemed like the PCs were the only ones actually following their ideologies when the liberals demanded more subsidies and tax breaks for big businesses and the NDP advocated that we create more nuclear energy. The PCs were just trying to do what they always do: privatize and lower taxes.
Although there was a junior contingent of high school students, we did not have much to do with each other besides sharing the same facilities and listening to the same speakers. The Juniors were definitely more rowdy however their display of energy was encouraging.
Our two case studies that we had to write up bills for were 'green energy creation,' and 're-thinking subsidies for post-secondary studies. These were based on real current issues in Ontario politics and society. Energy creation is necessary because in the next 12 years over 50 percent of power generation will have to be renewed as all the nuclear power plants are reaching the end of their lives. Education subsidizing is a real issue in Ontario because tuition prices are so high and many students are having difficulty working with OSAP. There were many creative ideas brought up to combat these problems in the bills proposed by the government.
Once the bills were written up the government, which was being held by the PC Party, they were presented to the chamber, and debated. Once there had been a chance to discuss it we broke into committees and haggled over details. The problem was that the NDP and Liberals were more focused on overthrowing the government than proposing any amendments or realistically debating the bills proposed. It was still a good learning experience and it was enjoyable to learn more about provincial politics and procedure, as well as make friends with other bright university students who have an interest in politics and world affairs.
The speakers were all interesting in their own way and all gave presentations on different topics. The first one was Dr. Adam Chapnick who actually teaches at RMC in the 400 level classes and at the CFC. He spoke more about international relations and touched on creating goals to achieve ends. He explained that there are idealists who have big ideas and pragmatists who have more realistic ideas and together they meet somewhere in the middle to create forward thinking realistic goals. He also explained how Canada is able to take on world problems that other major powers do not want to. For example Canada is very large with many climates so it is a great breeding group for pandemics and therefore were can learn how to battle them and show the rest of the world how to deal with this problem. I did not feel very warm and fuzzy after hearing this part of his presentation and I could not help but relate it to something that comedian Brian Regan had said about being the youngest of several brothers. Basically the way I see it, Canada is the little brother going for a car ride with his family and older bothers. It knows that the big brothers are going to take the good seats anyway, so it pretends that it wants the worst seat in the car; "I call the middle, with my feet on the hump!" We have seen this multiple times in the CF especially. Three of the most famous examples are Vimy Ridge, the Dieppe Raid, and Kandahar Province.
The second speaker was NDP MPP Cheri DiNovo. She touched on the fact that there are scandals in the government and secret laws passed and the country needs to know more about this. She also said that Ontario should follow the example of Scandinavian countries that give free university degrees to all citizens. She believes that education is a right, not a privilege. She said that more education is necessary in order to increase the standard of living. She said that there are more food banks in the GTA than McDonalds'. Her solution to unemployment would be to give everyone a free university degree so that they can get a job and raise minimum wage to a "living wage". Her ideas were very idealistic and sounded very similar to Marx's Utopia where everyone will not pay or sell, but live together in happiness and without any problems. I guess when the NDP take a majority government they can show us how it is done.
The third speaker was MP Peter Kent, Minister of the Environment, and former journalist and broadcaster. He gave an overview of his life as a journalist and how he got involved in federal politics. He explained how journalism has changed over the years and how one might get a job as a journalist. He also promoted working in the civil service as a public servant. He said there are a lot of career opportunities available and it is a wonderful way to serve the country.
The final presentation was given by Liberal MP, Martha Findlay.  She mostly talked about getting involved in politics and that we as young people who are already involved need to spread the word and get others involved too. She spoke of different vehicles one can use to get into politics and said that there is a need for more representation of women and minorities in Parliament.
For all of these presentation is was interesting to hear the questions asked by the potential future leaders of Ontario and understand what they are thinking. It was also interesting to hear the answers from the speakers.
All in all it was time well spent and I hope that the UTMP organization learns from their second event and is able to make next year's event even better. As a former member of Saskatchewan Youth Parliament and the RMC Debate Club it is very easy to criticise a very new organization. There is a steep learning curve for these things and I hope the executive members are able to keep up. I realized that it was almost essential from a military standpoint to insert RMC students into this event because the civilian students were very eager to ask questions about the military and RMC. It is clear that they do not receive much information in their schools, from the media, and from society in general about the military. If we want future politicians to understand the military, support it, and use it to its full potential, then we need to inform the country as a whole what it is we do, and how or organization works. That reason alone would be reason enough for me to attend these events, however the experience and information I take from this event will stay with me for a long time.
24908 Derek L. Vanstone – Cadet Wing Public Information Officer