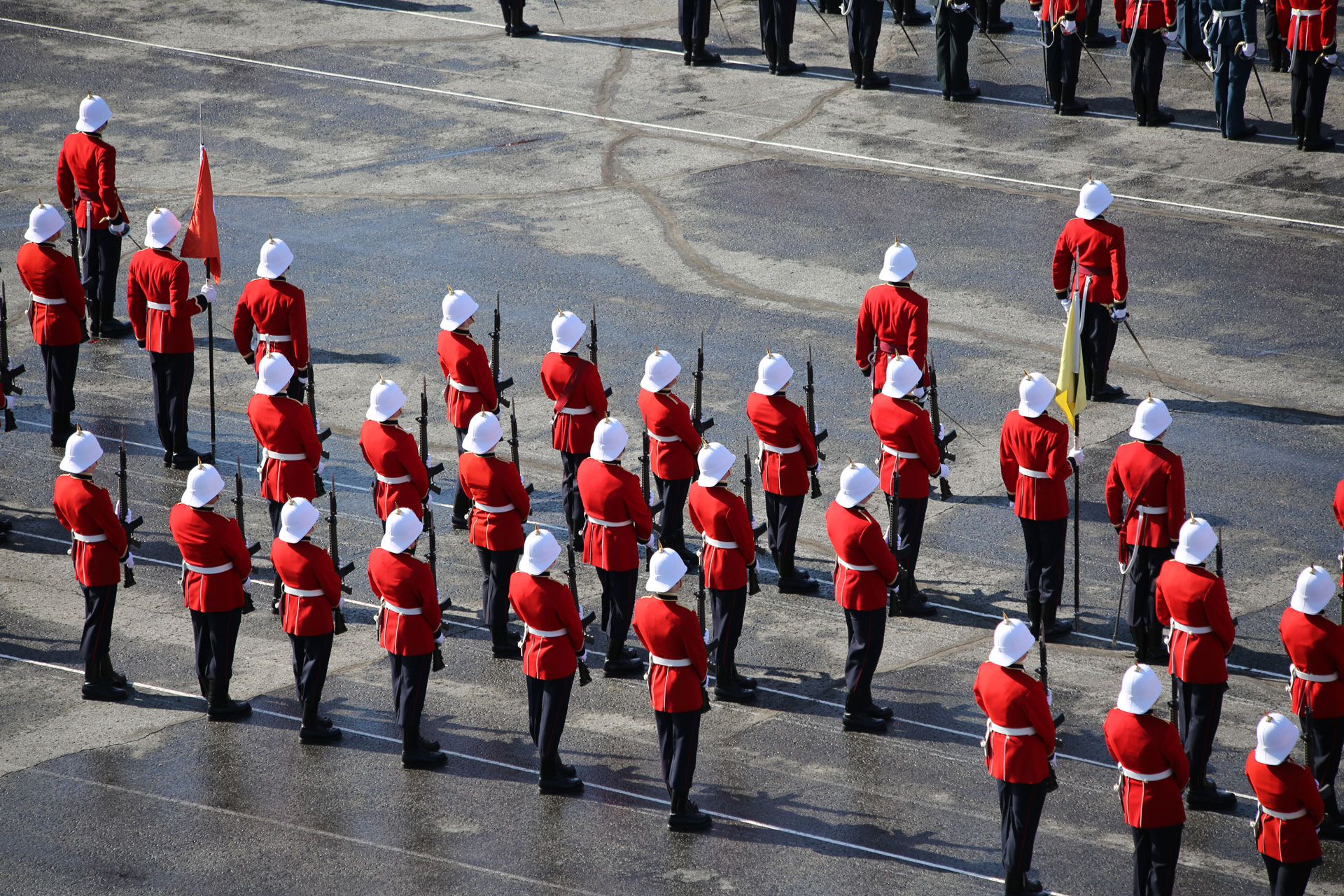 Lost and Found: We need YOUR help contacting Ex-Cadets we've lost touch with over the years
The RMC Club tries to keep track of Ex-Cadets so that we may contact them from time to time to keep them informed of Club events as well as send them Veritas and e-Veritas.  Over the years, people forget to update their information as they move about, and we lose track of them.  Following is a list of Ex-Cadets whose e-mails don't work or for whom we don't have valid phone numbers or addresses.  If you recognize someone and know how to reach them, send us an e-mail at rmcclub@rmc.ca with their contact information or call us at  1-888-386-3762.
Perdus et retrouvés: nous avons besoin de vous!
Le RMC Club tente de "retrouver" certains ex-cadets avec qui, au fil des ans, nous avons perdu le contact. Au fil des ans, certains gens oublient de nous aviser de leurs nouvelles coordonnées lors de leurs déplacements et nous perdons leur trace. Vous trouverez ci-bas une liste des ex-cadets dont les adresses courriels ne fonctionnent plus ou dont nous n'avons pas de numéro de téléphone ou d'adresse valide. Si vous reconnaissez quelqu'un et savez comment les rejoindre, envoyez-nous un courriel à rmcclub@rmc.ca avec leurs données ou appelez-nous au 1-888-386-3762.
LOST: Do you know how to reach them? / PERDUS: Savez vous comment les rejoindre?

2618
Norman Baylay
22975
Matthew Maurice
2821
Allan Wilmot
23052
Laurent Simard-Cournoyer
2911
Edward Day
23056
Bradley Fee
3087
Ronald Roe
23119
Joseph Boates
3121
Victor Ernst
23142
Andrew Davidson
3168
Tom Simmons
23158
Kristina Gray
3198
George Bolt
23218
Louis Oblin
3288
John Hulsemann
23222
Tyler Park
3387
Jeffery Upton
23256
Jesse van Eijk
3443
Charles Jefferies
23364
Ashley Oliver
3561
Louis Chaumette
23382
Annie Sheink
3592
Malcolm Macleod
23426
Shannon Brown
3602
Paul Argue
23506
Garrett Milne
3613
Barry Culham
23513
Cory Niemi
3625
Arthur Wade
23516
Paul Hambleton
3673
John Jory
23539
Jami Leigh Suchan
3705
Marc Walsh
23547
Nicolas Verreault
3744
Allan Dormer
23553
Shing-Fai Yuen
3761
Edmond Lanthier
23557
Alexandru Andrus
3763
Terence Jones
23686
Ryan Thebault
3872
Allan Farrington
23747
Neil Fancey
3914
James Howes
23790
William Natynczyk
3929
JG Buchanan
23919
James Astor-Perrin
4139
Sam Dunbar
23934
Johnathan Fudge
4146
William (Bill) Payne
24000
Cherilyn Dignan
4151
Allan Tattersall
24228
Matt Lorrain
4161
George Viner
25051
Amanda Bray
4230
Donald Wilson
10041
Richard Sanschagrin
4231
Norm Lee
10887
Uwe Spatling
4239
Gordon Whatman
11052
Glenn Bucholtz
4277
William Wood
11249
Robert Durocher
4353
Kurt Reckziegel
11358
Raymond English
4356
Frank Vieni
11375
Rick Johnson
4496
Gordon McCulloch
12458
Pierre Richard
4501
Wallace Steiner
12626
Pudge Townend
4559
William Hewson
12988
Gilles Lefebvre
4588
Robert Kompf
13109
Barry Green
4618
Jack McMeekin
13445
Marc Joly
4659
Georges Bernier
13657
Michael Mckean
4661
Murray Roland
13937
Jbm Savard
4668
Gilbert Ratto
14001
Marc Clark
4736
John Dunick
14060
John Mcnally
4762
Jules Pilote
14322
Sylvain Ménard
4763
Al Way
14578
Dave Kanz
4815
Michael Jackson
14958
Kevin Ferguson
4878
Bruce Buvyer
14967
Isabel Sheets
4897
Dennis Draves
14988
Marc Leblanc
4930
Andrew Kipiniak
14990
Donald Lefebvre
4968
Chuck Smulders
15003
Michael Mckay
4993
Leon Rouillier
15077
Brendon Abram
5003
Robert McLean
15083
Michael Armstrong
5011
GH Lamacraft
15156
John Mooney
5023
Dean Smith
15189
Anthony White
5037
Francois Lalande
15248
Roger Boulet
5081
Andy Chryssolor
15263
Normand Clermont
5087
Claude Cadotte
15533
Lee Larue
5090
André Tremblay
15542
Terry Manion
5110
Cecil Merritt
15569
Paul Romano
5172
Hugh Colquhoun
15572
Nishika Jardine
5333
Gaetan Boyer
15637
Earle Hatt
5381
Raymond Hession
15678
Rk Nickerson
5438
Dennis Reilley
15709
Brad Anguish
5472
James Colbeck
15762
Michel Doyon
5476
Raymond Dziver
15767
Alain Dubreuil
5491
Paul Jefferson
15771
Paul Durst
5560
Robin Fraser
15972
Ranjeet Gupta
5574
Eion Lawder
15981
Tressa Home
5607
Robert Spickett
16000
Kurt Loucks
5616
William Voort
16027
John Plews
5627
Louis Boulanger
16031
Jim Raeside
5678
Michel Besnard
16051
Marc Thibault
5825
John Loye
16416
John Coppard
5907
Wayne Hutchinson
16427
Robert Espey
5957
John Thomas
16470
Richard Neumann
6026
Richard Aubin
16475
Marc Pineau
6131
Robert Fischer
16485
Dennis Rintjema
6142
Larry McDonald
16499
Michael Tollar
6172
James Faulkner
16514
Michelle Marshall
6181
Anthony Halliday
16532
Jr Cosman
6232
Frederick Chapman
16564
Joseph Little
6293
Royston Prichard
16609
Sean Wilton
6522
Alastair Cole
16649
Christian Cecil
6540
John Hilton
16816
Carl Turenne
6592
Robert Beardmore
16834
James Bower
6616
Stephen Crutcher
16886
Darren Mcintyre
6647
Mitchell Kryzanowski
16892
Timothy Paterson
6697
Gary Umrysh
16896
Niels Roggenkamp
6703
Allan Wilson
16925
Alistair Wiggins
6731
Gordon Todd
16926
James Wilkinson
6746
Neil Kleinsteuber
17007
Kevin Riley
6894
Al Burke
17067
Jap Bouffard
6897
David Campbell
17243
Kyle Procter
6922
Peter McCreary
17258
Martin Sill
6948
Mac Wall
17276
Darrin Vallis
6958
John Barker
17277
Ronald-Paul Veilleux
6965
Jim Bird
17302
Michael Bouris
7004
Byron Hinton
17359
Allen Leblanc
7014
Gary Larson
17361
Renato Legati
7079
Cliff Williams
17369
André Melançon
7281
Charles Gale
17410
Garth Werner
7284
Art Grabham
17438
Charmaine Campbell
7309
Jeffrey Sawchuk
17492
Scott Mutton
7336
John Beese
17511
Scott Sheriff
7366
Douglas Hall
17634
Marc Bernard
7373
Helmut Hartung
17686
Nadine Fortin-Mcphail
7383
Calvin Johnson
17746
Emmanuel Paquette
7449
Barry Watkin
17856
Steve Hunter
7646
Yuri Cvitkovich
17930
Peter Tessier
7687
Wayne Pettipas
17961
Ivan Cyr
7723
Paul Beswick
17988
Adam Irvine
7886
Pierre Dufault
17996
Andrew Kiedyk
7890
Robert Mclellan
18068
Denis Berthiaume
7997
Guy Rajotte
18087
Gervais Carpentier
8016
Vaughan Bentley
18095
Sylvain Charlebois
8019
John Carlson
18129
Kevin Foss
8070
David Rothwell
18154
John Hersey
8146
Mel Lee
18182
Philip Langlois
8148
Nick Lundhild
18271
Sylvain Turbide
8241
Michael Caines
18337
Eric Guétré
8317
John Lutes
18347
Norm Hooper
8335
Claude Naud
18607
Sherry Lachine
8366
Douglas Taylor-Munro
18840
D.R. Hilsden
8378
Basil Wheeler
18923
Todd Whitley
8415
Jerald Fryer
18951
Gregory Skotnicki
8429
Glen Johnston
18971
Kai Schmidt
8495
Wayne Douglas
19008
Greg Johnston
8528
Guy Jeffery
19081
Emmanuel Bélanger
8534
Attila Kostya
19106
Daryl Collins
8597
Bob Usher
19270
Josée St-Pierre
8606
Jean-Paul Dulude
19297
Zauher Abdullah
8633
Gilles Brodeur
19316
Douglas Campbell
8667
Peter Flewwelling
19334
Chris Dohn
8743
Magella Potvin
19352
Eric Jol
8760
Serge Sirois
19374
Ted Middleton
8837
Charles MacLennan
19379
Chantal Gray
8856
Brian Pashley
19485
David Saunders
8879
Jim Youngs
19507
Chris Miller
8889
David Caddey
19554
Tim Day
8934
Vince Kennedy
19619
Karine Chayer
9001
Warren Wasylik
19722
Russ Miller
9046
Marc Charlebois
19959
Jeff Hutchinson
9102
Ronald Holdway
19973
Darcy Wright
9113
Gilles Lambert
20040
Jeffrey Ford
9171
Roger Ricard
20056
Andrew Lutes
9390
Ian Malcolm
20059
Jay Stark
9458
Adrien Bérubé
20174
Brad Jones
9493
Berthier Desjardins
20235
Jane Perry
9519
Michel Gonthier
20262
Marie Sirois
9626
Reno Vanier
20298
Peter Blencowe
9731
Garth Walker
20348
Jeff Lewis
9765
Norm Duinker
20458
Mark Togher
9860
William Werny
20461
Tom Hughes
10022
Jean-Marc Pigeon
20501
Perry Comeau
10048
Geoff St-John
20550
Dominik Breton
10129
John Jussup
20681
René Savoie
10155
Gregory Mitchell
21010
Ryan Fitzgerald
10171
Robin Saunders
21340
Nanci Chagnon
10261
Rick Liss
21398
Evelyn Kotzer
10263
Donald Lovell
21478
Trevor Judd
10301
Dennis Shaefer
21479
Dylan Kerr
10383
Edmond Chiasson
21520
Gordon Roy
10445
Jean Lord
21525
Philippe Sauvé
10555
Boyd Foster
21533
Jeremy Small
10569
Gary Hook
21623
Pierre Chouinard
10587
David Long
21631
Robbin Dove
10612
Richard Primorac
2171
Wallace Maclean
10633
Henry Van Keulen
21711
Stéphane Thivierge
10639
Glenn White
21725
Diane Baldasaro
10673
Brian Edlund
21731
Kristina Bois
10677
Randy Evanchuk
21745
Brendan Clancy
10683
Kim Grant
21758
Robyn Domina
10700
Graham Keene
21817
Katie Mckenzie
10732
Mike Pacey
21822
Walter Michalchuk
10812
Andre Chiasson
21843
Jeff Ross
10815
André Corriveau
21849
Michael Sampson
10859
Benoît Marcotte
21881
Joshua Yanchus
10914
Bradley Bergstrand
21941
Slade Crooks
10960
Joseph King
21948
Daniel Denis
11052
Glenn Bucholtz
21953
Jakob Einarson
11097
Brett Johnson
21960
Marie-Pierre Gadbois
11103
Denis Kolba
21972
Sylvain Godin
11144
Charles Shawcross
21983
Karen Higuchi
11176
Conrad Bouchard
22048
David Mcclure
11356
Paul Downie
22082
Mylène Roy
11431
Roger Walmsley
22119
Benjamin Thomson
11434
Paul Ward
22134
Stephen Wilson
11532
Ken Mislan
22139
Thomas Wyand
11540
Glen Nordick
22181
Jason Quilliam
11582
John Willow
22216
Daniel Noonan
11607
Louis Allard
22234
Michel Talbot
11646
Marcel Duquette
22242
Isabelle Bergeron
11714
Denis Rouleau
22252
Gregory White
11735
Steve Allan
22265
Richard Schmidt
11841
John Stecyk
22304
Patrick Perron
11842
Peter Straubel
22325
Jason Knickle
11962
Alfred Smith
22342
Daniel Walters
12022
Jacques Bolduc
22354
Christopher Hoffman
12179
Robert Hills
22357
Kevin Judd
12207
Kevin McCarthy
22368
David Johnston
12283
Keith Gladstone
22394
Kevin Hastey
12355
Ian Yeates
22415
Kristina Joanis
12449
Richard Milot
22429
Alexander Watts
12503
Jocelyn Boucher
22448
Peter Sargeant
12624
Claude Tourigny
22464
Melanie Lake
12625
Arthur Touw
22502
Sébastien Paradis
12653
R Davis
22512
Blair Mcnaught
12656
Douglas Doyle
22541
Frédéric Létourneau
12666
Richard Harris
22555
Dominic Dion
12693
Edward Marak
22579
Benjamin Lafave
12708
Ian Poulter
22645
Alex Kim
12720
Cornelis Steenken
22676
Catherine Brassard-Gagnon
12809
Andre Fournier
22700
Serena Gundy
12818
Daniel Gregson
22744
Patrick Gélineau-Roy
12858
Dominic Prud'Homme
22745
Alanna Byblow
12903
Henri St-Martin
22750
Michel Lebouthillier
12984
Stephen Laplante
22751
Jenifer Paquet
13013
Yves Pelletier
22765
Cameron Fancey
13030
Yvan Robichaud
22767
Kreager Graham
13068
Peter Atkinson
22772
Laura Mcmanus
13070
Luc Barbeau
22802
Bjorn Lagerlof
13078
Daniel Blain
22821
David Conan Mcleod
13107
Chrys Forest
22830
Geoffrey St Germaine
13113
Claude Hebert
22846
Bradley Rathbun
13139
Mitchell Macleod
22855
Nathan Carreiro
13150
Rob Morrow
22868
Rebecca Wilkinson
13169
Vincent Reynolds
22870
Jay Yates
13177
Normand Scantland
22875
Melissa Dupuis
13220
Conrad Greer
22886
Marc-André Sivret
13230
Ryan Jestin
22894
Lauchlin Maclean
13285
Alan Stewart
22896
William Oldford
13419
Yvon Gaudreau
22898
Nicholas Wheeler
13602
Gary Bush
22920
Kevin Wey
13615
Pierre Derome
22946
Cynthia Treskin
13661
John Moffet
22952
Adam Watkins
13666
Steven Noonan
22975
Matthew Maurice
13709
James Atkins
22984
Matthew Russell
13738
Chris Hadfield
22995
Stephen Latwaitis
13778
Paul Pelletier
23043
Françoise Blanc
13983
Richard Atwood
23053
Maxime Mardini
13991
Frederick Bigelow
23077
Adam Thibodeau
14001
Marc Clark
23092
Kareen-Kate Montambault
14016
Richard Fawcett
23111
Steven Barfoot
14261
Richard Gravel
23114
Peter Beitz
14312
Tony MacIver
23144
Dana Dempster
14354
Patrice Rondeau
23153
Robert Fleet
14391
Al Ayotte
23197
Stephen Maclean
14406
John Chess
23215
Crystal Myers
14414
Donald Demers
23219
Quinton Oliviero
14497
Frederick Schumacher
23222
Tyler Park
14516
Ali-Khan Hussain
23260
Ryan Wicks
14598
John Moloney
23277
Guillaume Beauce
14601
Doug Morley
23325
Sheila Haiden
14607
George Pankiw
23366
Ji-Hwan Park
14786
Michel Leclerc
23376
Leslie Rediger
14930
Les Broderick
23393
Tiffany Ticky
14986
Carol Werner
23408
Gabriel Hansel Packer
15003
Michael McKay
23420
Natasha Bolduc
15004
Karl Michaud
23442
Lauren Flaherty
15117
Ted Giles
23460
Jared Harnish
15152
Scott McVicar
23488
William Lofgren
15154
Barron Meyerhoffer
23504
Michal Mendyka
15228
André Beaulieu
23509
Thomas Murphy
15230
Robert Beauregard
23514
Christopher Niewiadomski
15241
Pierre Bouchard
23559
Stéphane Arsenault
15392
Martine Martin
23563
Kendra Bencun
15429
John Pinsent
23564
Kim Beriault
15473
François Viens
23571
Marc-André Brassard
15546
Jim McEwen
23577
Gabriel Chassé-Jean
15569
Paul Romano
23584
Jacques Cyr
15589
Geoffrey Wilson
23585
Marc-André Dagenais
15635
Douglas Greenfield
23586
Patrick David
15646
Ryan Johnson
23589
Yohan Desjardins
15688
Marc Shaw
23592
Marie-Josée Diotte
15720
Sylvain Bigras
23593
Eric Doucet
15757
Gerald Demeules
23602
Maxime Gaudreault
15867
Christian Ouellette
23604
Tawfiq Ghadban
15901
Karl Saad
23606
Christopher Greaves
15990
HP Kissmann
23608
Adam Gushaty
15993
Gaston Lamontagne
23622
Hans La Pierre
16008
Paul Miller
23624
Jean-François Labonté
16041
Michael Sekerka-Bajbus
23626
David Lacombe
16048
Julie Famularo
23627
Grégoire Laforce
16068
Todd Balfe
23628
Jean-François Lamarche
16086
Spencer Fraser
23634
Joseph Lynch
16113
Eron Main
23635
Erick Macdonald
16147
IB Stewart
23638
Marc-André Martin
16202
Bruno Carpentier
23639
Jonathan Martineau
16330
Luc Nadon
23640
Geneviève Massicotte
16346
Francois Perron
23646
Kevin Mclellan
16538
Wayne Eyre
23648
Gregory Millican
16579
Heather MacCharles
23652
Pascal Newby
16586
Scott Ross
23653
Pierre-Luc Nicolas
16662
Stéphane Corbin
23662
Alexandre Pedneault
16707
Darren Hawco
23670
Jonathan Richard
16743
Henri Legros
23685
Martin Tetreault
16828
Gregory Bain
23692
Leah West
16835
Robert Boyd
23693
Adam Wilson
16840
Norman Brownstein
23705
Natalie Jones
16890
Kevin Norton
23718
Nigel Allan
16936
Steve Andrec
23719
Eric Andrews
17002
Warren Prokopiw
23727
Jean-Louis Boudreau
17017
Barbara Pierce
23728
Kimberly Ciesinski
17077
Bernardino Camba
23734
Morgan Burn
17153
David Hiscock
23736
Adrian Carpenter
17156
Danny Jean
23738
Michael Cheung
17223
Madonna Mushrow MacIsaac
23742
Nicholas Cregan
17278
Élizabeth Vézina
23743
Blair Crosby
17299
Edward Bennett
23745
Nicholas Deloyer
17309
Derek Buxton
23753
Patrick Goulard
17326
John Dullaert
23755
Anne Gray
17347
Jillian Bishop
23763
Jordan Hons
17355
Anthony Kepczyk
23764
Justin Hood
17364
Bruce Martin
23766
Owen Hurley
17389
Todd Smart
N/A

17390
Ronald Sprung
23771
Matthew Keeling
17479
Tory Lopes
23777
Jonathan Lucas
17484
Kirby McBurney
23778
Nicholas Marasco
17541
Paul Dittman
23783
Gregory Mcdonald
17641
Nathalie Boisclair
23784
Craig Mckeown
17644
Rene Bourassa
23792
David Parker
17666
Stéphane Desjarlais
23796
Alex Brandeau
17694
Robert Gionet
23798
Anne Marie Budgell
17755
Pierre Riopel
23805
Sébastien Gagnon
17804
Craig Braddon
23806
Arthur Halpenny
17818
Luc Cournoyer
23808
Nikita Kovaloff
17838
Alan Fitzgerald
23810
Alexandre Lanteigne-Voyer
17877
Tara Lee MacLeod
23814
Guillaume Noiseux-Lauzé
17929
Tanya Koester
23816
Elizabeth Polkiewicz
17974
Sally Fereday
23817
Charles Presley
18139
Yves Gauthier
23821
Paul Runge
18301
Art Ceballos
23823
Corey Shelson
18326
Marc Elrick
23830
Barry Tang
18344
Andrew Hawrylak
23835
David Williams
18499
Derek Miller
23836
Keith Joy
18581
Daniel Bouchard
23838
Phillip Durand
18591
Alain Chabot
23842
Bryan Matthews
18607
Sherry Lachine
23846
Ryan Stanley
18615
Benoit Decelles
23848
Dean Vogelsang
18653
Stephen Goulet
23850
Ellery Burton
18688
Mark Larsen
23883
Myriam-Olivia Busset
18702
Jean-François Martel
23896
Jason Hudson
18735
Philip Ratté
23916
Michael Urbankiewicz
18793
Jason Armstrong
23926
Jonathan Bussey
18808
Damian Brooks
23936
Nicholas George
18814
James Ceraldi
23937
Tyler Gill
18841
Doug Howe
23947
Yves-Étienne Landry
18955
Peter MacSween
23967
William Veenhof
18984
Rod Doucet
23975
Liam Mckeracher
18985
Stephen Carius
23988
Gino Bruni
19025
Andrew Barrett
24003
Colin Dudeck
19035
John Klatt
24005
Nicholas Dunning
19050
Daniel Riis
24013
Jonathan Groten
19081
Emmanuel Bélanger
24017
Pierre-Alban Hery
19209
Paul McCormick
24053
Marc-Antoine R. Parent
19466
Howard Gabert
24062
Andrew Stocker
19485
David Saunders
24071
Keith Woodill
19488
Carolyn Horne
24073
Blake Zazula
19567
Patrick MacNamara
24078
Morgan Oliviero
19732
Isabelle Ouellette
24086
Christopher Gallinger
19735
Mark Parsons
24097
Danielle Mineault
19784
Paul Appell
24106
Charlotte Sully
19819
Paul Dumais
24128
James Lazenby
19862
Lori-Ann Kidman
24138
Julien St-Aubin
19895
Jason Oblinski
24224
Andrew Colpitts
19913
Chris Rumpel
24305
Ian Edington
19960
Sean McDowell
24327
Derek Kaman
19975
Bryan Bedard
24416
Eric Gallant
19983
Cameron Fisher
24677
Brett Sackney
19987
Scott Treadwell
24945
Stephanie Stone
19992
Glen Westerhof
24962
Robert Graydon
19995
Michael Teeple
24977
Alexandru Madularu
20084
Melanie Boudreault
E1115
Al Bugden
20103
Eric Charland
E2742
Douglas Macleod
20110
Isabelle Corriveau
E3244
Andrew Muir
20124
Marie Barker
F23927
Johanne Michaud
20140
Michel Fleury
F24103
Ron Scholes
20253
Natalie Robichaud
F254477
Jim Daunt
20295
Kimberly Baker
G1290
David Selnick
20303
Assad Bouayed
H18424
David Ruddy
20381
Eric Plourde
M0066
Bradley Hudon
20432
Aaron Novecosky
M0106
RA Israelson
20598
Jisca Guérin
M0107
Eugene Wessan
20704
Matthew Allen
M0151
Art Vandale
20766
Chris Hunt
M0195
Roman Husiuk
20786
Christian Lillington
M0241
Thomas Wall
20797
Devon Matsalla
M0297
Don Bews
20846
Timothy Scott
M0328
Alan Brooks
20854
Tania Prendergast
M0329
Alan Chilton
21082
Marco Grenon
M0341
Daniel Ferguson
21104
Richard Kinner
M0371
Andrew Shaw
21130
Robert Mason
M0707
Gary Gilbert
21134
Anny Métivier
M0748
William St.John
21136
Marilynn Chenette
M0776
Marc Fricker
21181
Sebastien Thibault
M0776
Marc Fricker
21238
Barbara Honig
M0779
Richard Loewen
21241
Ruth Coates
M0793
Stéphane Hébert
21252
Paul La Hay
M0811
Ken Duff
21262
Aaron Malek
M0834
David Tofts
21276
Scott Murphy
M0841
Todd Pretsell
21355
Erik Folmer
M0841
Todd Pretsell
21495
Andrew Masschelein
M0870
Michel Besnard
21497
Chris McKenna
M0872
Jeremy Cutler
21616
Stéphane Briand
M0892
Jason Healey
21682
Chantal Shea
M0899
Sébastien Carle
21702
Francois Robichaud
M0901
Kathy Ralph
21725
Diane Baldasaro
M0909
Jarrod Campbell
21732
Margaret Bondy
M0910
Stephen Waddington
21753
Jennifer Cullen
M0916
Gregory Fleming
21789
Damon Tedford
M0921
Robert Schofield
21889
Michael Arnot
M0923
Andrew Cullum Cullum
21915
Maxime Britt-Coté
M0928
Robyn Brink Brink
21978
Katherine Haire
M0930
Denis Dorion Dorion
21979
Deanna Harris
M0933
Cory Gillis Gillis
21983
Karen Higuchi
M0958
Jason Kauenhofen
22181
Jason Quilliam
M2818
Malcolm Newbold
22246
Francois Dionne
NL58
Paule Gauthier
22253
Rockwell Cronk
NL84
Amy Maraone
22261
Adam Battista
O0008
Gaétan Coutu
22311
Mitch Rivest
RCNC151
Dudley Thomas Allan
22329
Nathan Schauerte
RCNC185
Mike Martin
22358
Thomas Lacroix
RCNC196
Anthony Ormsby
22384
Allan Thomas
RCNC260
Herbert Thomas Thomas
22388
Adrian Armitage
RCNC306
Alan Rowlands
22424
Rowena Peden
RCNC31
Donovan Joy
22447
Peter Robinson
RCNC330
Ronald McCullagh
22459
Kerri-Ann Iwanonkiw
RCNC41
Duncan McNicol
22493
David LeBlanc
RCNVR8
Donovan Ross Ross
22551
Vincent Chouinard
RRA13
Ronald Fortier
22630
François Morin
RRA17
G Harvey Knight
22671
Mathew Wereley
S121
A.K. Gillmore
22706
Jennifer Mundy
W2542
Madeleine Ostiguy
22722
Tina Benjamin
W3622
Mary-Rose Grainger
22854
Sean Boak
W3900
Christina Smallman-Tew
22892
Jonathan Lafontaine


Albert Geddry
22926
Richard Benjamin