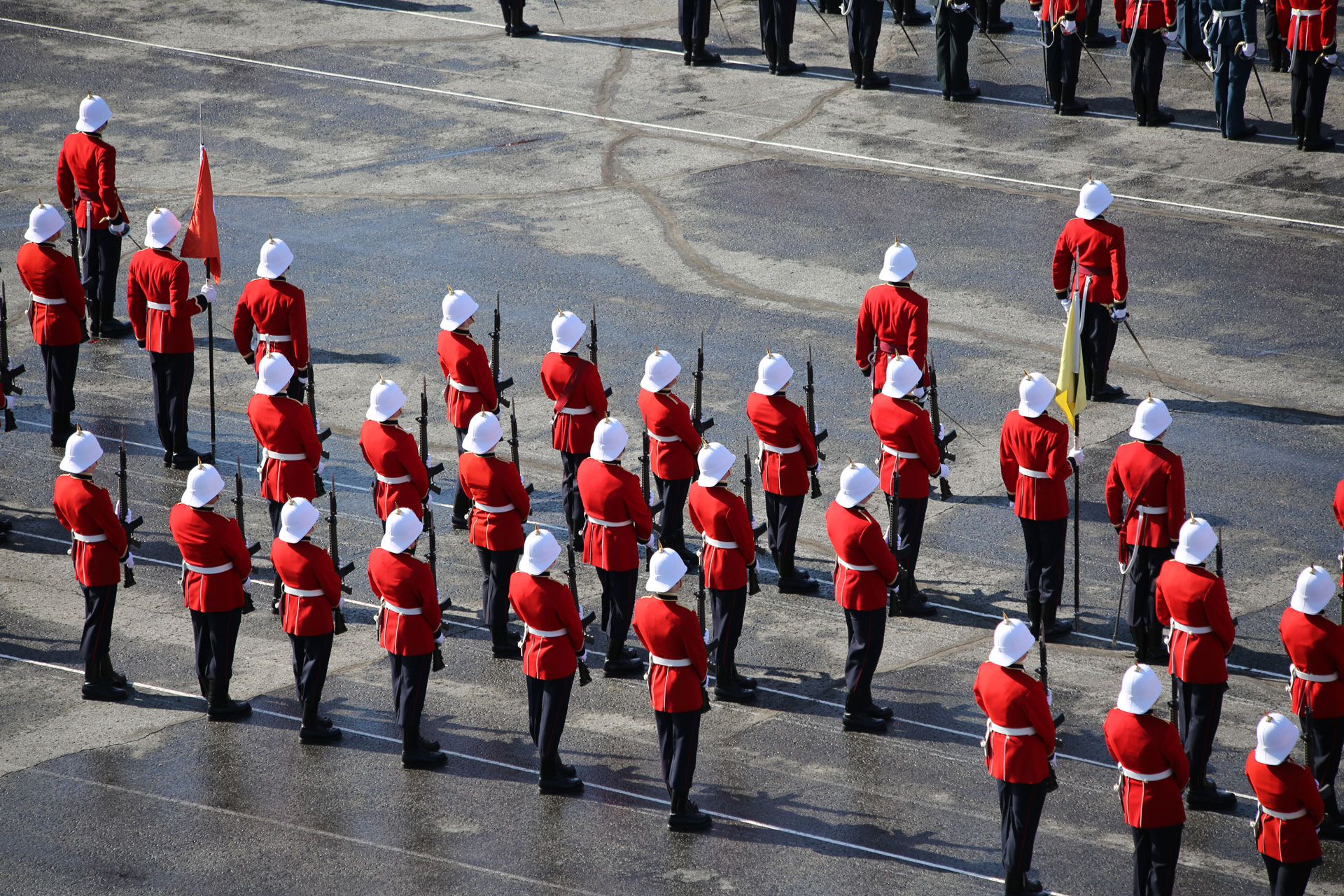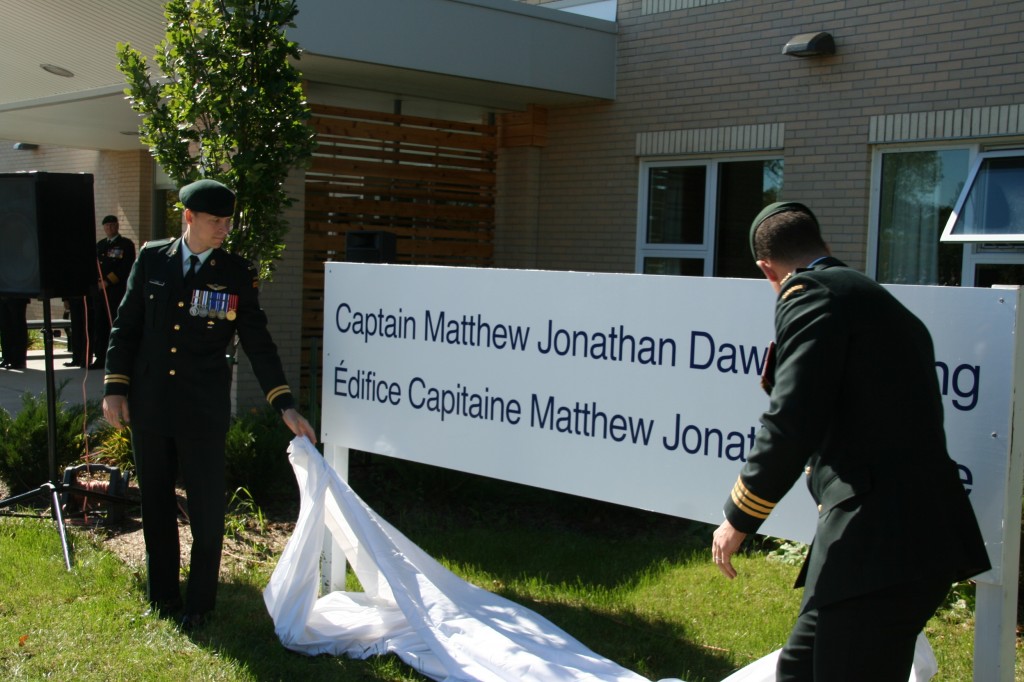 FOR FIRST TIME A CANADIAN MILITARY BUILDING HAS BEEN NAMED IN MEMORY OF A CANADIAN SOLDIER KILLED IN AFGHANISTAN.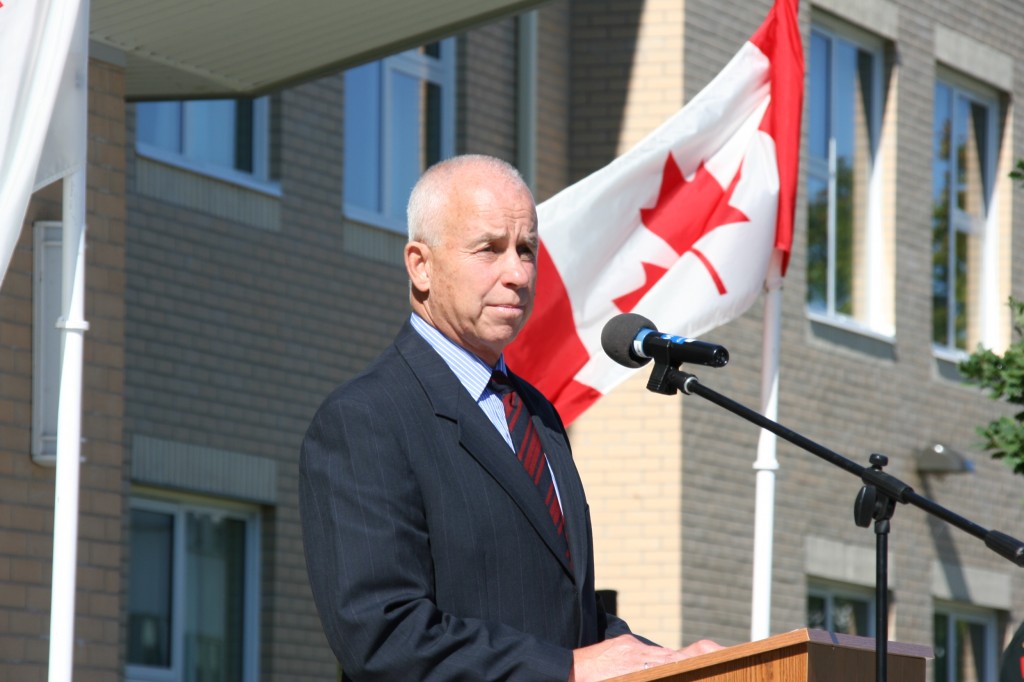 Peter Dawe Address…
"IT IS OF COURSE A HUGE HONOUR FOR MY FAMILY – AND BY THAT I MEAN THE DAWES, THE SAMSONS AND TARA'S FAMILY, THE HEGARTYS. WE ARE FULLY COGNIZANT THAT THIS IS THE FIRST TIME THAT A DND STRUCTURE HAS BEEN NAMED FOR A SOLDIER KILLED IN THE CURRENT AFGHANISTAN CAMPAIGN. I THINK IT IS AN INCREDIBLY IMPORTANT GESTURE AND I WOULD HOPE THERE WILL MANY MORE SUCH GESTURES IN THE FUTURE TO HONOUR THE OTHER FALLEN.
I THOUGHT IT MIGHT BE A GOOD OCCASION TO PROVIDE AN UPDATE OF WHERE WE ARE IN DEALING WITH MATT'S DEATH. IT IS NOW THREE YEARS, THREE MONTHS AND THREE DAYS SINCE HE WAS KILLED IN ACTION 4 JULY 2007 WITH SIX OTHERS – THE COMPANY'S FORWARD OBSERVATION OFFICER CAPT JEFFERSON FRANCIS, MCPL COLIN BASON, CPL JORDAN ANDERSON HIS SIGNALER, CPL COLE BARTCH, 20-YEAR OLD PTE LANE WATKINS AND INTERPRETER HAMID. AND BELIEVE ME WE WILL NEVER FORGET THAT DATE OR THE HORRIBLE EMOTIONS ASSOCIATED WITH IT. ONE CAN SAY THAT WE ARE COPING AS WELL AS ANYONE CAN IN THE CIRCUMSTANCES.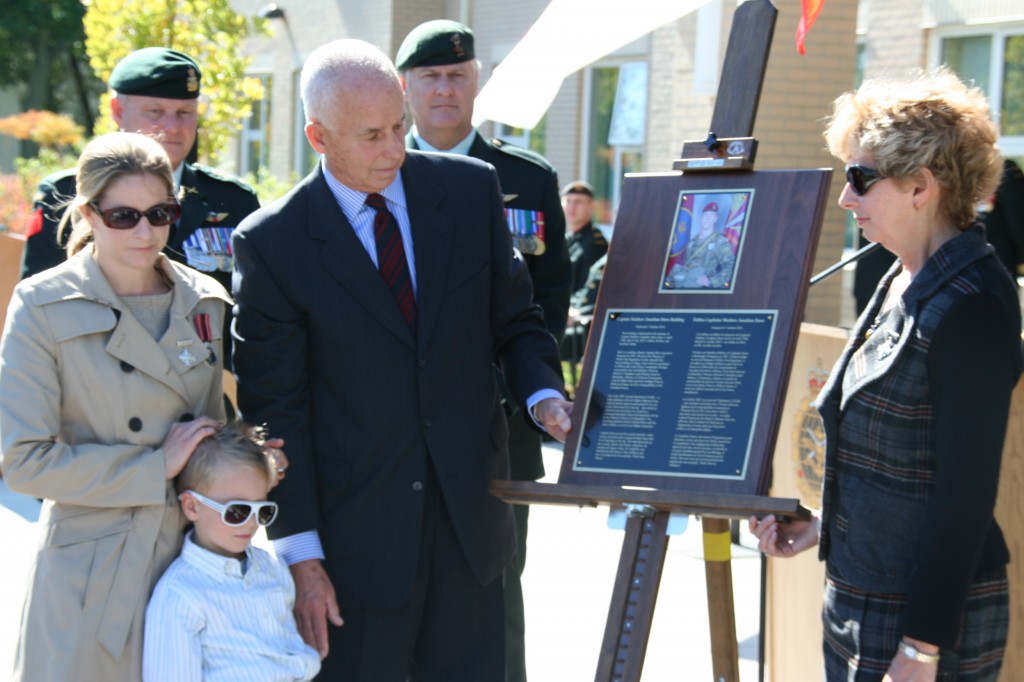 I SEE TARA AS AN INCREDIBLY STRONG AND DETERMINED MOTHER OF LUCAS. SHE IS STRONG BECAUSE SHE MUST SHOULDER THE LOAD ALONE FOR THE MOST PART ALTHOUGH SHE HAS MANY FAMILY MEMBERS IN THE KINGSTON AREA. SHE IS ALSO DETERMINED TO CARRY ON AND TO ENSURE LUCAS RECEIVES THE UPBRINGING HE NEEDS TO THRIVE. SHE IS STOIC AND DOESN'T FEEL SORRY FOR HERSELF. IN SHORT, SHE IS COPING AFTER LOSING HER MAN; THE MAN WHO MEANT EVERYTHING TO HER.
THE DAWES ARE ALSO COPING. WE ALL HAVE OUR MOMENTS. I KNOW REINE AND I SHARE MANY TEARS STILL AND IT DOESN'T GET EASIER WITH TIME. PETE, PHIL AND JAMES ARE ALSO DEALING WITH MATT'S DEATH IN THEIR OWN WAYS BUT HIS MEMORY IS NEVER FAR FROM OUR THOUGHTS, CERTAINLY WHENEVER WE GATHER. I THINK WE ARE A STRONGER AND CLOSER FAMILY BECAUSE OF LOSING MATT. BUT WE ALL REALIZE THAT OUR CASE IS NOT UNIQUE. WE APPRECIATE THAT EVERYONE IS TOUCHED BY TRAGEDY AT SOME LEVEL. SO WE TRY TO DO OUR MOURNING ON OUR OWN TURF. HOWEVER, PEOPLE ARE STILL TELLING US HOW SORRY THEY ARE ABOUT MATT AFTER MORE THAN THREE YEARS SO WE COULD NEVER FORGET EVEN IF WE WANTED TO, AND THAT'S OK.
I THINK WE ARE ALSO COGNIZANT OF THE FACT THAT MATT WAS A SPECIAL MAN AND LEADER. IN THE AFTERMATH OF HIS DEATH WE HAD THE VERY GOOD FORTUNE TO MEET WITH THE SURVIVING MEMBERS OF HIS PLATOON WHERE WE WERE REGALED WITH MATT STORIES; STORIES OF A MAN WHO LEAD FROM THE FRONT IN EVERY REGARD AND WAS LOVED AND RESPECTED AS A RESULT. WE HAVE WITNESSED GRASS ROOTS INITIATIVES TO HONOUR MATT'S MEMORY AND TO BE ASSOCIATED WITH HIS NAME. THERE IS NOW THE PRESTIGIOUS CAPT MATT DAWE TROPHY FOR A GIFTED ATHLETE AT RMC; ONE WHO THRIVES IN ALL FOUR PILLARS. THERE IS A COMPUTER LAB IN THE CIVIL ENGINEERING DEPARTMENT AT THE COLLEGE THAT BEARS HIS NAME AND HAS THREE BULLETIN BOARDS WORTH OF PHOTOS THAT DESCRIBE THE MAN FOR WHOM THE ROOM WAS NAMED. THERE IS THE ANNUAL CAPT MATT DAWE MEMORIAL VOLLEYBALL TOURNAMENT WHERE 20 OR SO JUNIOR HIGH SCHOOL TEAMS OF BOYS AND GIRLS PLAY AT RMC UNDER THE GUIDANCE OF COACH STEVE LEKNOIS AND THE MEN'S TEAM. MY SENSE IS THAT THIS ACTIVITY, HELD IN LATE NOVEMBER, HAS GIVEN REAL MEANING TO REMEMBRANCE DAY FOR THE YOUNG PEOPLE INVOLVED AND, AS IMPORTANTLY, THEIR PARENTS AND TEACHERS. IT HAS TRANSLATED INTO A GREATLY ENHANCED APPRECIATION FOR OUR MILITARY, CERTAINLY IN THE KINGSTON AREA. THERE IS ALSO THE CAPT MATT DAWE AWARD PRESENTED ANNUALLY TO THE GRADUATE AT LASALLE SECONDARY, MATT'S ALMA MATER, WHO BEST EXHIBITS STRONG LEADERSHIP AND THE SPIRIT OF EXCELLENCE IN ALL THINGS. FINALLY, THE CAPT MATT DAWE SWORD IS PRESENTED ANNUALLY AT RMC TO THE FOURTH YEAR COMBAT ARMS CADET, USUALLY INFANTRY, WHO BEST EXEMPLIFIES MATT. THE SIGNIFICANCE OF PRESENTING THE SWORD ON THE SUNDAY MEMORIAL ARCH PARADE IS SPECIAL BECAUSE IT UNDERSCORES THE NOTION THAT GRADUATES WILL BE CALLED UPON TO LEAD IN VERY DIFFICULT CIRCUMSTANCES SHORTLY AFTER GRADUATION.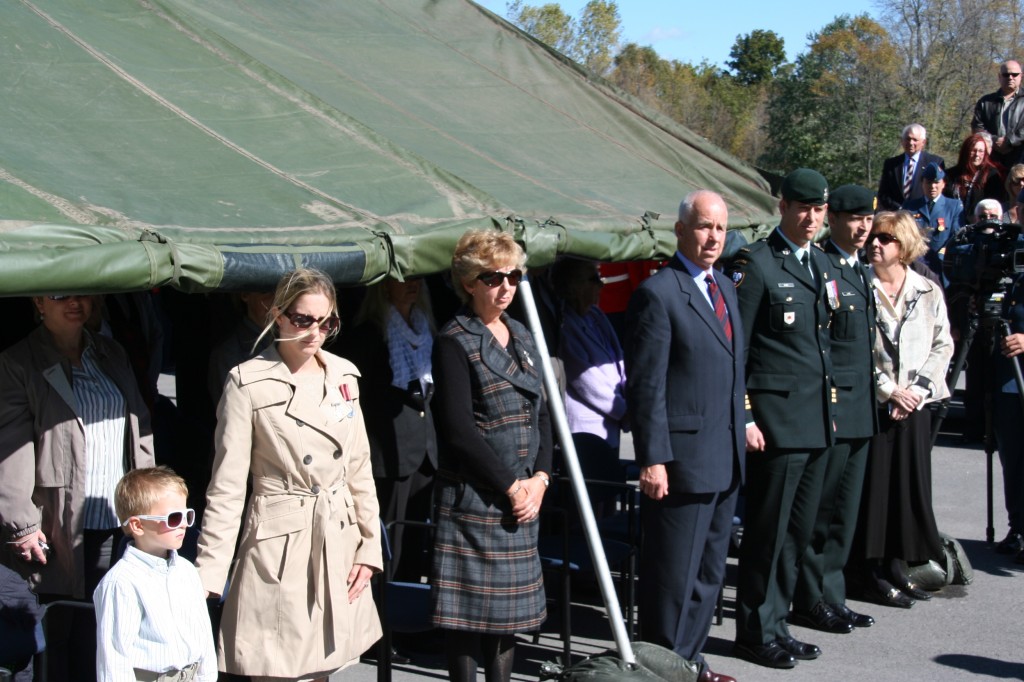 MATT CALLED HOME SEVERAL TIMES IN THE AFTERMATH OF LOSING HIS VERY GOOD FRIEND SGT CRISTOS KARIGIANNIS 20 JUNE 2007. CPL FREDERICK BOUZANE AND PTE JOEL WIEBE ALSO PERISHED IN THE SAME IED STRIKE. MATT WAS REQUIRED TO HELP RECOVER THEIR BODIES AND THEN TO LOOK TO THE WELFARE OF THE REST OF 8 PLATOON AND TO KEEP THEM FOCUSED ON THE MISSION. TODAY, MATT AND CHRIS ARE UNITED AT LAVAL HIGHSCHOOL, CHRIS' ALMA MATER. THIS TOUGH SCHOOL NOW HAS TWO POSITIVE ROLE MODELS AS WELL AS REGULAR CONTACT WITH SEVERAL MEMBERS OF 3PPCLI WITH WHOM THE SCHOOL IS ASSOCIATED. I CAN TELL YOU FIRST HAND THAT MEETING POSITIVE PEOPLE IS HAVING THE DESIRED EFFECT ON THE STUDENT BODY THERE IN NORTH MONTREAL.
SO WHAT?
REINE AND I ARE OF THE OPINION THAT MATT'S DEATH WAS NOT IN VAIN. WE MISS HIM TERRIBLY AND ALWAYS WILL. BUT IT IS HIS LEGACY THAT WILL PROVE TO OUTLAST ALL OF US. MATT'S DEATH AND THOSE OF THE 151 OTHERS SO FAR HAS VAULTED CANADA INTO THE FOREFRONT OF WORLD OPINION, A POSITION WE HAVE NOT ENJOYED FOR MANY YEARS. SO TOO HAS OUR MILITARY REPUTATION BEEN RESTORED. AND IN MY VIEW, THE AVERAGE CANADIAN'S AWARENESS OF THINGS MILITARY AND THE NEED FOR CANADA TO DO THE RIGHT THING IS AT A LEVEL NOT SEEN IN DECADES. THE HIGHWAY OF HEROES IS BUT ONE EXAMPLE OF THE RESPECT ACCORDED OUR MILITARY.
IT REMAINS ONLY TO THANK THOSE RESPONSIBLE FOR BRINGING US TOGETHER TODAY. BASE COMMANDER COLONEL RICK FAWCETT, LCOLS KIRK GALLINGER, AND PAUL HENAULT, AND MGEN DAVE FRASER ALL PLAYED KEY ROLES IN MAKING THIS HAPPEN. HOWEVER, AND AT THE RISK OF EMBARRASSING HIM, THE PRINCIPAL DRIVING FORCE BEHIND THE PROJECT IS COLONEL SPIKE HAZELTON. SPIKE WAS BASE COMMANDER KINGSTON WHEN MATT WAS KILLED. THE INCREDIBLY GOOD TREATMENT WE RECEIVED IN THAT TERRIBLE PERIOD WAS MAINLY DUE TO HIM WITH HIS ATTENTION TO EVERY DETAIL AND CAREFUL EXPRESSION OF HIS CONCEPT AS TO THE LEVEL OF SUPPORT TO BE ACCORDED. AND DID I MENTION IT WAS HE WHO ORIGINATED THE IDEA THAT A BUILDING BE NAMED FOR MATT. NO LONGER WITH THE BASE AND NOW FLUENTLY BILINGUAL, N'EST-CE PAS SPIKE?, SPIKE ONCE AGAIN TOOK UP THE CHARGE TO GET THIS NAMING CEREMONY UNDERWAY. WE WILL ALWAYS REMEMBER THIS ACT OF RESPECT AND KINDNESS. AND WE WILL ALWAYS BE GRATEFUL TO THE MANY WHO ASSISTED IN MAKING THIS EVENT COME TO FRUITION.
LUCAS AND I WILL COME BACK REGULARLY SO THAT HE CAN SEE WHAT HIS DAD MEANS TO CANADA. NOT NECESSARILY A HERO, MATT WAS CERTAINLY AN INSPIRED LEADER RESPECTED BY THE PEOPLE WHO COUNT MOST….HIS PLATOON. I THINK THAT WO IAN LONG, AND MCPLS GUIMONT AND ROSENTRETER (ROSIE) WILL ATTEST TO MATT'S STRENGTHS IN INCREDIBLY DIFFICULT CIRCUMSTANCES. THE PLATOON'S MOTTO WAS "1-2-CAN DO". IAN LONG TELLS ME THERE WERE TIMES WHEN HE WISHED MATT WASN'T SO QUICK TO JUMP IN TO SEE THE MISSION ACCOMPLISHED BUT THE PLATOON DERIVED A GREAT DEAL OF PRIDE FROM THEIR REPUTATION AS DOERS. REINE AND I ARE INCREDIBLY PROUD OF WHO MATT WAS AND FEEL MOST FORTUNATE TO HAVE KNOWN HIM FOR THE 27 YEARS HE WAS HERE. MY SENSE IS THAT HIS SON LUCAS IS ALREADY ON TRACK TO REPLACE HIS FATHER AS AN INSPIRED ATHLETE AND SCHOLAR WITH A NON-STOP SENSE OF HUMOUR, A DEVELOPED SENSE OF CARING, AND THE DRIVE TO TAKE ON CHALLENGES AND TO SEE THEM COMPLETED WELL. MATT WILL ALWAYS BE WITH US AND THIS BUILDING IS AN IMPORTANT PHYSICAL REMINDER.
THANKS TO ALL WHO HAVE MADE THIS DAY POSSIBLE AND THANKS TO ALL OF YOU WHO HAVE TAKEN THE TIME AND MADE THE EFFORT TO BE HERE TODAY"    dawe-p@rmc.ca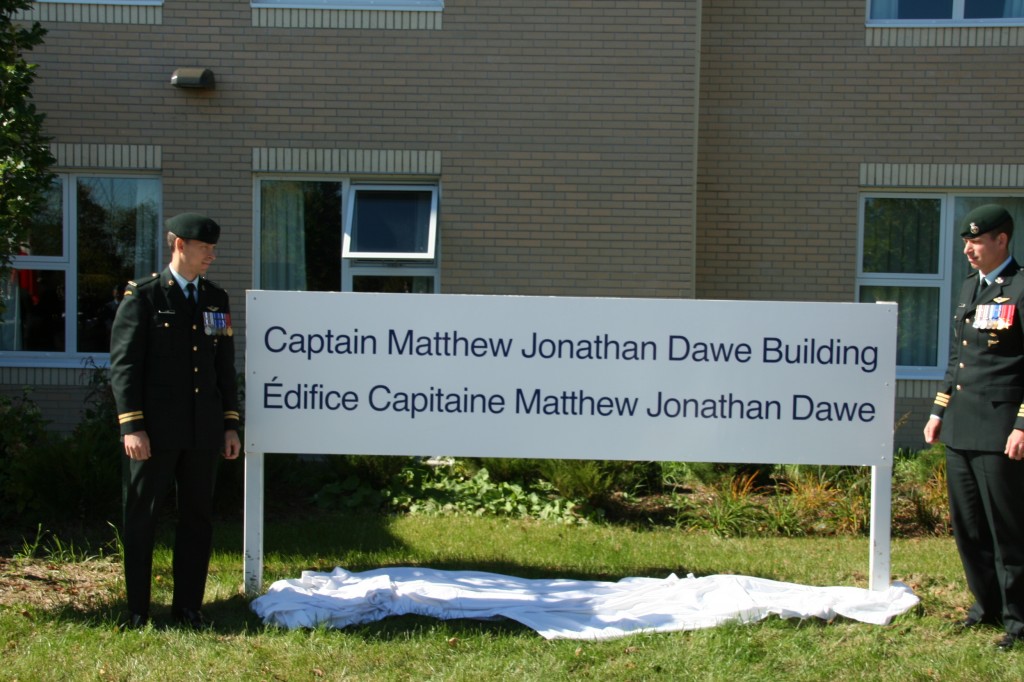 Photos: Dan Fleming