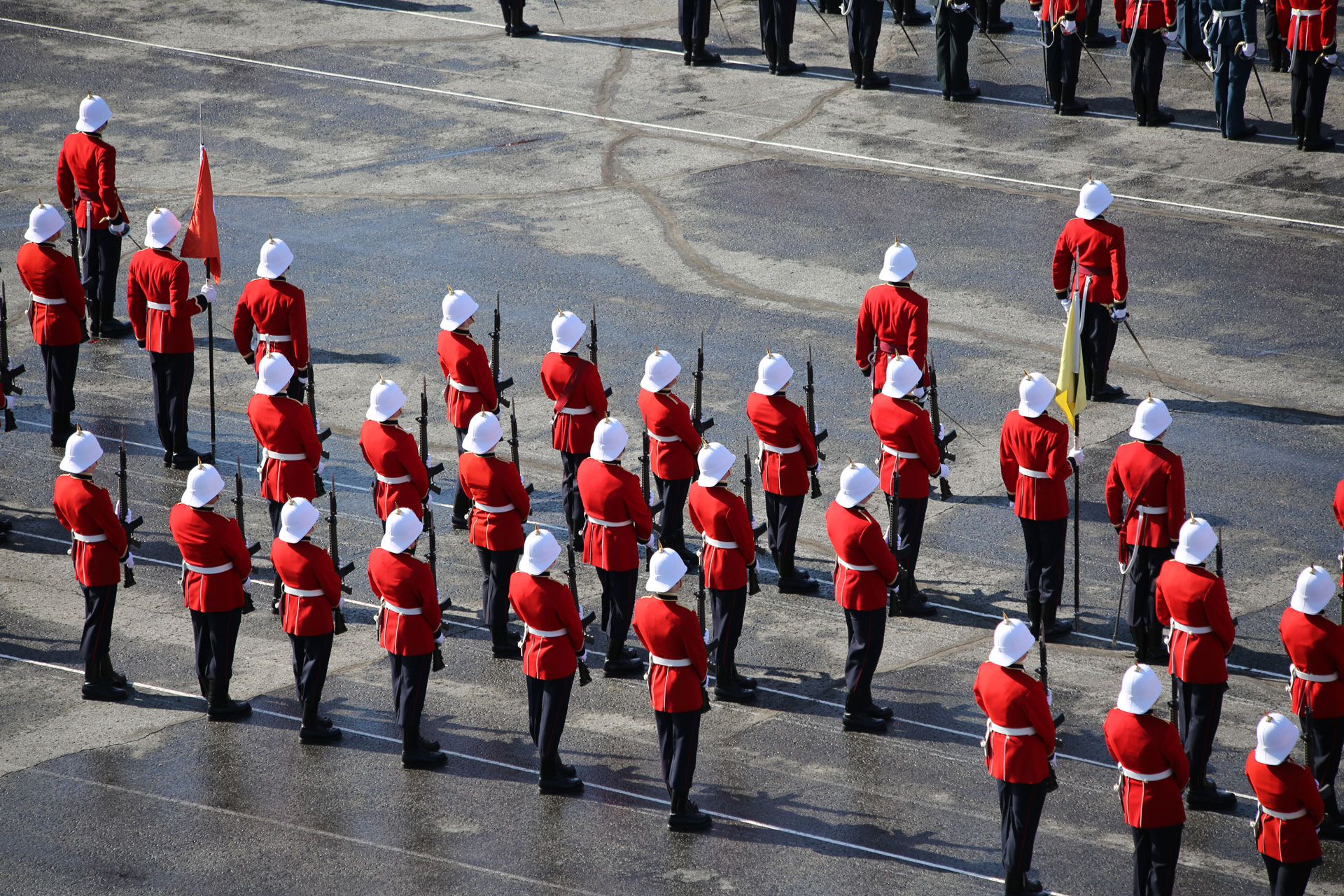 Like the Mounties, McGill basketball coach Craig Norman finally got his man.
Craig Norman – Former RMC (M) Basketball Coach

Redmen football star Erik Galas, a two-time all-Canadian receiver from Ottawa, will make his debut with the basketball Redmen at Quebec City tonight (Nov. 28), when McGill plays the first of a home-and home series with Laval. His debut at the Currie gym is slated for Saturday night at 8 p.m.
"I'm happy to finally land him," cracked Norman, who originally recruited Galas about six years ago, when Norman was coaching at Royal Military College and the 6-foot-2, 220-pound Galas was a multi-sport athlete at St. Matthew's high school in Ottawa.
"Erik can play both forward and guard and instantly brings us more depth, flexibility and versatility," added Norman, whose troops have a 9-4 record against Canadian university teams this season, including a 1-1 record in league play.
"He is strong enough to play down low (under the basket) and quick enough to help us around the perimeter."
According to available data, Galas is believed to be only the fifth McGill athlete in the post-war era to play for both the football and basketball Redmen in the same school year and the first since 2003-04, when Nick Landry, a 6-foot-6, 300-pound offensive lineman from Orleans, Ont., played in his second straight season, as a centre.
Others to accomplish that feat include receiver Jay McHarg of Ayer's Cliff, Que., who was a forward on the hard-court in 1995-96, quarterback Jaime Crawford, a forward with the cagers in 1984-85 and 6-foot-3, 185-pound defensive back Bill Holt, an all-conference forward who played for both teams from 1967-68 and 1969 to 1971.
Galas, a slotback who wears jersey No. 70 with the football team, will don No. 31 with the hoops squad. He recently finished his fifth season on the gridiron by setting a CIS career record with 194 receptions.
The 22-year-old physical education senior is coming off an impressive year with 64 receptions in eight games, the third-highest single-season total in CIS history. He ranked fifth among CIS leaders in yards this season (781) and hauled in six touchdowns in eight games. He also established McGill career records for most receptions, yards (2,555) and receiving TDs (19).
Information supplied by Earl Zukerman, Communications Officer. Dept. of Athletics & Recreation, McGill University.
_____________________________________________________________________________________________
GROZELLE'S FAMILY THANKS ALL WHO HELPED IN DIFFICULT TIME
23160 Joseph Grozelle
From the beginning, we have been ever so grateful for all the love, understanding and support that has been given to us. Our son, Joseph Theodore Grozelle, suddenly disappeared from his dorm room at Royal Military College in Kingston in the early hours of Oct. 22, 2003. That first weekend, Ron and I, Dan and Nikki travelled to Kingston. Thank you to all our dear family members who came up those three weeks to help us search. I can still see them trekking up some of those hills and through the woods. They joined us in a special vigil of hope at RMC and shared hastily put-together suppers as we shared our hopes and memories that will always stay with me.
Thank you to St. Michael's parish in Ridgetown for opening the church doors for people to pray, not only parishioners, but folks in the community as well — praying for our son's safe return. Thank you to our neighbours and friends for bringing food to our home to help out. I truly appreciate your kind and generous hearts. On the morning of Nov. 13, 2003, a strong, wild, windy storm brought Joe back to us. His body was recovered from the Cataraqui River near the LaSalle Causeway at RMC. He was recovered not as we would have liked — alive, smiling and with us again — but at least Joe's body would tell us what happened to him.
Thank you to Union Gas, which gave its plane and pilot to fly the rest of us safely and quickly to Kingston that night. It was good to join Ron and all be together during this difficult time. Thanks to Ron's fellow employees for their support and help. Visitation days followed at McKinlay Funeral Home in Ridgetown. So many came that it was overwhelming. On Nov. 21, 2003, a full military funeral was held — a truly special mass at St. Joseph's Catholic Church in Chatham. Thank you to all our dear family for being with us, all the RMC cadets and officers, and the many friends and other folks who came.
Many donations were made to the Canadian Cancer Society, Alzheimer's Society and Joe's trust fund. Many masses were offered for our son. So many beautiful flowers, plants and arrangements arrived at our home and the funeral home. Many cards of sympathy and condolences came in the mail. It was amazing how many people wanted to help us through our pain. Autopsy results seemed to never be coming. In November 2004, the coroner's office decided to exhume Joe's body, but still no cause of death was determined. In December 2005, the OPP investigation ended and the coroner's office decided to hold an inquest. In October 2006, the inquest finally began in Kingston, but was stopped shortly thereafter. In March and April 2007, a second inquest was held.
Thank you to the people of Kingston for all the kindness and help given to us. Thank you to God for giving us strength and courage as we strive to find the truth. There are still no answers. Ron and I attended a military board of inquiry into the death of our son. The RCMP plan to review the files. The CBC program, The Fifth Estate, has investigated and tried to find some new directions to pursue. And so we continue. All the care and concern has been overwhelming and greatly appreciated. We know Joe would be amazed.
Ron and Minnie Grozelle and family, Ridgetown
Opinion Article taken from the London Free Press
_____________________________________________________________________________________________
Former RMC Hockey Coach
Coach Jacques Tremblay's Raiders are 19-0 in Empire Junior C Hockey League

http://www.thewhig.com/ArticleDisplay.aspx?e=1324911
_____________________________________________________________________________________________
Mowat writes of city man's escape from Germans
Norad-style border agency needed: report
Former Ottawa gas station operator rules home state of Somali pirates
War crimes 'beyond control' of accused: panel
Ambassador lauds Canadian soldiers
Canada adds choppers to Afghanistan arsenal
The Afghan mission has taught our politicians a lesson
Son loses bid to repatriate father's naval medals
Canada develops supplemental armour kits for its LAV III vehicles
African advocates say Canada owes Congo
Tough nation impotent in the face of terrorism
'We Hope Canada Will Continue Its Commitment in Afghanistan': Germany