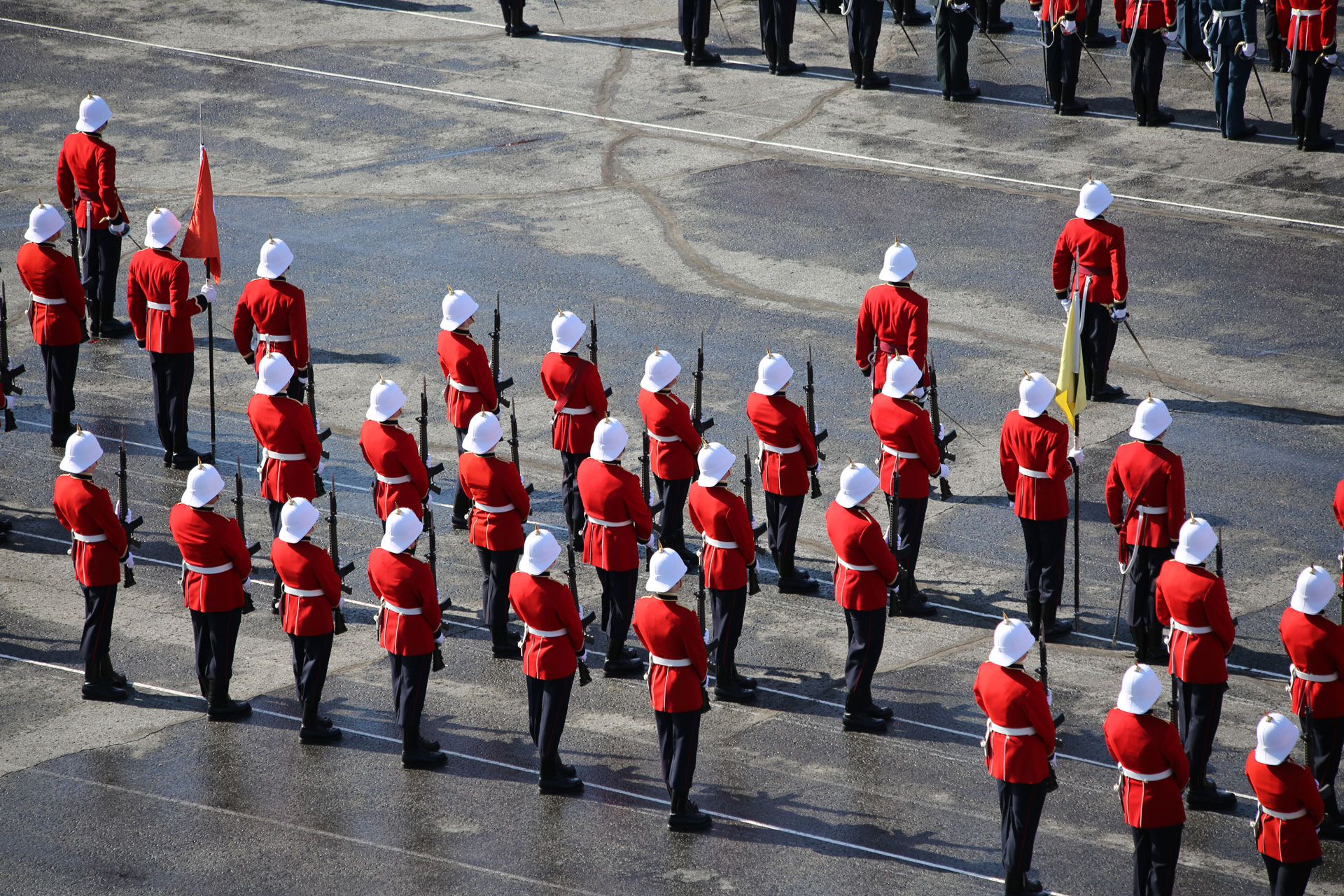 Club's oldest living Ex-Cadet celebrate his 101st birthday!
"Friends, family and a delegation from the Club helped 1814 Major-General Elliott Rodger, the Club's oldest living Ex-Cadet, celebrate his 101st birthday on November 30th at a lunch in his residence. Shown wishing him well are (seated from left to right): Wilson Rodger (MGen Rodger's eldest son); 1814 MGen Elliott Rodger; 2612 BGen Michael Webber (Club Adjutant Emeritus) and (standing from left to right); 15988 Jeff Kearns (Club President); 3550 Col Murray Johnston (member of the Old Brigade Advisory Committee), Eleanor Golden (MGen Rodger's friend) who is flanked by her sons (left) Sandy and (right) Bill Hart and; Ann Dale-Harris (MGen Rodger's niece who is the niece of 1116 HRD Harris). What a party – TDV and camaraderie at their best in the RMC family!!"
________________________________________________________________________________________
9144 Dr. Lawrence McDonough (CMR RMC '72) enrolled in the Canadian Forces as an Officer Cadet in September at the Collège militaire royal de Saint-Jean, Quebec. On completion, he proceeded to the Royal Military College of Canada in Kingston where he received his B.A. in Honours Economics and Commerce in 1972. Dr. McDonough started his graduate studies at Queen's University in the fall of 1975, completed his Master's Degree in 1976 and his PhD in 1980. A chance event had him visit RMC in 1979 and thus began his career as a University Professor at the RMC in the Department of Politics and Economics. He has spent periods of time at Queen's University in the Economics Department and in the School of Policy studies while on Sabbaticals. He also obtained a two year leave from the College which allowed him to te ach and research in Singapore at the Nanyang Technological University. His research interests and publications range from the theoretical analysis of betting on horses, government grants, and trade models to policy related work in child care, education, constitutional issues and defence. Professor McDonough was the Treasurer of the Canadian Military Colleges Faculty Association for a number of years. He was the President of the Association and the Head of the Department of Politics and Economics before being appointed as Director of Learning and Innovation at the Canadian Defence Academy.
http://www.acd.forces.gc.ca/dli-dai/au-ns/bio-eng.asp
________________________________________________________________________________________
10001 Mr Terry K. Molstad (CMR RMC '74) is manager, Safety and Health at BC Hydro. Speaking about his work, Molstad says "At the company level, we at BC Hydro are responsible for the health of our water, land and air resources. Our challenge is to find effective ways to minimize the environmental effects of our operations and still meet our responsibility to supply low-cost electricity to our customers. Finding this balance is not easy." He is a member of the Environment Advisory Committee, which provides advice on climate change and environmental considerations as referred by Delta, BC Council. A Professional Engineer, Terry is a member of the Association of Professional Engineers and Geoscientists of British Columbia. He holds a Bachelor of Englineering, Structural, (Royal Military College of Canada 1974), and a M.A.Sc. (British Columbia 1977). His experience is in Electrical and Gas utilities including BC Hydro: CIV – Hydroelectricity/Dams, BC Hydro.
"Indians need to acknowledge the safety factor"
________________________________________________________________________________________
10268 Major (ret`d) John W McKay (RRMC RMC '74) is president of the University Training Plan Non Commissioned Members branch of the Royal Military Colleges Club of Canada. He is President of Cantigua Energy Group Ltd. in Chilliwack BC, which provides commercial sector energy planning support by conducting audits, portfolio assessment, implementation planning, grant applications, tracking and monitoring software and data services. He is also a Seajay Consulting Ltd. Associate. He is past Manager of Resource Conservation for Coquitlam School Board, managing a budget of $5M for a portfolio of 638,000 sq m of 79 schools, and providing energy management services to other school districts by cost-recovery for 450 schools in BC. John is a former BC Hydro Power Smart Inc. Technical Program manager, former Chief Building Inspector, City of North Vancouver, and, a former Departmental Mechanical Engineer, External Affairs Department, Ottawa, responsible for standards and design of new construction and retrofits of Canadian embassies around the world. John is trained in ISO14064 for energy and GHG projects. He holds a BSc(Applied), PEng, CMVP and he is a member of the Professional Engineers and Geoscientists of BC.
________________________________________________________________________________________
10888 Colonel (ret'd) Bernard St-Laurent (CMR '76) is Deputy Secretary to the Governor General. Born in Baie-Comeau, Quebec, Mr. St-Laurent enrolled in the Canadian Forces in 1971. After obtaining a Bachelor of Arts in Business Administration from Collège Militaire Royal, in Saint-Jean, Quebec, he joined the Royal 22e Régiment as an infantry officer. Mr. St-Laurent also obtained a master's degree in international public administration. During his 37 years of service with the Canadian Forces, he fulfilled a number of assignments in Germany, France and Italy. In addition, he served four years with the military counterterrorism and special forces' unit, and was director of the National Defence Command Centre. His last assignment saw him as faculty advisor to the NATO Defense College in Rome. His military career brought him twice to Government House, once as aide-de-camp to the Right Honourable Edward Schreyer, and the secon d time as director, Program Implementation and Security, during the mandates of the Right Honourable Roméo LeBlanc and the Right Honourable Adrienne Clarkson. Mr. St-Laurent returned to Government House in August 2007, first as senior advisor to the Secretary to the Governor General, then, in May 2008, as deputy secretary of Policy, Program and Protocol.
http://www.gg.ca/gg/sv/deleg_euro2008_e.asp
________________________________________________________________________________________
12173 Doctor Richard H Gimblett (RMC '79) is the Command Historian of the Canadian Navy. Previously, he served for 27 years in the Canadian Navy before enjoying a brief spell as an independent historian and defence policy analyst. His service included ships of various classes on both coasts, notably as Combat Officer of HMCS Protecteur for operations in the Persian Gulf during the war of 1991, following which he co-authored the official account of that conflict, under the title Operation FRICTION: The Canadian Forces in the Persian Gulf, 1990-1991 (Dundurn, 1997). His MA thesis (Trent, 1981) precipitated a revised appreciation of the origins of the RCN, while his PhD dissertation (Laval, 2000) examined the cruise of HMCS Crescent to China in 1949. His last appointment was to the Directorate of Maritime Strategy, as lead writer of Leadmark: The Navy's Strategy for 2020 (DND, 2001) . He is participating with the Directorate of History & Heritage (NDHQ/DHH) in writing the three-volume Official History of the Royal Canadian Navy, 1867-1972. His Operation Apollo: The Golden Age of the Canadian Navy in the War Against Terrorism (Magic Light, 2004) has been recognized with the 2004 Robert I. Hendy award of the Navy League of Canada and the 2005 Silver Medallion of the Naval Officers Association of Canada. His various affiliations include: President of the Canadian Nautical Research Society, President of the Ottawa Branch of the NOAC; Research Fellow with the Centre for Foreign Policy Studies at Dalhousie University; and Adjunct Professor of History at Queen's University in Kingston. His BA (RMC Kingston, 1979) (Honours History, Politics minor), thesis was "'Buster' Brown: The Man and his Clash with 'Andy' McNaughton" [inter-war Canadian Militia belief systems. From 1 985-87, he served on the Military Staff (Squadron Commander) at the Royal Military College, Kingston. His MA (Trent University, 1981) (history), thesis was "'Tin-Pots' or Dreadnoughts? The Evolution of the Naval Policy of the Laurier Administration, 1896-1911." His PhD (Université Laval, 2000) (history), dissertation was "Gunboat Diplomacy, Mutiny and National Identity in the Postwar Royal Canadian Navy: The Cruise of HMCS Crescent to China, 1949."
http://centreforforeignpolicystudies.dal.ca/staff.php?person=gimblett
________________________________________________________________________________________
13072 MGen Daniel Benjamin, CMM, CD (RMC '81) is the Commander CANOSCOM. He enrolled in the Canadian Forces in 1976. He graduated from the Royal Military College in Kingston in 1981 with a bachelor's degree in civil engineering and then started his career as a military engineer. MGen Benjamin enhanced his education by returning to RMC in 1986 to complete a master's degree in geotechnics and teach structural design to undergraduate students. Graduate of the Land Force Command and Staff course in Kingston and the US Army Command and General Staff College at Fort Leavenworth, Kansas, he has also completed the Advanced Military Studies Course and the National Security Studies Course at the Canadian Forces College in Toronto, and more recently, the Combined Forces Land Component Commander Course at Carlisle Barracks, Pennsylvania. MGen Benjamin was appointed Commander in the Order of Military Merit in Febru ary 2008. Rumours are that he is a very average badminton player and that he dances with two left feet. Remains to be seen…
http://www.canoscom.forces.gc.ca/bio/com/index-eng.asp
________________________________________________________________________________________
13706 Colonel Lawrence "Larry" Aitken (RRMC RMC '82) attended Royal Roads and the Royal Military College of Canada as a reserve cadet on scholarship and graduated in 1982 with a degree in Fuels and Materials Engineering and rugby. After training in Kingston, he was posted to 4 CMBG HQ and Sigs Sqn. In 1985 he was posted as Signal Officer to 2nd Battalion Princess Patricia's Canadian Light Infantry. An ardent climber, skier and camper, this posting was highlighted by leading his platoon on a successful climb of Monti Bianco. In the summer of 1987, he was posted to Kingston to attend postgraduate studies at Queen's University graduating with a Masters in Electrical Engineering. Coincident with his promotion to Colonel in June of 2001, he was appointed as Director Land Command and Information (DLCI) and Director of Signals. As DLCI, he was the Army's capability manager for Command Support and the IM program, key components of the Army's modernization program. In January 2004, he was appointed Base Commander of Canadian Forces Base Kingston, later assuming the larger task of Area Support Group Commander prior to his one year tour with the UN Mission in the Democratic Republic of the Congo as the Deputy Chief of Staff for Operations and Plans for the 18,000 man force. A graduate of CFCSC and AMSC, he is currently Director of Training and Education at the Canadian Defence Academy, running the railroad of Individual Training and Education (IT&E). In his spare time he does triathlons and teaches yoga.
http://www.cda.forces.gc.ca/dte-die/au-ns/bio-eng.asp
________________________________________________________________________________________
13946 Mr Eric L. Stewart (RMC '83) is a self-employed network security contractor who finds his home in Ottawa, Canada. He wrote CCNA Security Exam Cram (Exam IINS 640-553). His previous work with Cisco Press has been as the development editor for two titles, Authorized CCDA Self-Study Guide: Designing for Cisco Internetwork Solutions (DESGN) (Exam 640-863) and Router Security Strategies: Securing IP Network Traffic Planes. Trained as a computer engineer at the Royal Military College, and later in computer science and economics at Carleton University, Eric has over 20 years of experience in the information technology field-the last 12 years focusing primarily on Cisco Systems routers, switches, VPN concentrators, and security appliances. He likes to divide his time evenly between his two great loves in the field: teaching and doing! The majority of Eric's consulting work has been in the implementation of ma jor security infrastructure initiatives and architectural reviews with the Canadian Federal Government, working at such departments as Foreign Affairs and International Trade (DFAIT) and the Canadian Air Transport Security Authority (CATSA). A Cisco Certified Systems Instructor (CCSI), he especially enjoys imparting the joy that he takes in his work to his students, as he will often be found enthusiastically teaching Cisco CCNA, CCNP, and CCSP curriculum to students throughout North America and the world. Eric has a lovely wife, Carol Ann, who is an accomplished music teacher, as well as two teenage children, Scott and Meaghan.
CCNA Security Exam Cram
________________________________________________________________________________________
19001 Doctor Michelle A Adams (RRMC RMC '93) is Eco Innovations Managing Director, and is one of North America's few consultants with formal training in Industrial Ecology (IE) and its technical application to manufacturing and processing sectors. She has experience in both Canadian and international settings. In addition to a PhD specializing in the application of IE concepts in developing countries, she holds undergraduate and graduate degrees in chemical and materials engineering and is a former naval officer. This unique background is supported by several years project experience with the completion of environmental site assessments, overseeing large-scale remedial projects, developing pollution prevention/cleaner production strategies for a variety of industries, and industrial waste management. Dr. Adams is also involved with on-going research focused on renewable energy opportunities and by-product utilization for industries, as well as the incorporation of ecological engineering strategies for the innovative handling and treatment of solid and liquid organic wastes.
________________________________________________________________________________________
14021 Edward "Ted" Giraldeau (RRMC '83) was appointed to the Board in November 2006 upon his retirement after more than 30 years service in the Canadian Forces. Mr. Giraldeau's military career included three years in the Primary Reserves as an infantry soldier and more than 27 years in the Regular Force as an infantry officer. Upon graduation from RRMC in 1983, he was commissioned as an officer in the Princess Patricia's Canadian Light Infantry. Throughout his career, he has held a number of command and staff appointments including command of the largest Army headquarters in Western Canada and command of the PPCLI Parachute Company. He has served across Canada and overseas. As the only Canadian Army officer deployed on a French-led NATO peace support mission in Macedonia in 1998-99, he was decorated for meritorious service by the Government of France with the Bronze Medal of National Defence. He also served with the British 4 (UK) Armoured Brigade in Macedonia and Kosovo in 1999. In his last position as the PPCLI Regimental Major, he gained invaluable experience dealing with Veterans' issues, and Veterans' groups and associations.