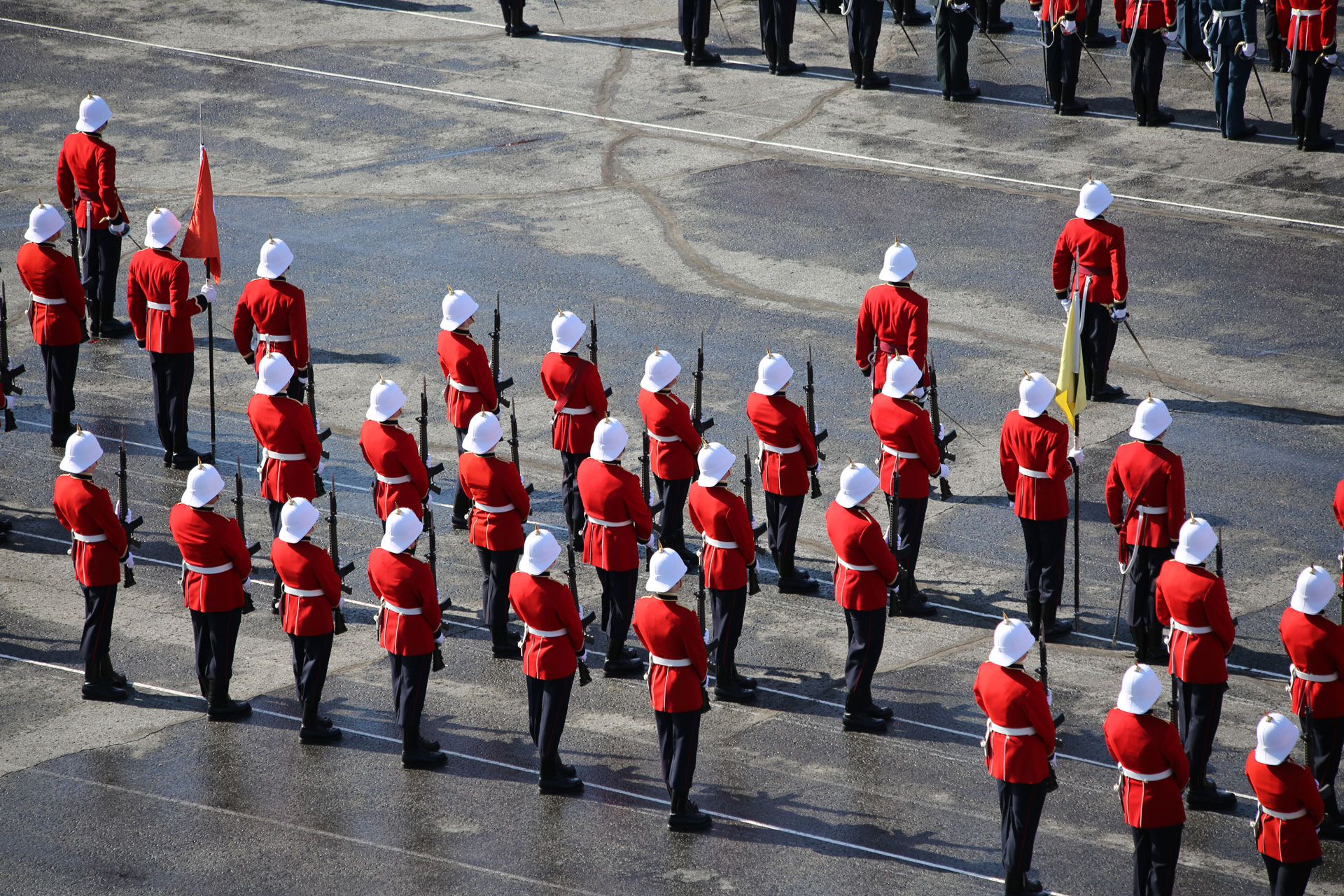 Eugene Melnyk, left, Pat Quinn, and Bob Nicholson pose for a photo before jumping out of the practice tower during a team building camp at the CFB Petawawa on Tuesday.
Before he made his simulated parachute jump Tuesday, Ottawa Senators owner Eugene Melnyk, the chair of the steering committee for the world junior hockey championships, had breakfast with Team Canada.
Later, after the morning exercises, both Melnyk and Team Canada coach Pat Quinn addressed base personnel during lunch, thanking them for all the dangerous work they're doing in Afghanistan. The Canadian team was at CFB Petawawa for team-building exercises organized by the military.
Quinn made a big promise: He vowed to bring the gold medal back to the base.
The team practised in Petawawa  and then flew on a Canadian Forces C-17 to Orangeville, Ont., for the rest of its training camp.
_______________________________________________
Aircraft technicians help to resurrect F-86 Sabre for Centennial of Flight
B.C. court rejects military benefits challenge
Sea King replacements to start rolling out in 2010
First report released into Snowbirds crash
Soldiers mark anniversary with traditional rum drink
Canadian navy frigate back in Halifax after dual mission overseas
Canada, Army Guard meet to build relationships
Ottawa backtracks on penalties as maritime helicopter deadline missed
Prince Harry to train at Cranwell
FUTURE OF JTF2 BASE STILL TO BE DECIDED
_______________________________________________
The Defence Research and Development Canada Defence Science & Technology Strategy points out that universities are the source of future defence science & technology workers. Participation in defence and security Science & Technology activities, in partnership with the Defence science & technology enterprise, promotes the development of effective education programs and graduates that meet the specific needs of the defence and security science & technology community. The Canadian Forces' university, the Royal Military College, is an important asset in this respect as it has the ability to engage the broader academic system in Canada, to exercise agile and flexible relationships with industry and other science & technology performers, and to provide the Department of National Defence with an in-house academic research capability. Source
_______________________________________________
Dr. Alan Whitehorn is co-author of 'The Armenian Genocide: Resisting the Inertia of Indifference' and author of "Ancestral Voices: Identity, Ethnic  Roots and a Genocide Remembered'. He is a professor of political science at the Royal Military College of Canada. He wrote 'Laying Out The Bare Bones of Genocide', for Peace Magazine Jan-Mar 2008. The article in question is a two page item and the editor has quite graciously allowed it to be reprinted in its full. He uses that article as a handout in many of his lectures on genocide. The piece is a blend of academic and personal, those of the observer and the victim group, analytical mind and mournful heart.